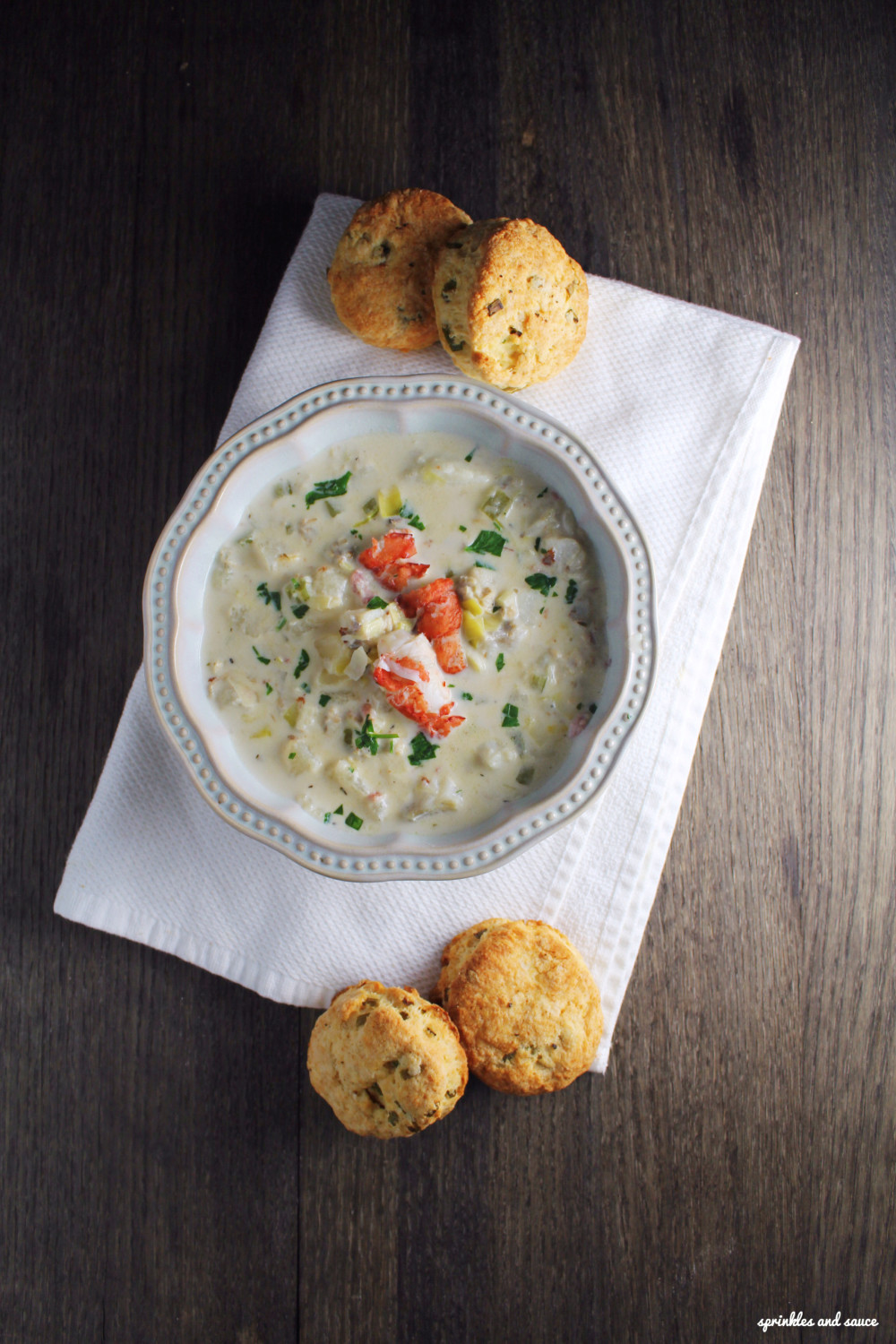 Spring fever is definitely here for us Torontonians.  Yesterday, we hit 17C and it was amazing! The sky was blue, the sun shining, the air warm (well, warmish) and everyone is out and about just enjoying the beautiful day.  We were expecting to see some in shorts and t-shirt, but we didn't.  But we did see a girl walking down the street with just a tank top on.  It was definitely a warm day, but not warm enough for a tank top.  However, can you really blame this girl who likely was bundled up in her winter clothes for what seems to be an unusually long and cold winter?
Soups, stews and chowders are definitely not yet out of the rotation for our household specially during these crazy hot/cold days we have.  Salad days and grilling days are definitely on their way, but for now, it's still cool enough to enjoy a nice bowl of chowder.  So for today's post, we bring you Seafood Chowder or Maritime Seafood Chowder.  Martimers are such great people.  Generally, they're laid back, cool, calm, collected, nature loving people who love and appreciate their bounty of fresh seafood (well, actually I know one Nova Scotian who hates seafood and I love her, but I think she's a little nutty for being a seafood hater)!  This Seafood Chowder is great because it has halibut, lobster and clams all in one pot and the it's creamy and rich and perfect on a nice spring day.  The potatoes add a wonderful thick, velvety texture to the chowder and so you don't really need to go full fat on the cream.  We decided to substitute the whipping cream the original recipe calls for with half and half cream and it was just as rich and satisfying.  We also used leeks instead of onions because, well, we heart leeks! So if you want something creamy, rich, satisfying and a variety of seafood all in one bowl, then try this recipe out and you won't be sorry.

Seafood Chowder (Maritime Chowder)
Author:
Chef Michael Smith
Ingredients
2 cans (each 5 oz/142 g) whole baby clams
8 slices bacon, chopped
1 onion, chopped
2 ribs celery, diced
1 cup (250 mL) grated peeled baking potato
1 cup (250 mL) whipping cream, (35%)
1 cup (250 mL) milk
½ cup (125 mL) dry white wine
2 bay leaves
1 tsp (5 mL) chopped fresh thyme
1 can (370 mL) evaporated milk
1 lb (454 g) fresh fish or shellfish, chopped (such as whitefish, halibut, cod or lobster)
¼ cup (60 mL) chopped fresh parsley
¼ tsp (1 mL) salt
¼ tsp (1 mL) pepper
Instructions
Reserving juice, drain clams. Set aside.
In Dutch oven, cook bacon, stirring occasionally, over medium heat until crisp, about 5 minutes. Drain all but 1 tbsp fat from pan.
Add onion (or leeks), celery and 1 tbsp water; cook, stirring, until softened, about 5 minutes.
Stir in potato, cream, milk, wine, reserved clam juice, bay leaves and thyme; simmer until potato is softened and liquid is slightly thickened, about 15 minutes.
Stir in clams, evaporated milk, fish and parsley; simmer until fish is cooked through, 5 to 7 minutes.
Stir in salt and pepper. Discard bay leaves.
Notes
We used 2 stalks of leeks instead of the onion, half and half instead of the whipping cream and chicken broth instead of the white wine. And I didn't grate my potato, I just diced mine and it was fine too.
Nutrition Information
Serving size:
1
Calories:
734
Fat:
23g
Saturated fat:
11g
Carbohydrates:
14g
Sugar:
8g
Sodium:
370g
Fiber:
1g
Protein:
27g
Cholesterol:
118mg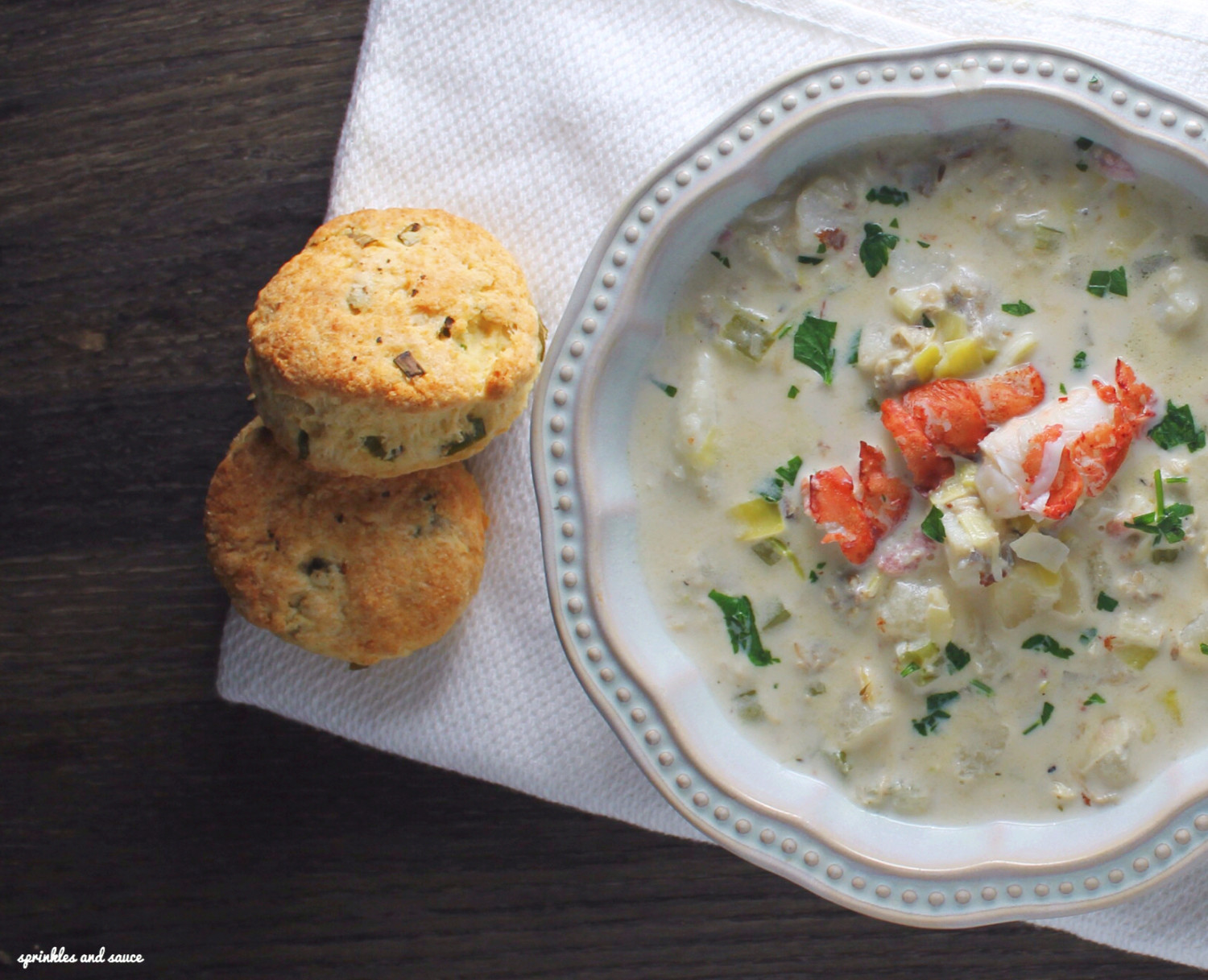 These buttermilk biscuits complemented seafood chowder beautifully!