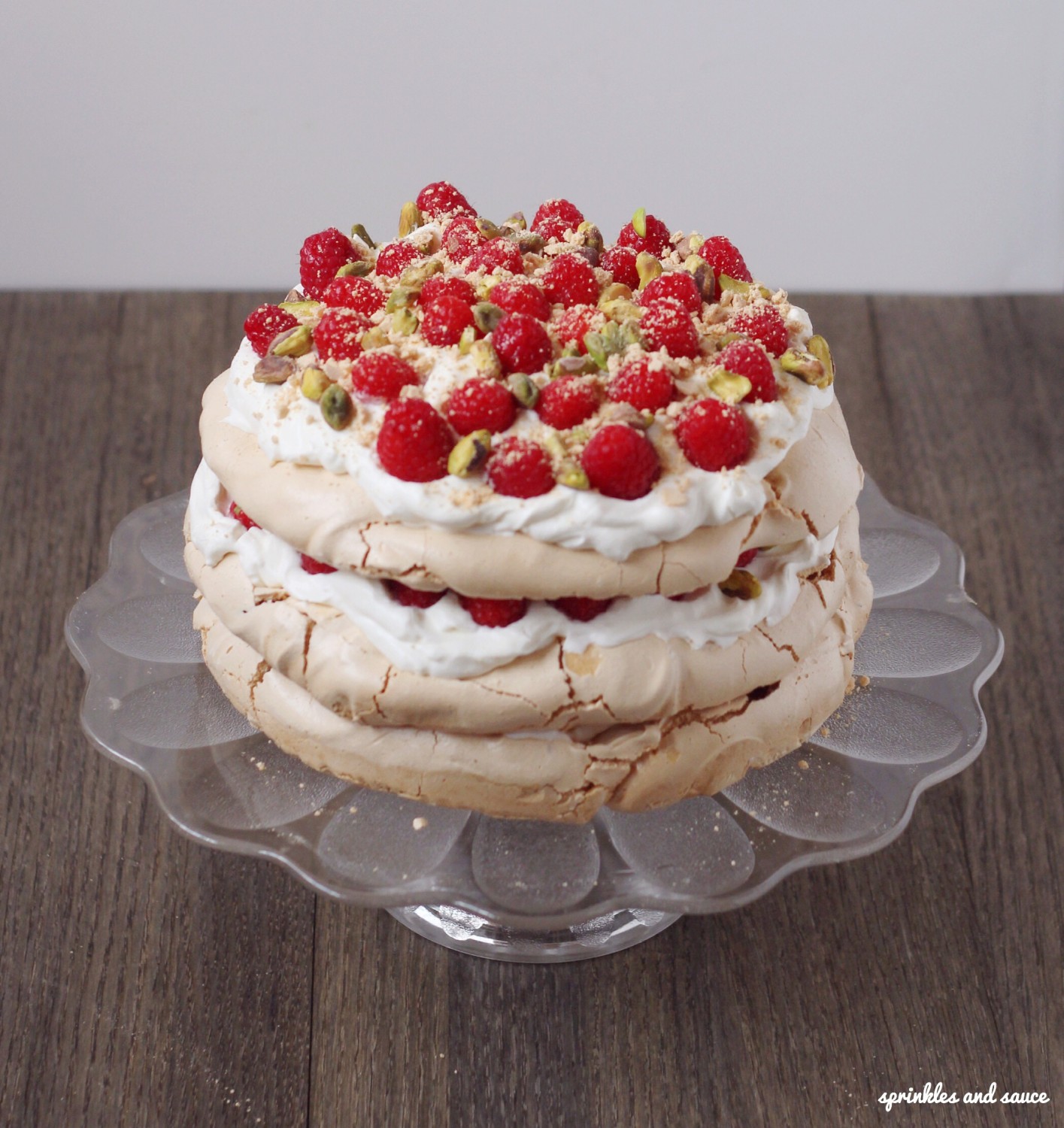 Recently, we were  invited to my friend's place for dinner and she asked me to bring dessert.  She happens to be gluten intolerant.  My first thought was "YIKES!" I very rarely bake anything gluten free and I had a bad experience using all purpose GF flour once and since then I have not made anything gluten free.  So I went through my catalog of tried and true desserts in my head and ding, ding, ding we have a winner = pavlova! Thankfully, I came across this three layer berry and brown sugar pavlova from epicurious.com.  What is a pavlova, you ask? It's more like who is Pavlova.  Anna Pavlova was a Russian ballerina and a meringue dessert was made in honour of her and of course, it was named after her. I've made other types of pavlova before, but this one is by far my favorite one.  When I first looked at the recipe, I have to admit, I was a little bit apprehensive because 1) meringue is tricky to make because there are so many factors that can make or break your meringue 2) the list of steps seem like a lot.  This recipe received a lot of good reviews from people so I decided to go ahead and try it anyway.  The recipe is not actually hard to follow at all and the best part is you can make the meringue a day ahead so it's easy peasy to assemble it the next day.  In fact, this dessert is perfect for when you're having big company over for dinner because 1) it doesn't take any room in your fridge  2) it takes two seconds to assemble and 3) it's quite impressive! Trust me on this one.  This dessert was light, airy, creamy with just a touch of sweetness and it's definitely a crowd pleaser.  So here's the recipe for you:

Three Layer Raspberry, Pisctachio and Brown Sugar Pavlova
Author:
adapted from epicurious.com
Ingredients
For meringue:
powdered sugar for dusting
1 cup of superfine sugar*
½ cup of packed light brown sugar
1 and ½ tablespoons of cornstarch
1 and ½ teaspoons of vanilla extract
2 teaspoons of distilled white vinegar
¾ cup of egg whites (from 5 to 6 large eggs) at room temperature for 30 mins.
For cream:
2 cups of chilled heavy cream
8 ounces of of chilled sour cream
For the berries and nuts:
1 to 1.5 lbs of raspberries
1 cup of pistachios
Instructions
Preheat your oven to 275F with rack in middle.
Lightly butter 3 8 inch round cake pans then dust the sides of pans with powdered sugar, knocking out the excess.
Line the bottom of each pan with parchment paper.
Pulse superfine sugar, brown sugar and cornstarch in a food processor until well combined. Set aside.
Stir together the vanilla and vinegar in a small bowl. Set aside.
Using a stand mixer or handheld mixer, beat egg whites with a pinch of salt using an electric mixer at medium speed until they hold soft peaks.
Increase the speed to medium high and add sugar mixture 1 tablespoon at a time. After all the sugar has been added, beat 1 minute more.
Then add the vinegar mixture and then beat at high speed until meringue is glossy and holds stiff peaks (about 5 mins).
Spoon meringue into prepared pans (about 2 and ½ cups each) and smooth tops using the back of a spoon.
Bake until meringues have a crisp crust and feel dry to the touch, about 1 hour (insides will still be marshmallow like).
Turn off oven and prop the door open slightly using a wooden spoon and let meringues cool in oven for about 1 hour. (meringues may sink slightly and crack while cooling).
Run a knife along the sides of your cake pan and carefully turn meringues out of the pans. Carefully peel off the parchment and then carefully turn right side up.
If making ahead, transfer meringue in a covered container and keep in a cool, dry place.
To assemble the pavlova, first beat your heavy cream and sour cream together until it hold soft peaks.
Spoon a little bit of the sour cream mixture on the centre of your plate or cake stand and add one meringue on top.
Then spoon some of your sour cream mixture on top and the meringue and gently spread it over. Add your raspberries and pistachios to your first layer.
Repeat until you've done all three layers.
Notes
*for the superfine sugar, I just used regular sugar and pulsed it in a food processor until I had enough to fill 1 cup.
You can omit the pistachios if you like or add another nut like hazelnuts or almonds.
The original recipe actually called for berries. If you prefer using berries instead of just raspberries, here's the recipe for it: 1 and ½ lbs of strawberries, trimmed and quartered. 1 lb of blackberries. 2 tablespoons of sugar. Toss the berries with sugar and let it stand at room temperature until ready to use (up to 1 hour).

**Meringues can be frozen, individually wrapped for up to 1 month. Thaw, still wrapped at room temperature for at least 2 hours.