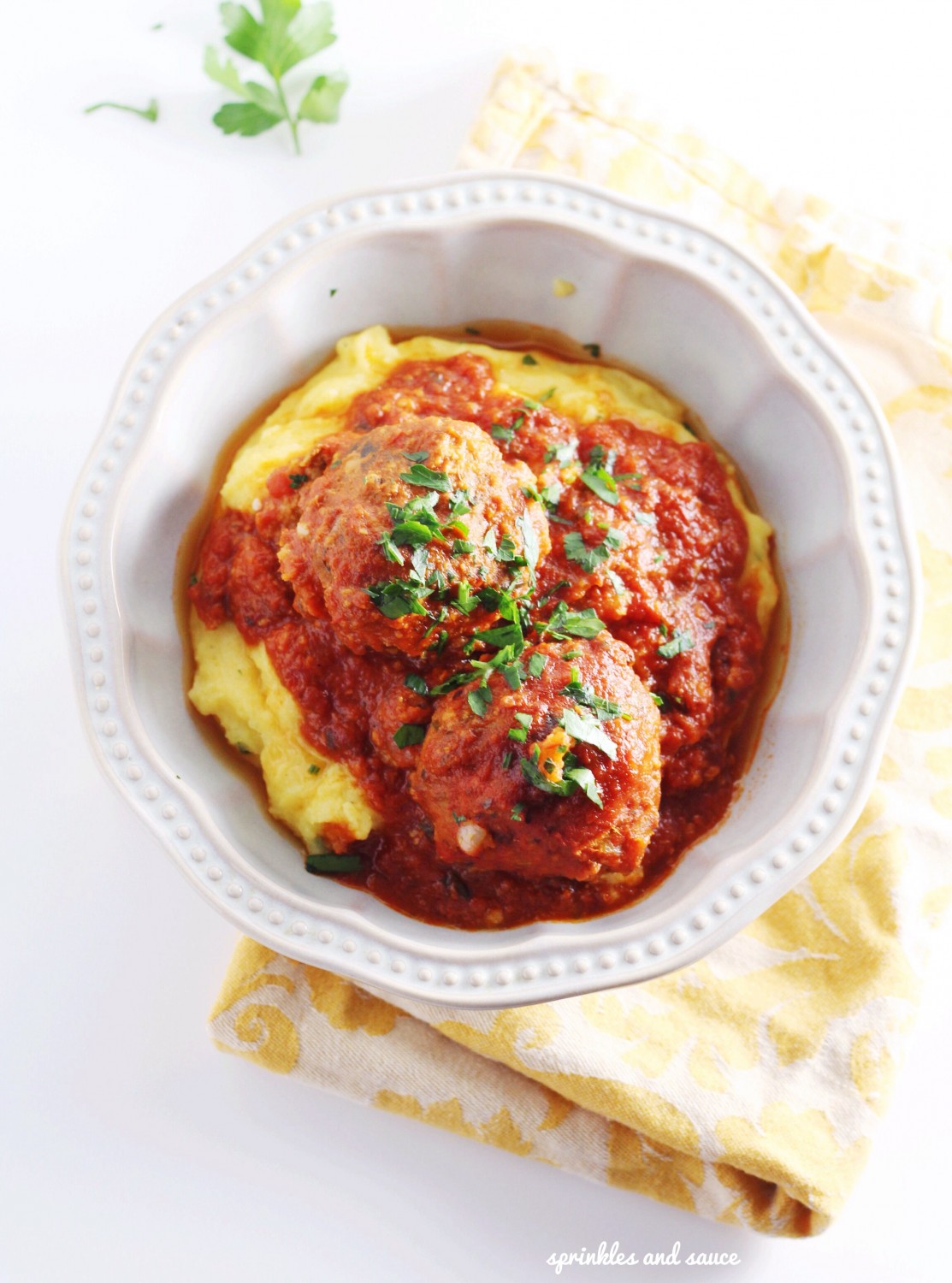 During the week, after a long work day, it can be very difficult to summon energy to make dinner. Well, at least for me anyway. When I first got married, I went on overdrive with our week night meals.  I mean real overdrive.  I cooked all of our meals during the week and I made sure that for our dinners, we had a salad, protein, carbs and a side dish of veggies.  I was spending a couple of hours a night just making our dinner and Arkadi was spending a lot of time chopping with me and scrubbing all the pots and pans I've used.  Then one day, it dawned on both of us to simplify our meals  and that's when we decided to break in our brand new slow cooker! Since that day, we've used our slow cooker to make everything, okay maybe not everything, but a lot of things like jambalaya, pulled pork, stews, soups, roasted chicken, ribs and of course, meatballs in tomato sauce!
As for making meatballs, we've tried to make meatballs with ground turkey and/or ground chicken before, but the best combination we've found is ground pork and veal.  And to be honest, pork and veal meatballs have become one of our staple week night dinner and sometimes we'd eat them with sauteed kale or with roasted asparagus or the traditional way with spaghetti, but no matter how we eat them, one thing is true – this recipe makes for a simple, fast and flavorful meal!
There's obviously some prep work involved, but we promise it's minimal work and the end result is worth it!  The best part of this slow cooked pork and veal meatballs in tomato sauce (wow that's a mouthful!) is that you can set your slow cooker and leave them to cook for hours and by the time you get home from work, they're ready to eat.  So here's the recipe for you and we hope that it will help make your weeknight meals easier for you:
Pork and Veal Meatballs in Tomato Sauce
Author:
sprinkles and sauce
Ingredients
1 cup of breadcrumbs
⅓ cup of milk
0.5 pounds of ground veal
0.5 pounds of ground pork
1 cup ground parmesan cheese
2 cloves of garlic, minced
half an onion, finely chopped
⅓ cup of chopped parsley
2 large eggs
salt and pepper
2 650 ml jars of marinara sauce (we used PC Marinara Pasta Sauce)
Instructions
In small bowl, add the breadcrumbs and milk together. Set aside and let the bread crumbs absorb the milk.
In a large bowl, add the ground veal and pork, parmesan, garlic, onion, salt and pepper and parsley.
Whisk eggs and add into the bowl with the ground meat mixture.
Using hands, gently mix the meat mixture until all the ingredients are evenly combined. Be careful not to over mix.
Roll the meat mixture into however big you want your meatballs to be and set aside meatballs on a baking sheet.
Once all you've used up your meat mixture, cover your baking sheet of meatballs with plastic wrap and leave in the fridge over night.
The next day, add your meatballs in your slow cooker in a single layer and add your tomato sauce.
Cook on high for 4 hours or low for 8 hours.
Notes
You can make your meatballs ahead of time, even two days ahead and you can leave them in the fridge until you're ready to use them. Also, they freeze well. For this recipe, it made enough meatballs for the two of us for two meals (dinner and lunch) and we ended up freezing another batch enough for one meal for another time.
This time around, we decided to change things up and eat these meatballs with polenta (
here
 is the link for the polenta recipe I used).