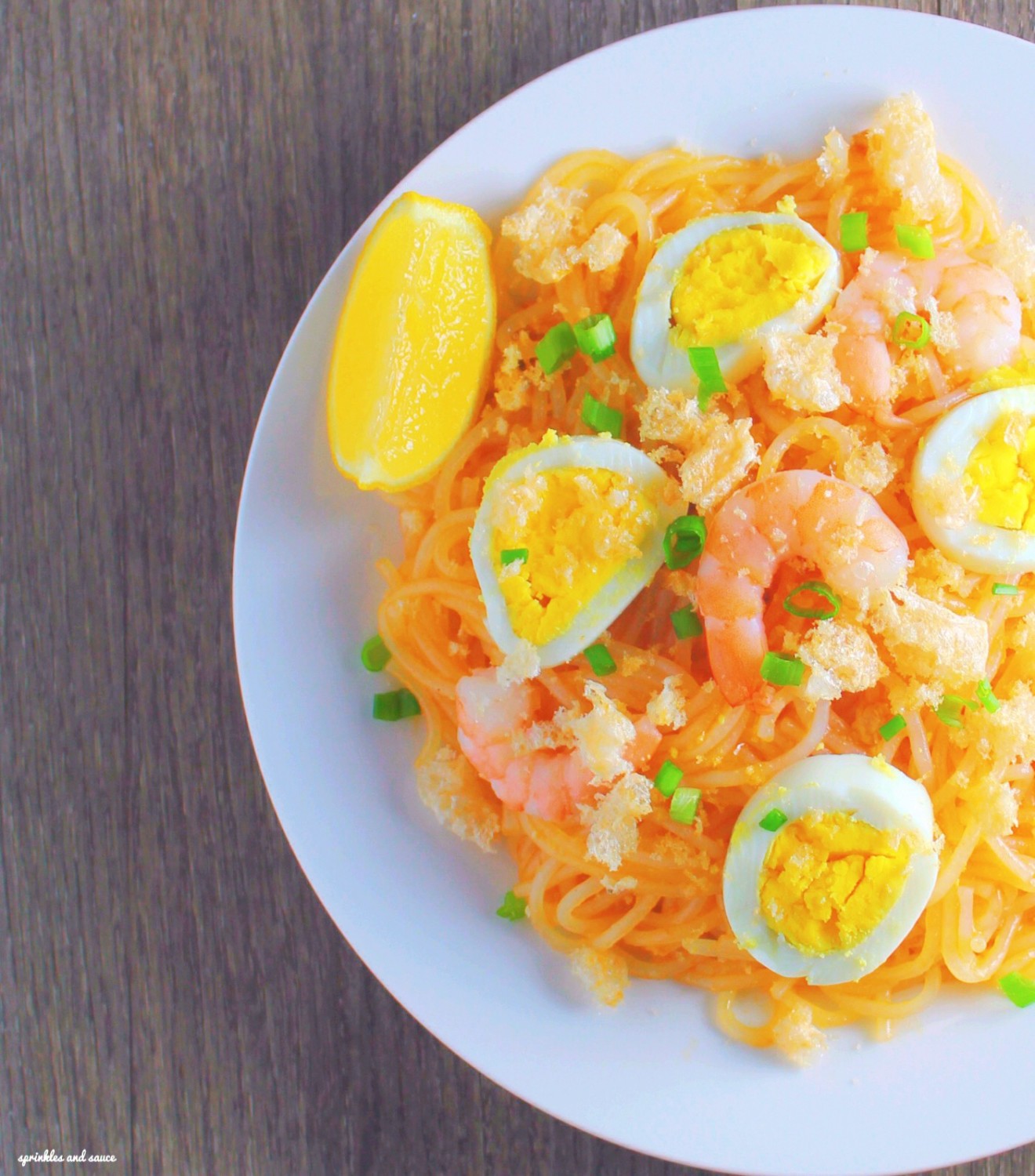 Growing up in the Philippines, a typical day would usually mean having 4 meals all in one day.  And I don't mean grazing on nuts and fruit or having smoothies in between meals.  I mean 3 big meals consisting of rice, meat/fish and veggies for breakfast, lunch and dinner and the fourth one is called merienda.  Merienda (translates to light meal) is  either between breakfast and lunch or lunch and dinner.  Imagine this, you just had an awesome lunch spread of grilled seafood, rice, mango salad and grilled vegetables at around 12 pm, you're full and you need to rest from all the hard work of eating so you take a nice afternoon nap.  You wake up from your nap all refreshed, but slightly peckish and dinner is still a few hours away, so what do you do?  Well, a Pilipino's answer to you would be: "have some merienda." Our merienda or light snack consists of "smaller" dishes like stir fried noodles with seafood, pork and vegetables, glutinous rice and coconut, steamed rice cakes, cassava cake, banana fritters, steamed rice buns with bbq pork, you get the drift.  It's definitely no smoothie or cut up apples sprinkled with cinnamon.  One merienda dish that I particularly like is called palabok (pah-lah-bok). It's a dish consisting of noodles, shrimp/seafood sauce, boiled egg, dried fish and pork rind.  I know it sounds very odd to those who are not Asian, but it's actually really tasty.  Like a lot of traditional dishes, this dish takes time to make and so it's not really the best for a light snack on a rushed day.  The recipe below is more of a short cut of the traditional recipe in that it uses a pre-made sauce.  Arkadi is not a big fan of palabok, but he actually liked and ate a bowlful of my version of palabok.  He said he likes this version because "it's not so fishy."  So if you want to widen your food horizon and try something new and exciting, try out my childhood favorite merienda one of these days.  Here's the quick and easy recipe for you:

Palabok
Author:
sprinkles and sauce
Ingredients
3 tbsps cooking oil
1 head garlic, crushed
2 pouches Mama Sita's Palabok (Shrimp Gravy) Mix
6 cups water
1 pack palabok noodles (cornstarch noodles)
2 hard-boiled eggs, sliced
1 cup shrimps, boiled, shelled, deveined and halved
3 tbsps green onions, chopped
1 cup chicharon, crushed
lemon wedges
Instructions
In a pot, cook the noodles according to the direction on the back of the package.
Once the noodles are cooked, drain them in a colander and wash them with cold water to stop the cooking process.
Dissolve your Mama Sita palabok powder mix in 6 cups of water.
While the noodles are cooking, in a wok heat and sauté garlic and add your dissolved Mama Sita mix. Bring to a boil while stirring occasionally.
Lower the heat and simmer until sauce is thick. Remove from heat and set aside.
Add your noodles to your sauce and toss until all the noodles are coated with the sauce.
Transfer your palabok into your serving dish and garnish with boiled egg, shrimp, chopped spring onions and crushed chicharon.
Serve with lemon wedges.