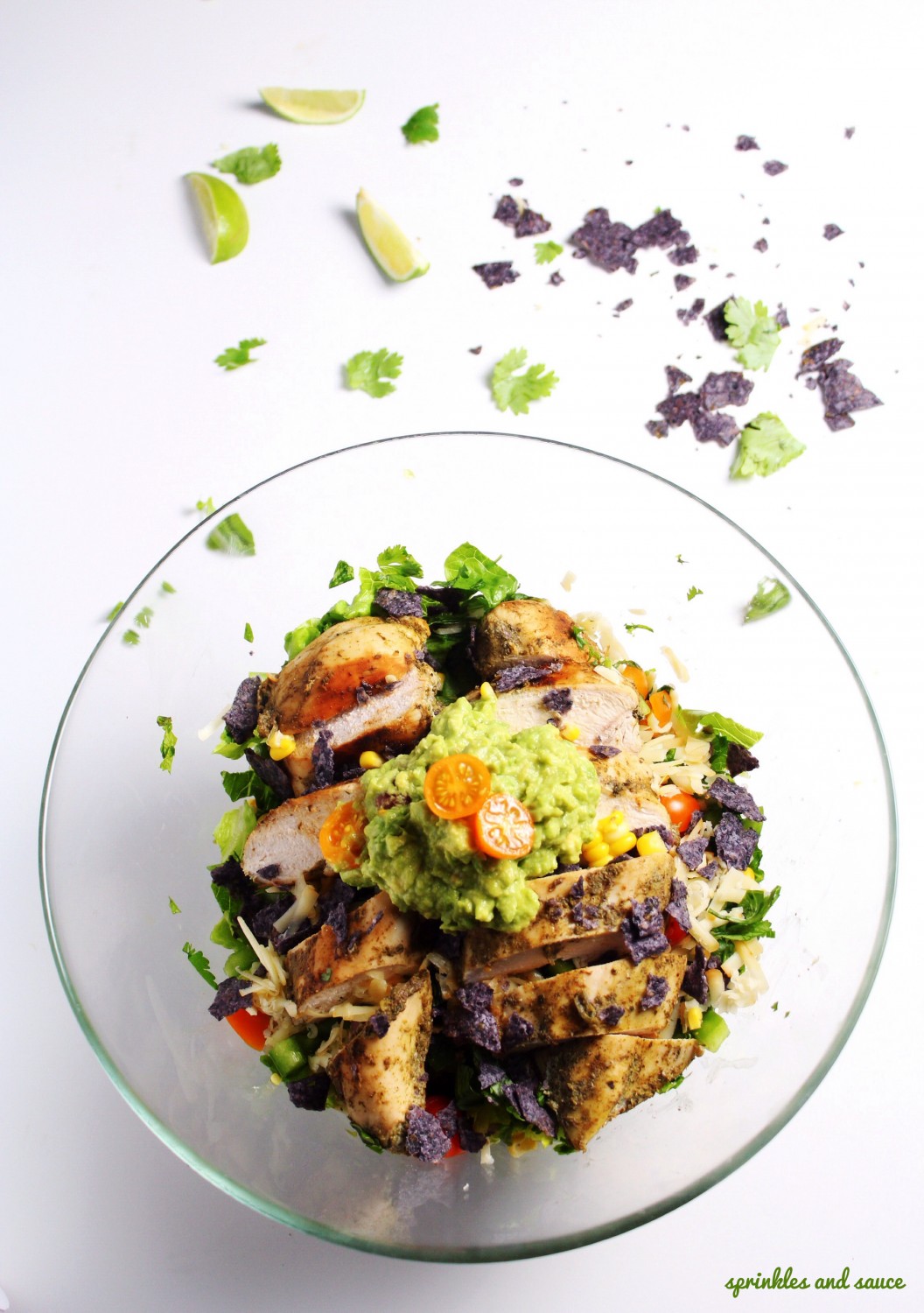 We usually have salads for our weekday lunches and although it's fast and easy to put together, sometimes it's hard to come up with something creative and new.  If you've read my other posts, you'd likely know that I get into a rut a lot when it comes to lunch ideas.  For a while, I was doing salad topped with tuna and egg and then I went to making chicken ceasar salads and then to chicken greek salads.  But once in a while, I'd come across a recipe or a new idea for lunch and today was one of those times.  We had leftover guacamole in the fridge, some chicken breasts in the freezer and lettuce hearts in the crisper and so I decided to throw it altogether for lunch and came up with something new and creative! This salad is substantial enough to keep you full long after lunch and if you want to have a nice light dinner, this salad makes a perfect main course salad. Also, you don't really need to come up with a dressing or buy a dressing for this salad because you can use guacamole and salsa to blend all the flavors together.
There are so many different flavors going on in this Mexican chopped salad with grilled chicken and guacamole that it successfully kicked us out of our lunch rut! If you also want to get out of your lunch rut, try this salad out!
Mexican Chopped Salad with Grilled Chicken and Guacamole
Author:
sprinkles and sauce
Ingredients
For the grilled chicken:
5 chicken breasts
2 garlic cloves
1 handful of cilantro
1 jalapeno pepper (optional)
2 stalks of green onions
1 teaspoon dried oregano
½ teaspoon cinnamon
3 tablespoons cider vinegar
¼ cup orange juice
salt and pepper
For the salad:
1 lettuce chopped
1 cup of black beans
1 cup of corn kernels
½ cup of green bell pepper, chopped
¼ cup of red onion, minced
1 cup of tomatoes, diced
½ cup of smoked cheddar cheese (or any cheese you prefer)
1 handful of cilantro, chopped
½ cup of crumbled tortilla chips
Instructions
For the chicken marinade:
Add all ingredients to a blender and puree. Put chicken breasts in a ziploc bag, pour marinade on the chicken and leave in the fridge for 24 hours.
Grill chicken on a barbeque or grill pan until cooked.
For the salad:
Add all vegetable ingredients in a large bowl.
Sprinkle cilantro, cheese and crumbled tortilla chips on top.
Top salad off with sliced grilled chicken.
Serve with a dollop of guacamole, salsa and lime wedges.