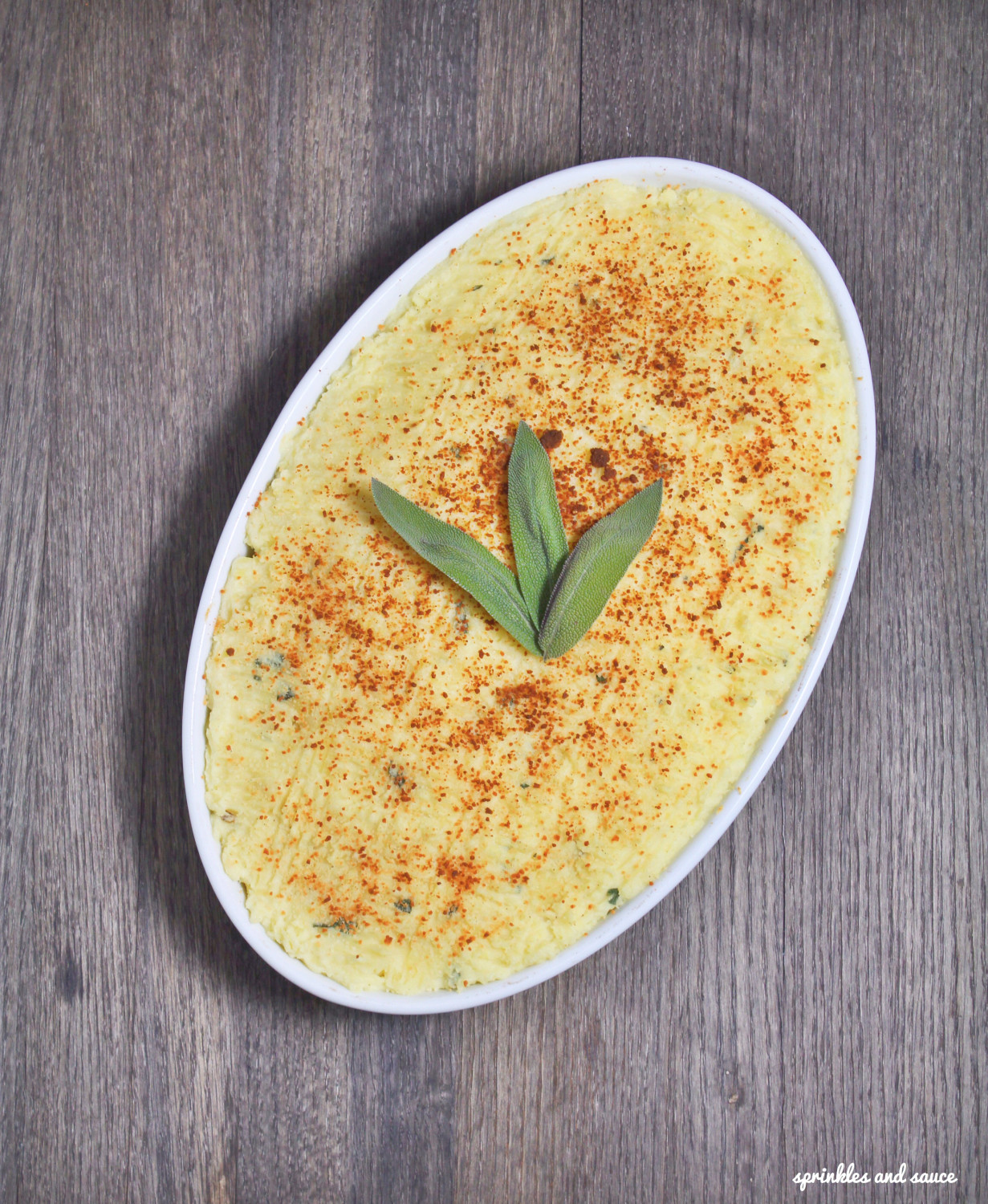 It's a long weekend for us here in Ontario and let me tell you, we're all so happy to have a statutory holiday in February.  February is a hard month for us who suffer from winter blues.  To start off our long weekend, the weather for Friday was -11C with a real feel of -20C.  Today,  Saturday, we are at -15C with real feel of -28C.   Sunday will be -23C with a real feel of -37C.  That's right, thirty seven degrees below zero.  So just in case we started thinking spring is finally coming, the weather slaps back to reality! But it's all good because here in Ontario we have Family Day on Monday.  That means no work and all we have to do is spend the day with our families eating, drinking, and enjoying the day and each other's company.  Family day definitely makes February bearable! Whoever came up with it, I thank you with all my heart.
Speaking of Family day and eating and drinking, today's post is a definite crowd pleaser.  Who doesn't like mashed potatoes, really?  It's creamy, comforting, filling, and oh so good! A bowl of mashed potatoes is an awesome vehicle to be as creative or as traditional as you want to be.  This mashed potatoes with goat cheese and sage is definitely not traditional, but it's every bit as tasty and comforting as your regular mashed potatoes.  Goat cheese elevates this dish because it adds extra creaminess, tanginess and a distinctive flavour.  This recipe calls for fresh goat cheese or soft unripened goat cheese.  Fresh goat cheese has a light tang, mild tartness and has similar texture to ricotta cheese. So if you're new to goast cheese, fresh goat cheese is a good way to start.  The addition of sage to this dish adds depth  and earthiness.  Fresh sage is highly aromatic and pairs well with dairy, meat (specially poultry) and other herbs like rosemary and thyme. I made this dish for a family dinner we had recently and our families definitely approved this recipe! If you have the day off on Monday for Family day or would like to make something different and comforting for your family, why not try this recipe for mashed potatoes with goat cheese and sage.  Here's the recipe for you:

Mashed Potatoes with Goat Cheese and Sage
Ingredients
2 pounds Yukon Gold potatoes, peeled, cut into ¾-inch cubes
5 ounces soft fresh goat cheese
¼ cup (or more) whole milk
2 tablespoons (1/4 stick) butter
4 teaspoons chopped fresh sage
Fresh sage sprigs
Instructions
Cook potatoes in large saucepan of boiling salted water until tender, about 12 minutes
Drain well
Return the cooked potatoes to the same pan
Add cheese, ¼ cup milk, and butter; mash until smooth
Mix in chopped sage
Season to taste with salt and pepper.
Mound potatoes in bowl. Garnish with fresh sage sprigs.
Notes
Can be made 2 hours ahead. Let stand at room temperature. Rewarm over low heat, thinning with more milk, if too thick.
I sprinkled some parmesan cheese on top before baking to add some color.
This recipe was so easy to make, easy to double and you can make it ahead of time.  Try it out and we hope your family enjoys it as much as we did!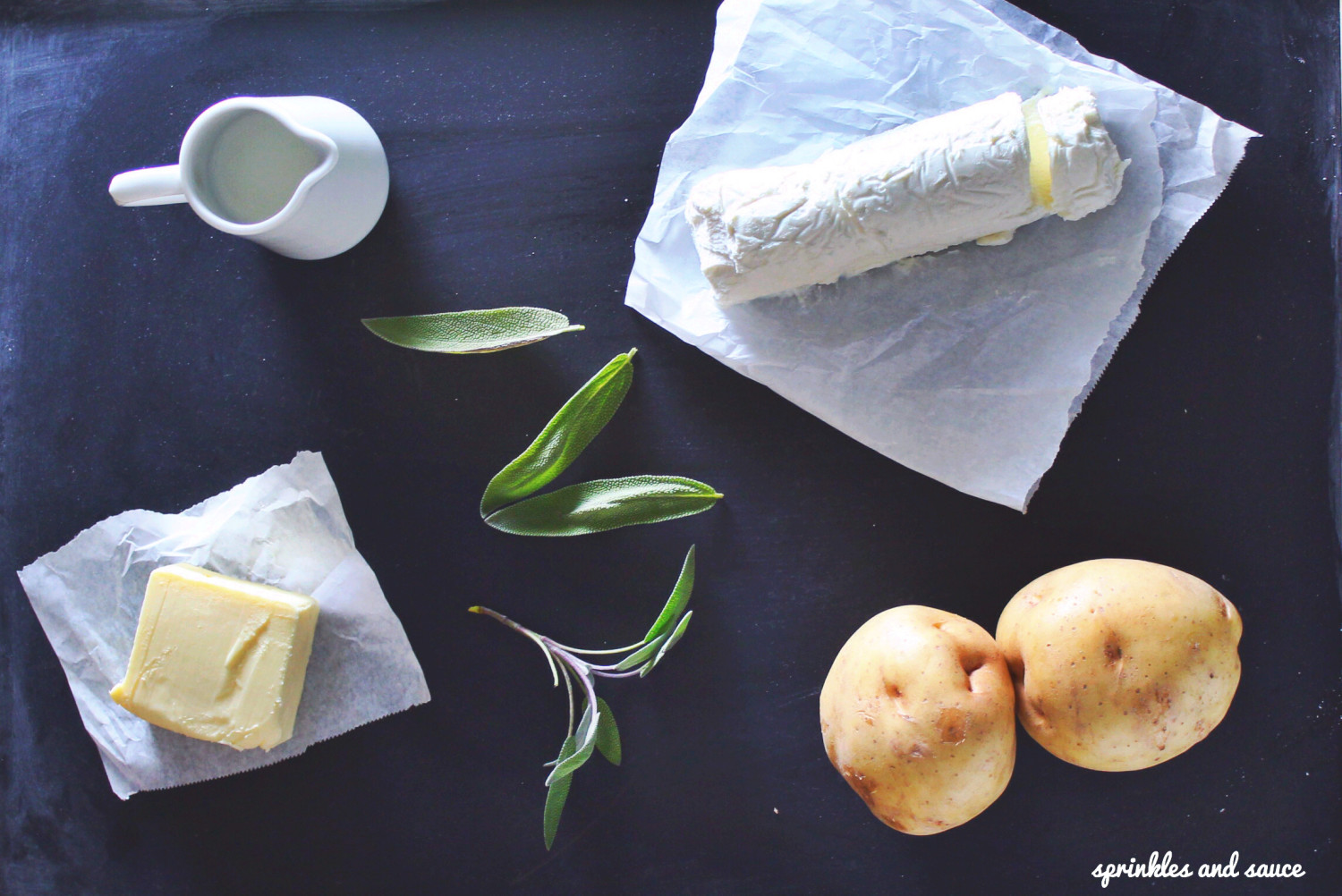 Don't you just want to dive in?!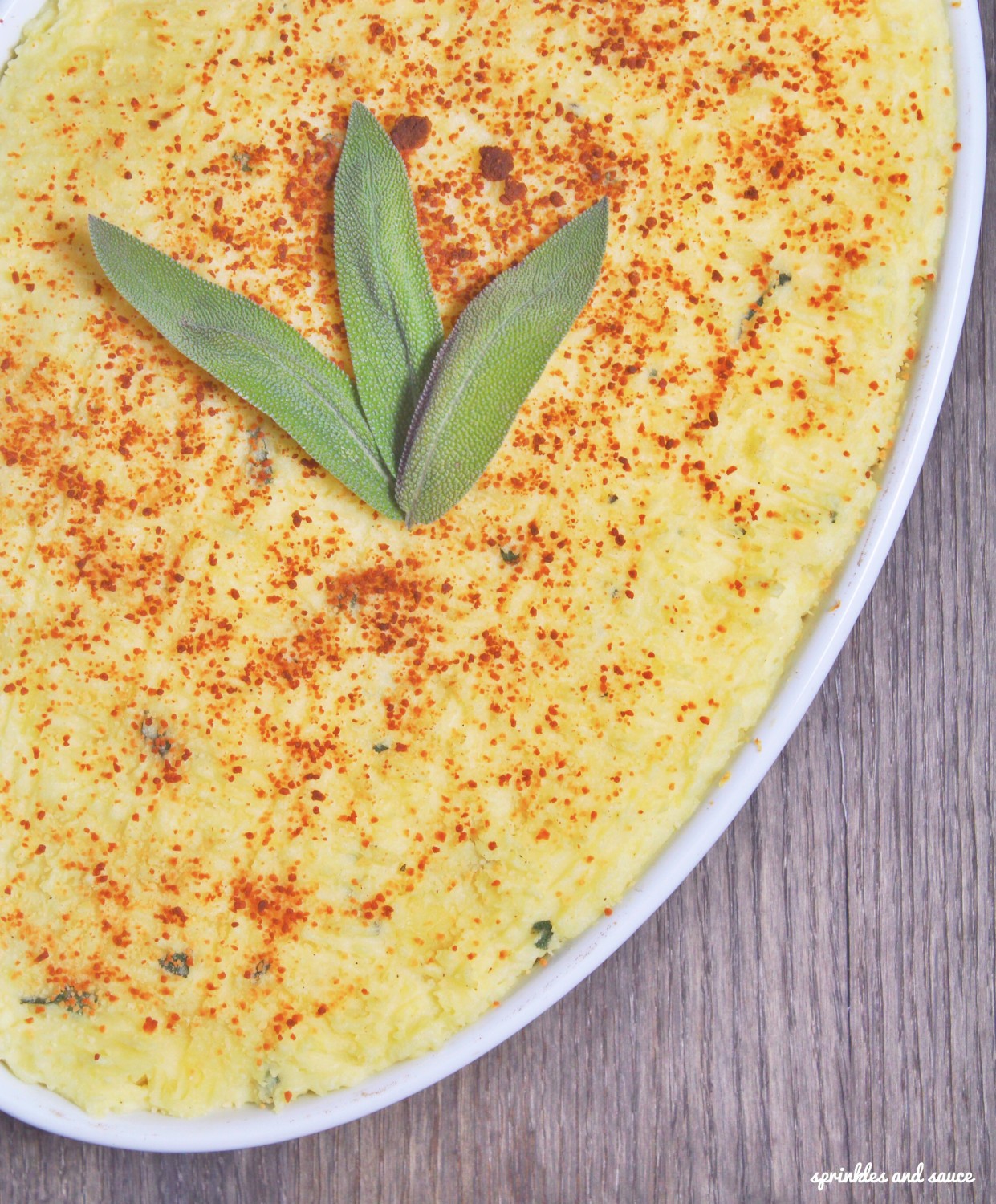 Here's some fun facts about goat cheese:
goat cheese is easier to digest than cow's milk
it's lower in calories, but full of flavour
good source of calcium, protein, vitamin A, vitamin K, phosphorus, niacin and thiamin
it's versatile, you can eat it on it's own, add fresh herbs for spreading on bread, add it to salads, stuffing, meat, etc.
it's high in protein – 5 grams of protein in 1 ounce