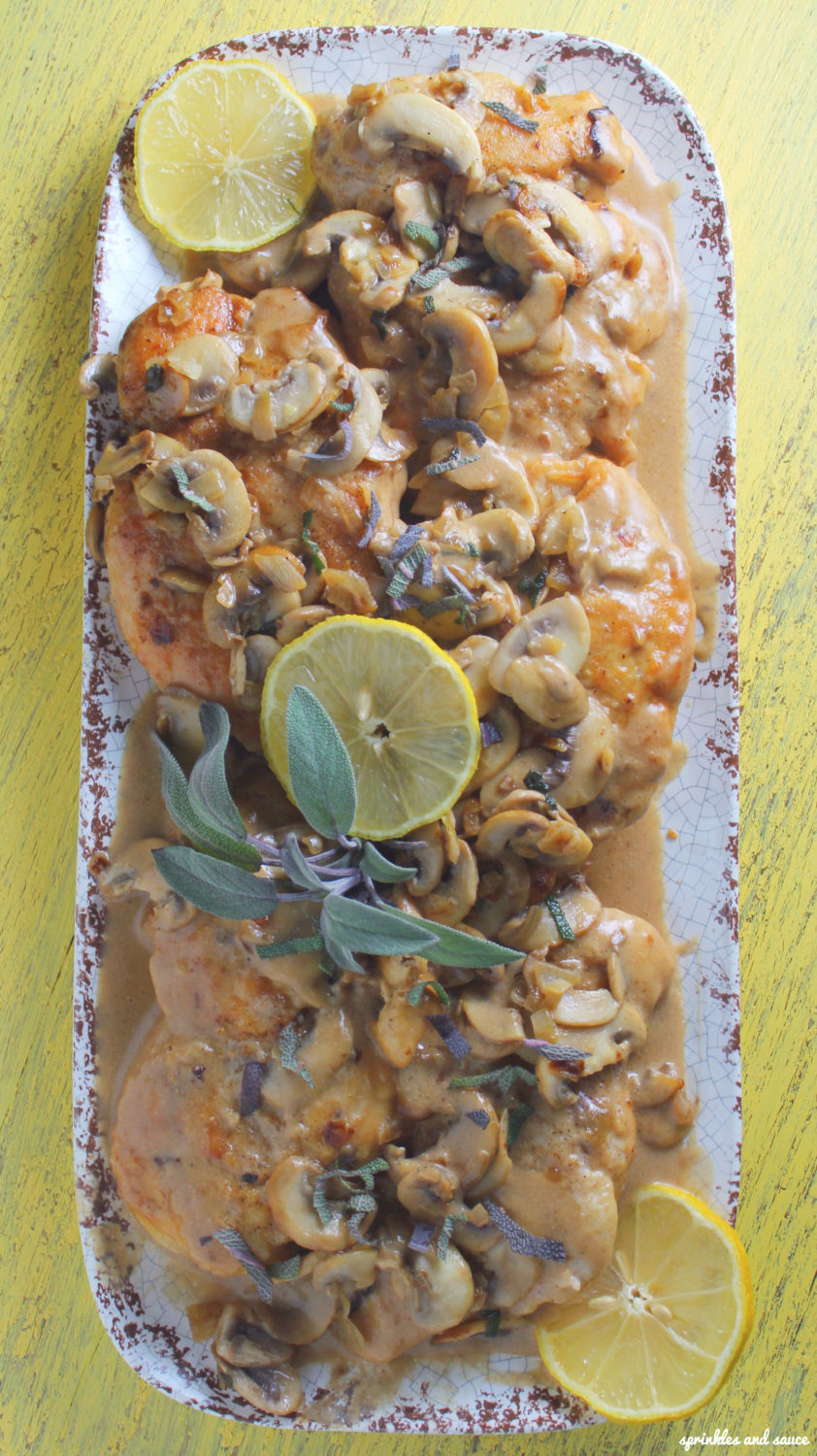 I've made Chicken Marsala before and it's always been one of our favorite meals.  But I knew very little about Marsala wine.  I knew it's Italian because the word Marsala sounds Italian, but other than that and where to buy it from, I knew nothing else about it.  So I did a bit of digging and found out some cool facts about Marsala wine.  Here're some of them:
Marsala is the west section of Sicily.
Marsala developed historically not as a drink of the local people, but as a wine primarily intended for export to London and the British Empire.
Dry Marsala is usually used for savory dishes like chicken and veal Marsala and sweet Marsala is usually used for desserts like tiramisu.
Marsala wine was not made just for cooking as it is commonly used now.  In the 1700's, Marsala wine was a sought after wine in Britain and the United States.
After opening, you don't need to refrigerate Marsala wine.  Keep the bottle in a cool, dry place and use it within three or four months.  However, it doesn't go bad or become unsafe to use  after three or four months, the flavor just fades a little.
For the best Marsala wine, go to your local liquor store as the ones in your supermarket are likely not real Marsala wine.
So now that we've found out some interesting facts about Marsala wine, let's talk more about the recipe for Chicken Marsala.  I think that even the pickiest of eaters will give you two thumbs up for this dish.  Really, what's not to like? First off, you have tender, juicy, flavorful chicken breasts, then you have your earthy, deep flavors from the mushrooms and sage and the sauce is just fantastic!  You definitely need something to sop up the sauce, something like mashed potatoes or a crusty baguette or plain spaghetti because the sauce is a wonderful combination of Marsala wine, chicken broth and juices, heavy cream and a little bit of zing from lemon juice!  This Chicken Marsala dish makes for a great weeknight dinner and fancy enough for a dinner party as well.  It's so simple to make, but it's so flavourful.  You don't need to braise the chicken for a long time or chop so many ingredients and it's real easy clean up afterwards.  So if you want to try Marsala wine and make this dish, here's the recipe for you:

Chicken Marsala
Ingredients
1¾ cups reduced-sodium chicken broth (14 fl oz)
2 tablespoons finely chopped shallot
5 tablespoons unsalted butter
10 oz mushrooms, trimmed and thinly sliced
1½ teaspoons finely chopped fresh sage
¼ teaspoon salt
⅛ teaspoon black pepper
1 cup all-purpose flour
4 skinless boneless chicken breast halves (2 lb total)
2 tablespoons extra-virgin olive oil
½ cup plus 2 tablespoons dry Marsala wine
⅔ cup heavy cream
1 teaspoon fresh lemon juice
Instructions
Put oven rack in middle position and preheat oven to 200°F.
Bring broth to a boil in a 2-quart saucepan over high heat, then boil, uncovered, until reduced to about ¾ cup, about 20 minutes.
Cook shallot in 3 tablespoons butter in an 8- to 10-inch heavy skillet over moderate heat, stirring, until shallot begins to turn golden, about 1 minute.
Add mushrooms, 1 teaspoon sage, salt, and pepper and cook, stirring occasionally, until liquid mushrooms give off is evaporated and mushrooms begin to brown, 6 to 8 minutes. Remove from heat.
Put flour in a wide shallow bowl.
Gently pound chicken to ¼ inch thick between 2 sheets of plastic wrap using the flat side of a meat pounder or a rolling pin.
Pat chicken dry and season with salt and pepper, then dredge in flour, 1 piece at a time, shaking off excess. Transfer to sheets of wax paper, arranging chicken in 1 layer.
Heat 1 tablespoon each of oil and butter in a 10-inch heavy skillet over moderately high heat until foam subsides, then sauté half of chicken, turning over once, until golden and just cooked through, about 4 minutes total.
Transfer cooked chicken to a large heatproof platter, arranging in 1 layer, then put platter in oven to keep warm.
Wipe out skillet with paper towels and cook remaining chicken in same manner, then transfer to oven, arranging in 1 layer.
Add ½ cup wine to skillet and boil over high heat, stirring and scraping up brown bits, about 30 seconds.
Add reduced broth, cream, and mushrooms, then simmer, stirring occasionally, until sauce is slightly thickened, 6 to 8 minutes.
Add lemon juice and remaining 2 tablespoons wine and ½ teaspoon sage.
Serve chicken with sauce.
Notes
This recipe got 4/4 from the reviewers and 92% out of the 383 reviewers would make it again. I've made it myself several times and we love it! The leftovers the next day is even better because the flavours have come together even more.