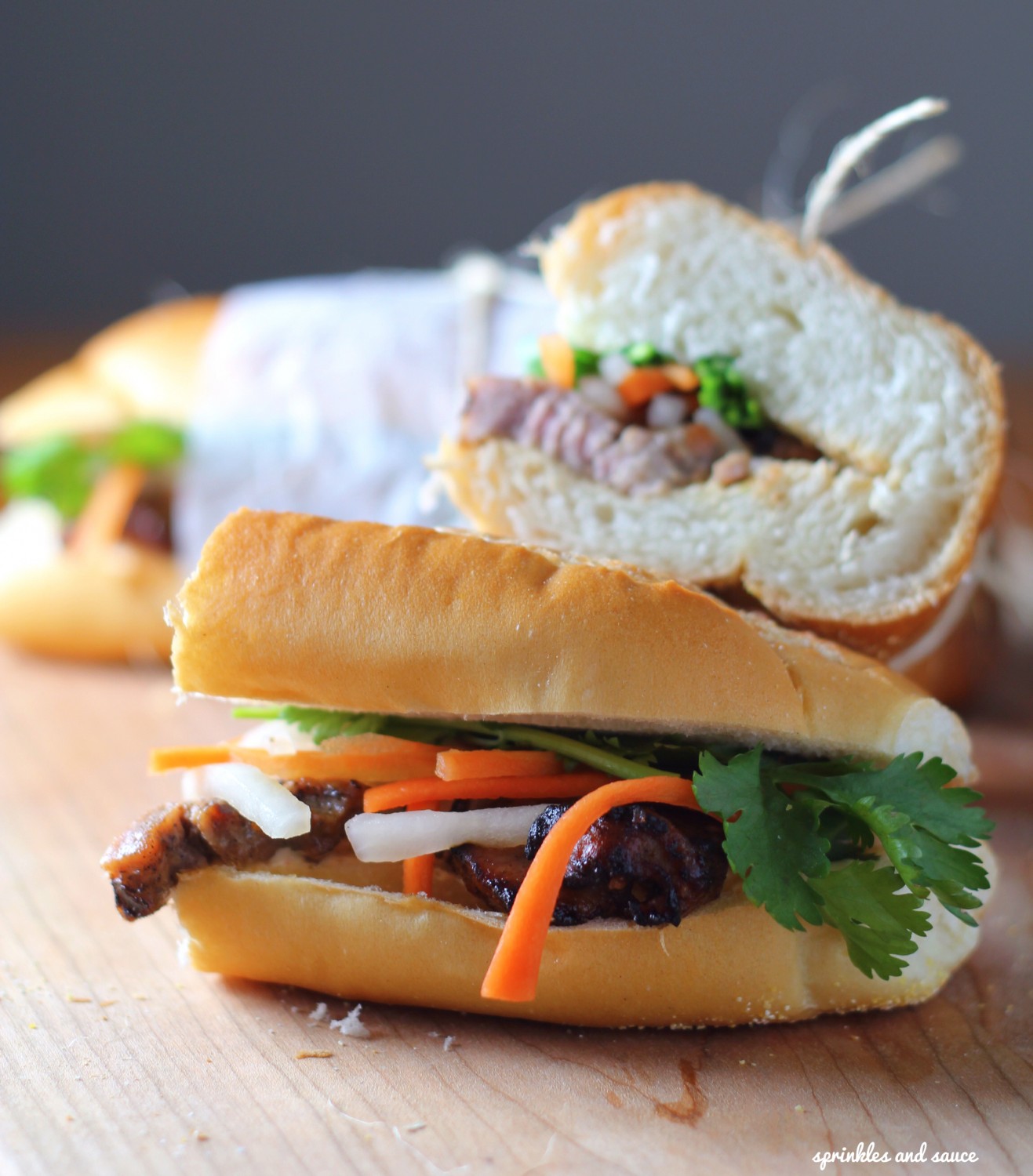 We are crazy for Vietnamese food.  I'm a little embarrassed to admit it, but we have take away Vietnamese food once or twice a week, every week!    Seriously, I think we are slowly setting up a trust fund for our local Vietnamese shop owner's children! Our first love is pho (brisket and chicken for me and beef for Arkadi or sometimes we go all out and order the pho combo with tripe, brisket, beef balls, tendons, the works).  And bun (vermicelli with meat and spring rolls) and com (broken rice, meat and egg) are tied in second place.  But, since it's summer and sometimes it's just too hot to eat soup or a plateful of rice or a bowlful of noodles, we like to have banh mi or Vietnamese sandwich.  We usually travel all the way down to Chinatown to get $2.75 banh mi, but the other day, I decided to make it ourselves.  Why not, right? It can't be that hard, right? Well, it's true  it's not actually hard to make banh mi yourself and the best part is, you avoid the mystery meat they usually serve you for $2.75! This sandwich does take some planning to make, but the cooking and assembly process takes no time at all and best of all, you get to have a super tasty sandwich for lunch or dinner.  And if you have some leftover lemongrass pork, but no more buns, you can always cook some rice and fry up an egg, put it all together and you have com! I marinated my pork for about 2 days and I do think that it's best to grill the pork after at least 24 hours of marination.  The marinade is so easy to put together and you end up with such flavorful and tender pork.  You can also make your own pickled carrot and daikon or you can easily purchase them from any Asian store.  And to amp up the flavor, even more, we made our own basil sriracha mayo and I am not a fan of mayo, but this one I love! The fragrant smell of basil with a little bit of spiciness from sriracha combined with creamy mayo make for an awesome combo.  So if you are craving for some Vietnamese food and would like to try something different or if you're a newbie and want to try out Vietnamese food for the first time, here's the recipe for you: p.s. this recipe is from rasamalaysia.com and I've made this recipe several times and every single time, it turns out amazing!

Lemongrass Pork Banh Mi
Author:
adapted from rasamalaysia.com
Ingredients
2 pounds of boneless pork butt* (cut into ¼ inch thick slices, 8 inch length by 2½ inch width)
4-6 8 inch baguette rolls, sliced lengthwise in the centre
½ bunch cilantro leaves
5 jalapeno, deseeded and thinly sliced (optional)
pickled carrots and daikon
basil sriracha mayonaise
For the pork marinade:
½ cup minced lemongrass
½ cup sugar
3 tablespoons fish sauce
1 tablespoon ground black pepper
5 shallots, peeled and minced
3 cloves of garlic, peeled and minced
2 tablespoons roasted sesame oil
2 tablespoons peanut or vegetable oil
2 tablespoons hoisin sauce
For the basil sriracha mayo:
1 cup of thai basil leaves
½ cup mayonnaise
½ teaspoon of salt
juice of half a small lemon
1 teaspoon of sriracha
Instructions
For the pork:
Lay out your pork slices on your cutting board, cover with plastic wrap and lightly pound them with a mallet or with the back of a knife.
In a bowl, mix all the marinade ingredients well.
Add all your pork slices in a ziploc bag or container, pour marinade all over the pork and leave in the fridge for about 1-2 hours or overnight.
Discard excess marinade before grilling.
Soak a few bamboo skewers, if using wooden skewers, in water for at least 20 minutes.
Skewer the pork slices using bamboo or metal skewers.
Grill each skewer until the pork is nicely charred and meat is thoroughly cooked.
Remove the pork slices from the skewer and set aside.
For the thai basil mayo:
Chop or tear your basil leaves.
Combine the thai basil leaves, lemon juice, salt, sriracha and mayonnaise and mix until well combined.
To assemble the sandwich:
Spread basil sriracha mayonnaise on one side of the baguette.
Then add your grilled pork.
Finish off with some pickled carrots and daikon and cilantro leaves.
Serve whole or cut in half.
Notes
*both times we made this, we used pork loin, but I have it on good authority that using pork butt is even better.