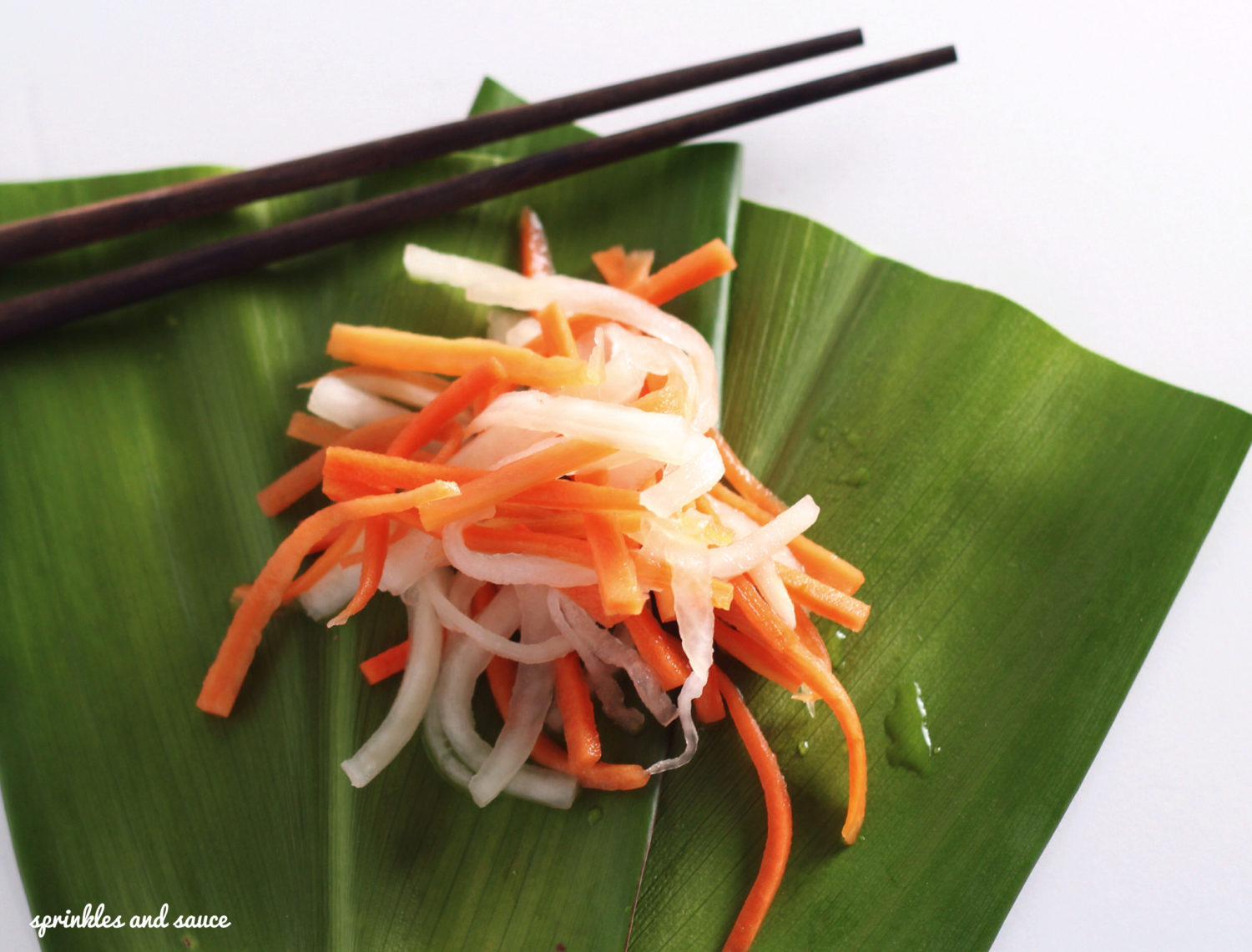 The more I browse through Instagram food posts, the more I realize that you can pretty much pickle anything.  For real! You can pickle blueberries,  garlic scape, green beans, tomatoes, okra and grapes just to name a few.  And pickled vegetables are really handy to have because you can eat them with anything – sandwiches, cheese, meat (that's Arkadi's suggestion), deli, etc.  We made a couple of jars of pickled carrot and daikon to add to our banh mi sandwiches and it really just adds that little something something to the sandwich! And having a couple of jars around have been real handy.  We've been having pickled carrot and daikon with some Thai grilled chicken and rice dish, grilled pork chop, egg and rice dish  and pretty much anything Asian and anything that involves rice!  So if you have some spare time and would like to have a couple of jars of pickled carrot and daikon, here's a recipe for you:

Carrot and Daikon Pickle (Do Chua)
Author:
vietworldkitchen.com
Ingredients
1 large carrot, peeled and cut into thick matchsticks
1 pound daikon, peeled and cut into thick matchsticks
1 teaspoon of salt
2 teaspoons plus ½ cup of sugar
1 and ¼ cup distilled white vinegar
1 cup of lukewarm water
Instructions
Place the carrot and daikons in a bowl and sprinkle with the salt and 2 teaspoons of sugar.
Use your hands to knead the vegetables for about 3 minutes to remove excess water from the vegetables.
The vegetables will soften and liquid will pool at the bottom of the bowl.
Stop kneading when you can bend a piece of daikon so that the ends touch, but the daikon doesn't break.
The vegetables should have lost about ¼ of their volume by now.
Drain in a colander and rinse the vegetables under cold running water and then press gently to get rid of any extra water.
Transfer the vegetables into two small mason jars or 1 big one.
For the brine, in a bowl, combine the ½ cup of sugar, white vinegar and water and stir until the sugar is dissolved completely.
Pour the brine over the vegetables. The brine should cover the vegetables.
Let the vegetables marinate in the brine for at least 1 hour before eating.
These pickled vegetables will keep in the fridge for up to 4 weeks.