If you were to ask us what to eat in Chiang Mai, our number one recommendation would be khao soi! You cannot visit Chiang Mai and miss having a bowl of Northern Thailand's signature noodles.  What is khao soi you ask? Well, khao ข้าว means rice and soi ซอย means to cut.  It is believed to have been originated from Chin Haw or Chinese Muslims from Yunnan. Originally, khao soi was made with rice noodles hence the name.  However, over the years, khao soi kept evolving, picking up influences from the Burmese, Shan and Thai people.  Today, khao soi is made with egg noodles, crunchy noodles, curry paste, coconut cream and you can have it with chicken or pork or beef or vegetarian. Most khao soi places here in Chiang Mai are only open for lunch and for some of these restaurants, it's better to show up right at early before the kitchen runs out.  And each restaurant adds a bit of their own flair, but one thing they all have in common are the side dishes that come with a bowl of khao soi.  When you order a bowl of khao soi, you will get these four things with it: pickled mustard greens, a wedge of lime, cut up shallots and chillies in oil. The pickled mustard greens cuts the slight sweetness of the broth, the limes add freshness to the bowl, the shallots adds more crunch and the chillies are for those who like it Thai spicy.
Now, just where can you get a bowl of this deliciousness? Well, it's really up to you and your preference (whether you like yours more creamy or spicy or with no meat or halal), but one thing for sure is that there are plenty of choices to choose from.  Here's a list of our favorite spots so far:
Khao Soi Fueng Fah (Thanon Charoenprathet Soi 1, Soi Islam, near Night Bazaar)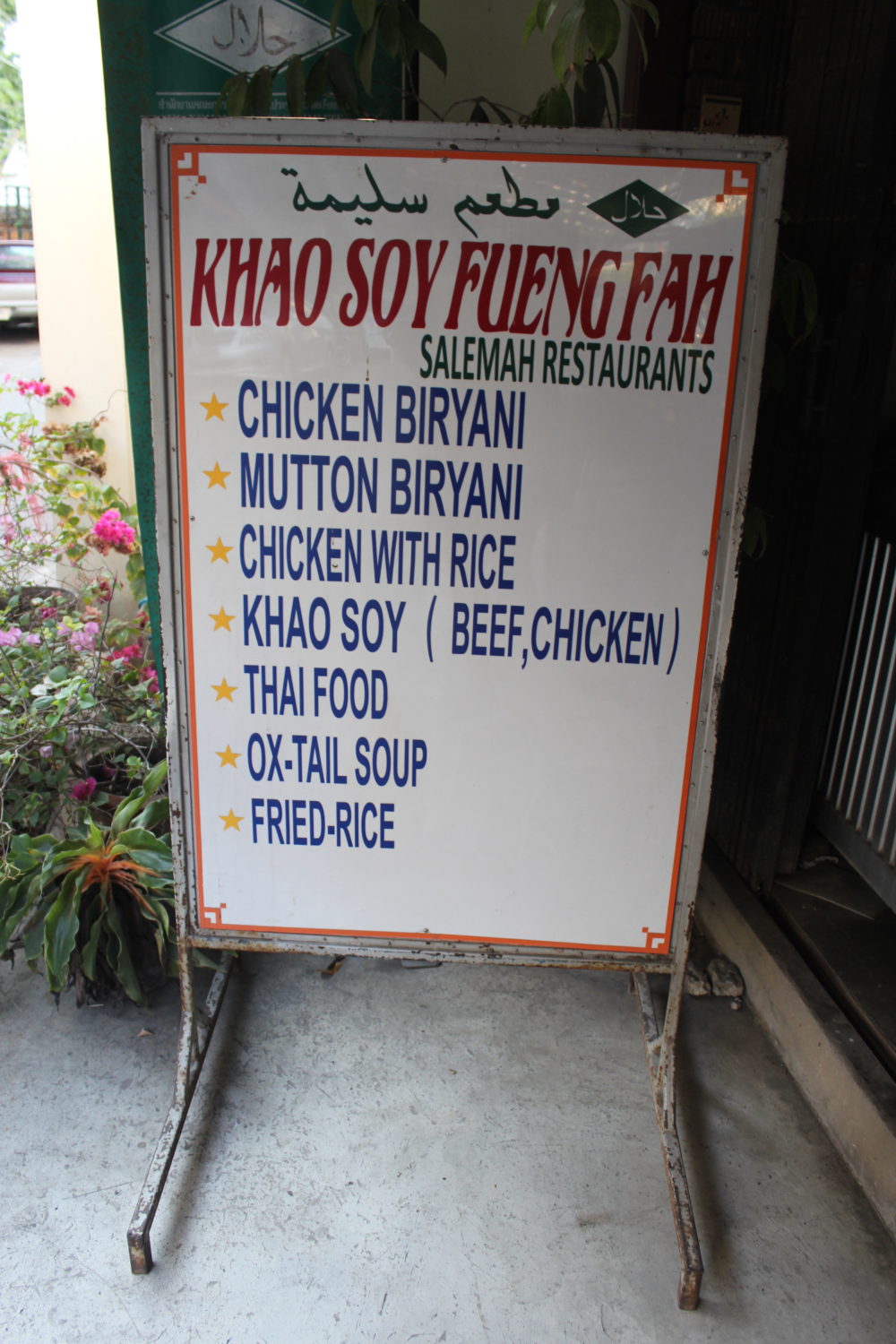 We didn't try their khao soi the first time we visited Khao Soi Fueng Fah because our mission that day was to try their biryani.  But the second time we visited, we decided to try their Khao Soi Neuua or beef khao soi. The owners are Chin Haw and so there was no pork option.  The restaurant seems popular with local Thai Muslims and the owners are friendly.  Khao Soi Fueng Fah is option for lunch up until 5 pm.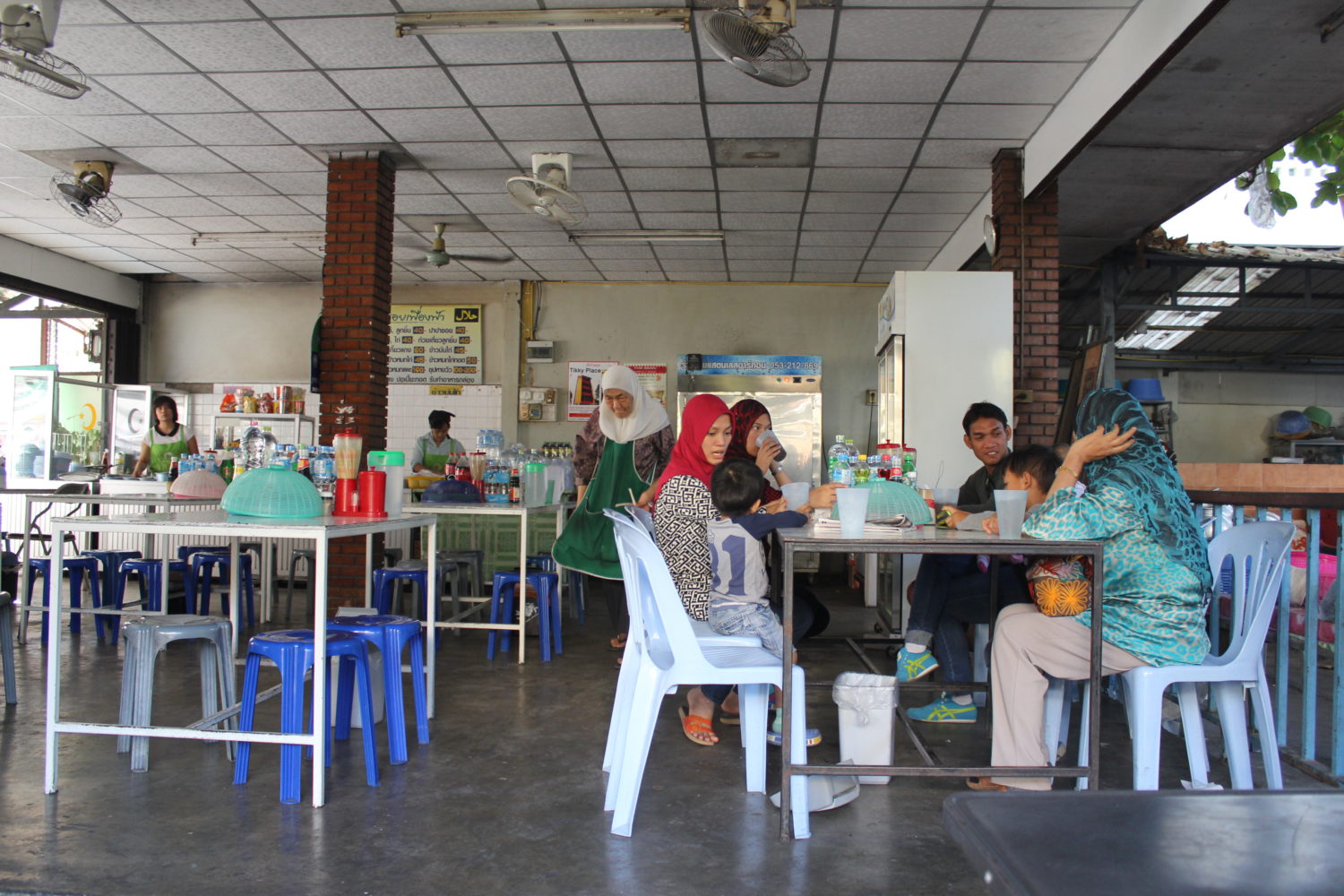 We decided to go for phih saeht or special bowl which really means just a bigger serving.  We found the broth lighter and spicier and the noodles were chewy which was nice.  The beef option is by far our favorite type of khao soi and they make a good beef khao soi at Khao Soi Fueng Fah.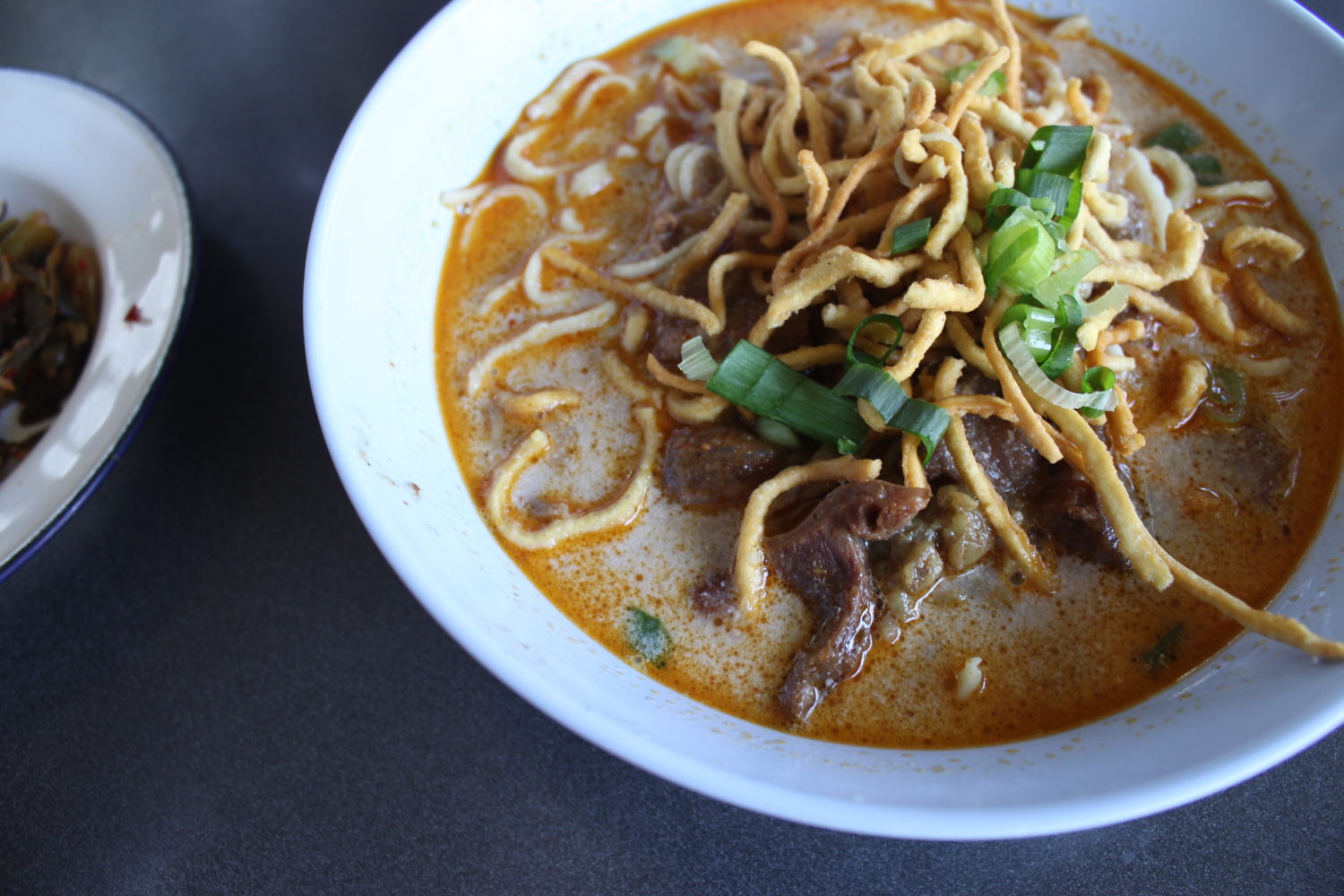 When we asked if they had other options in their menu aside from khao soi and biryanis, the owners recommended we try bpa bpa soi which we were told is a Yunnan specialty here in Chiang Mai.  The broth is different from khao soi in that it's lighter and not spicy at all.  Bpa bpa soi has peanuts, bean sprouts, greens, sesame seeds and thick and chewy rice noodles! I love their rice noodles while Arkadi prefers the egg noodles in khao soi.  Bpa bpa soi also comes with beef or chicken.   We tried both and were happy with both.  The broth did need a bit of fish sauce to add more flavour, but overall I think I prefer bpa bpa soi better than khao soi.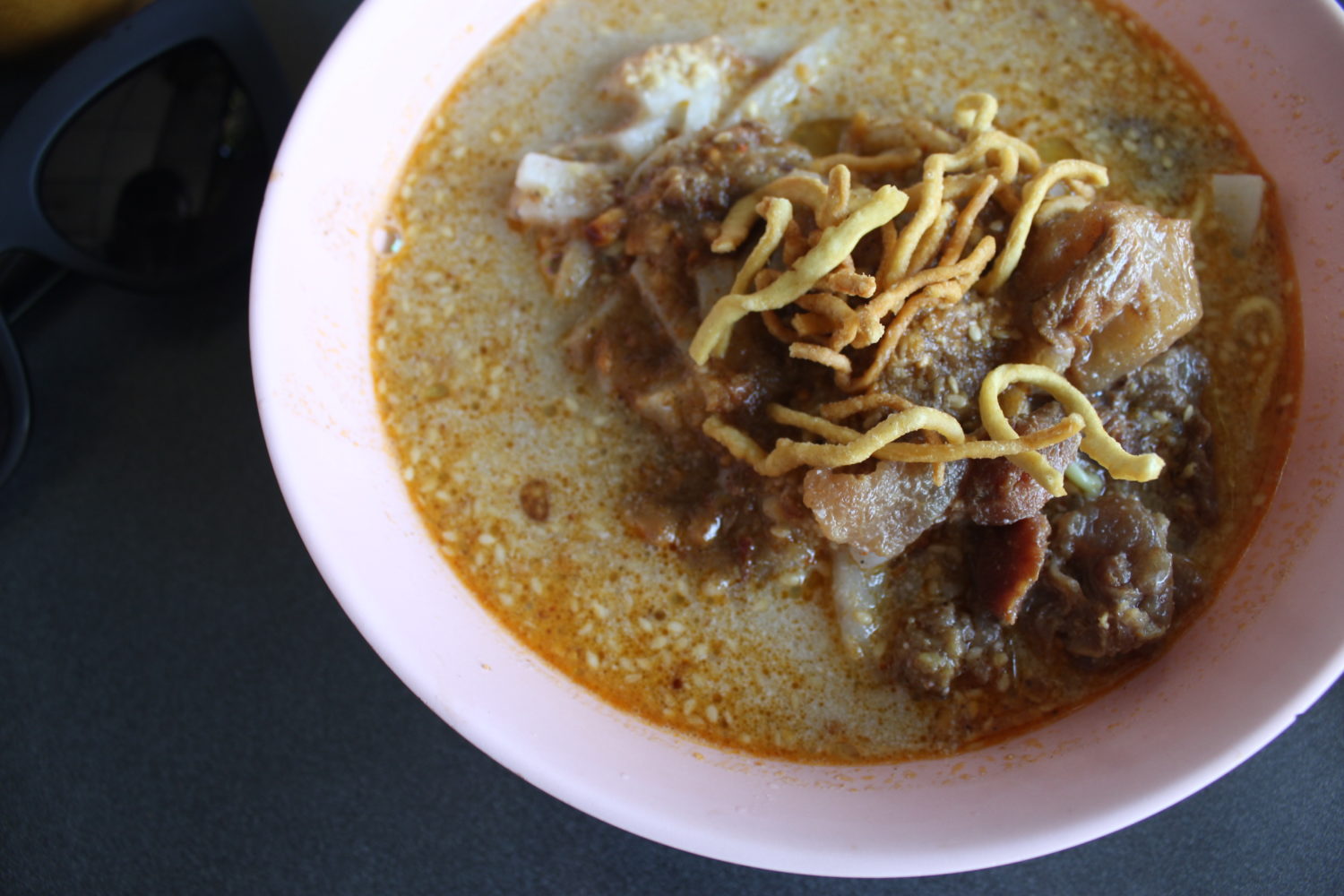 This is their beef bpa bpa soi.  We really love the thick cut, chewy noodles and the addition of sesame seeds.  If you feel like khao soi, but prefer something lighter, try this option out. 
This is their chicken bpa bpa soi.  Initially we thought this was a bit weak, but the second and third time we tried it, we fell in love with it.  
Another reason we like Khao Soi Fueng Fah is that they have great biryanis (khao mok).  Here at Khao Sao Fueng Fah they serve khao mok gai (chicken biryani), mutton and beef.  We have tried their beef and mutton and are quite pleased with both.  The mutton is more expensive (120 baht) than the beef option (65 baht for regular and 75 for special), but both are great options.  The biryanis are a mix of Indian/Thai flavours and they serve it topped with fork tender meat, fried shallots and a side of pickled cucumbers.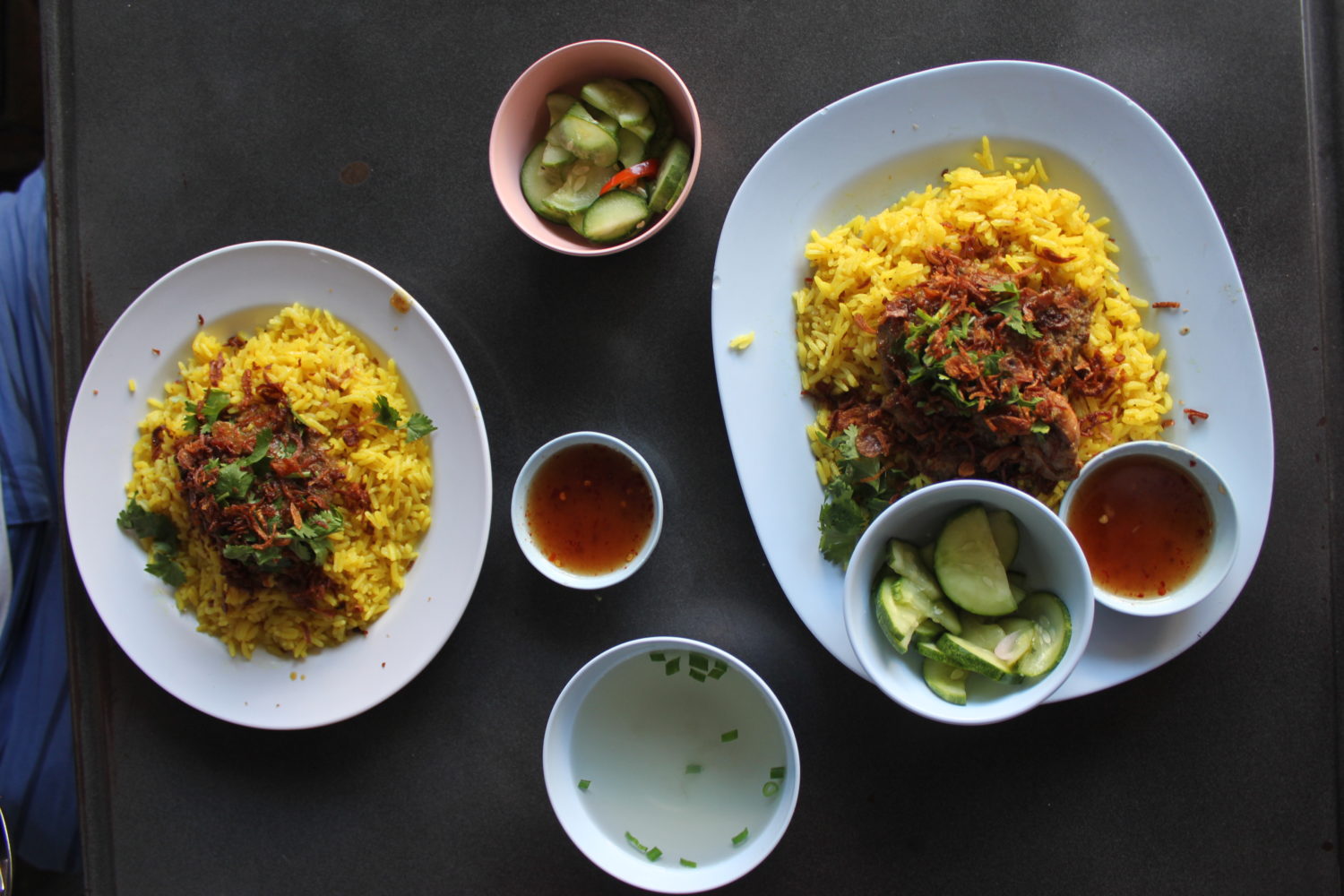 This is our go to meal when we don't feel like strong, spicy flavours.  Their beef is pretty good and their mutton is just fantastic! But they are a bit pricier than their chicken option.  
Khao Soi Fueng Fah is probably the most low key khao soi joints we've been to, but we like it because they not only make good khao soi, but they also serve other dishes.  For a plate of mutton biryani, beef biryani and a bowl of bpa bpa soi gai, we paid 290 baht ($11.60 CDN). But the prices for their khao soi and bpa bpa soi are under 70 baht.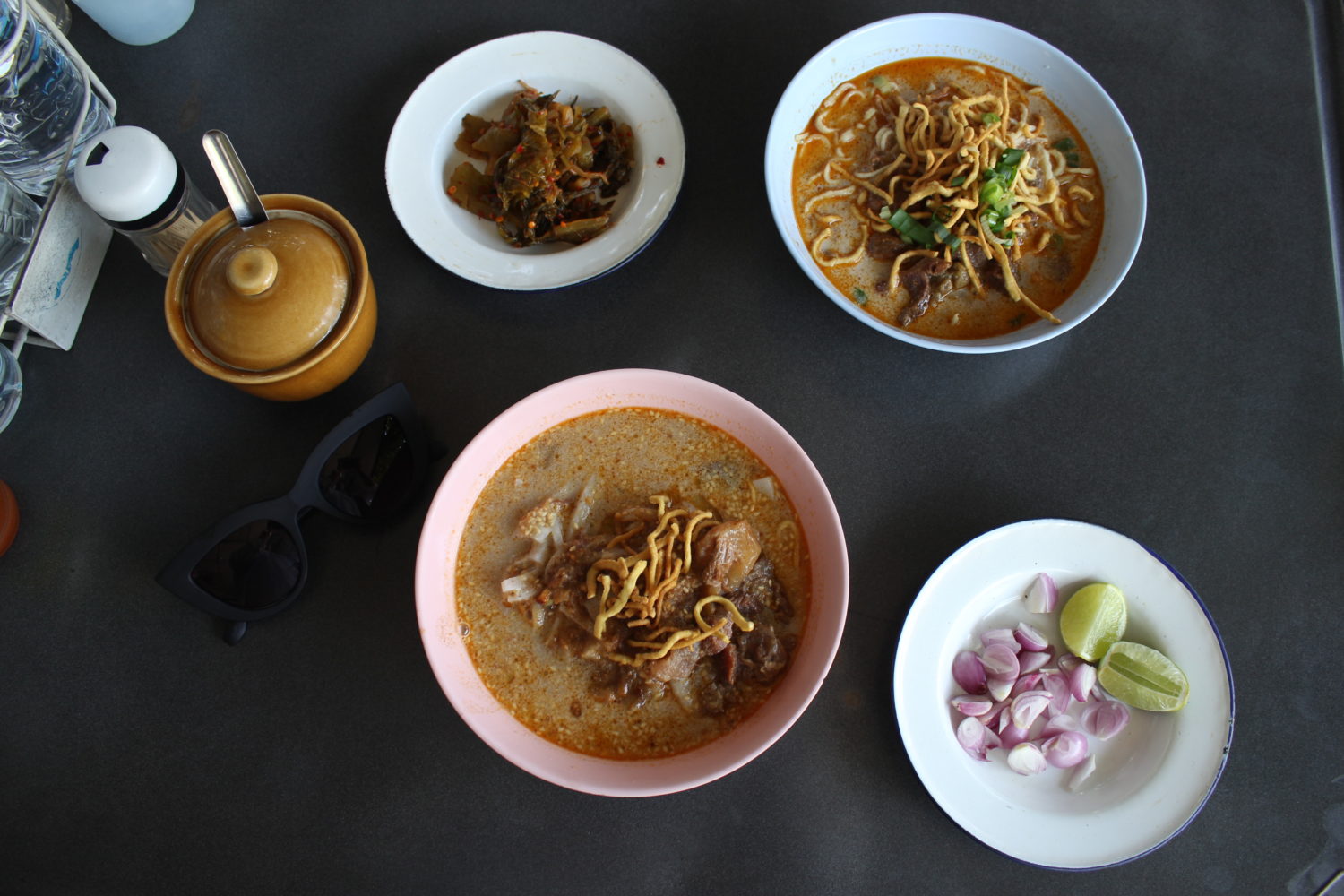 Khao Soi Lam Duan Fah Ham
(352/22 Charoen Rat Road)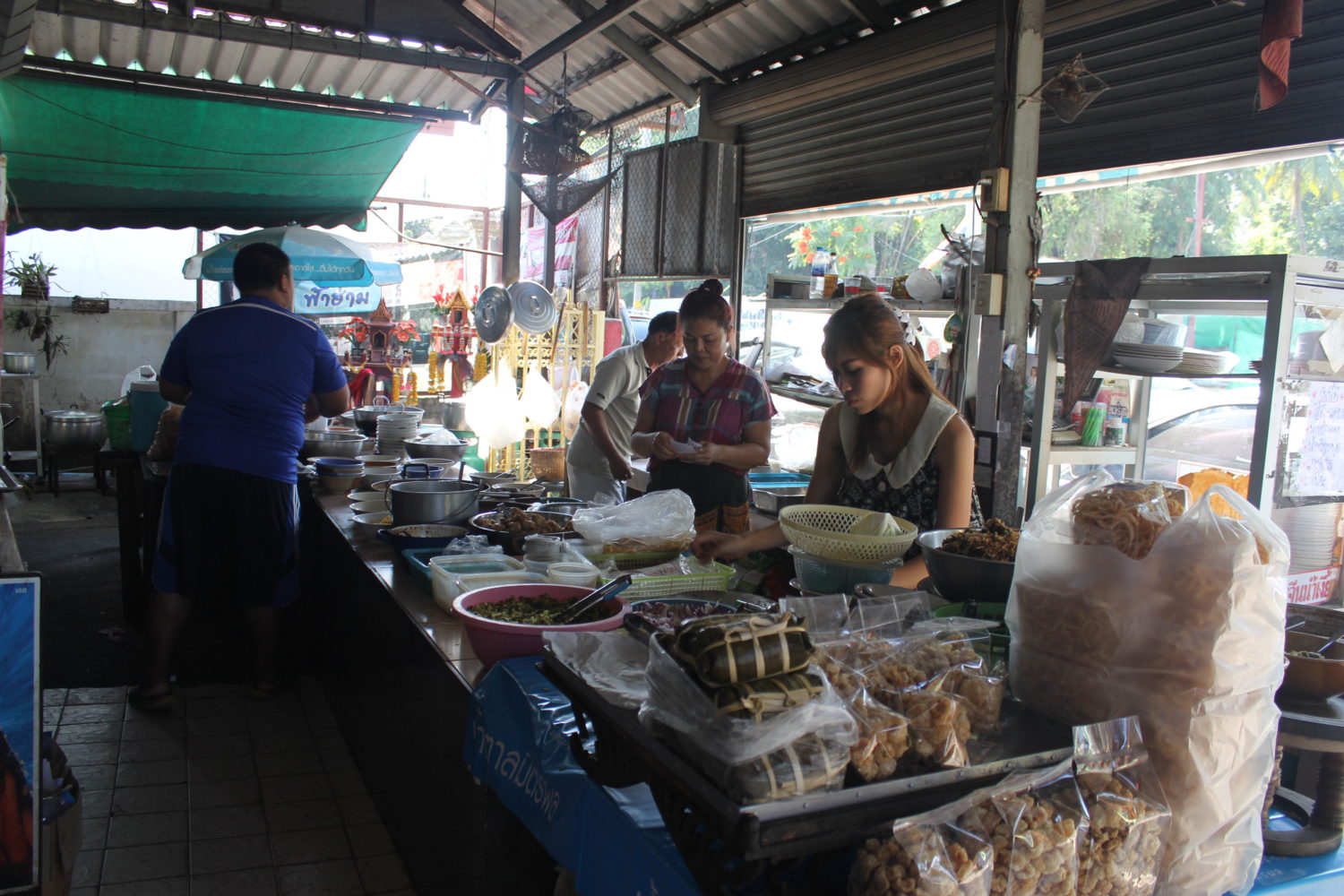 Khao Soi Lam Duan is one of the biggest khao soi joint we've been to and it's packed with so many locals and foreigners.  And it's been serving khao soi for over 70 years so they do know their khao soi.  They have large wooden tables which is great if you have a big group, but they also have smaller ones for two to four people.  We tried their beef khao soi which was good, but the spare ribs khao soi stole the show! The noodles were softer and they didn't add a lot of crispy noodles and the broth was a deeper red and spicier.  You do get a hint of coconut as they finish a bowl off with a drizzle of coconut cream.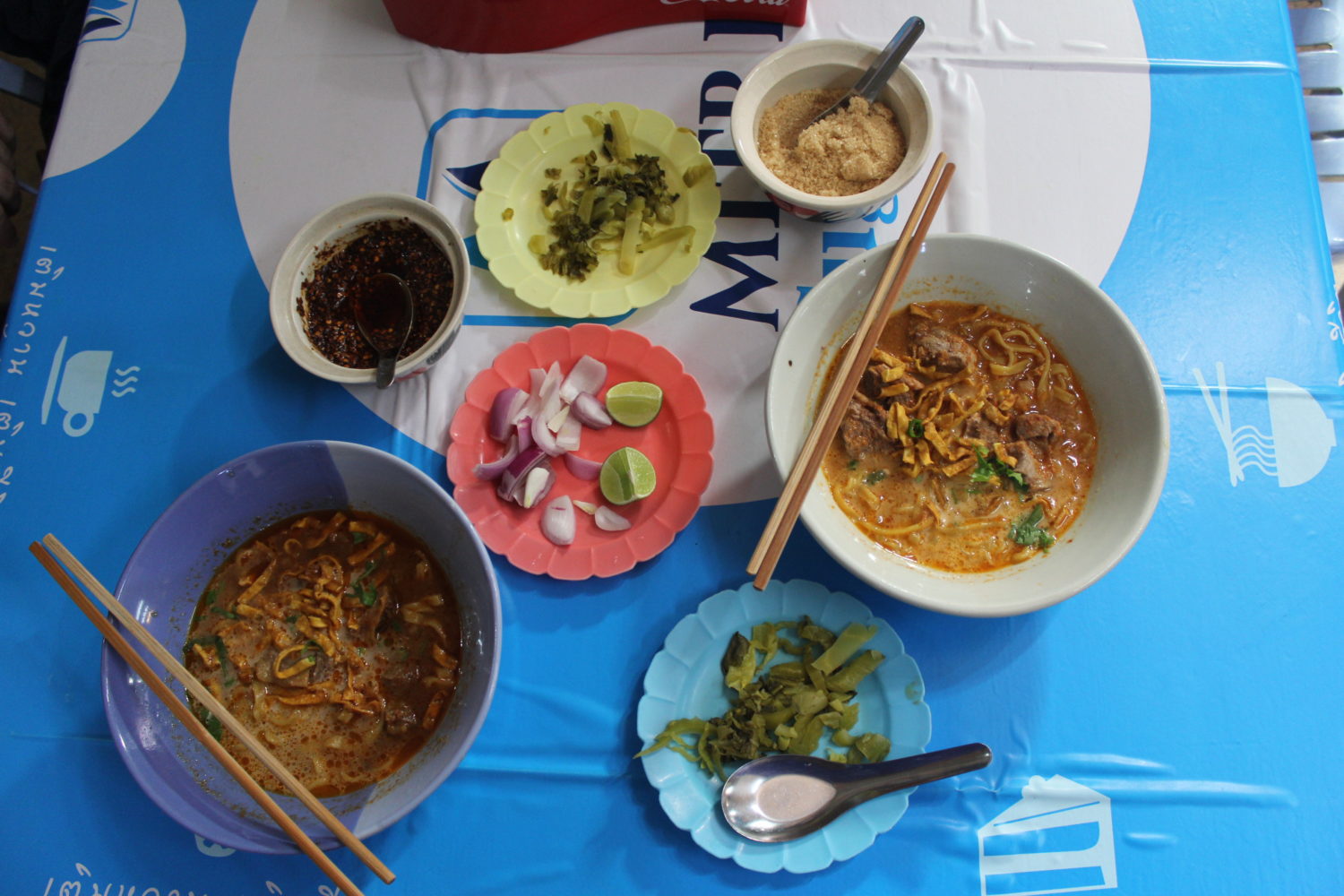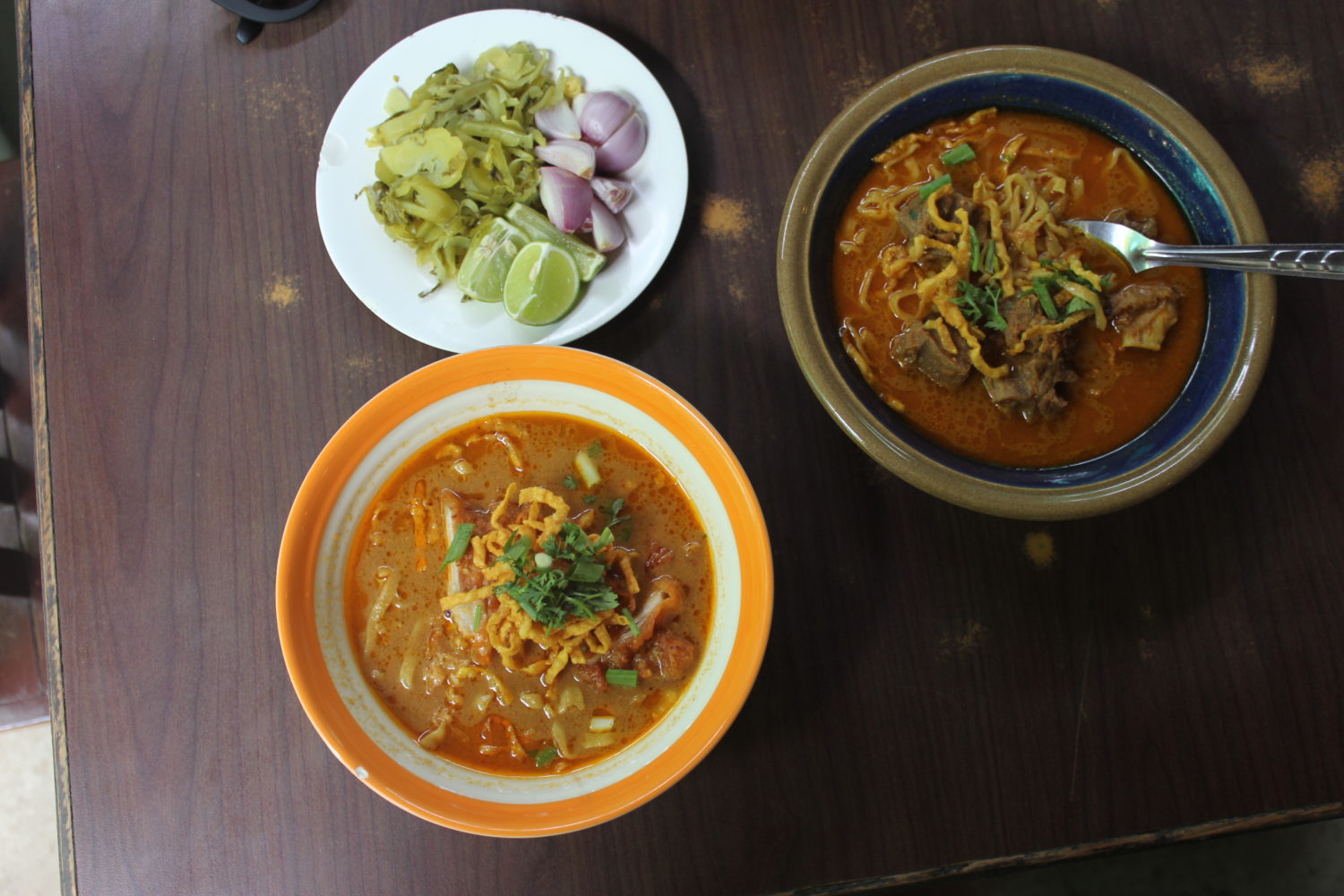 Blue bowl is beef and orange bowl is the pork option – both equally good!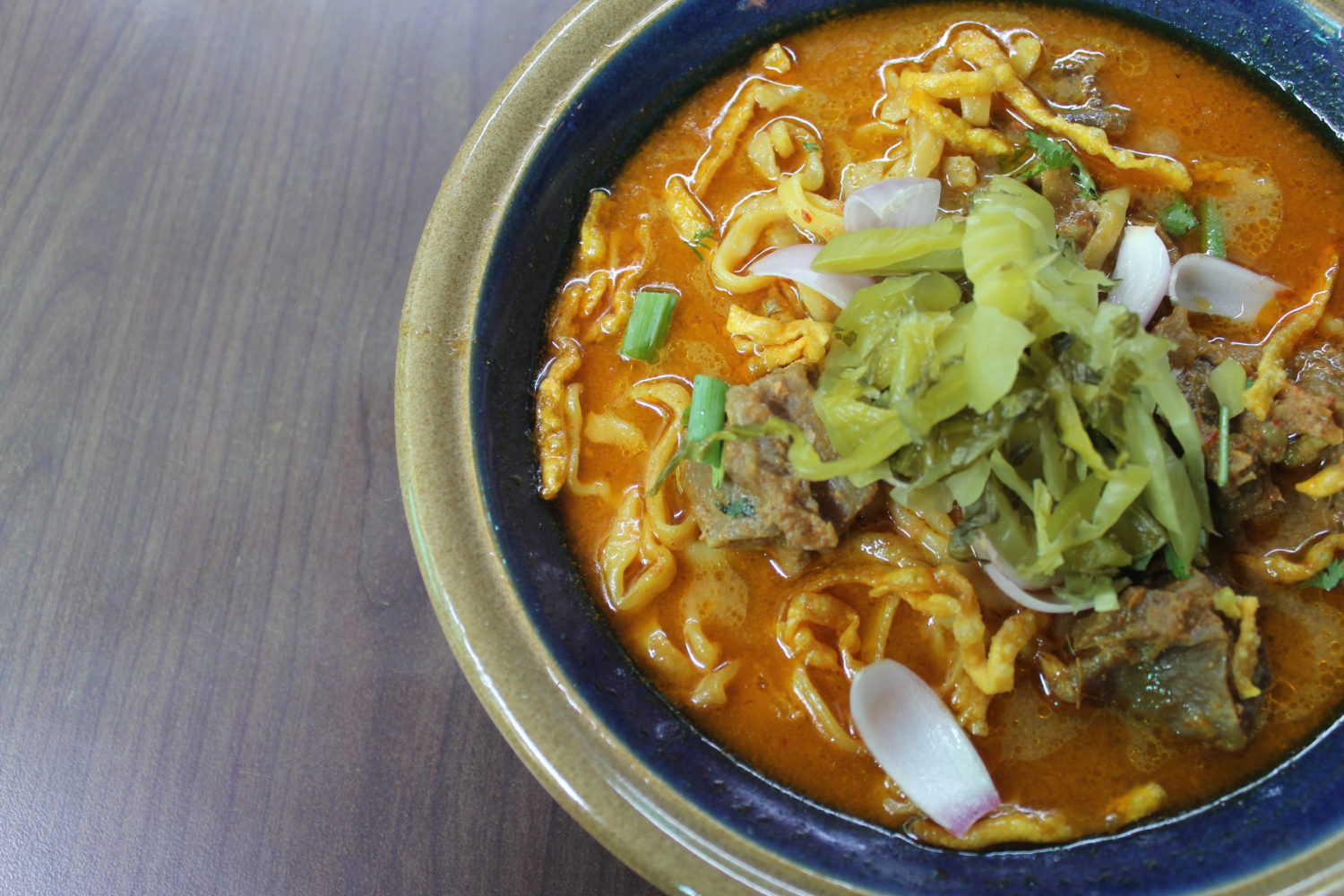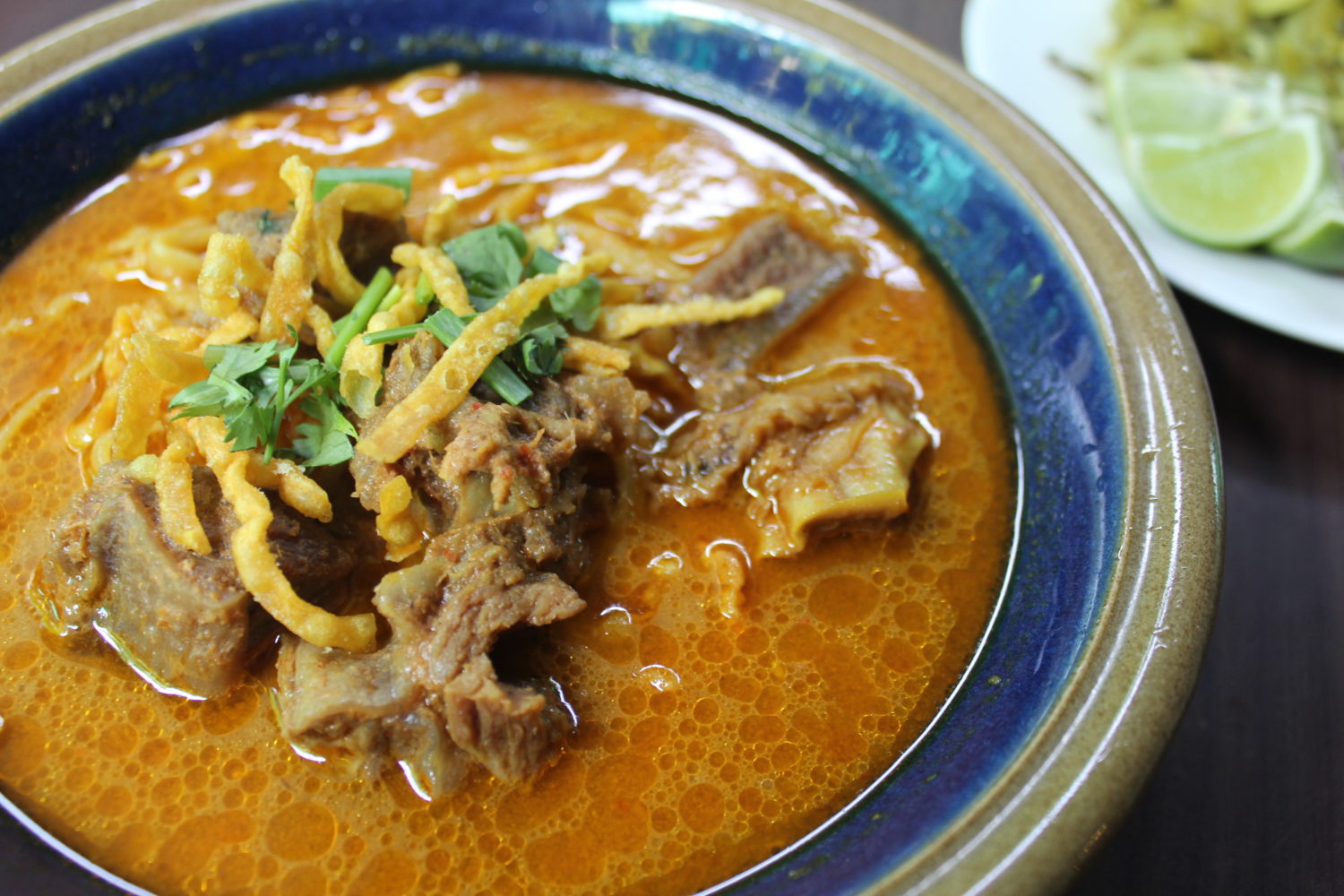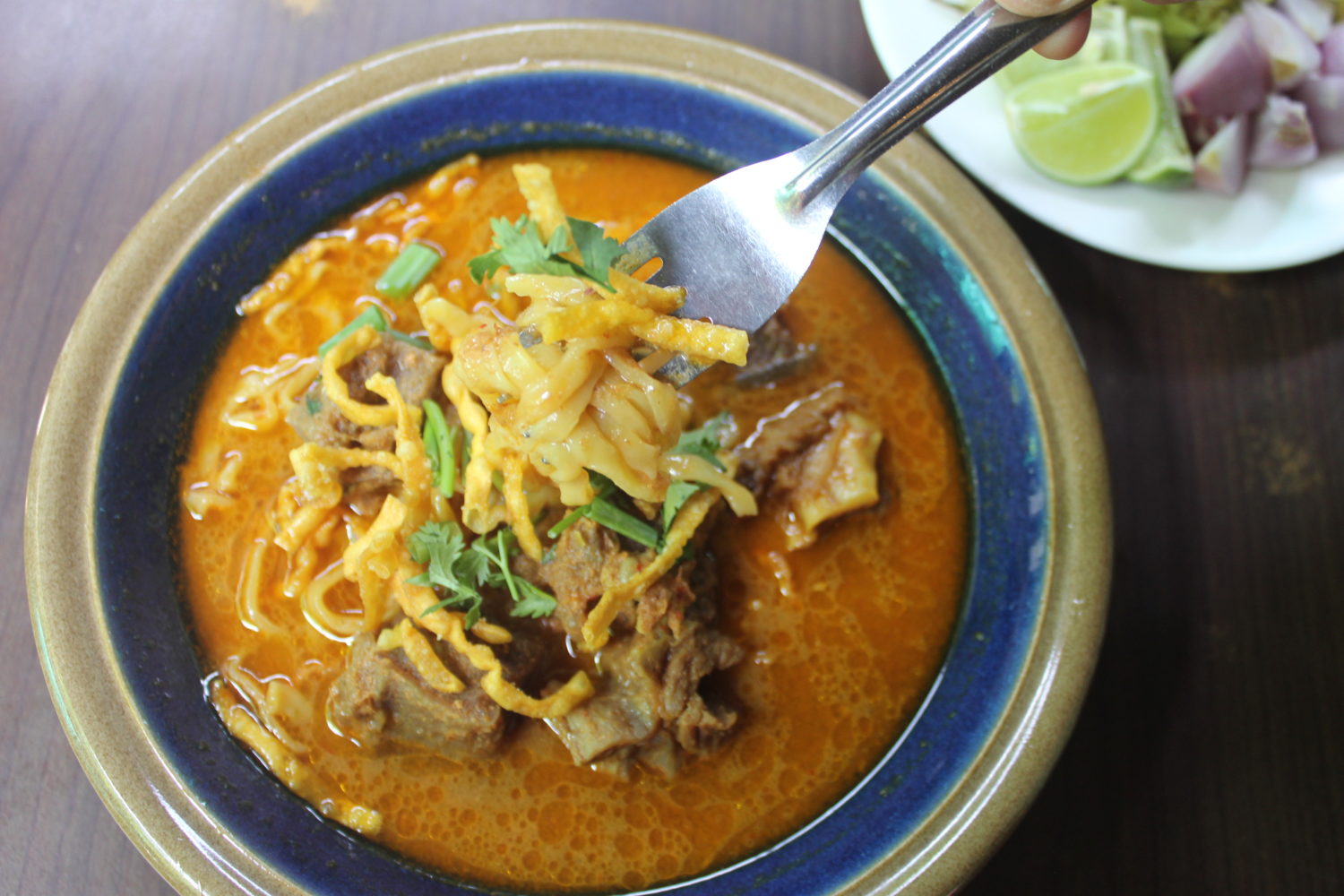 Along with bowls of khao soi, they also served different appetizers like pork satay, papaya salad, Northern sausage, crispy shrimp with chili sauce, etc.  They also make great smoothies.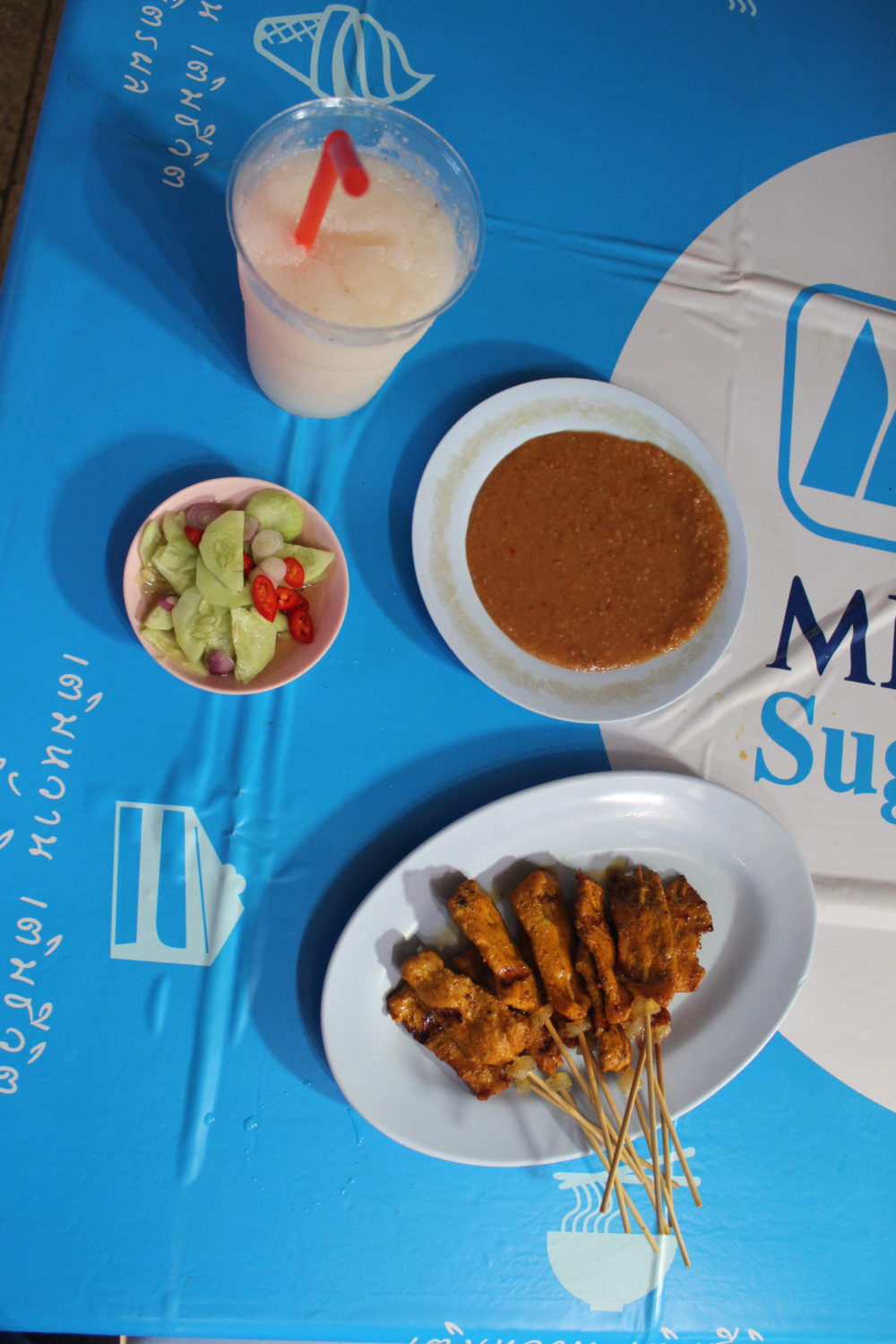 For some reason, we found their pork satays and dipping sauce were better in their original location than their second location.  Perhaps, its the plastic table cloths ! In any case, don't miss out ordering these sticks of porky deliciousness.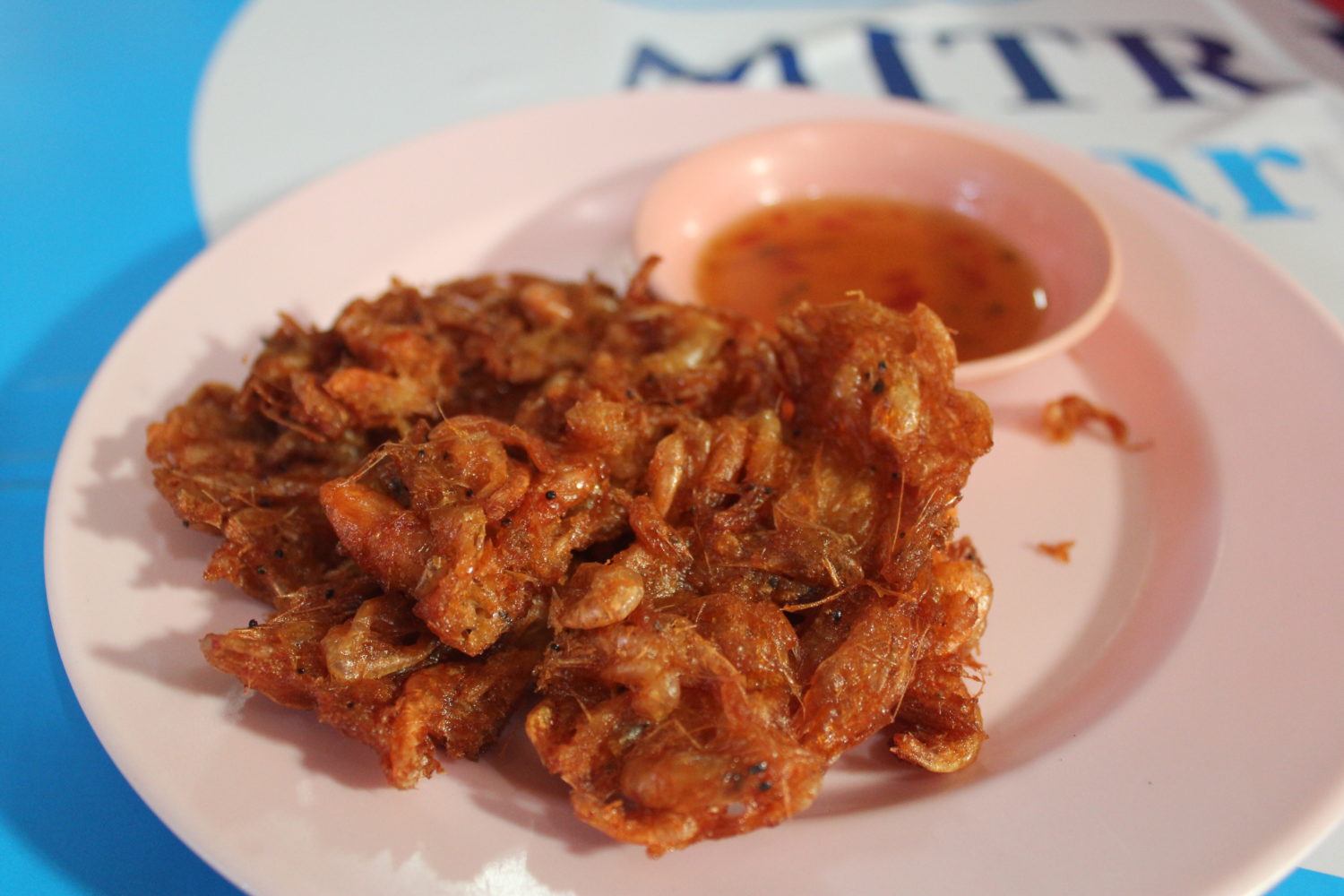 These were so crunchy and tasty! They are a must try if you don't mind seeing dead little eyes staring up at you !
Khao Soi Lam Duan has two locations, the first one on Charoen Rat Road and the second one is on the Super Highway.  The Super Highway is cleaner, newer and aesthetically nicer than the original location, but the food seems to be better at their first location or it may just be us.    We like this place because you can add other dishes to your meal and so you're not limited to just having khao soi.  And you can't beat the price. For a bowl of beef khao soi (regular size), a bowl of spare ribs khao soi (regular size), an order of 10 pork satays, an order of crispy shrimp with chili sauce and 1 lychee smoothie, we paid a total of 190 baht! That's $7.60 CDN and we left stuffed and happy! You can't beat good food for a good price!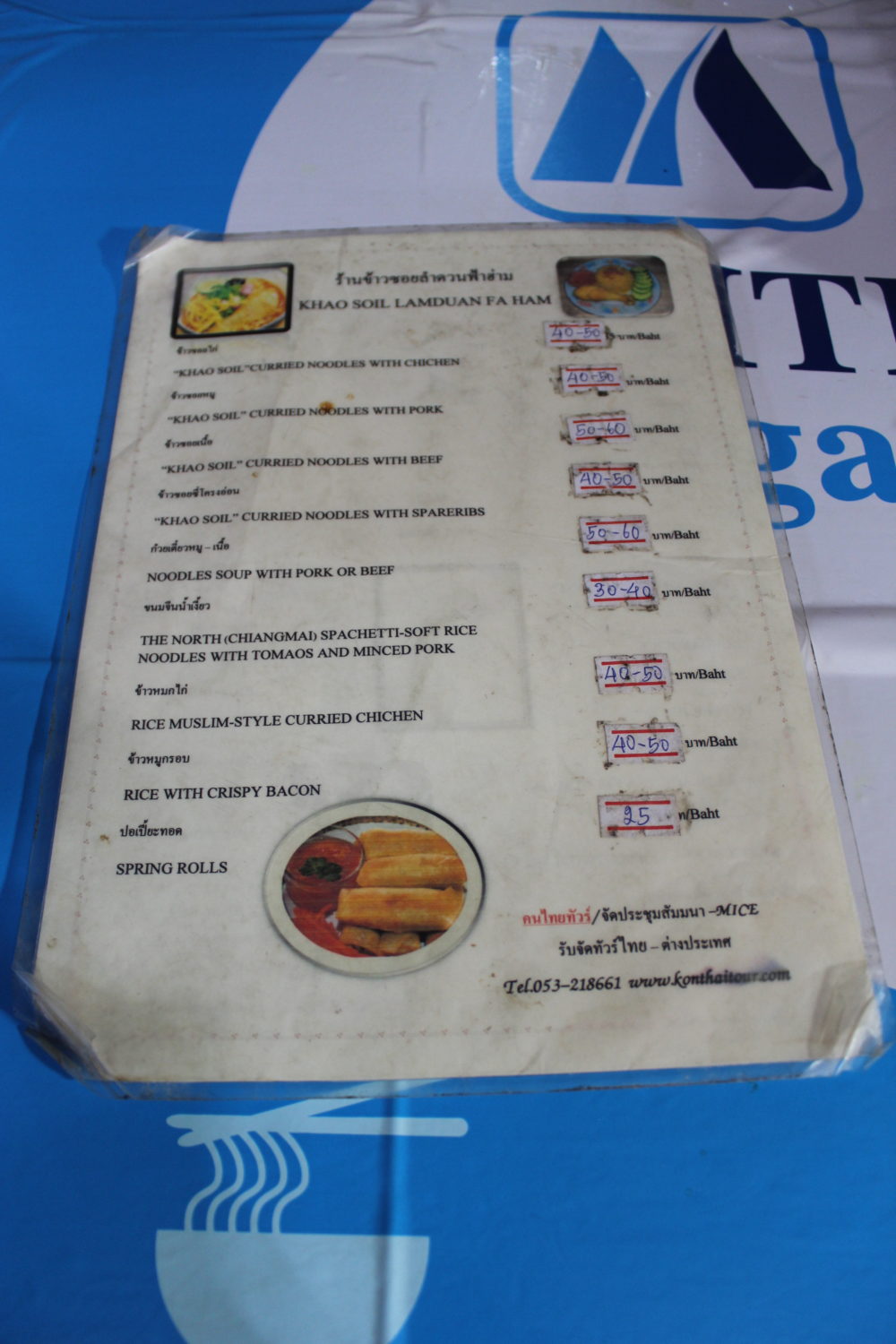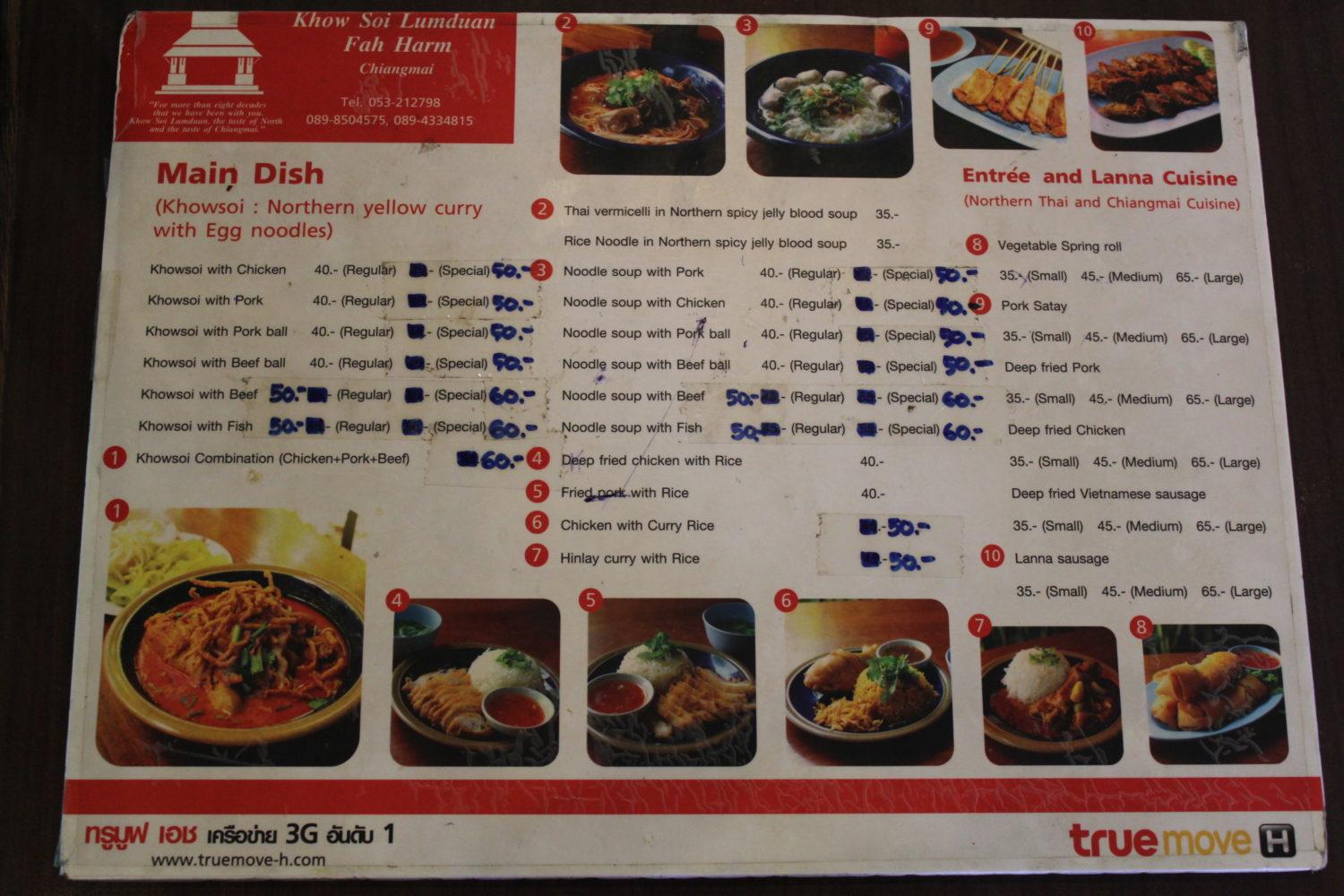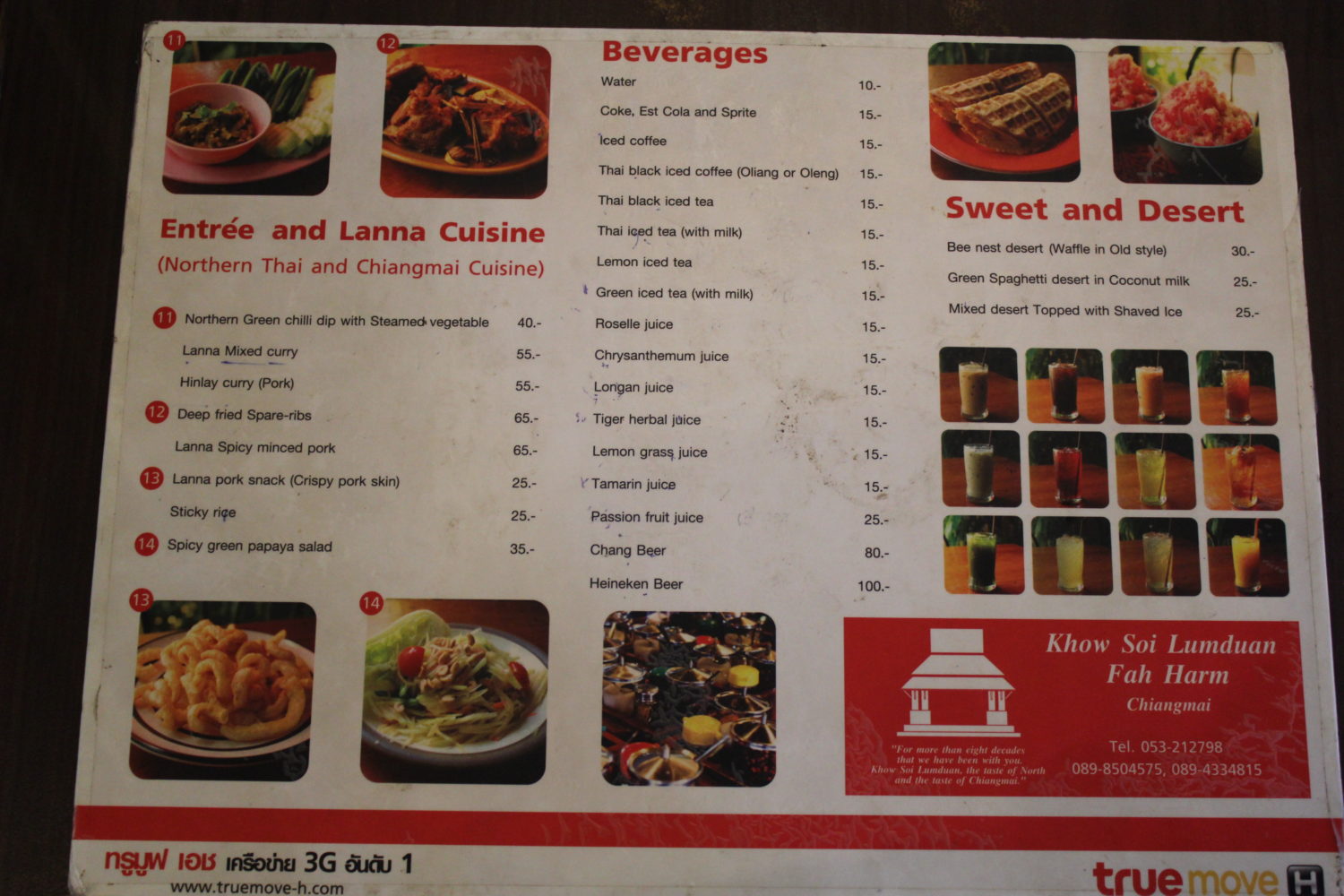 These are the menus for their two locations.  The first one is for the original spot and the second is for the one by the Super Highway.
Khao Soi Khun Yai (beside Wat Kuan Kama on Sripoom Road, North Gate, inside the moat)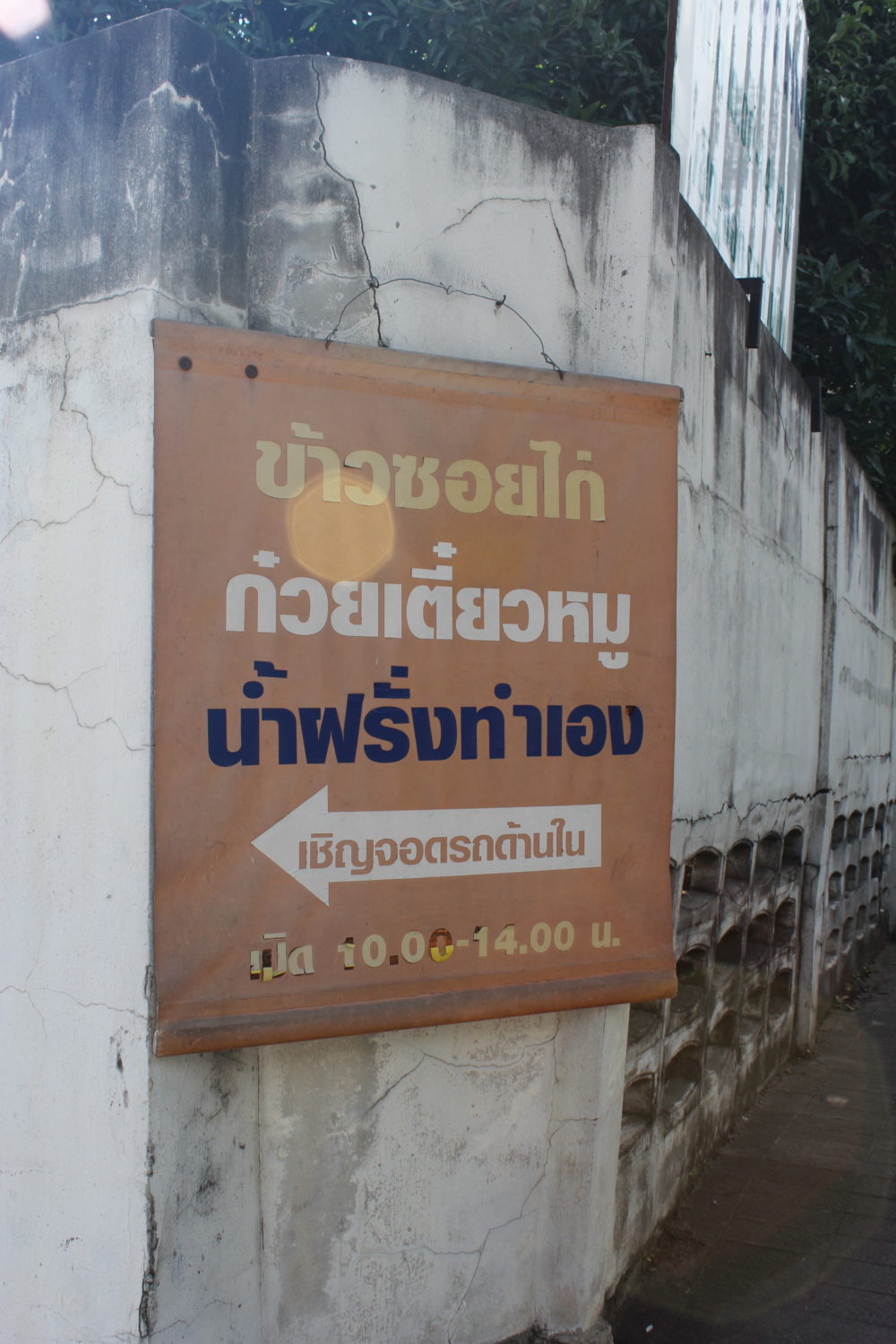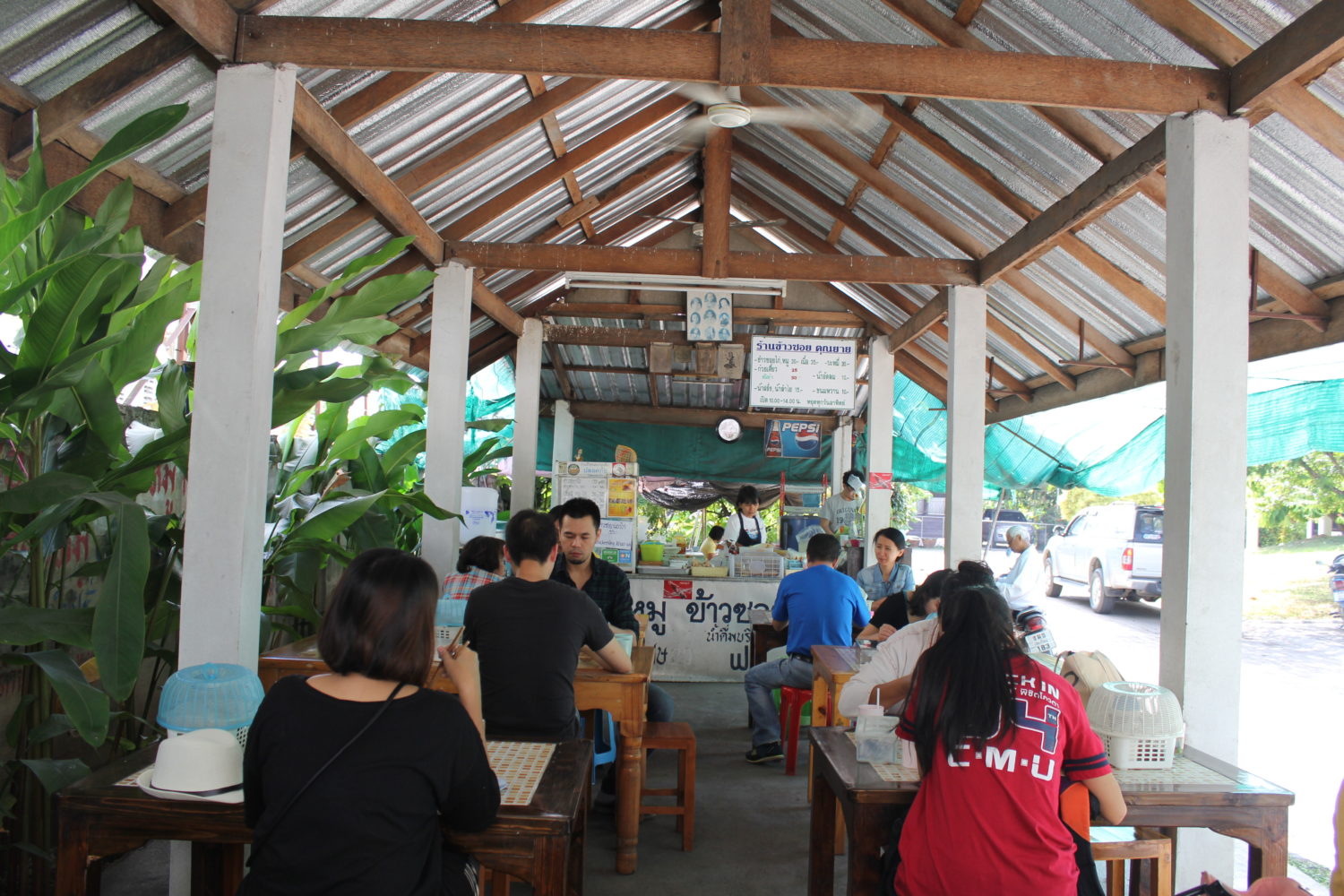 When you pass by Khao Soi Khun Yai, at first glance it doesn't look like a restaurant because all you see from the road is an opened gate and house in the back.  But the front of the house is outfitted as an open air restaurant with long rows of tables and chairs and a open kitchen in the front.   The restaurant opens at 10 am and closes at 2 pm, but it's best to get earlier.  We got there around 1 pm and they've already ran out of of pork khao soi.  Each bowl is about 30-35 baht, but the servings are really small.
The broth was a perfect balance of curry and cream.  It was spicy, but not overly spicy.  The broth had oil floating on top, but it doesn't leave your mouth coated in oil and we learned that good curry always has oil floating on top.   The egg noodles had a nice bite to them and the addition of a little bit of crispy thin noodles added texture to the dish.  Because they ran out of pork, we ordered khao soi gai (chicken khao soi) and it was just as tasty.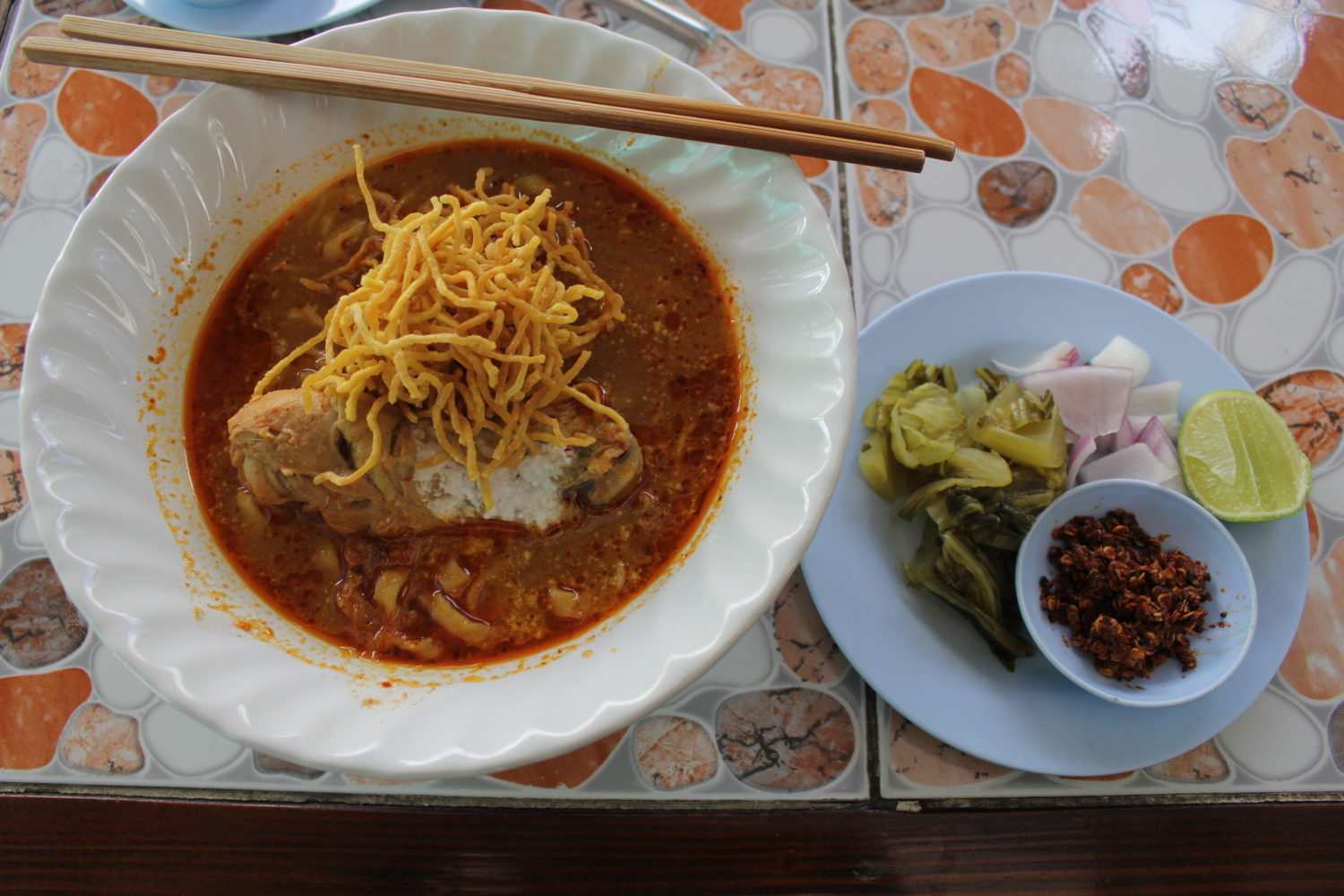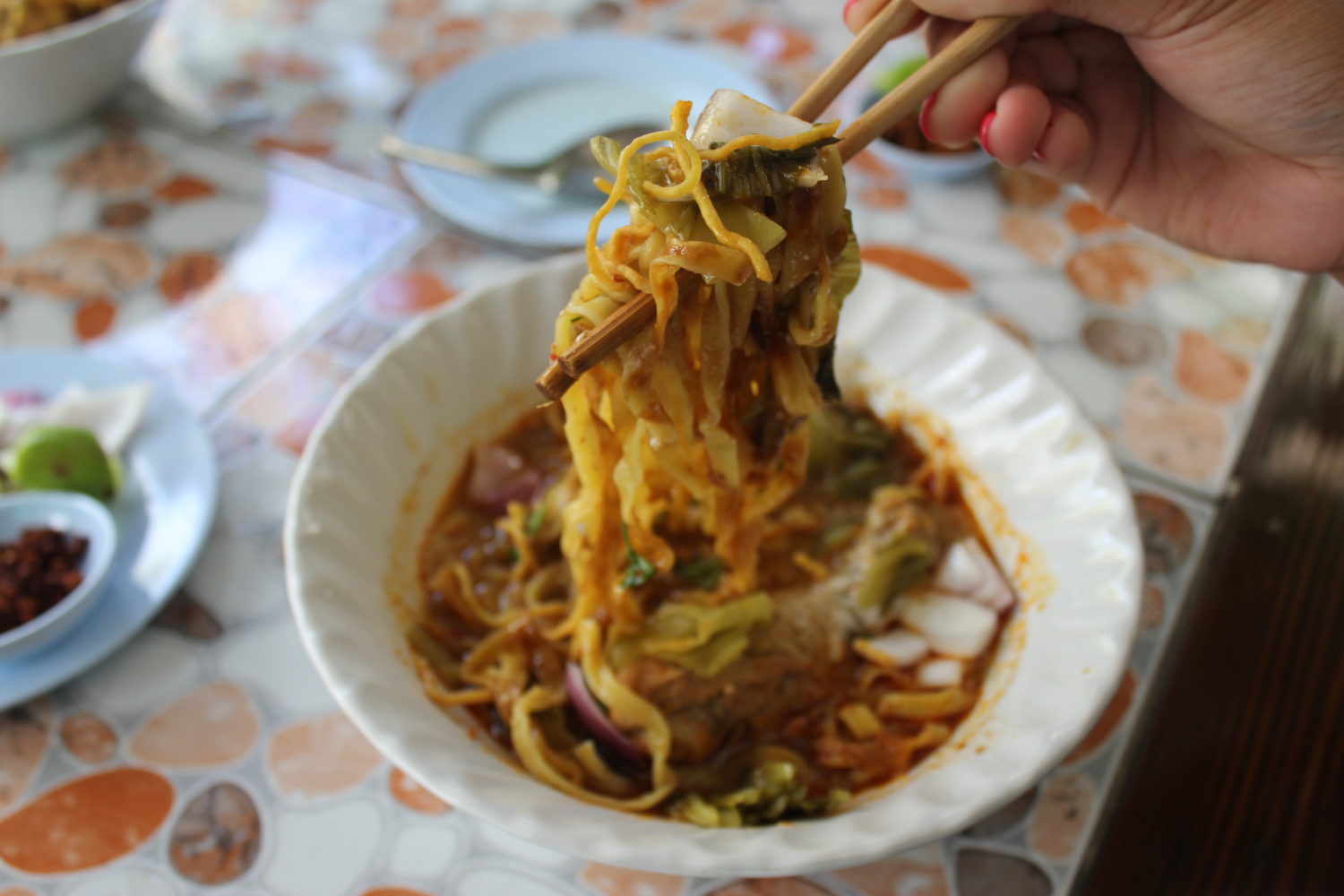 Because a serving of khao soi is usually small, we decided to try their other noodle options.  We tried this noodle dish which came with a light broth, ground pork, noodles and a crispy wonton on top.  This noodle dish is also tasty and if you find khao soi too spicy, then a bowl of this is right up your alley.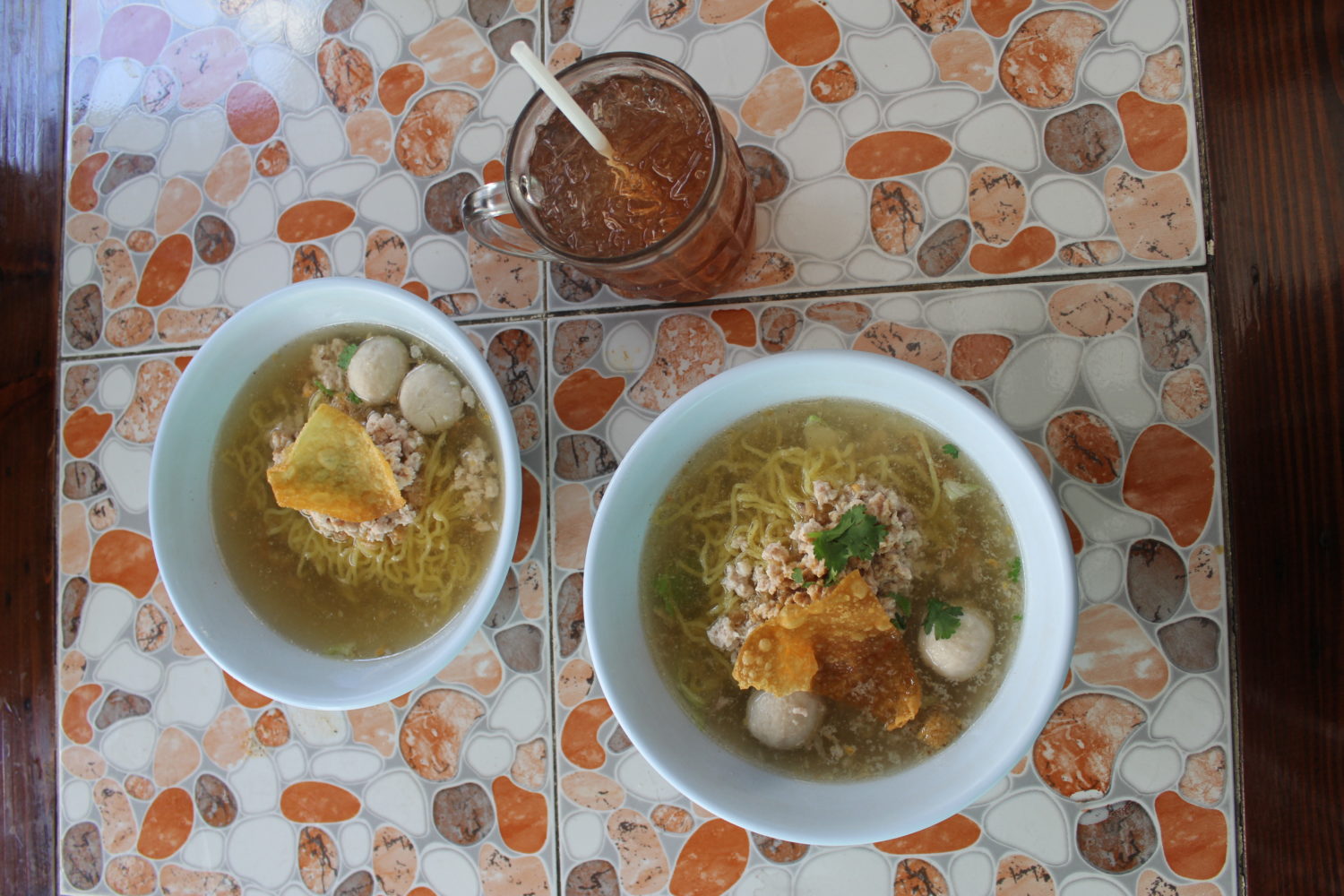 Khao Soi Mae Sai (Rachaphruk Road near Huay Kaew Road, Chang Phueak District)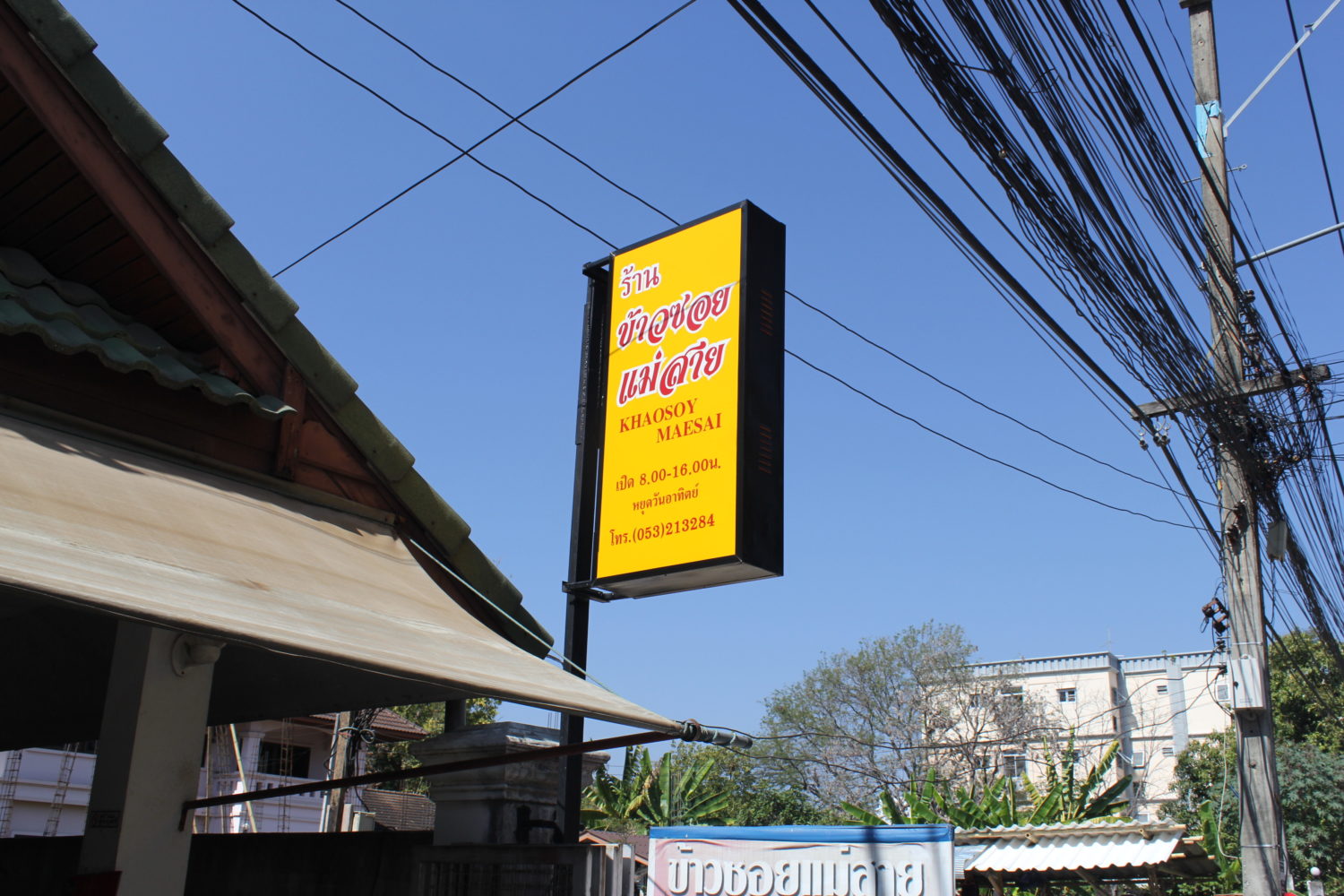 Khao Soi Mae Sai is a popular place for locals, but it's also popular with tourists because of its location (it's very close to Maya mall, Huay Kaew Mall and Nimmanhaemin).   The place gets packed at lunch time, but they do have plenty of tables and the wait is not long.   Like a lot of khao soi places, they are only open for lunch.  It's open for lunch until 4 pm.  They serve the usual pork, beef and chicken khao soi, but they also have other noodle dishes.  We've tried all three khao soi options and are our favorites are the beef and pork.  You can also ask for phih saeht which is a nice big serving.  The broth is rich and spicy, but less creamy.  And we are thankful that they serve a variety of cheap, cold drinks to help with the spiciness (we find the broth a bit spicier than other places, but we are not Thai spicy people so maybe you'll think it's not spicy at all. And yes we are wimps when it comes to spicy food as we found out living in Thailand).   The service is fast and friendly.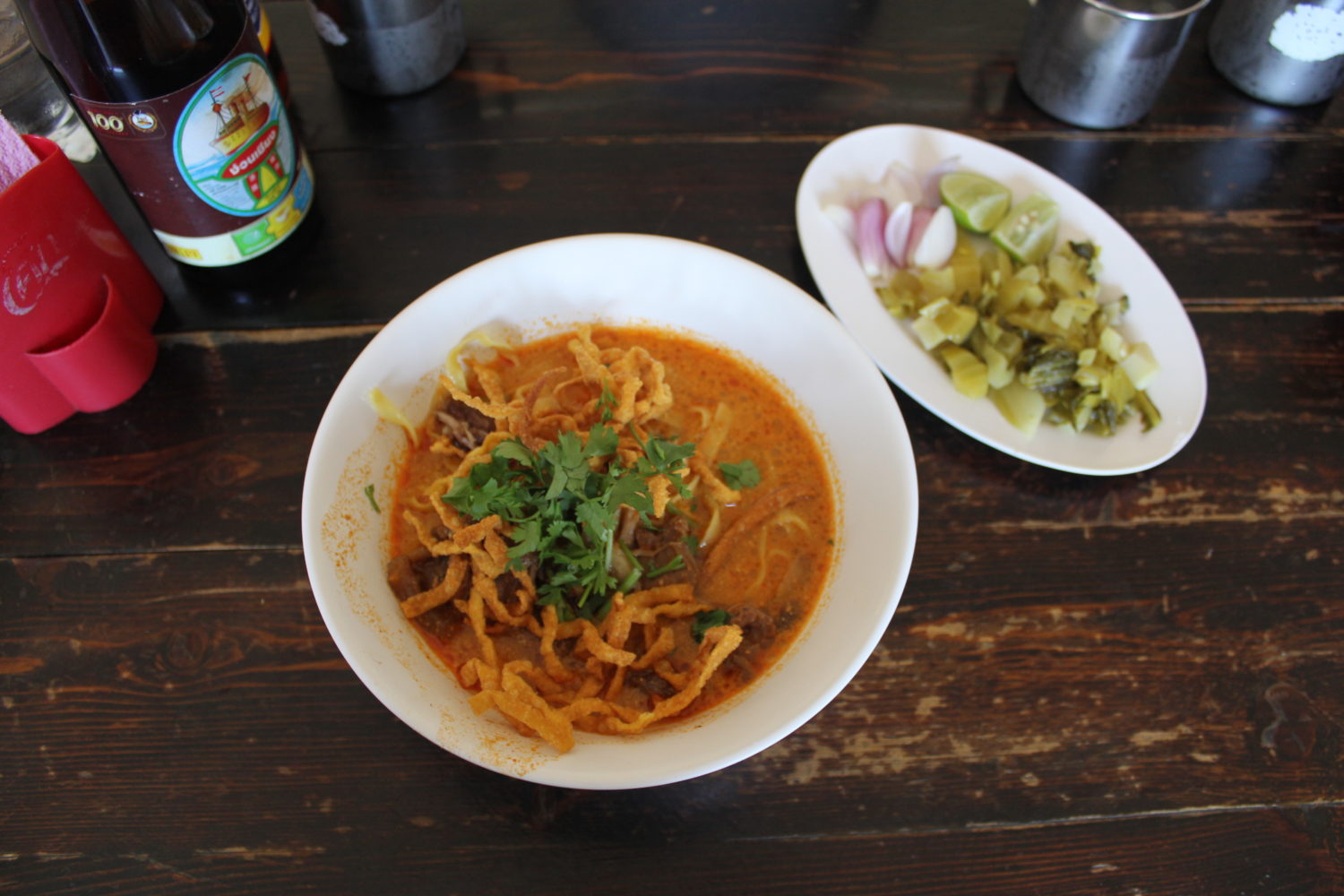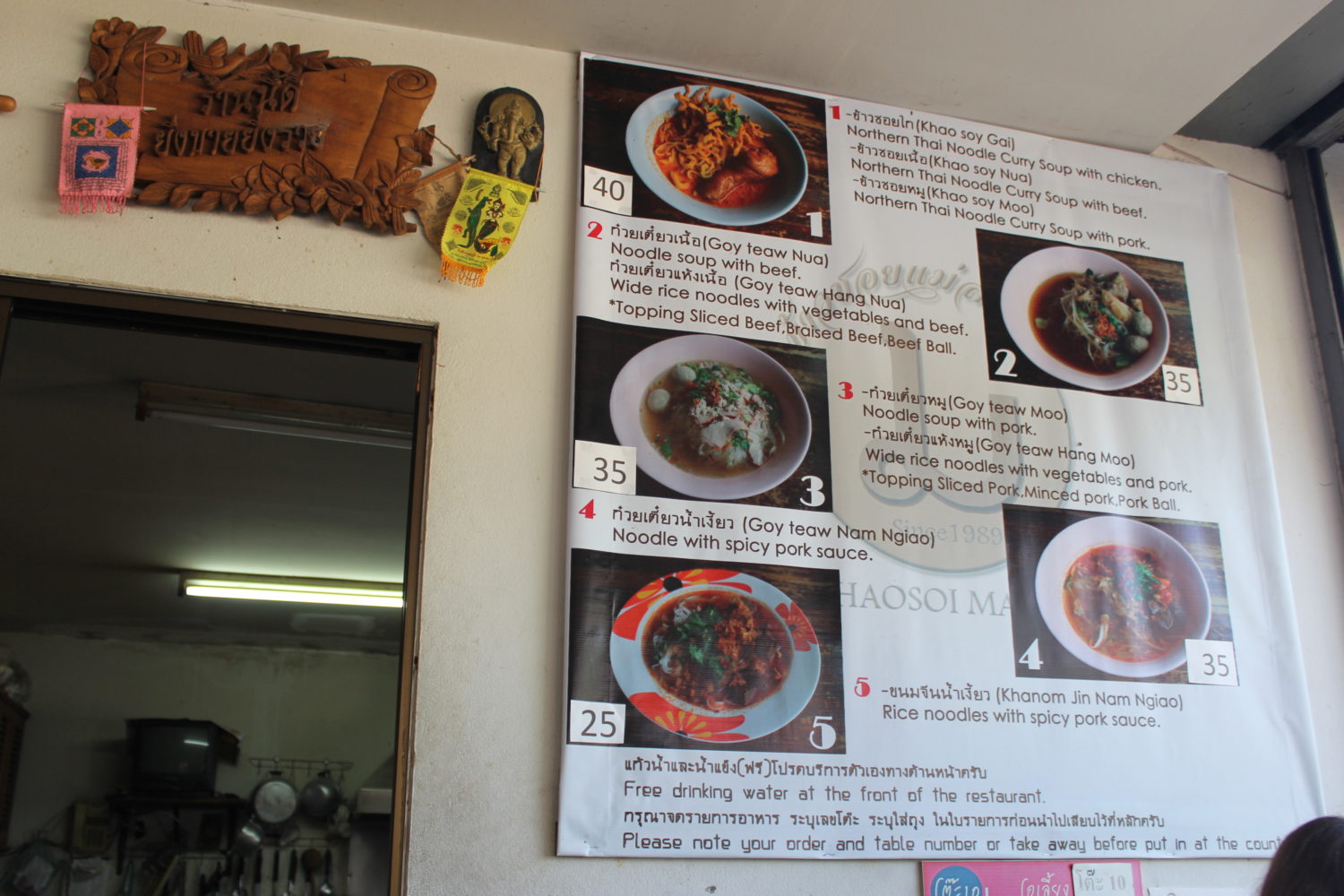 And right outside the restaurant is a cart selling Thai crepes or khanom buang.  You cannot miss this cart.  Khanom buang is a Thai dessert made of thin, crispy crepe filled with sweet meringue and golden egg yolk threads.  It's 20 baht for 10 pieces and it's a perfect way to end a meal!
So there you have it, that's a list of our favorite khao soi places here in Chiang Mai? What's yours? Send us your suggestions and we'll for sure try it! Have you tried making khao soi at home? If so, share with us your recipe and experience.  We'd love to hear from all of you!