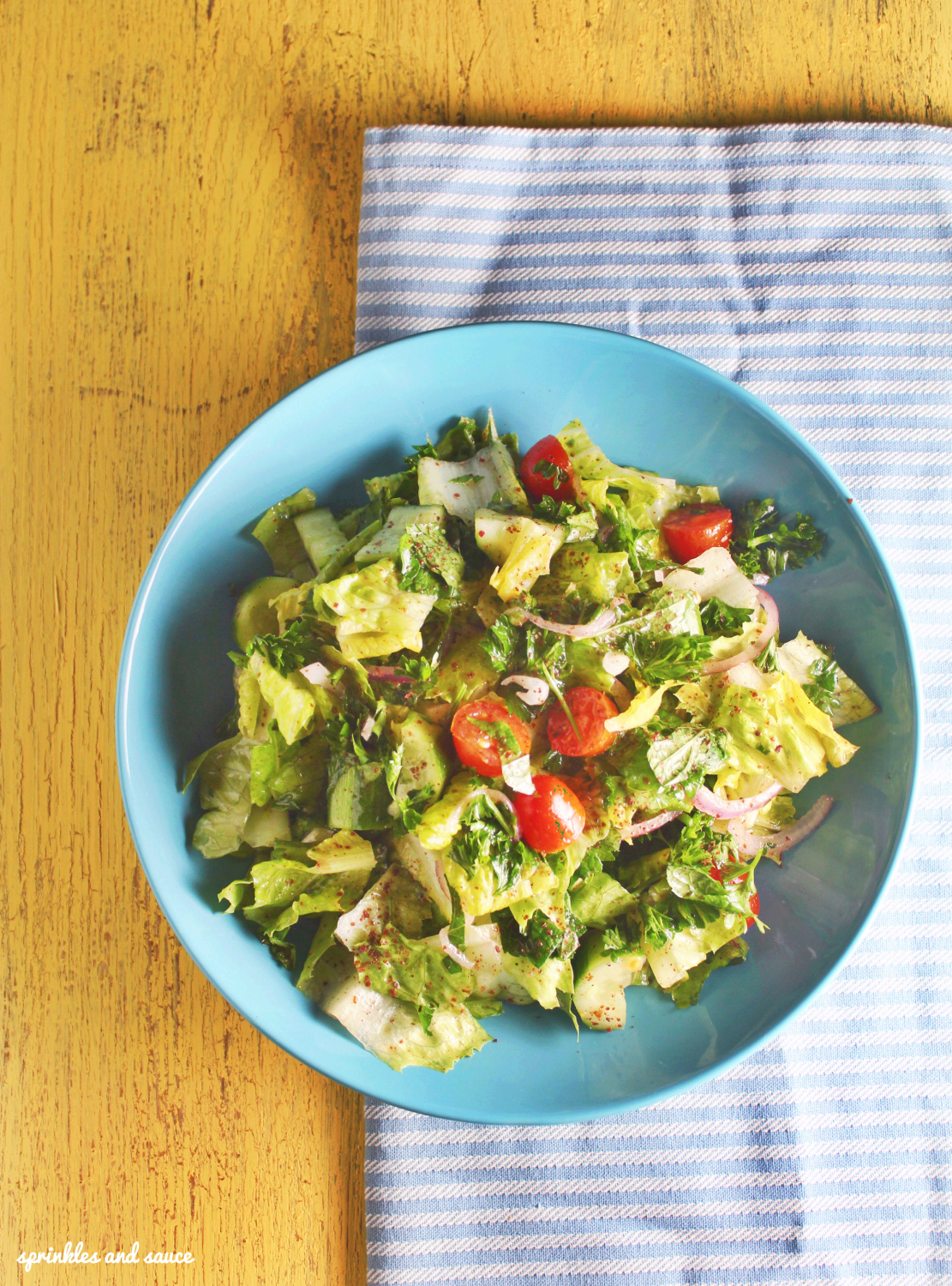 Fat what? Well, fattoush is a popular Lebanese salad and  it's likely popular because it's flavorful and versatile.  Fattoush is a standard dish in a Lebanese mezza (small dish or appetizer) along with hummus, kibeh, falafel, kofta, etc.  Traditionally, fattoush is made up of romaine lettuce, parsley, cucumber, tomatoes, onion, radish, mint and toasted pita bread, but you can easily take out or add other veggies like green pepper or even add some crumbled feta for more flavor.  Sumac is the main star of the dressing and rightly so because it adds that little something, something that makes this salad really addictive! Sumac is a popular and essential spice in a lot of Arabic cooking.  Sumac is the Arab world's version of North America's lemon or Asia's tamarind.  It adds a subtle tartness to meat dishes, salads and even drinks. Plus it's deep red colour makes it a great garnish to finish off your grilled meat, hummus and of course, salad.  I have not come across sumac in a lot of mainstream grocery stores in my area, so you likely have to go to an Arabic or Persian grocery store to get some sumac.   This salad has it all, the crunch and freshness from the veggies, flavor from all the herbs and the dressing is just so addicting.  So if you want to venture out of your regular food box and try something new and exciting, try this recipe for fattoush:
Fattoush (Lebanese Chopped Salad)

Ingredients
For the dressing:
4 teaspoons of ground sumac (soaked in 4 teaspoons warm water for 15 mins)
3 tablespoons or more lemon juice
2 tablespoons or more pomegranate molasses*
2 small garlic cloves, minced
2 teaspoons or more white wine vinegar
½ teaspoon dried mint
¾ cup extra virgin olive oil
kosher salt
For the salad:
2 8 inch diameter pita breads, halved, toasted until golden brown and broken into bite sized pieces*
¼ cup extra virgin olive oil
kosher salt
4 cups cherry tomatoes, halved
1 lb persian cucumbers or 1 1lb English hothouse cucumber, chopped
6 scallions thinly sliced or half a small red onion, thinly sliced
1 head romaine lettuce, chopped
2 cups of loosely packed flat leaf parsley, chopped
2 cups purslane leaves (optional)
1 cup fresh mint leaves
sumac
Instructions
For the dressing:
Combine the sumac with soaking liquid with 3 tablespoons lemon juice, 2 tablespoons pomegranate molasses, garlic, 2 teaspoons vinegar and dried mint in a small bowl.
Gradually add oil, whisking constantly until well blended.
Season with salt and add more lemon juice, pom molasses and vinegar to taste if desired.
For the salad:
Place pita pieces in a medium bowl. pour oil and toss to coat. Season pita to taste with salt.
Mix tomatoes and next six ingredients in a large bowl.
Add ¾ of the dressing.
Toss to coat and add more dressing by tablespoons as needed.
Season with salt.
Add pita and toss again.
Sprinkle sumac if desired.
Notes
*we didn't have pomegranate molasses handy so we omitted it and our salad turned out just fine. if you want to stick to tradition, then go ahead and add some pomegranate molasses. we also omitted the addition of toasted pita bread this time around.