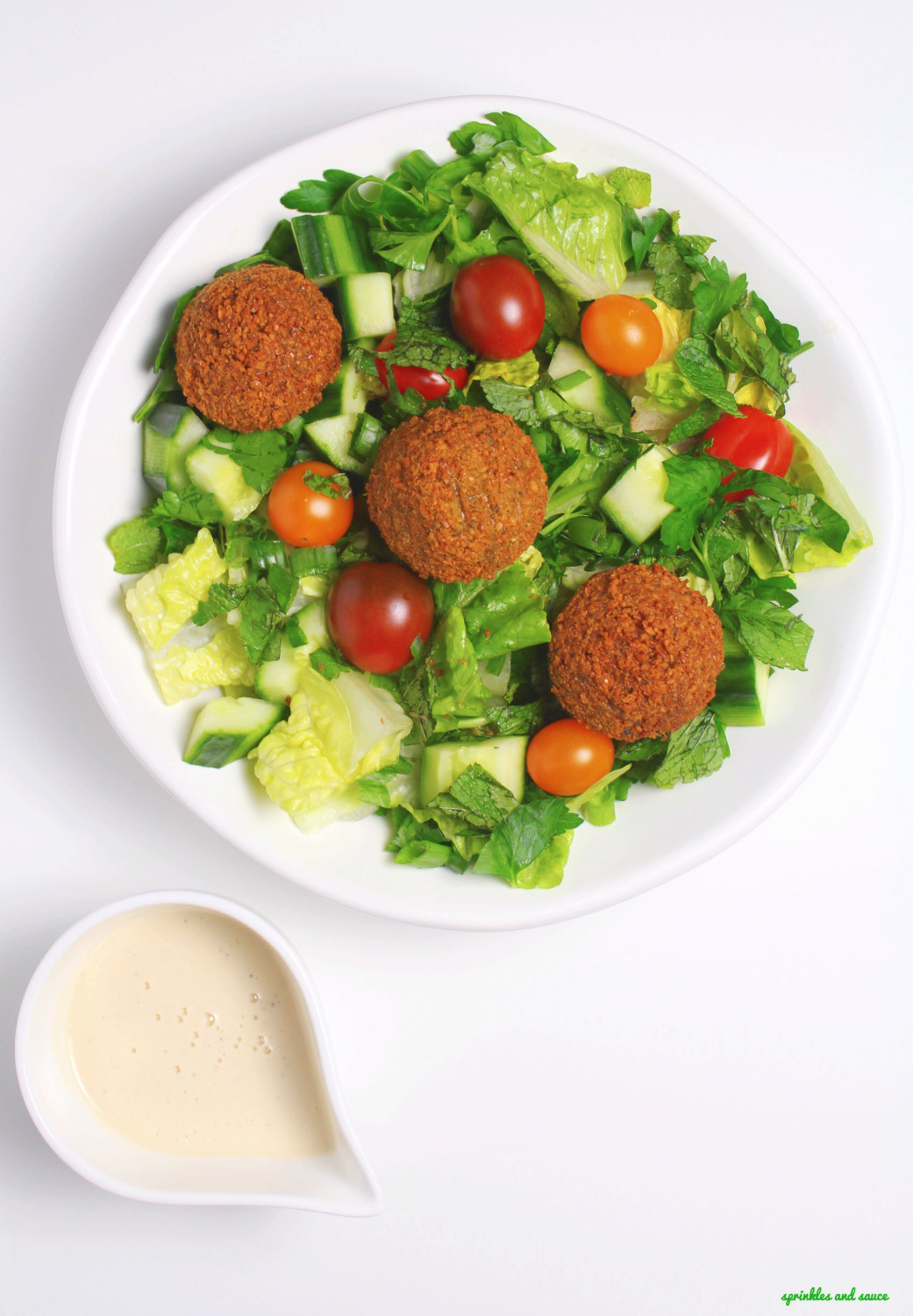 So tomorrow is Tuesday and for a lot of us here in the Great White North, it means back to work after a long a weekend of having fun! I am not sure if it's the same for you, but for us, weekdays is when we eat cleaner and healthier.  Truth be told, as the week progresses it does get harder for us to stick to healthy, clean eating and the weekends are off limits! (pssst on Sunday we treated ourselves to poutine from Poutinis on Queen West and it was divine).  We begin every week with a healthy meal plan consisting mostly of salads, veggies and lean protein and so for this week specially with the long weekend behind us, we need a fresh and healthy start! And that's where this tahini dressing from food52 comes in.  This dressing is creamy and tangy and it's perfect as a dressing or even as a dip.  If you make it a little thicker, it would be perfect with cut up cucumber, peppers and carrots for your afternoon snack! As for us, we used this tahini dressing to complete our falafel salad.  (Btw, this salad is perfect for #meatlessmondays).  The falafels were store bought from our local shawarma place and I know I could have probably made my own, but the truth is mine won't be as good and they're so yummy and cheap so why not buy them made instead? I know it's deep fried, but I tell myself that the veggies in the salad and the healthy dressing cancels out all that deep fried badness! I imagine, this dressing would be perfect with even a salad of shredded chicken and veggies or a baked fish wrap! Really, the possibilities are endless so it's up to you to be creative.  So if you want to restart your healthy eating kick this week, try out this dressing.  Here's the quick and easy recipe for you:

Tahini Dressing
Author:
adapted from food52
Ingredients
½ cup tahini
⅔ to ¾ cups water (as needed)
3-5 tablespoons fresh lemon juice
1-2 cloves garlic, minced
1 tablespoon olive oil
¾ teaspoon sea salt (or to taste)
Black pepper to taste
Instructions
Whisk or blend all ingredients together, starting with ⅔ cup water and adding more until you reach a desired consistency.
Dressing will keep 5 to 6 days in the refrigerator.
Notes
For our dressing, we added more lemon juice and another minced clove of garlic.
If you are looking for ideas as to what kind of salad goes well with this dressing then you might like the popular Lebanese Fattoush Salad we made not too long ago.