Arugula is one of our favorite salad greens because it's so versatile -it's great with just lemon and olive oil or to top off a sandwich or you can toss it with some shrimps or fish and make it a full meal!  Arugula has a slightly bitter, mustardy, peppery flavour and it's just so fresh tasting! While it is true that for some it might take them a while to realize how great this green leafy vegetable is, we promise that if you combine it with our lemon parmesan dressing, even the pickiest eaters will fall in love with this salad! Here's the recipe for you: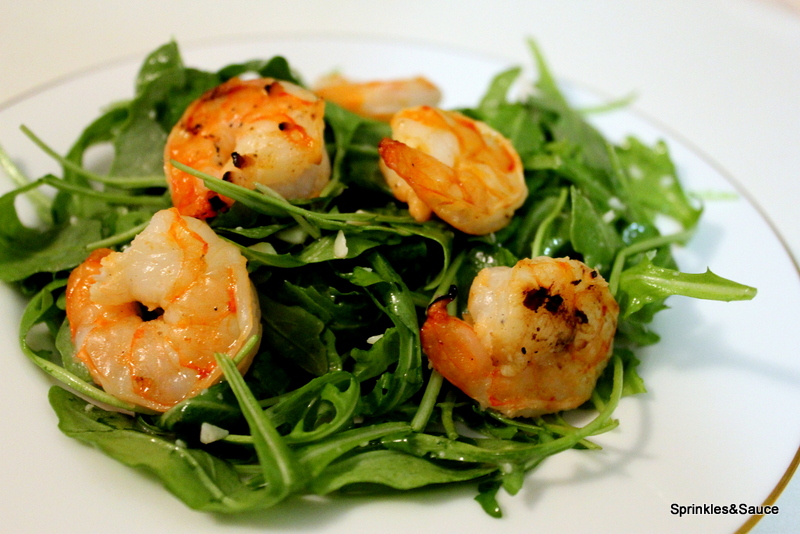 Arugula Salad with Lemon Parmesan Dressing
Author:
sprinkles and sauce
Ingredients
4 cups of baby arugula
shrimps
Dressing:
⅓ cup of freshly grated parmesan
5 tablespoons of olive oil
2 tablespoons of lemon juice
salt and pepper
Instructions
Season shrimps with salt, pepper, olive oil and grill. Set aside.
Combine the parmesan, olive oil and lemon juice. Season with salt and pepper, if necessary.
Toss the baby arugula and shrimps with the dressing and serve!
Notes
You can make the dressing a day ahead, if you are having company. If you wish for your dressing to be smoother, use a food processor or blender to make the dressing.