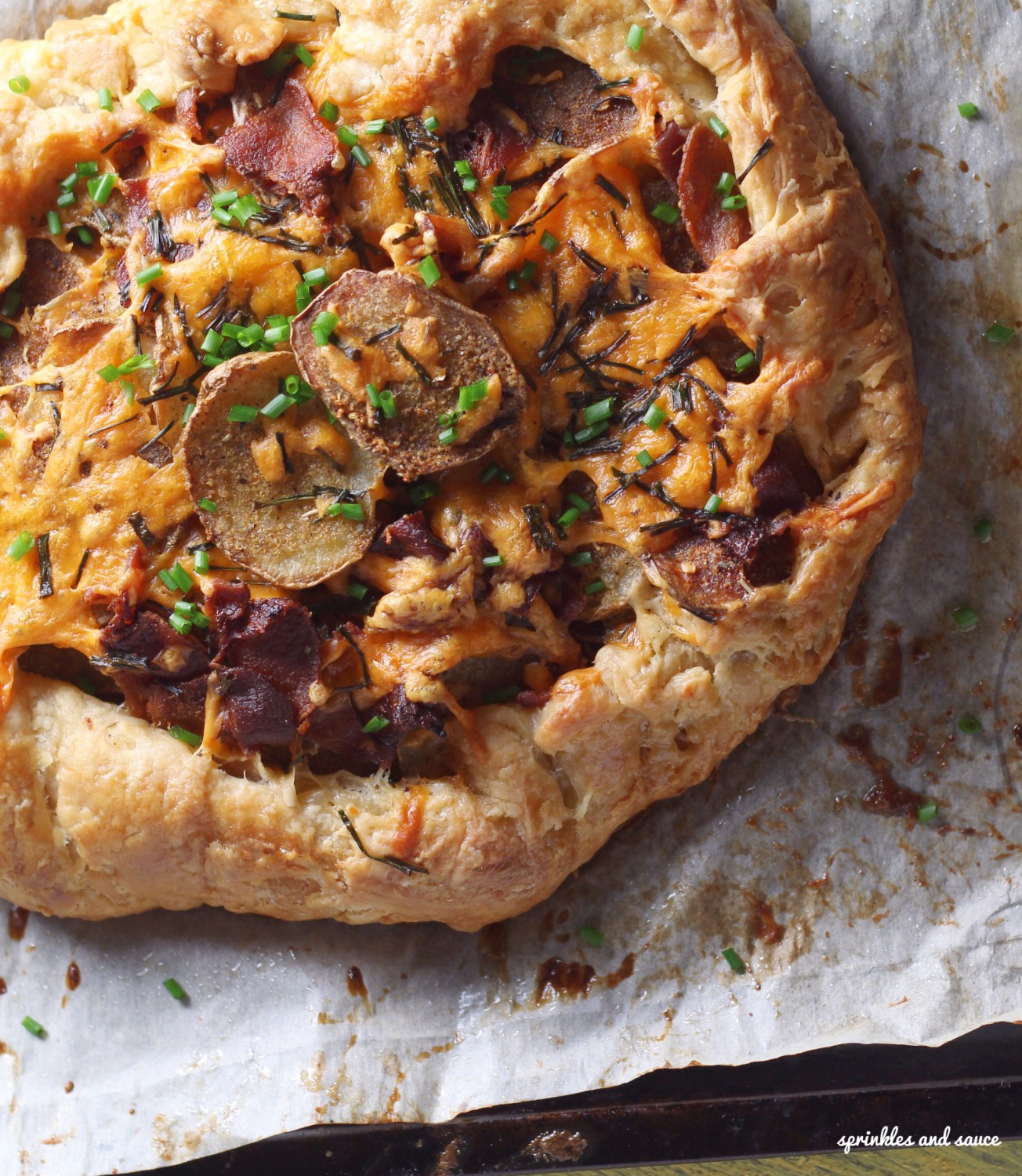 I am so so excited that comfort food season has started! I know technically it's still summer, but the weather here in Toronto has been cooler so comfort food  is definitely necessary! This roasted potato galette with cheddar and chives is definitely comfort food at its finest.  Roasted potatoes, we all know that's a crowd pleaser, combine that with crispy bacon,  ooey gooey cheese and flaky, buttery crust – I swoon! Okay, okay to be honest I didn't really start out intending to make this galette…  Here's the real story. I made two pie crusts and I used one, but not the other.  I didn't want to make another sweet pie so I looked in the fridge to find some inspiration.   So I had potatoes, chives, bacon and cheese and thanks to the internet I came across joythebaker.com and found this fantastic recipe.  This galette is perfect for brunch or lunch or pair it with arugula salad and you have a great light dinner.  If you have some time this weekend and in need of some comfort food, try out this recipe:

Roasted Potato Galette with Bacon, Cheddar and Chives
Author:
adapted from spoonforkbacon.com and joythebaker.com
Ingredients
For the crust:
1 cup of all purpose flour, plus more for dusting
¼ teaspoon of baking powder
⅛ teaspoon of salt
6 tablespoons of cold unsalted butter, cut into small cubes
4 ounces of cold cream cheese, cut into small cubes
1 tablespoon of cold water
1 tablespoon of apple cider vinegar
For the filling:
2 medium russet potatoes, sliced into ¼" rounds
2 tablespoons of olive oil
1 to 2 teaspoon of Old Bay Seasoning*
½ cup of grated sharp cheddar cheese
½ cup of cooked bacon
3 tablespoons of finely chopped chives
1 large egg, beaten
Instructions
For the crust:
Sift together the flour, baking powder and salt.
Place butter and cream cheese into the bowl with the flour mixture and cut together until fully incorporated. The mixture should be evenly grainy.
Add water and vinegar and knead together until the mixture comes together until the mixture comes together and a smooth dough forms, about 2 minutes.
Pat the dough into a disc, cover with plastic wrap and chill in the refrigerator for about 30 minutes.
For the filling:
While the crust is chilling, preheat the oven to 375 degrees F. Use a bit of olive oil to grease a rimmed baking pan.
Place potato rounds on the baking sheet and drizzle with olive oil. Generously sprinkle on Old Bay Seasoning.
Toss to coat all of the potato slices in oil and seasoning.
Try to keep the potato rounds in a single layer. If they overlap a bit, that's fine. Bake until mostly soft through, about 15 minutes. Remove from the oven and allow to cool just slightly.
For the galette:
In a small bowl, beat the egg and set aside.
Line a baking sheet with parchment paper and set aside.
To assemble the galette, place the dough onto a lightly floured surface and roll out until ¼ inch thick.
Transfer the dough to the centre of the prepared baking sheet.
Lightly brush the centre of the crust with egg. Add a layer of cooked potato slices to the centre of the pie crust, leaving about 2 inches of pie crust surrounding on all sides. Sprinkle with cheddar cheese, chives and bacon bits. Add another generous layer of potato slices and a bit more cheese, bacon and chives. Add the remaining potato slices and finish off with topping with cheese, bacon and chives.
Brush the edges with egg wash. Gently fold the crust up against the potato mountain and press gently to seal the edges. Brush the outside of the pie crust with egg wash.
Bake until golden brown and bubbling, about 15 minutes.
Remove from the oven and serve warm.
Notes
*I didn't have any Old Bay Seasoning so I just combined ½ teaspoon of garlic powder and ½ of Italian seasoning.