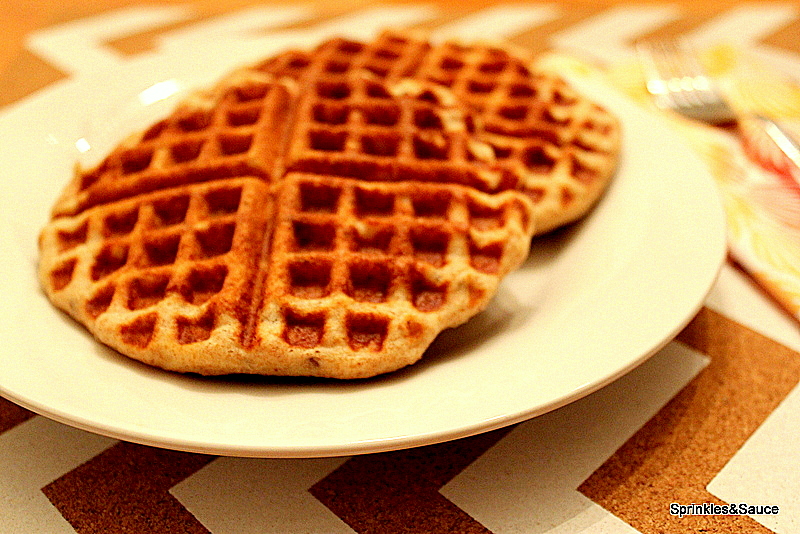 One thing you will usually find in our freezer, week after week, is a big container of frozen homemade waffles! I usually make a big batch and freeze them for mornings when we need to eat and run! I love waffles because you can make them as plain or full of fruits and nuts as you want to! The recipe is amazingly easy and the waffles keep well in a freezer for several weeks! So here you go:  
Apple Waffles
Author:
sprinkles and sauce
Ingredients
2 large eggs
1 cup all purpose flour
1 cup oat flour
1 and ¾ cups buttermilk
½ cup vegetable oil
¼ cup white sugar
4 teaspoons baking powder
¼ teaspoon salt
½ teaspoon vanilla extract
1 cup chopped pecans (optional)
2 cups chopped apples
Instructions
Preheat your waffle iron.
In a large bowl, beat eggs until fluffy. Then add flour, milk, vegetable oil, buttermilk, baking powder, salt and vanilla and beat until smooth.
Spray your preheated waffle iron with non stick cooking spray. Pour batter onto waffle iron. Cook until golden brown.
Notes
*You can use 2 cups of all purpose flour for the recipe instead of a mix of all purpose flour and oat flour. Also, we use green apples because we love the tartness. These waffles are awesome for breakfast but I am sure they are great with ice cream on top too!