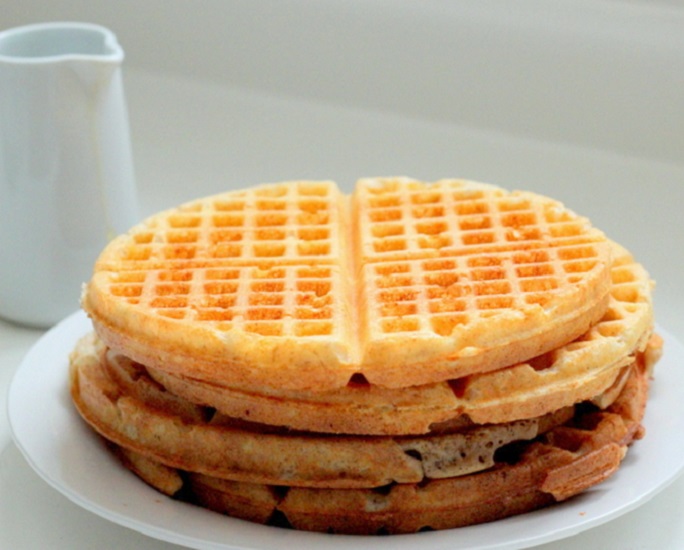 Brunch is one of those luxuries in life we indulge in once in a while and during the holidays we had a big pot luck brunch with our friends and family! What an awesome combination – sleep in time, good food, good friends, family, time off and a day with nothing else to do, but eat and relax! Our contribution to the pot luck was a pile of WAFFLES! As you likely know by now, we have waffles at home all the time – thanks for my mother in law's gift – a great waffle maker!  This time around, we decided to make yeasted waffles and I found this recipe from smittenkitchen.com and they turned out great! So here's the recipe for you to try:

Essential Raised Waffles
Author:
smittenkitchen.com
Ingredients
½ cup warm water (about 105 to 110 degrees)
1 packet of dry active yeast (or 2¼ teaspoons)
2 cups milk, warmed
1 stick butter, melted and cooled
1 teaspoon salt
1 teaspoon sugar
2 cups all purpose flour (we used whole wheat flour)
2 large eggs
¼ teaspoon baking soda
Instructions
The night before:
Pour warm water in a large bowl, sprinkle yeast on top and let it dissolve and foam for about 15 minutes.
Stir in milk, butter, salt, sugar and flour and whisk until all the ingredients are combined.
Cover the bowl with plastic wrap and set out on counter overnight.
The next morning, whisk in eggs and baking soda until smooth add add to the batter.
Heat waffle iron and pour just enough batter in the waffle iron. I set my waffle iron on ½ and the waffles turned out browned and crispy!
Serve with maple syrup and fresh fruit.
Notes
Do not overfill the waffle iron with batter because you will have a big mess. I followed the instruction from smittenkitchen.com to underfill than overfill!
The waffles were crispy on the outside and soft inside.  At first, I put the setting of my waffle maker to 4 but that made the waffles too brown and too crispy.  I found setting 1/2 is good to make them golden brown and crispy but still soft inside.