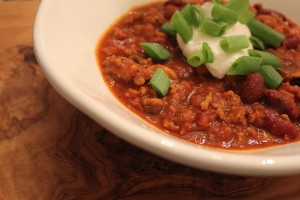 Fall time in Canada calls for something warm, hearty and meaty!  We love easy, one pot meals around here (especially our dishwasher – Arkadi)!  I grew up in a hot country so eating soup or stew is out of the question -it's just too hot! Arkadi, on the other hand, grew up in the cold lands of Russia! So he had his fair share of soups and stews.  Both of us, though, grew to love chili together! It's fast, it's easy and by itself, it's a full meal!  You can have it on it's own or with a piece of nice crusty warm bread or on top of rice ! You can make it in a pot or a slow cooker; you can use any kind ground meat you like and most of all, you can make it as spicy as you like! For our version, we use ground turkey but don't just judge us yet – we add some bacon fat to ours to make it even tastier! Yes, I said it, bacon fat! Let's be honest, bacon makes everything tastes good! But seriously, this chili recipe is lower in fat than the traditional chili but high in taste, we promise! And this recipe is so easy with very little ingredients:  
Turkey Chili 
Turkey Chili
Author:
sprinkles and sauce
Ingredients
1½ teaspoons paprika
2 tablespoons chili powder
2 teaspoons cayenne pepper
2 tablespoons bacon fat
1 tablespoon minced garlic
1 small diced onion
1 lb ground turkey
3 cups sliced mushrooms
1 diced bell pepper
1 diced jalapeno pepper
1 can kidney beans
4 diced tomatoes
1 770 ml jar of tomato sauce
¼ cup ketchup
1 teaspoon sugar (optional)
salt and pepper to taste
Instructions
First, in a small bowl, combine all the spices: paprika, chili powder, cayenne pepper and a pinch of salt; set aside. Then saute the garlic and onion in bacon fat. Now add half of the combined spices to the garlic and onion and continue to saute until spices are fragrant. Then brown the ground turkey together with the remaining spices. When the ground turkey is browned, add mushrooms, bell pepper, jalapeno pepper, kidney beans and diced tomatoes. Then add the tomato sauce, ketchup and sugar. Simmer until sauce is thickened about 30 to 40 minutes. Continue to stir while simmering. Serve with a dollop of sour cream and green onions. Chili is good on its own or on top of rice.
Notes
Notes: You can add other beans along with the kidney beans, if you like. If you do not have any bacon fat, use a combination of butter and vegetable oil. You do not have to add sugar, I added it to balance out the acidity from the tomatoes.