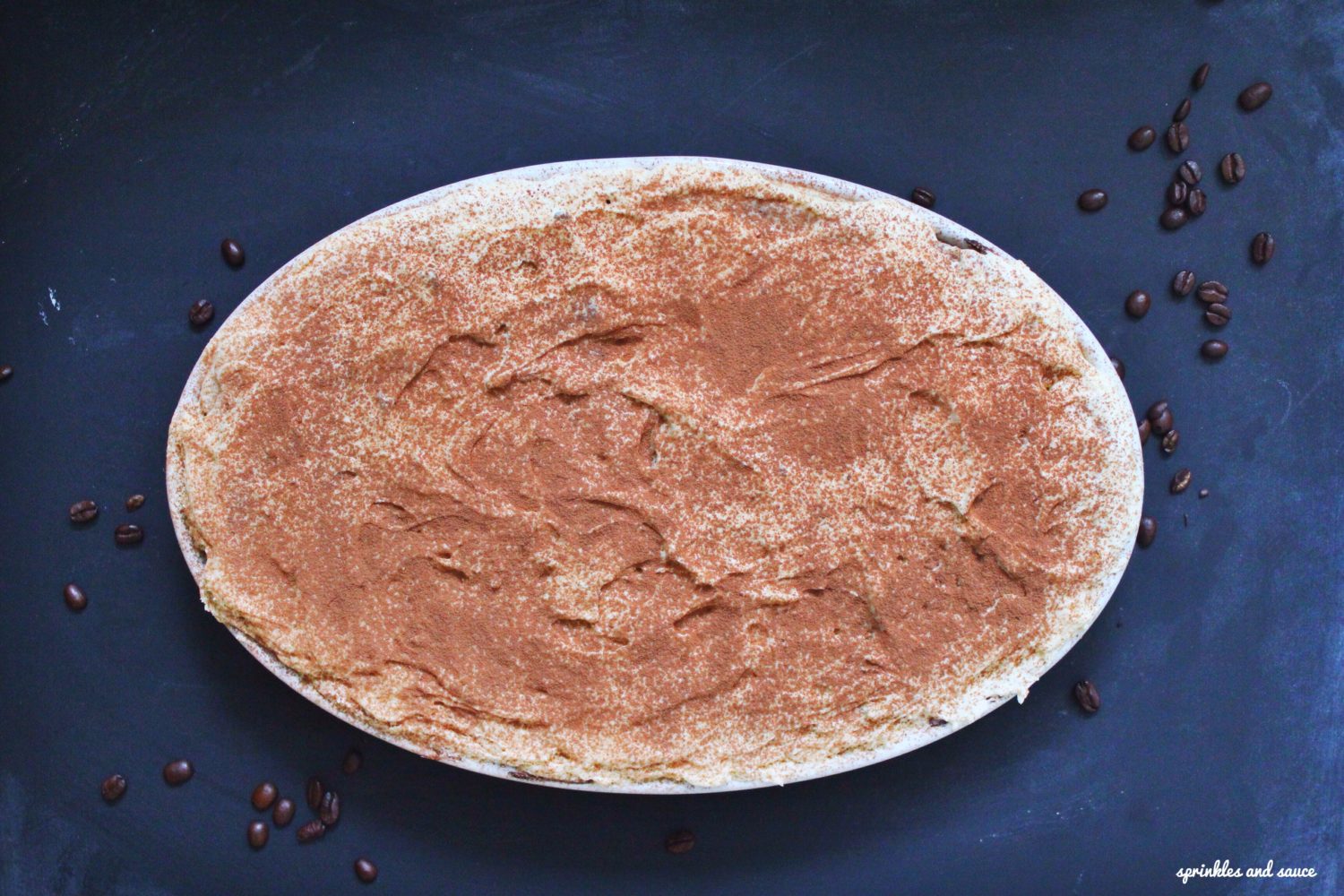 Tiramisu translates to "pick me up." Maybe "pick me up" came from the caffeine in the dessert or maybe it's the fact that it's a heavenly dessert, either way, it's one of our favorite desserts! We've always gotten a slice of tiramisu from a local Italian restaurant or bakery baked by a sweet nonna in the back kitchen (that's how I like to imagine it anyway), but we had company over one evening and I decided to try my hand at making my own tiramisu.   I got my recipe not from an old Italian nonna, but from Jaime Oliver, a beloved and widely popular English Naked Chef.  Not only was it super easy to make, but you can also make it ahead of time, which is a great bonus for dinner parties.  I did follow Jaime's recipe for my dinner party, but for next time, I will change things up a bit.  The reason I want to change it up a bit is 1) it needs a little bit more alcohol and 2) we were not crazy about the chocolate layer because it got too hard and it was awkward to eat.  So for the recipe I added below, I made my changes, but by all means if you want to follow Jaime Oliver's recipe better, please do so.
This dessert should me called Tiragetinmybelly because it's that good! Okay maybe that name took all the class out of this classic dessert, but you know what I mean.  It's a perfect way to end a nice dinner because it's creamy, light and just sweet enough.  And in every bite you have a bit of everything, creaminess from the egg yolk and mascarpone mixture, a little taste of espresso and alcohol and cakeyness (I know it's not a real word) from the lady fingers.  And the longer you let this dessert sit, the better the flavors meld together and the texture improves.  So hopefully I've convinced you to be like an Italian nonna or a Naked Chef and try out this recipe on your dinner guests.  Here's the recipe for you to try:

Tiramisu
Author:
adapted from Jaime Oliver
Ingredients
175 g sponge fingers (lady fingers)
400 ml good hot sweetened coffee
vin santo or other sweet dessert wine*
4 large free-range eggs
100 g caster sugar
750 g mascarpone
zest of 1 orange (optional)
cocoa powder
Instructions
Separate your eggs, putting the whites into one bowl and the yolks into another.
Add the sugar to the yolks with another swig of vin santo (if you're feeling naughty!), and whisk with an electric whisk on the highest setting for about 5 minutes, or by hand, until all the sugar has dissolved and the yolks are pale and fluffy.
Mix in the mascarpone and the zest of 1 orange (if using orange zest).
Clean and dry your whisk, and whisk the whites with a pinch of salt until they form stiff peaks – they should be a similar consistency to the yolk and mascarpone mixture, and should hold their shape when you lift the beaters from the bowl.
Using a large metal spoon, add a spoonful of your whites to the yolk mixture and gently fold them in, then fold through the rest of the whites. Set aside.
Add your sweetened coffee and vin santo (or sweet wine) in a deep rectangular dish.
Dip each lady finger into the coffee and wine mixture and layer them in a deep bowl or round earthenware dish (about 30cm in diameter and 12cm deep).
Spoon and smooth the mascarpone creamy mixture on top of the dipped lady fingers.
Dust the first layer of dipped lady fingers and mascarpone mixture with cocoa powder.
Repeat with the layers with more dipped lady fingers and mascarpone mixture.
Finely grate over the zest from half your remaining orange.
Pop the tiramisù into the fridge for 2 hours to set.
Notes
*We use Marsala wine
This dessert makes a great make ahead dessert and the longer you let it sit, the deeper the flavours will develop and the lady fingers will be more cakey in texture.
p.s. I was worried about the raw egg yolks in this dessert, but we used good quality eggs and nobody got sick!