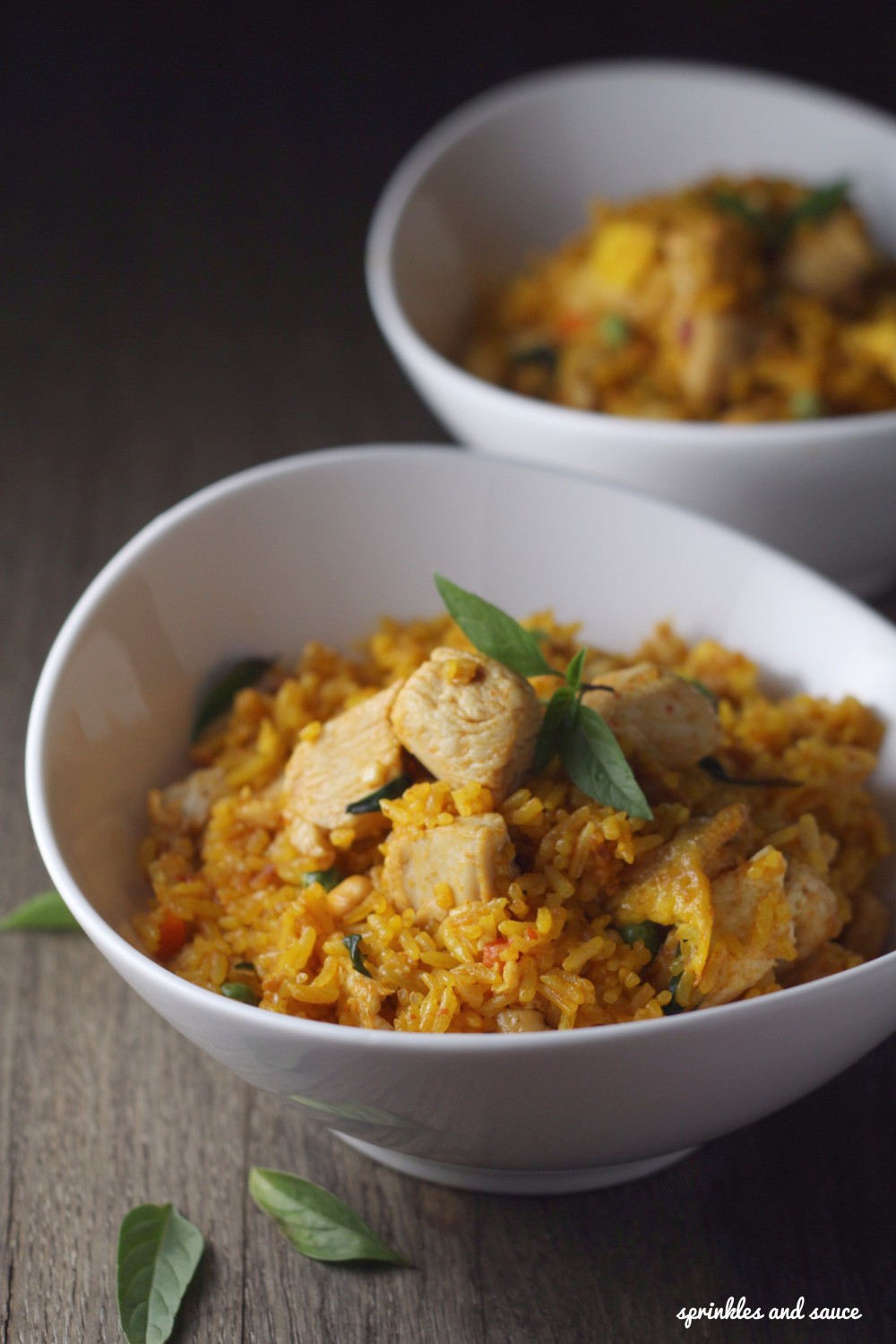 Fried Rice.  Who doesn't like fried rice?  If you don't, well you might want to ask yourself – is it fried rice I don't like or does fried rice not like me?  (yeah that's my lame attempt at humour). Why do people love fried rice?  Well, first off it's super tasty, secondly, it's super easy to make and finally, you can be as creative as you want every time you make it!  Recently, we decided to make fried rice, but also felt like Thai flavours and that's how we came up with Thai red curry fried rice with chicken.  To be honest, the first time I made it, I was barely able to eat my bowl because it was super spicy for me.  The husband really liked it, but by the end of his bowl, he was also dying.  So we tweaked it and made it again and then made it again the third time before we decided to share it with you guys.  This is not your average fried rice guys! Definitely not! But it has all the components of a great fried rice – eggs for extra protein, peas and carrots for the veggies, chunks of chicken to make it a complete meal and of course, red curry paste for the punch! Then to finish it all off, some lime wedges and Thai basil for more flavour.  This dish has definitely become a family favorite for us and that's great because it's super easy to make and it's a one pot meal.  So if you are in need of some fun twist to your usual fried rice recipe or need to awaken your taste buds, here's a recipe for you to try:

Thai Red Curry Fried Rice with Chicken
Author:
adapted from acozykitchen.com
Ingredients
For the coconut rice:
1 and ¼ cups of water
1 cup of jasmine rice
½ cup of coconut milk
½ teaspoon of turmeric
¼ teaspoon of salt
For the fried rice:
¼ cup of vegetable oil
3 large eggs, lightly beaten
1 garlic clove, minced
2 chicken breasts, cubed
a handful of Thai basil (optional)
1-2 tablespoons of red curry paste
¼ cup of coconut milk or chicken broth
¼ cup of cashews
¾ cup of frozen peas and carrots
lime wedges
Instructions
Make your rice first.
To make rice, combine all ingredients in a rice cooker and cook. You can use the rice immediately or make it in advance and leave it in the fridge to use for another day.
For the fried rice:
Heat 1 tablespoon of veg oil in a large skillet or wok.
Add the eggs and cook on medium high heat.
When the edges begin to set, flip the eggs to cook the other side. Once cooked, remove the eggs from the pan and set aside on a plate. Cut the eggs into strips or bite sized pieces.
Heat the rest of your oil on medium heat.
Add the garlic and saute until it's very fragrant.
Then add the chicken and cook until just opaque.
Then add your Thai basil and keep stirring.
Then add the red curry paste and stir constantly.
Add a little bit of chicken broth or coconut milk to thin out the red curry paste.
Once the chicken is all cooked, throw in the rice and stir.
Then throw in the cashews. frozen peas and carrots and eggs and stir until the rice is heated through.
Garnish with lime wedges and enjoy!