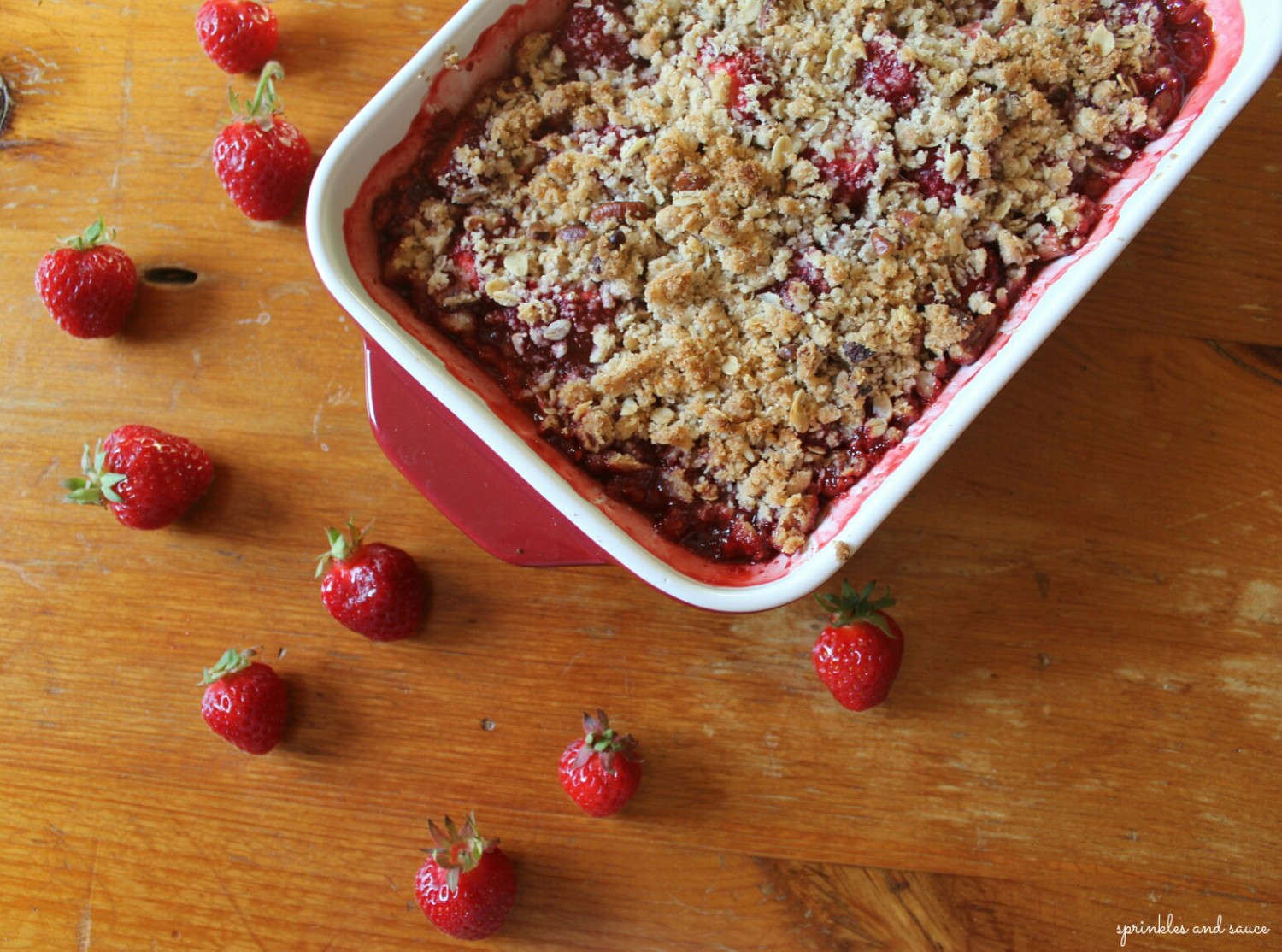 I hate to be the bearer of bad news, but the truth is summer is almost over. Gah! There, I said it.  Don't shoot me.  Just like that, it's over.  No more sunshine, no more warm weather, no more shorts and no more ice cream.  Wait, who am I kidding? Summer or not, I eat ice cream! I know those of you who eat unicorns, lollipops and rainbows for breakfast out there, you likely think "well, summer officially ends September 21 so for now I will enjoy the rest of my summer days." And you know what, you should.  You really should.  Summer is so short for us Canadians that every single minute of it should be relished.  And that's why today, I bring you strawberry and rhubarb crumble to help you savour the remaining summer days! This recipe is super easy and it's definitely a crowd pleaser.  I am sure there are some die hard apple everything out there, but try something new and instead of making your good ol' apple crisp for dessert for your family dinner tonight, try this recipe out!   I know rhubarbs* are no longer in season, but maybe you have some stored in your freezer from this year's harvest or you can easily venture out to your local grocery store and buy a frozen bag.  The tartness from the rhubarb and the sweetness from the strawberries go well with the nutty and sweet granola topping! Try this crumble out with a scoop, or two (no judgments here) of your favourite vanilla ice cream to make it even better.  So, go.  Go bake this super easy, super tasty strawberry and rhubarb crumble.  Put some in your favourite bowl with a scoop of vanilla ice cream, go out to your porch, take your shoes off, spread your toes in the grass and enjoy the last little bits of summer!
Here's the easiest, fastest and tastiest recipe from epicurious.com:

Strawberry and Rhubarb Crumble
Ingredients
¾ cup all purpose flour
⅔ cup plus ½ cup sugar
Large pinch of salt
6 tablespoons (3/4 stick) chilled unsalted butter, cut into ½-inch cubes
½ cup old-fashioned oats
½ cup husked hazelnuts, toasted , coarsely chopped
½ vanilla bean, split lengthwise
1 pound strawberries, hulled, halved (about 4 cups)
12 ounces rhubarb (preferably bright red), ends trimmed, stalks cut crosswise into ½-inch-thick pieces
Vanilla ice cream
Instructions
Combine flour, ⅔ cup sugar, and salt in medium bowl; whisk to blend.
Add butter. Rub in with fingertips until mixture sticks together in clumps.
Mix in oats and nuts. Cover and chill.
Preheat oven to 375°F.
Butter 11 x 7 x 2- inch glass baking dish.
Place ½ cup sugar in large bowl. Scrape in seeds from vanilla bean; whisk to blend well.
Add strawberries and rhubarb to sugar in bowl; toss to coat well.
Scrape fruit filling into prepared baking dish. Sprinkle oat topping evenly over filling.
Bake crumble until filling bubbles thickly and topping is crisp, about 45 minutes.
Let cool 15 minutes.
Spoon warm crumble into bowls.
Serve with ice cream.
Notes
DO AHEAD: Topping can be made 1 day ahead
*If you have an amazing sister in law, like I do, then she will likely provide you with fresh rhubarbs stalks she harvested herself!