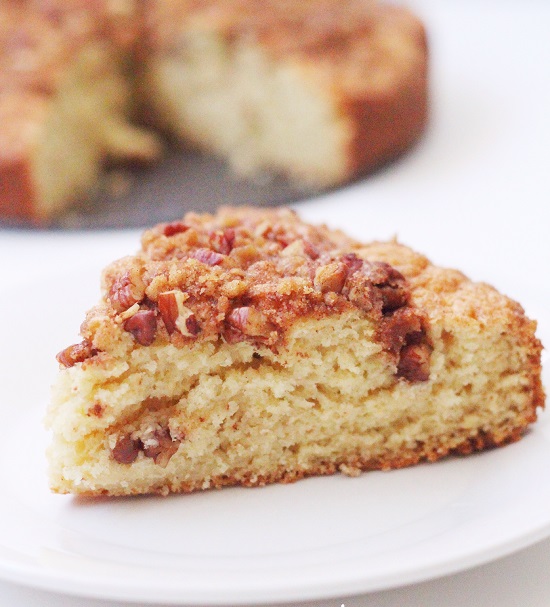 I found this recipe from foodnessgracious.com and I have to say this recipe is a definite keeper! Thanks Gerry! This cake is real simple to make, requires ingredients that you likely already have in your pantry and the end result, well the end result is excellent! Okay, if I have to be honest, the first time I made this cake was a disaster!  I was eager to use my new cake pan, but as it turned out, the batter for this cake is not suitable for the cake pan I used (a definite d'oh! moment).  So I decided to give it another try, this time using the specified cake pan and I was successful! This cake is buttery, nutty, not overly sweet and just perfect with tea or coffee.  So here's the recipe for you to try:

Sour Cream Coffee Cake
Author:
foodnessgracious.com
Ingredients
1 and ½ cups all purpose flour
½ teaspoon plus ¼ teaspoon baking powder
½ teaspoon plus ¼ teaspoon baking soda
1½ sticks of unsalted butter, softened
¾ cup of granulated sugar
1 large egg plus 1 egg yolk
¾ sour cream
1 teaspoon of vanilla extract
For the streusel topping
½ cup of packed light brown sugar
½ cup of chopped pecans
1 teaspoon of cinnamon
Instructions
Preheat the oven to 325F.
Grease a 9 inch baking pan or spring form pan.
In a bowl, sift together the flour, baking powder and baking soda. Set aside.
In another bowl, mix together the ingredients for the streusel and set aside.
Using an electric mixer (I used a stand mixer), cream the butter and sugar until light and fluffy.
Add the vanilla and eggs and mix well.
Scrape down the sides after two minutes and mix until well incorporated.
Add half of the sour cream and half of the flour mixture. Mix and then add the rest of the sour cream and flour. Mix well.
Spread the batter into the prepared cake pan and then sprinkle the streusel on top.
Bake the cake for 30 minutes. Insert a toothpick in the middle of the cake and when it comes out clean with no crumbs or wetness, then the cake is done.
Notes
The original recipe said it may take about 45 minutes to bake, depending on your oven. Mine took exactly 30 minutes at 325F.