Last December, we needed a break badly and so we headed off to Muskoka to stay in a cottage – all by ourselves! It was real cold out there but it was also peaceful and quiet.  Everyday and every week we are constantly running around and rushing from one place to another.  Even though, we cook all our meals during the week, it's hard to take your time cooking or even fully enjoy the cooking process.  We usually end up making something quick and simple so this time, having all this time on our hands, we decided to make something special, together, for dinner!   So for dinner, we decided to make seafood risotto with wild mushrooms! It was soooooo good, perfect for a cold night! Of course, this time, we took our time to eat and savour each bite instead of our usual inhaling and shoveling food into our mouths!  We really enjoyed this dinner and so we want to share the recipe with you.   So here it is: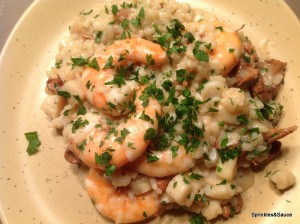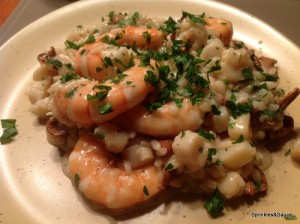 Seafood Risotto with Wild Mushrooms
Author:
sprinkles and sauce
Ingredients
Extra virgin olive oil
1 and ½ pounds of scallops
1 and ½ pounds of shrimps
1 onion, minced
2 garlic cloves, minced
2 ounces of dried chanterelle mushrooms*
2 tablespoons chopped flat leaf parsley
2 bay leaves
2 cups of Arborio rice
½ cup of dry white wine
8 cups of chicken broth, heated
2 tablespoons of butter
½ cups of parmesan cheese
Instructions
In a large, deep skillet, add olive oil and when the oil is hot, add the onion and garlic. Cook the onion and garlic until soft and fragrant. Then add in the mushrooms and stir. Next, add the arborio rice and stir to coat with oil and until the rice has turned opaque. Stir in the white wine and cook for about a minute until the alcohol evaporates.
Ladle in 1 cup of chicken stock at a time and stir the rice until the liquid is absorbed. Repeat with the remaining chicken stock. Make sure to stir constantly as you add the chicken stock. Before the risotto is done (it is done when it is slightly firm but creamy), add the shrimp and scallop and gently fold the seafood into the risotto. When the risotto and seafood are done, gently fold in the butter and cheese. Garnish with chopped parsley. Enjoy!
Notes
Note: we used chanterelle mushrooms because that's what they had in the store at the time but feel free to use any type of mushroom you like, dried or not. We also soaked the mushrooms in hot water to re-hydrate it before cooking.