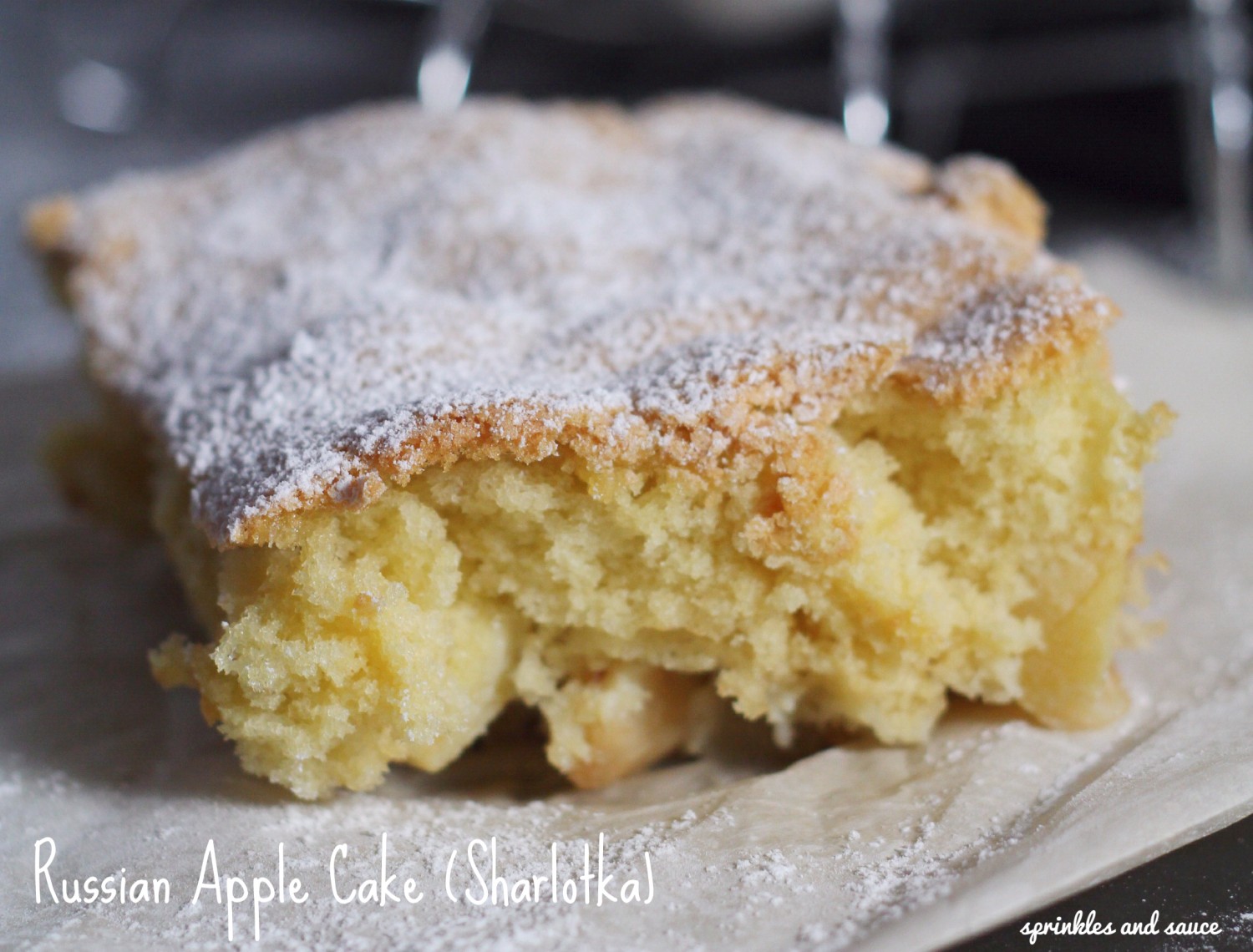 Russian apple cake is a traditional cake made with very little ingredients.  The process of making it is so easy that just about every Russian knows how to make it.  When Arkadi and I first  just started dating, I went over to his house one day to meet his grandma (or babul, as he affectionately calls her) and she served me my first ever Russian apple cake.  I immediately fell in love with this cake and from then on, whenever Arkadi's babul would ask what we want her to make for us (which I learned from the very beginning never to reject her offers and never say no), we'd ask for this very cake.
Seriously guys this cake is super easy to make. For reals.  It's also very quick to prepare that you can easily make it if you had unexpected guests drop in or if you suddenly have craving for some cake! I forgot to tell you, Arkadi's grandma only has full use of her one arm and she can whip up this cake in no time and have it turn out perfect  every single time.  If she can do it with one arm, I am sure it'd be easy peasy for you!  The cake is more like sponge cake in texture and the batter is really easy to make.  Although I've never tried it myself, I am pretty sure you can likely substitute apples with say raspberries or plums or even pears if you want to use the batter but not make it the traditional Russian way. Before I forget, here's a little warning about this cake: it is very difficult to eat just one serving because the cake is so  light with just the right sweetness and  each bite has apple pieces in it!   How can anyone resist? I say give in, bake the cake and eat half of it in one sitting! Go ahead.  I won't judge.  I may or may not have done that myself.  Hey what's the harm, really? How does the saying go? An apple a day keeps the doctor away.  That's right. So think about it, eating half of the entire cake in one sitting is really like doing yourself a favour.  Okay, maybe don't listen to that part.  This cake just gets me really excited, so excited that I can't control the crazy things that are coming out of my mouth!  Anyway, if you feel like cake and you want to bake something quick and easy, try this recipe out and I promise, you will not be disappointed.  Here's the super easy recipe for you:

Russian Apple Cake (Sharlotka)
Author:
adapted from Will Cook For Smiles
Ingredients
6 small Granny Smith Apples (or 4 large ones)
6 eggs
1 cup of sugar
1 cup of flour
1 teaspoon of vanilla extract
¾ teaspoon of baking soda mix with ¼ teaspoon of vinegar
Instructions
Preheat the oven to 350F and grease a 9x13 baking pan (or you can use a 9 inch springform pan). Set aside.
Peel, core and chop the apples. Set aside.
Attach the whisk attachment to your stand up electric mixer (or handheld electric mixer). Beat the eggs and sugar on high for about 2 to 3 minutes, until light yellow, thickened and about triple its size.
Lower the speed to low and beat in the vanilla and flour.
Quickly mix the baking soda and vinegar and add it to the batter. Mix batter gently.
Arrange the chopped apples on the baking pan. Then pour batter over the apples.
Bake for about 30-35 minutes (or 55 to 60 minutes if using a cake pan).