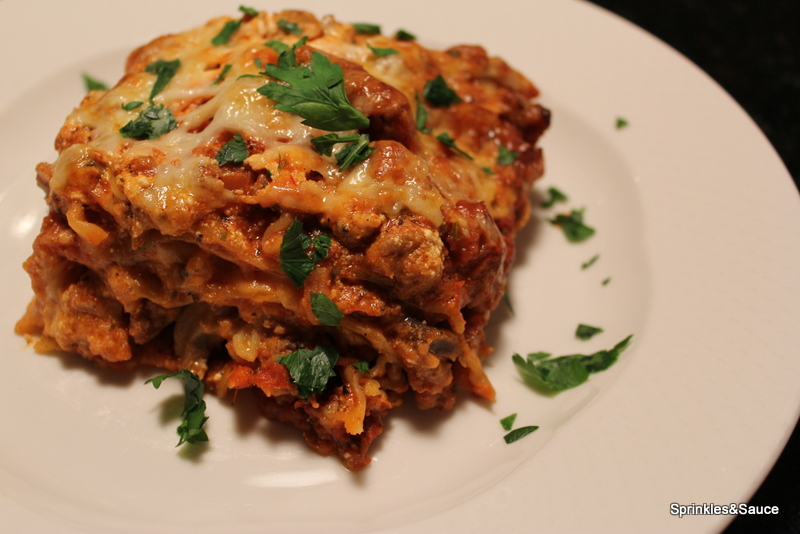 Have you ever had those nights when you and your friends want to eat out, but cannot make up your minds?  This seems to happen to us a lot and on this particular night, we had friends over and we knew they like Italian food, but the problem is there are tonnes of restaurants to choose from just in the downtown area alone. Before you know it, an hour has passed and we are still at home discussing where to go! Finally, we decided to try out this new Italian restaurant not far from where we live! For Arkadi and I, it was a big mistake (although we kept that a secret from our friends) because we were both disappointed from our dishes!  I picked lasagna that night thinking that this is likely a safe choice.  BIG MISTAKE – my lasagna was a huge disappointment! It was served barely warm and it was bland!  To get over my disappointment, I decided to make a classic lasagna for one of our recent family dinners and this time, we were all happy and avoided any disappointments! I found this recipe from epicurious.com and it's a really good recipe! It's very easy to put together and it's a crowd-pleaser – so here it is:

Quick Sausage and Mushroom Lasagna
Author:
adapted from epicurious.com
Ingredients
- 2 tablespoons of olive oil
- 2 cups sliced mushrooms
- 1 large onion, chopped
- 2 tablespoons dried Italian seasoning
- 1 pound hot Italian sausage, casing removed
- 3 garlic cloves, minced
- 1 cup dry red wine
- 4⅔ cups marinara sauce
- 1 9 oz package no-cook lasagna noodles
-1 15 oz container ricotta cheese
- 2 8 oz bags of Italian cheese blend grated cheese
Instructions
Preheat oven to 400F.
In a large pot, heat oil over high heat and add mushrooms, onions and seasoning. Saute until the mushrooms and onions are soft and the seasoning fragrant. Add the sausage and brown until cooked through (use the back of a wooden spoon to break apart the sausage pieces). Add the red wine and cook until almost all the liquid evaporates. Add the marinara sauce and simmer until the sauce has thickened. Adjust seasoning, if necessary. Set aside.
Spread ⅔ cup of of the sauce to the bottom of your casserole dish. Place the noodles over the sauce, forming one layer. Spread sauce over the noodles, making sure all the noodles are covered and then top with ⅓ cup of ricotta cheese and 1 cup of grated cheese. Repeat the layering until you've used up all your noodles, sauce and cheeses.
Finally, cover your lasagna with foil (grease the foil first with some olive oil, to prevent the cheese from sticking to the foil). Bake the lasagna for about 45 minutes. Remove foil and cook for another 10 minutes to brown the cheese. Take it out of the oven and let it stand for about 15 minutes before serving.
Notes
This recipe got 4 fork user rating (and that's out of 4) and 96% would make it again. I also find it very helpful to read some of the reviews to get different tips from others who've made this dish before!