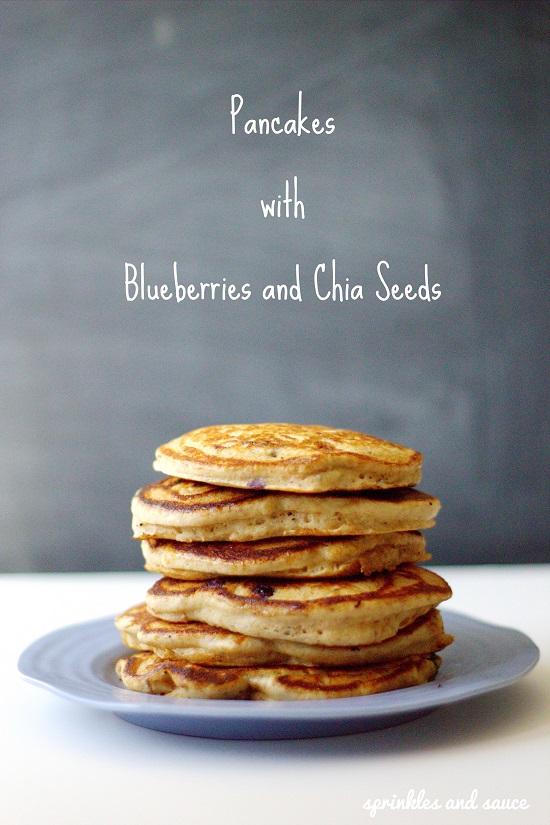 We are not one of those happy winter people – you know the kind, the ones who go out to skate on a frozen pond or to play hockey in the backyard rink, and even drive for hours to ski or snowboard.  And this year's winter has been particularly BRUTAL! There is no word of a lie or exaggeration here – this winter has been record breaking and face numbing cold!
Last week when we found ourselves waking up to more snow (ugh) we decided to take the morning off and stay in.  We watched the snow fall (which I have to admit is actually really beautiful) from the comfort and warmth of our place and  made one of our most favorite breakfast food – pancakes! Really, what's better on a cold winter day than to sit in your pajamas  and eat a stack of fluffy pancakes smothered in maple syrup?   These pancakes were so fluffy  (so fluffy I could die!) and full of goodness – first off, they are whole wheat,  secondly, we added some chia seeds and for good measure, just to amp up the healthiness factor, we added some blueberries! Okay, maybe the whole smothering of maple syrup made it less healthy for you, but the point is these pancakes were fluffy and delicious and most importantly they will help you beat the winter blues away! So here's the recipe for you and try them out:

Pancakes with Blueberries and Chia Seeds
Author:
sprinkles and sauce
Ingredients
1 and ¼ cup of whole wheat flour
1 tablespoon of sugar
1 teaspoon of baking powder
½ teaspoon of baking soda
½ teaspoon of salt
1 egg, slightly beaten
1 and 1/14 cup buttermilk * (we used a substitute)
2 tablespoons of canola oil
1 cup of fresh blueberries
1 tablespoon of chia seeds
Instructions
In a large bowl, whisk together the flour, sugar, baking powder, baking soda and salt.
Next combine the egg, buttermilk and oil together.
Add the wet ingredients to the dry ingredients and whisk until just blended.
Gently fold in the blueberries and chia seeds.
Pour batter onto a greased hot pan or griddle.
Turn the pancake over with a spatula when the top start bubbling.
Cook the other side until golden brown.
Serve warm with maple syrup.
Notes
We didn't have buttermilk at home so we just used regular milk with 1 tablespoon of white vinegar.
You let it stand for a few minutes and then you are good to go.
This recipe yielded 12 pancakes for us.
Do not over mix the batter.