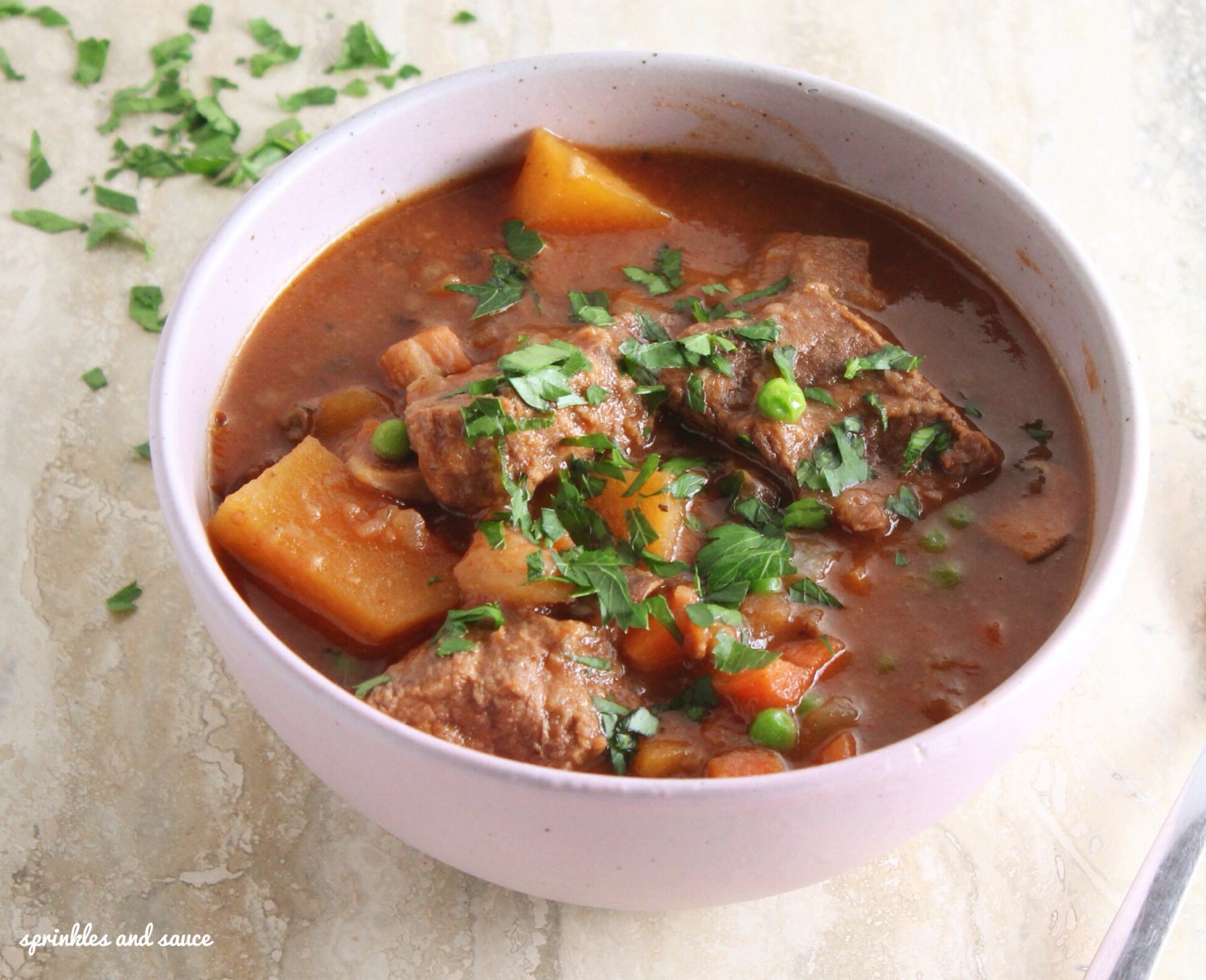 I distinctly  remember the first time I ever tried beef stew.  I was about 13 years old and new to Canada.  One night for dinner, I was given a plate of white rice topped with this wonderful, rich, home made beef stew.   I remember what a fantastic meal it was – rich broth, creamy potatoes and that oh so tender beef! I was in love! And over the years, I've searched for just the right recipe to replicate my first experience! I've tried many recipes over the years and I've come to this conclusion: I like beef stews that have a mix of the usual beef stew veggies  (tomatoes, mushrooms, potatoes, carrots, peas) and beer! That's right – dark beer to make the broth even richer!
I've taken all my favorite parts from all kinds of recipes I've tried over the years and I've come up with:  Guinness Beef Stew! So here it is for you to try:

Guinness Beef Stew
Author:
sprinkles and sauce
Ingredients
4 pounds stewing beef (beef chuck cut into 1 inch cubes)
1 tablespoon butter
1 tablespoon vegetable oil
¾ cup of diced pancetta*
3 cups of onions, finely chopped
4 garlic cloves, minced
1 teaspoon of dried thyme
1 bay leaf
1 can of 500ml Guinness Beer
3.5 cups of beef broth
670 ml of strained tomatoes
2 medium carrots, diced
1 medium rutabaga, peeled and cut into 3 inch pieces
2 large potatoes, cut into 3 inch pieces
2 cups of mushrooms, sliced
¾ cup of green peas
flour
salt and pepper
Instructions
Preheat oven to 350F.
Pat beef dry and season beef with salt and pepper. Sprinkle beef with flour and toss.
Heat oil and butter on large oven proof pot in medium high heat.
When hot, brown beef in batches. Set aside browned beef in a bowl.
Add pancetta to the same pot. Saute pancetta until brown and crisp and scrape off brown bits.
Then add the onions, garlic, thyme and bay leaf and cook until the onions are tender.
Return beef and all juices to pot.
Then add the beer, broth and strained tomatoes. Bring to simmer.
Then add the potatoes and rutabaga.
Cover and transfer pot into the oven.
Bake beef stew for about 1 hour.
Then add carrots, peas and mushrooms.
Bake for another 1 hour, uncovered, until the beef is very tender.
Notes
*you can also use bacon to substitute for pancetta
**if you want to thicken your stew broth, add 2 tablespoons of cornstarch to 2 tablespoons of cold liquid and stir to create a smooth paste. Then whisk this into the stew broth. Bring the stew broth to a boil and let it simmer until the starchy taste is gone and your stew broth is thicker.