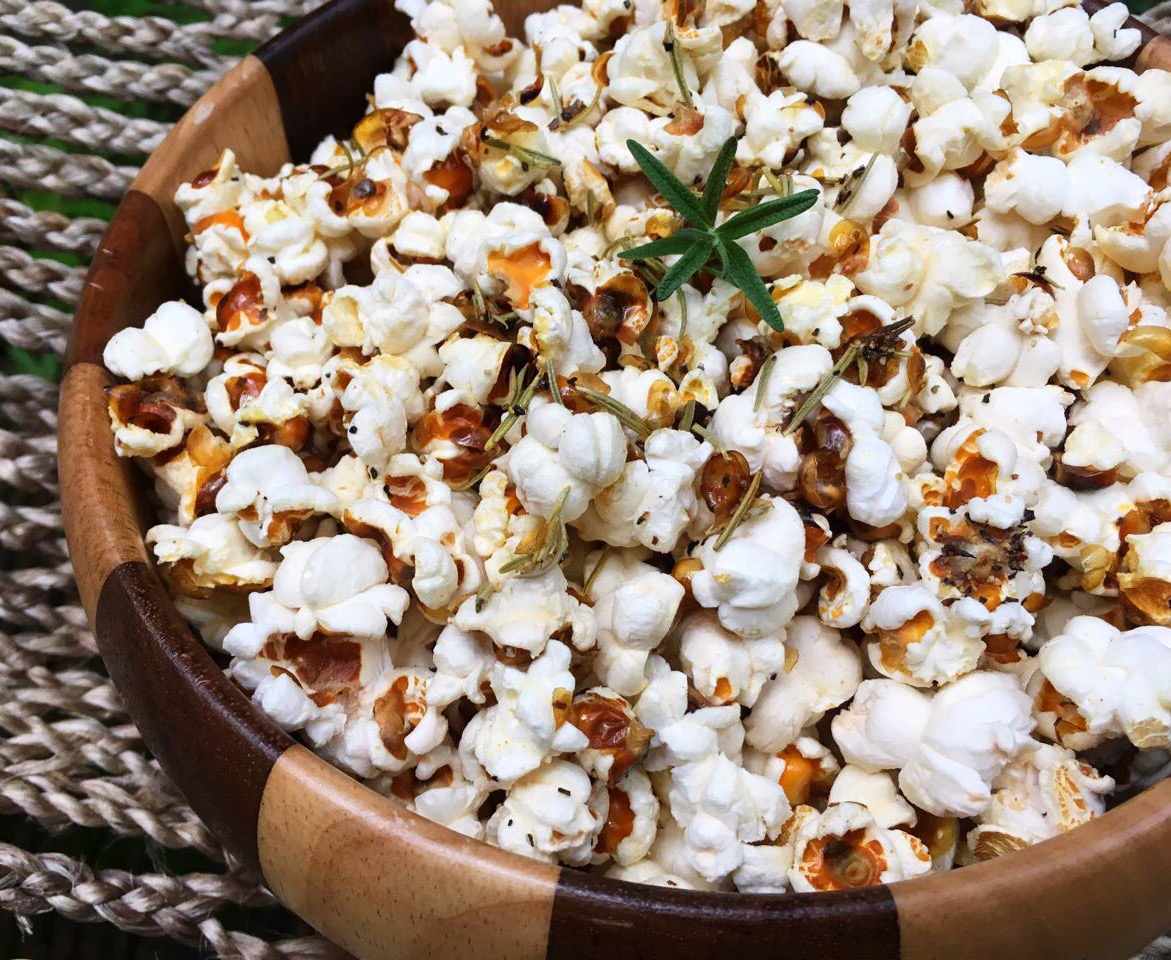 What's your favorite snack? Is it sweet or savory or chewy or crunchy? Picture this – you are about to watch a movie you've been waiting to see for months, the lights are dimmed, you have your fluffy blanket on you, you're wearing your most comfortable pajamas and you're about to press play.  Now what is missing in this picture?  That's right.  You're missing your favorite snack! How can you watch a movie without having a bowl of something sweet or salty or both? Seriously, there is no Netflix and chill if there are no snacks involved.  I love snacks. I love them all – sweet, salty, sour, chewy, crunchy, hot, cold, juicy, etc.  Arkadi, on the other hand, prefers just a handful of snacks – chocolate, chocolate, sunflower seeds, chocolate.  BORING.  Growing up in mother Russia, he said they would eat sunflower seeds or peanuts while watching movies, but never popcorn.  So in my head,  this little story from his childhood turned into a challenge: must convince husband to like popcorn, must make him want popcorn over sunflower seeds.   Naturally, I couldn't just make him the regular salt and butter popcorn.  I had to up my game and make him switch teams.  So, I found this super easy popcorn recipe, made him a batch and he is now a team popcorn convert!
Popcorn has come a long way from just being a breakfast cereal nowadays.  These days you can go to a popcorn bar and come home with a bag of whatever popcorn flavour you fancy, like dill pickle, espresso caramel, maple bacon, pizza, vanilla sponge cake!   Grocery stores sell plain popcorn, butter popcorn, Chicago style popcorn, kettle popped popcorn, caramel popcorn, skinny popcorn, really the choices are endless.  But this recipe, if you can even call it that, is so easy, you will want to make popcorn fresh and hot at home.  This popcorn has it all – garlic, rosemary, salt and pepper and if you want a bit of heat, you can add a sprinkling of pepper flakes.  Seriously, it is that easy, but the flavours go so well together you cannot stop eating handful of this stuff.  And don't think this popcorn is just for snacking, it makes a great pre-dinner nibbles for your dinner parties too!
Here's the how to for this garlic + rosemary popcorn:

garlic and rosemary popcorn
Author:
adapted from Food and Wine
Ingredients
½ cup popcorn kernels
¼ cup canola oil or grapeseed oil (or other high flashpoint oil)**
1 tablespoon plus ½ teaspoon fresh minced rosemary*
½ tablespoon garlic powder
3 tablespoons unsalted butter
½ teaspoon kosher or sea salt, or to taste Fresh
cracked black pepper, to taste
Instructions
Heat the oil large pot over medium heat.
After the oil is hot, add the popcorn kernels and the 1-tablespoon of rosemary, and then shake the pot to gently toss the kernels until they are all coated with oil.
Cover with a splatter screen or a lid that is placed slightly ajar to allow the steam to escape.
Cook until the popcorn popping frequency slows to several seconds between pops.
Remove from heat, allow a minute or two for any final pops, and then pour into a large bowl.
In a small saucepan combine the butter and remaining ½ teaspoon of rosemary. Melt the butter over medium heat.
Drizzle over the popcorn and season with salt and pepper, tossing occasionally as you butter, salt, and pepper the popcorn.
Notes
**We've also used coconut oil and it works out just fine.
*If you do not have any fresh rosemary handy, you can substitute with dried rosemary (1/2 tablespoon).
If you want a little kick, you can add some red pepper flakes.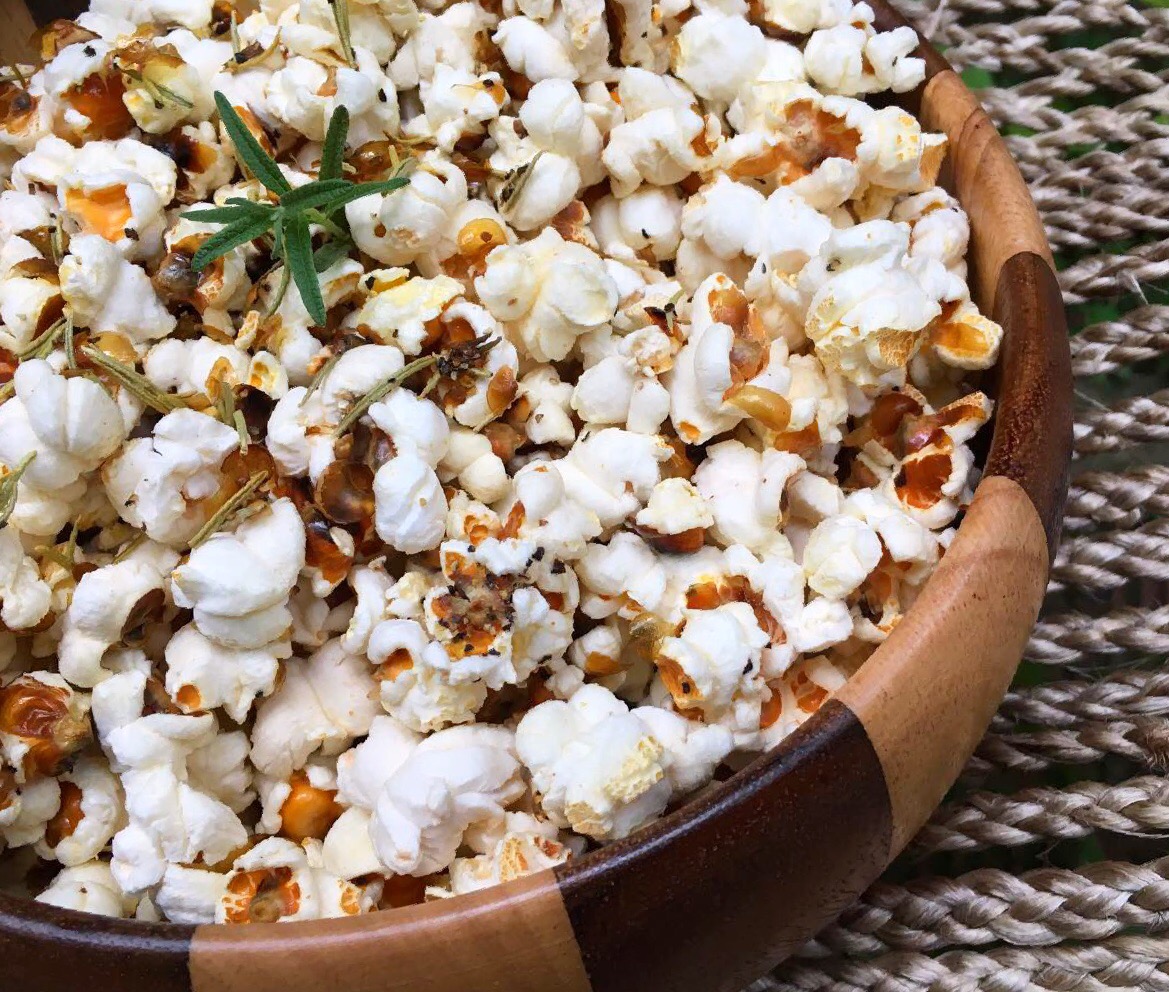 Did you know that in the 17th century, housewives served popcorn with sugar and cream for breakfast?  Hey, if you want to eat this bowl of popcorn for breakfast, we won't judge!