CHOCOLATE BUTTERCREAM frosting – need I say more? You can use this frosting for anything you like – cakes, whoopie pies, cupcakes, etc.  And licking the bowl or spoon is totally allowed (Arkadi's favourite part!).  So here's the recipe:  
Chocolate Buttercream Frosting
Makes 3 cups Author: savorysweetlife.com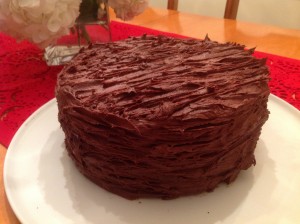 To frost a layered cake – put a little frosting in the middle of your serving platter, add the first layer of cake.  Add frosting to the cake, enough to cover the entire top of the cake and a little bit more.  Then add the second layer of cake.  Lightly frost the entire layered cake then continue to add frosting to the entire cake.  I used an offset spatula to add and smooth out my frosting.  Then to decorate, I simply used a butter knife to add interesting grooves and edges.  You can also use a tablespoon to decorate or keep the frosting smooth.
Chocolate Buttercream Frosting
Ingredients
1 cup unsalted butter, softened
3 and ½ cups powdered sugar
½ cup cocoa powder
½ teaspoon table salt
2 teaspoons vanilla extract
4 tablespoons milk or heavy cream
Instructions
Cream the butter first for a few minutes with a paddle attachment on medium speed. Turn off mixer. Then sift together the powdered sugar and cocoa powder into the bowl. Turn the mixer into the lowest speed (very important unless you want to inhale the sugar and cocoa powder) and mix until the sugar and cocoa powder are absorbed by the butter. Then increase the mixer speed to medium, add vanilla extract, salt and milk/cream and beat for 3 minutes.
Notes
If your frosting is more stiff than you like then add more milk, 1 tablespoon at a time. If it is too thin, then add a little bit of powdered sugar at a time until desired consistency is reached.