There was a time there when I was eating muffins for breakfast everyday! Until one day, a co-worker pointed out that eating muffins is like eating cake and eating them everyday is like eating a slice of cake for breakfast every single day.  That was my wake up call and also the fact that my clothes started feeling tight!  These days I am more sensible with my breakfast options, but once in a while I'd treat myself to a muffin for breakfast. And thanks to smittenkitchen.com, I now have my favourite best blueberry muffins recipe! The addition of lemon zest to these muffins I think is what makes them special.  This recipe definitely makes a good base for muffins.  You can easily swap apples for the blueberries or even just make them with poppy seeds.  Also, these muffins definitely  keep well for a couple of days so you don't have to worry about eating a whole bunch of muffins in one day (who am I kidding? as if that's a real problem!).  And because sharing is caring, here's the recipe for you:

Best Blueberry Muffins
Author:
smittenkitchen.com
Serves:
9 to 10 standard sized muffins
Ingredients
5 tablespoons of unsalted butter, softened (2½ oz or 71 grams)
½ cup of sugar (3½ oz or 100 grams)
1 large egg
¾ cup of sour cream or plain yogurt
½ teaspoon of grated lemon zest
1 and ½ cups of all purpose flour (6 and ¾ oz or 191 grams)
1 and ½ teaspoon of baking powder (1/4 oz or 7 grams)
¼ teaspoon of baking soda (1 gram)
¼ teaspoon of salt (2 grams)
¾ cup of blueberries (3 and ¾ oz or 105 grams)*
Instructions
Preheat oven to 375F.
Line a muffin tin with 10 paper liners or spray each cup with non stick spray.
Beat butter and sugar with an electric mixer (or stand mixer) until light and fluffy.
Add the egg and beat well, then add the yogurt or sour cream and the lemon zest.
In a sifter, add the flour, baking powder, baking soda and salt and sift half the dry ingredients into the batter and mix until combined.
Then sift the remaining half of the dry ingredients into the batter and mix just until the flour disappears (be careful not to over mix).
Then gently fold in your blueberries.
Fill your muffin liners or tins about ¾ full.
Bake for about 25 to 30 minutes, until the tops are golden and a tester inserted into the centre of the muffins comes out clean.
Notes
*if using frozen blueberries, do not bother defrosting
**the dough will be thick (even thicker if you are using Greek yogurt) and so scoop them out using an ice cream scooper to fill your muffin tins.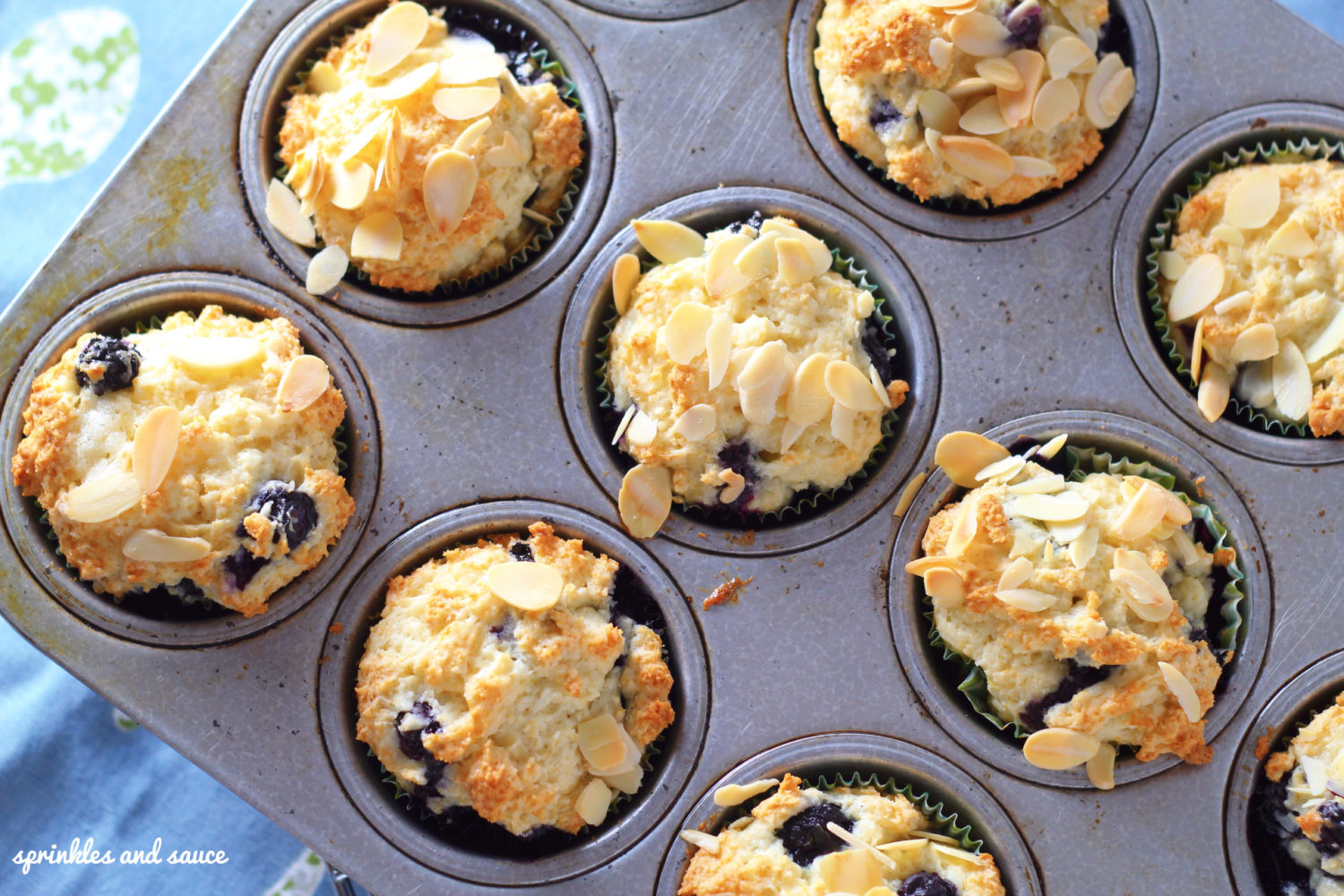 Here are some interesting facts about muffins that I found:
the word muffin comes from the French word moufflet (meaning soft);
there are two main types of muffins – English and American;
three American states have official state muffins (apple for New York, corn for Massachusetts and blueberry for Minesota); and
 the first muffin recipe came in print during the mid 18th century which then increased the popularity of muffins so much that muffin men walked on the streets of England just to try to sell their new baked muffins.