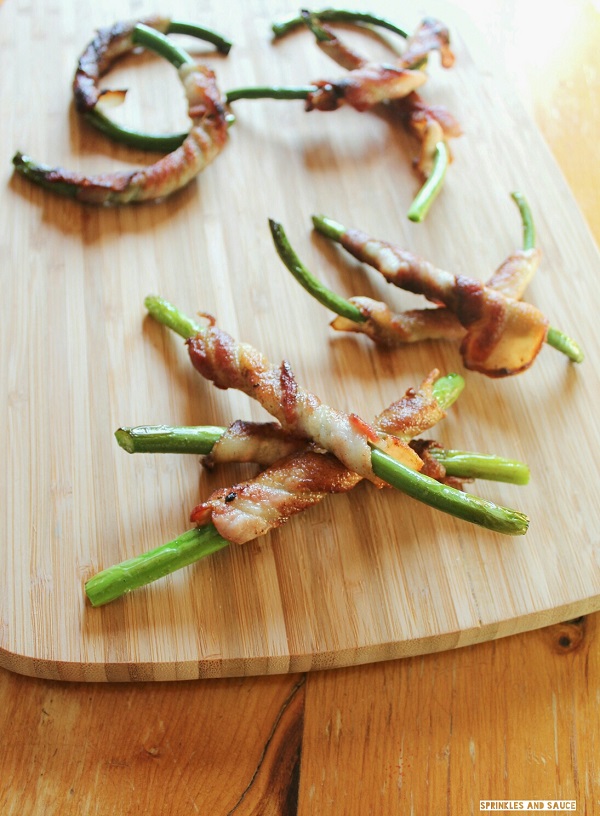 I've been invited to a fair share of potlucks and every time I go to one, I end up searching online for different ideas. I google, I pin, I search and search the net. Endlessly. Until I find something that's unique, easy and of course tasty. My mom thinks I am crazy for always coming up with new recipes to try on my friends and families! I guess I could make any of my tried and tested fave recipes, but I see these get togethers as an opportunity to try something new and learn. So far, I have not had major cooking dinner disasters (except for that one time I mistakenly added Nutriwhip to my chicken, garlic and brocolli penne). Of course, when I do find a winning recipe, I make sure that I keep that recipe in my recipe box and share it with you guys! Recently, I found out about garlic scapes and so I decided to look for an appetizer using garlic scapes. Guys, I found the ultimate appetizer! It was love at first bite. For reals. With each bite, you get crunchy, garlicky, bacony goodness! Another bonus factor for this amazing finger food/appetizer is that it's super easy to make and you can prep them ahead of time. Then you just fry or bake them right before your event. I promise you, if you make this bacon wrapped garlic scapes, you will be the most popular person at your potluck/dinner and everyone will be asking you for the recipe. So if you like garlic and love bacon (and who doesn't?), try this out for your next event! Here's the simple how to for you:

Bacon Wrapped Garlic Scapes
Ingredients
12 six to eight inch long tender pieces of garlic scapes
12 pieces of thin-cut bacon
Instructions
Tightly wrap each of the scapes with one piece of bacon, spiraling down the scape as you go. When all the scapes have been wrapped, heat a heavy skillet over medium heat and then add the scapes.
Cook the scapes until the bacon browns on one side and then turn over. Cover the pan with a lid (this helps to ensure the scapes inside the bacon are well-cooked), removing the lid and turning the scapes as needed until the bacon is brown on all sides.
Remove the scapes and drain them on a paper towel.
Serve immediately.