We try to eat healthy during the week and make our lunches at home and for a little while there  I got stuck on tuna everything – tuna salad, tuna sandwiches, tuna fried rice, tuna this and tuna that. I may have overdosed us on tuna and now we need to lay off of it for a bit!   Instead of using tuna, I decided to use shrimps and I made this rainbow salad before so I thought I'd give it a try again to help us get out of our rut! This time, instead of lettuce, we used arugula and it turned out just as good! So here's the recipe for you and we hope it will help you get out of your rut too: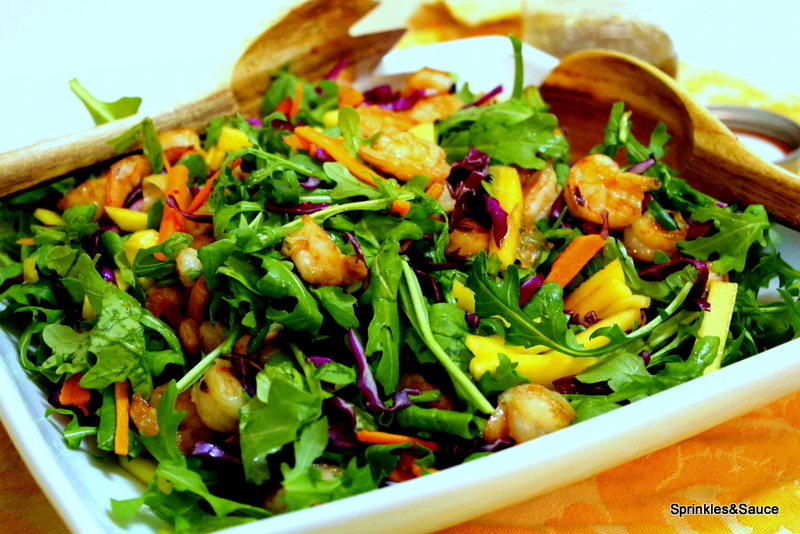 Asian Rainbow Salad
Author:
sprinkles and sauce
Ingredients
For the salad:
arugula
1 carrot
¼ head of red cabbage
1 mango
a bunch of cilantro
2 green onion stalks
a handful of cashews
shrimps
For the dressing:
¼ cup of lime juice
2 tablespoons of brown sugar, or more to taste
3 tablespoons of fish sauce
red pepper flakes, optional
Instructions
For the salad:
Julienne the carrots, red cabbage and mango.
Chop the cilantro and green onions.
Toast the cashews.
Toss the arugula, julienned vegetables and fruit with the toasted cashews and chopped cilantro and green onions.
Grill the shrimps with a little bit of hoisin sauce or with just salt and pepper
For the dressing:
Add the lime juice, brown sugar, fish sauce and red pepper flakes in a jar and shake until the sugar is dissolved.
Toss the salad with the dressing and top with grilled shrimps.