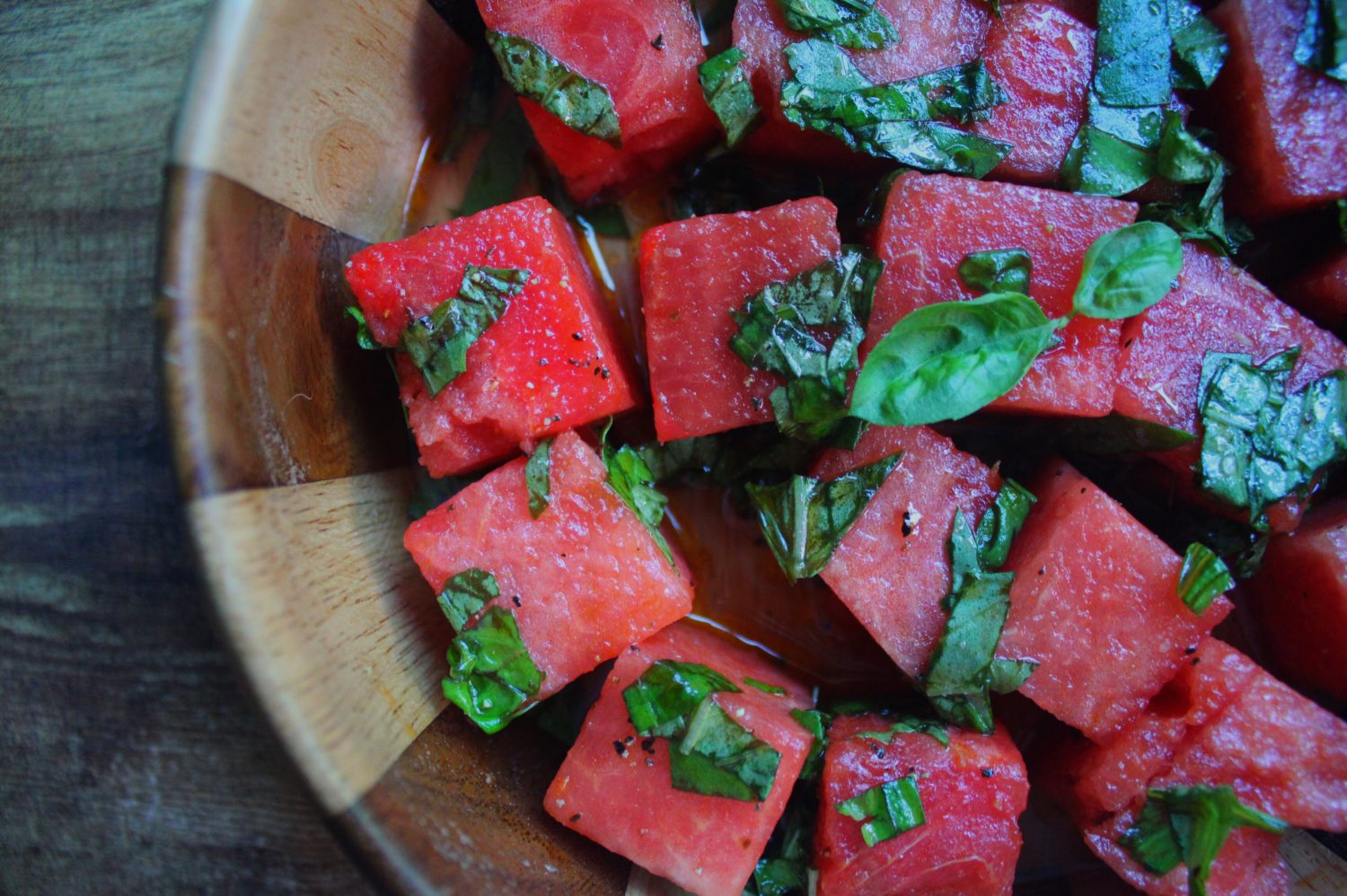 I have a love/hate relationship with summer.  I hate the hot, humid days of summer, but I love all the fresh produce summer offers like plump, sweet Ontario strawberries, luscious, ripe peaches and of course, juicy, sweet watermelons! You know it's summer in Toronto when you see bins of watermelon in your local grocery store and you know summer's over when that bin is near empty and the price of a watermelon sky rockets from $5 to over $10 a piece!  Here in Thailand, we have juicy, sweet watermelon all year round and only for half the price of what we'd pay back in Toronto.  Second to mango, watermelon is my second favorite fruit and I am so happy I can enjoy watermelon all year round here in Thailand.  A few years ago, my husband introduced me to watermelon salad.  I was like "hold up, do you mean watermelon fruit salad?" His reply blew me away.  He said "no, watermelon salad with feta cheese."  I was intrigued and so I tried his watermelon salad and guess what, it was a winning combo! Apparently, back in Azerbaijan, his grandma loved eating her watermelon salad this way.  So ever since then, I've made a few watermelon salads myself.  Recently, I came across a recipe for a watermelon salad that's simple and jam packed with fresh flavors.  Watermelon and feta go together, but watermelon and basil really go together.   And guess what, this salad only needs 5 ingredients that you likely already have in your kitchen!
Here's how to make this awesome salad:

Watermelon and Basil Salad
Author:
http://marcussamuelsson.com
Ingredients
4 cups watermelon, cut into cubes
Handful basil leaves, chopped
¼ cup extra virgin olive oil
Sea salt
Black pepper
Instructions
Place watermelon and basil in a salad bowl.
Drizzle with olive oil, salt and pepper and toss to combine thoroughly.
This salad g
oes well with grilled meats and it's a great starter or palate cleanser to finish off your meal
.  We love easy salads like this one that's
easy to throw together for a week night dinner and a crowdpleaser for a dinner party
.   We love this simple recipe, but we've also tried
other variations before like watermelon, mint, lime juice and roasted pumpkin seeds and watermelon, oregano, and feta cheese with red wine vinegar and olive oil.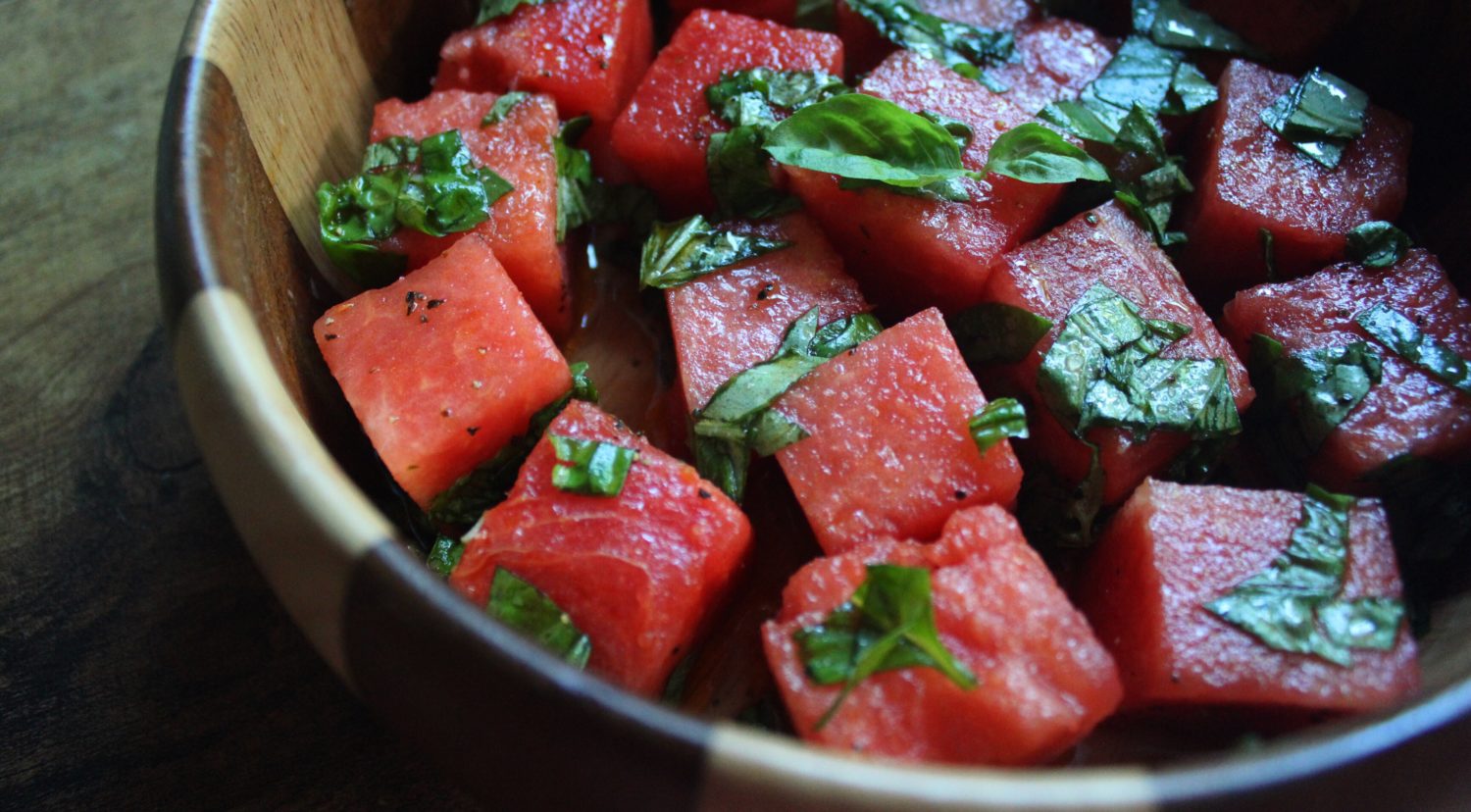 Make sure you inhale deeply while making this salad (we know it sounds weird and you're likely to look like a weirdo doing it too, but trust us) because the aroma of fresh basil with that sweet watermelon is just heavenly!
Here's some tips on how to pick a sweet watermelon:
Look for the field spot.  The yellower or creamier the colour of the field spot, the sweeter your watermelon will be.  Avoid a pale looking field spot.
Size does matter.  Look for a watermelon that's heavier for its size.  The heavier the watermelon, the more water it has and therefore the sweeter it is.
Knock.  An unripe watermelon does not sound hollow while a ripe one does!
Shiny is not always good.  Shiny watermelons are not ripe while the dull ones are a-ok!
If the watermelon has a tendril, pick a brown dried out one because that means the melon has ripened already.  A green, sturdy tendril indicates the melon is still ripening.
Look for webbing. The more webbing a watermelon has, the sweeter it will be because the webbing indicates the frequency bees pollinated the flower and the more pollination, the sweeter the fruit will be.
Try out one or more of these tricks and you're guaranteed to bring home a sweet watermelon.  If you have another tip you want to share, let us know!