Summertime, and the livin' is easy.  Fish are jumpin and the cotton is high.  Any Ella Fitzgerald fans out there? I was listening to this song while typing up this post for today because summertime  living is definitely easy especially after that winter we had! Everyone is just happier  and more lighthearted with all the sunny days and warm weather we've been having lately.  As for Arkadi and I, we've been spending less and less time in our kitchen and more and more time outside in the backyard enjoying grilled meats and hearty salads for dinner! One of our all time favourite salads is a classic nicoise salad because it has everything in one bowl.  Just take a look at this bowl and see for yourself: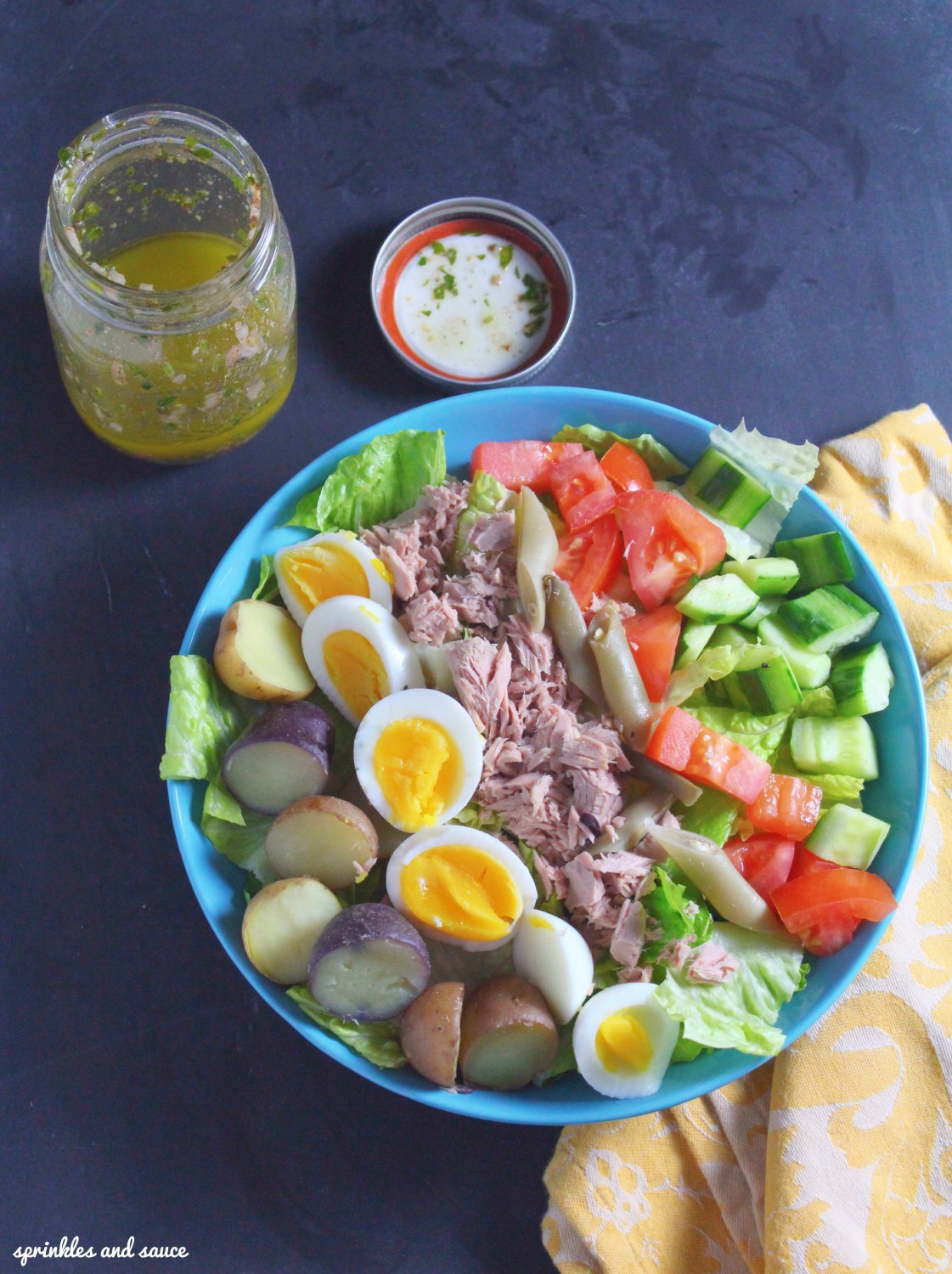 Technically, we can't really call this salad a classic nicoise salad because of it's lack of nicoise olives, but it's our version with a slightly different twist! If you are like us and want to have a lighter meal for dinner, here's the recipe for you:
p.s. this salad also makes an awesome lunch and will make your co-workers jealous!
p.p.s. the dressing is just heavenly!
Tuna and Egg Salad with French Vinaigrette Dressing
Author:
davidlebovitz.com and sprinklesandsauce.com
Ingredients
For the French vinaigrette dressing:
⅛ teaspoon of sea salt
1 tablespoon of sherry or red wine vinegar
½ small shallot, peeled and minced (about 1 tablespoon)
½ teaspoon of Dijon mustard
3 to 4 tablespoons of olive oil
For the salad:
1 romaine lettuce, chopped
1-2 red tomatoes, chopped
half a cucumber, chopped
2 tins of tuna, drained of water and flaked
2-4 hard boiled eggs
4 pickled green beans, chopped
Instructions
For the dressing:
In a small bowl or a mason jar, mix together the salt, vinegar and shallot. Let stand for about ten minutes.
Mix in the Dijon mustard, then add 3 tablespoons of olive oil. Stir well, then taste.
If too sharp, add additional olive oil and more salt, if necessary.
For the salad:
Assemble all the salad ingredients together and toss with dressing right before serving.
Notes
You can use cooked green beans if you like, but we liked the addition of pickled green beans because it added that little something something to the salad!

Also, the dressing will keep for about eight hours at room temp. If you want to make it farther in advance, it's best to add the shallots closer to serving so they don't lose their verve. (This is straight from Mr. David Lebovitz himself).