I invited my in-laws over one night for tea and dessert and I thought to myself, I will make something Russian, something they are familiar with.  So I found myself a recipe for this cake and I asked Arkadi if he's ever had this cake called "torte mashenka" and he said no, he's never heard of a Russian cake called that.  Then to add insult to the injury, he started naming off all these Russian cakes with all these Russian words I've never heard of! Panic set in but it's too late, the invitation went out already and the in-laws are coming!  Turns out, he's had this cake before but his family called it a different name – phew, crisis averted! So off to the market I go to get my ingredients and set out making my in-laws their Russian cake! Let the adventure begin! To be honest, this cake actually was real easy to make and as it turns out, even though none of them have ever heard of "torte mashenka," they all loved it! So here's the recipe for you to try out:   Torte Mashenka Adapted from: russianmomcooks.com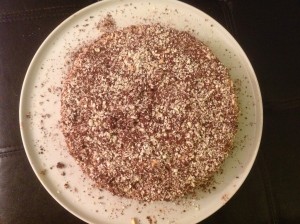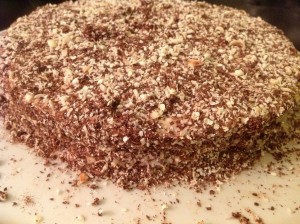 Torte "Mashenka" (Russian Cake)
Ingredients
For the cake:
1 can of sweetened condensed milk
1 cup of all purpose flour
¼ teaspoon of salt
2 eggs
1 teaspoon of baking soda
2 tablespoons of vinegar or lemon juice
For the cream:
300 grams of sour cream
¾ cup of sugar
⅓ cup of liquor (Kahlua, Baileys)
Instructions
Preheat oven to 350F and prepare a round, nine-inch spring form baking pan.
Mix the first four ingredients until smooth. Then add vinegar to the baking soda and mix it with the batter. Do not over mix.
Pour the batter into the prepared baking dish and bake cake for about 30 to 40 minutes. Let the cake cool on a wire rack. Once the cake is cooled, cut it in half so you will end up with two even round cake layers.
While the cake is cooling, make the cream. Add the sour cream and sugar into a bowl and blend until smooth. Then add the liquour and blend.
For my garnish, I used grated dark and white chocolate.
To assemble, add a little bit of the sour cream mixture onto the middle of your serving platter, then add the first layer of your cake on top. Then add more sour cream mixture on top of the first layer and garnish with some grated chocolate. Repeat for the second layer. With the remaining sour cream mixture, frost the sides and the top of your cake. Finish off by garnishing the sides and top of the cake with grated chocolate.
Notes
I made my cake the night before and I found that the cake absorbed some of the moisture from the sour cream mixture, which made it better! (To be honest, again, that was Arkadi's idea - he said it was so that the flavours will blend better).

Surprisingly, even with a can of sweetened condensed milk, the cake was just lightly sweet. It went real well with tea! Most of all, I got my father in law's approval - even though he too has never heard of "mashenka."