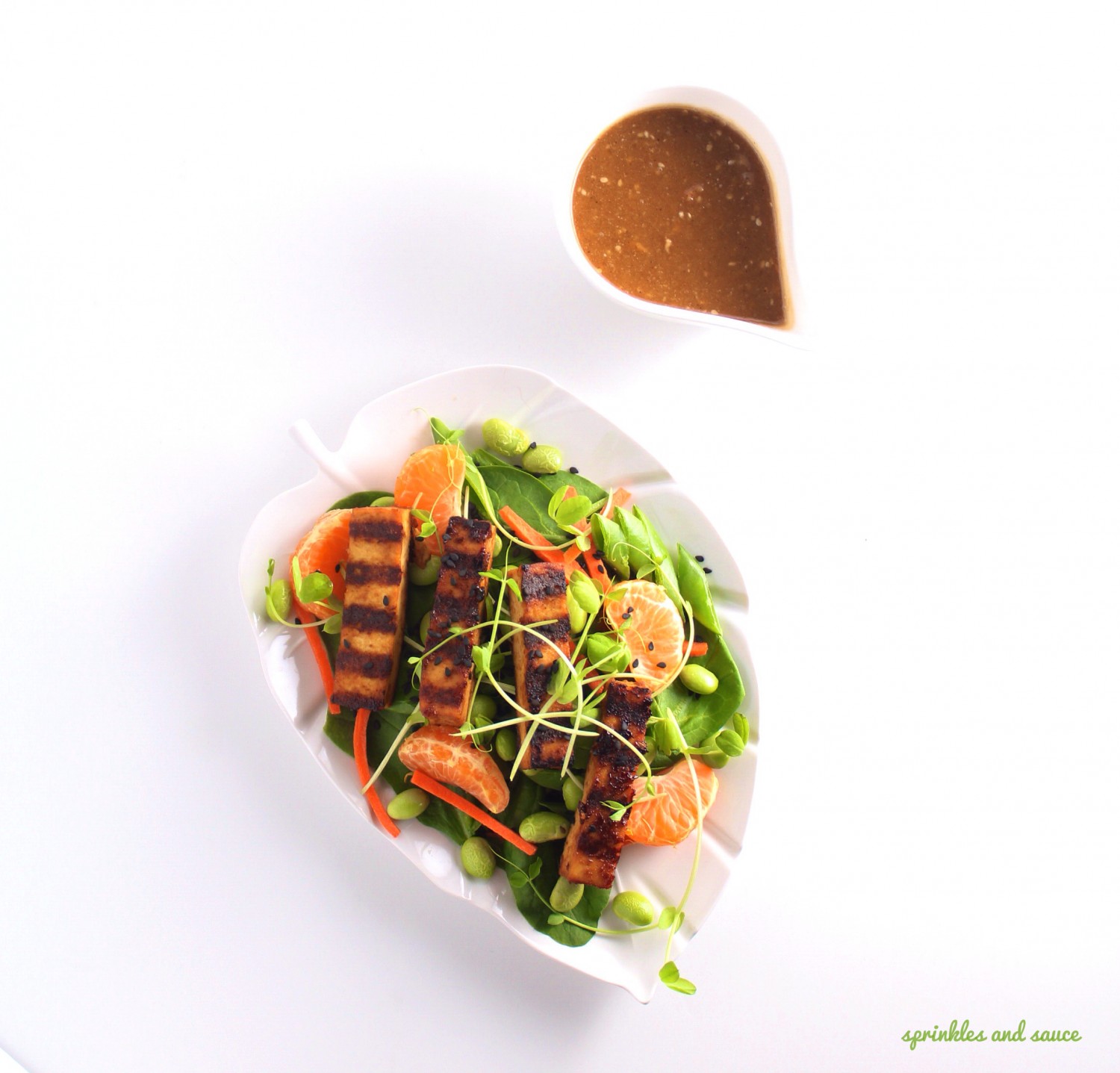 I've been seeing a lot of #meatlessmondays on Instagram lately and for while there, I've been ignoring the whole trend since we love meat! It's not like we regularly have meat on meat (okay, okay on occasion we'll add bacon on our hamburgers), but we usually have meat or fish for two of our meals in a day.  So this Monday, we finally decided to jump on the bandwagon and came up with – Tofu Spinach Salad with Asian Sesame Dressing!
We marinated the tofu for a couple of hours before grilling it and that really added some zing to the tofu (truthfully, we had to do this because the marination process helps us to pretend it's grilled chicken instead).  And to the tofu you add spinach, pea shoots, some matchsticks carrots, mandarin oranges for some sweetness and some edamame for extra protein and you've got yourself a bowl that makes your body happy after a weekend of indulgence! Below is the recipe for you to try.  Almost forgot to tell you – the dressing is pretty fantastic too!

Tofu and Spinach Salad with Asian Sesame Dressing
Author:
sprinkles and sauce
Ingredients
For the tofu:
350 grams of hard tofu
1 garlic, chopped
2 tablespoons of hoisin sauce
2 tablespoons of sesame oil
2 tablespoons of rice vinegar
1 teaspoon of sriracha, optional
For the salad:
4 cups of baby spinach
1 carrot, julienned
a handful of peasprouts
1 cup of edamame
2-3 mandarin oranges
sesame seeds
For the dressing:
⅛ cup of rice wine vinegar
1 shallot, quartered
½ teaspoon of salt
⅛ teaspoon of black pepper
2 teaspoons of peanut butter (or almond butter or tahini)
1 tablespoon sesame seeds
¼ cup of sesame oil
2 tablespoons of maple syrup
1 tablespoon of soy sauce
Instructions
In a glass container or ziploc bag, marinate the tofu for a couple of hours.
Grill the tofu and cut it up in bite size pieces
In a large bowl, add all your salad ingredients and set aside.
In a blender, add all your dressing ingredients and puree until smooth.
Serve the salad with dressing on the side.