Chiang Mai is the second biggest province in Thailand and generally the most well known province in Northern Thailand. But did you know that Chiang Rai is actually older than Chiang Mai? Both Chiang Mai and Chiang Rai were built by King Meng Rai, and Chiang Rai was first the capital of Lanna Kingdom. Later on, a more suitable area was found and the capital was moved to Chiang Mai. Although smaller and less known to Westeners and tourists, Chiang Rai has a lot to offer.
For our first visa run, we decided to do a road trip up to Mae Sai which borders Myanmar and on the way there, we decided to explore what Chiang Rai has to offer. The whole trip took us 4 days, but you can easily stay longer in Chiang Rai and explore everything it has to offer.
The drive from Chiang Mai to Chiang Rai is an easy, straightforward one. It took us about 3.5 hours, by car, to reach the city centre of Chiang Rai. It's hard to keep on driving because there were so many amazing views like these ones: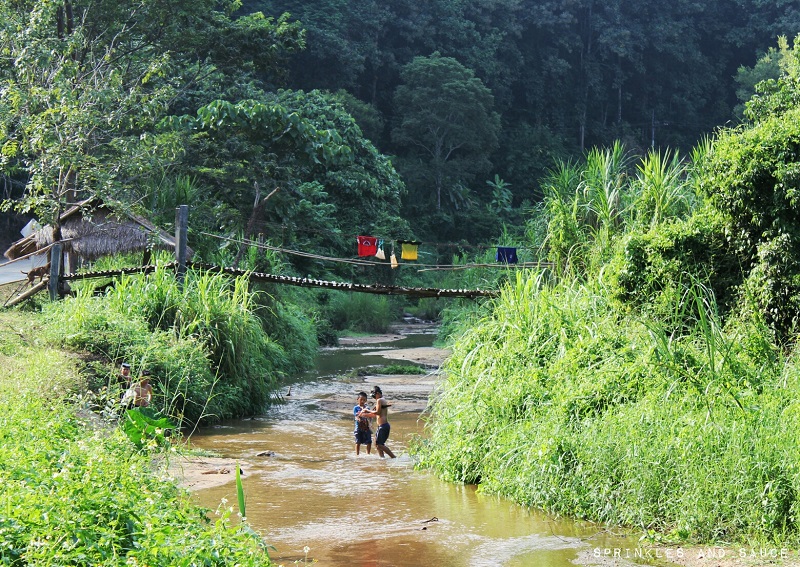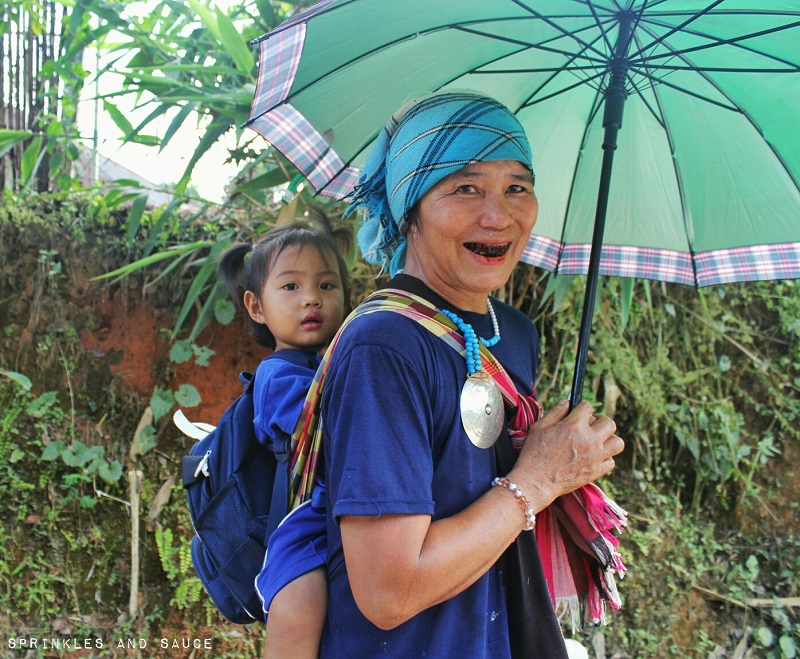 Our first stop was at Huay Mae Sai Waterfall. It is not the biggest, most exciting waterfall we've seen, but it was still a nice place to cool off. When we arrived at Huay Mae Sai, there was a group of Swedish tourists swimming, a couple of French guys with a tour guide hiking up to the top of the waterfall and a handful of local young people taking selfies, but aside from that, there were no bus tours and hoards of tourists elbowing you for the best view.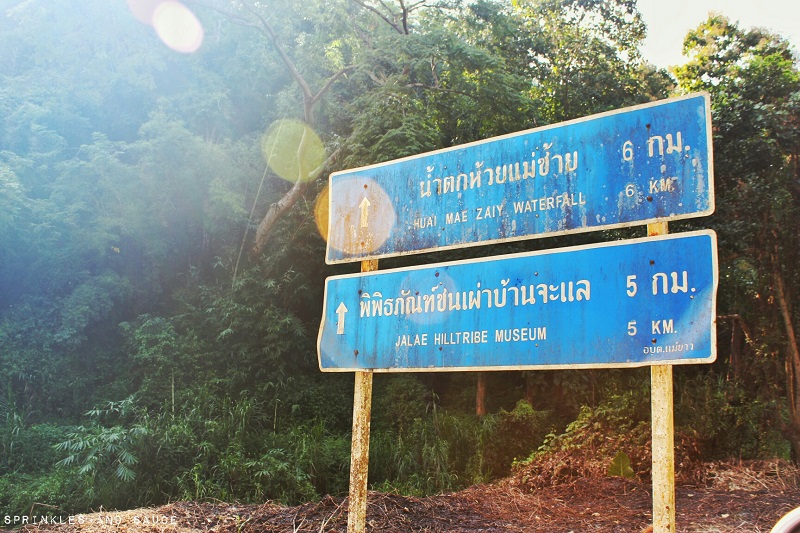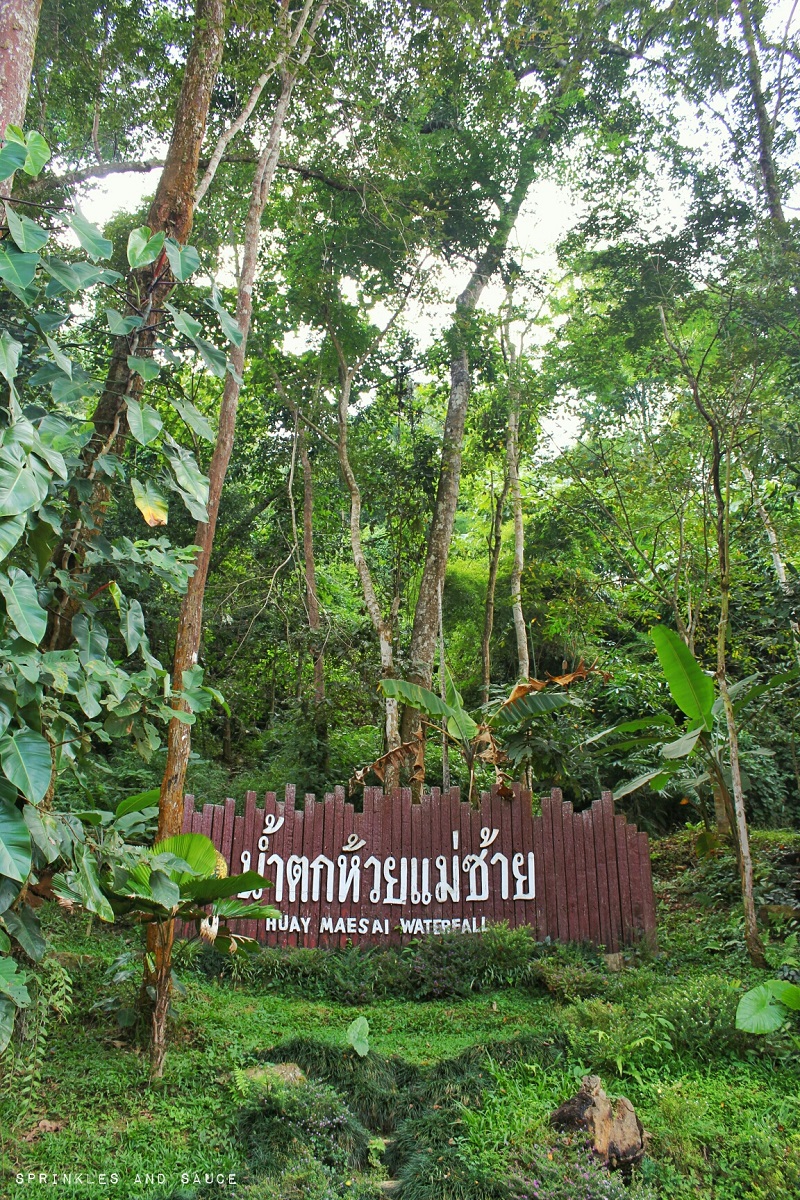 After playing around in the waterfall, we decided to visit a nearby village – Ban Yafu which is a Lahu tribe village. The day we visited was an interesting one. At first the village seemed quiet and almost deserted. But as we got closer to the core of the village, we realized why no one seemed to be home was because everyone was out dancing and playing on the streets. As it turned out, they were celebrating something and the whole village was at the party complete with Western pop music blaring and beers for everyone!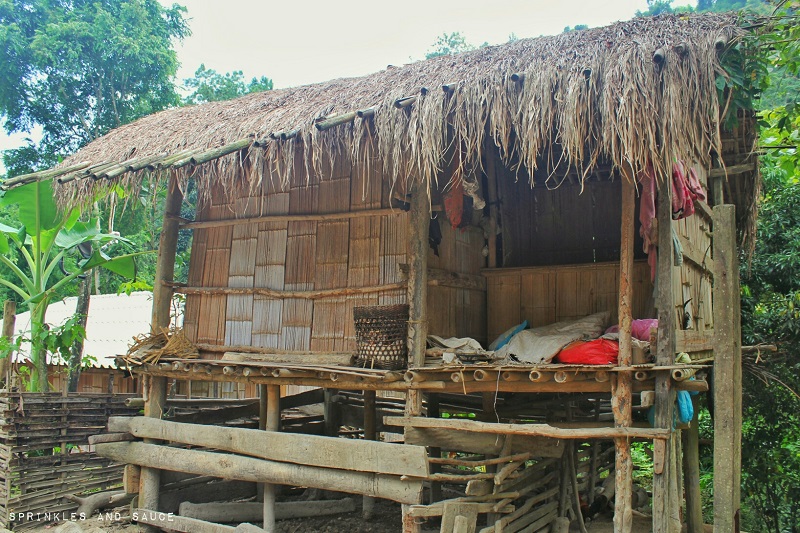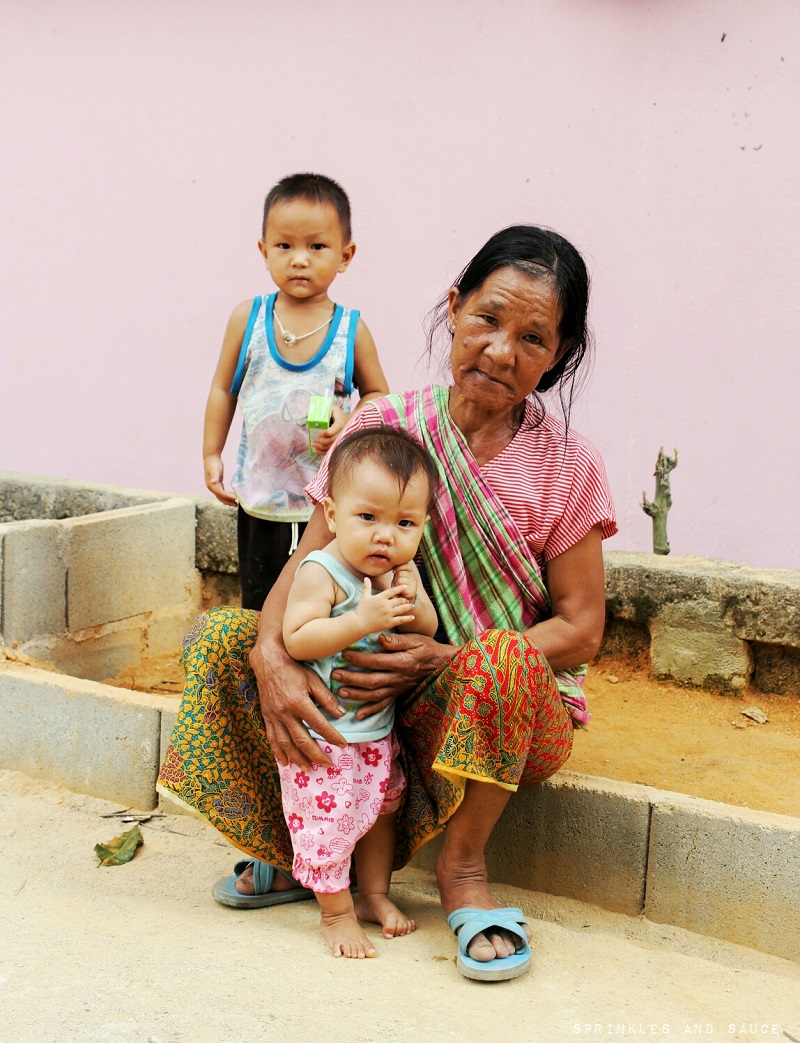 It's really important for us to get to know some of the locals when we visit a place and to get to know a bit of their story.  Unfortunately, at this point our Thai is very limited, but being able to properly communicate with Thai people is a huge incentive for us to keep on learning! 
On day two of our trip, on our way to Mae Sai for our visa run, we decided to stop at Wat Tham Pla to see the macaques. It was feeding time when we arrived at the temple so we watched macaques nibble on cut up cabbages and fruit. You can also feed them peanuts if you want an up close and personal encounter with these mischievous monkeys. I thought they were really cute until a couple started chasing me because I was feeding them too slow! You can also feed fish at the a nearby pond. If you like caves, there were a couple of temple caves you can visit as well.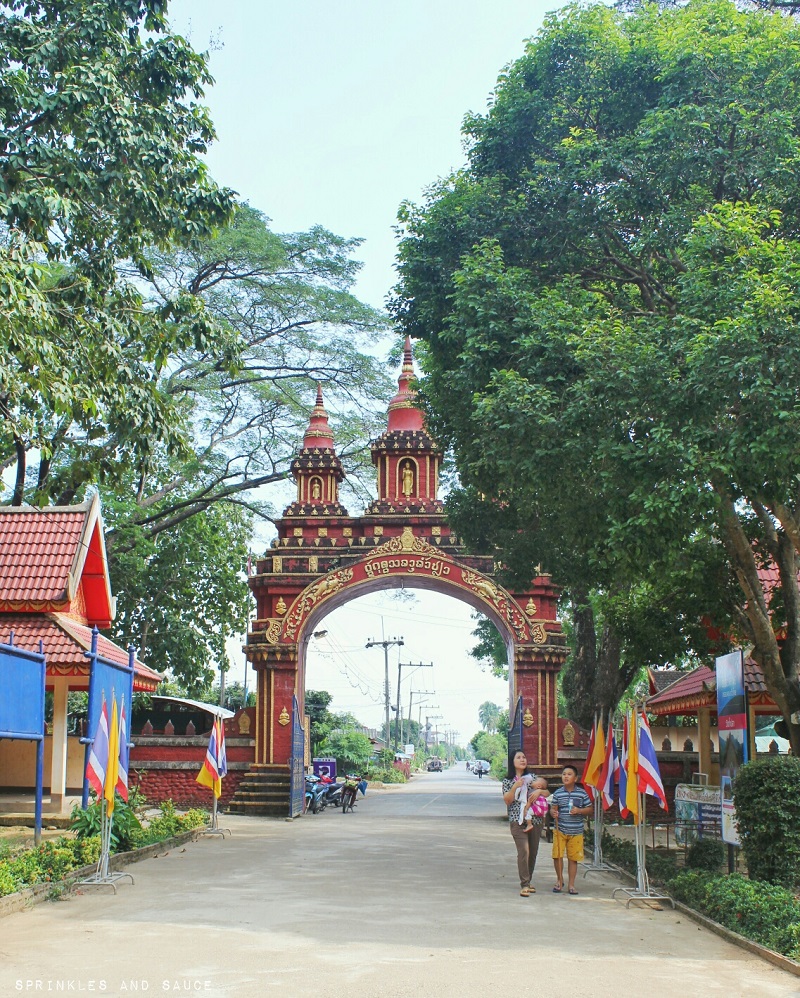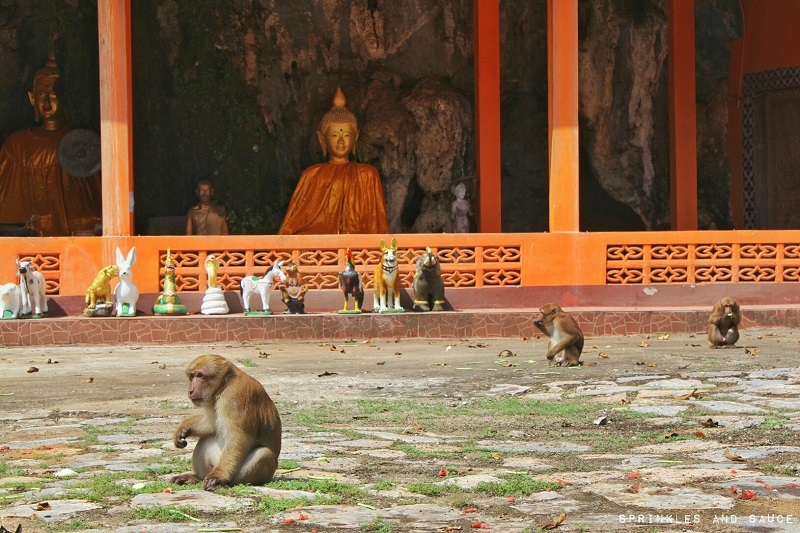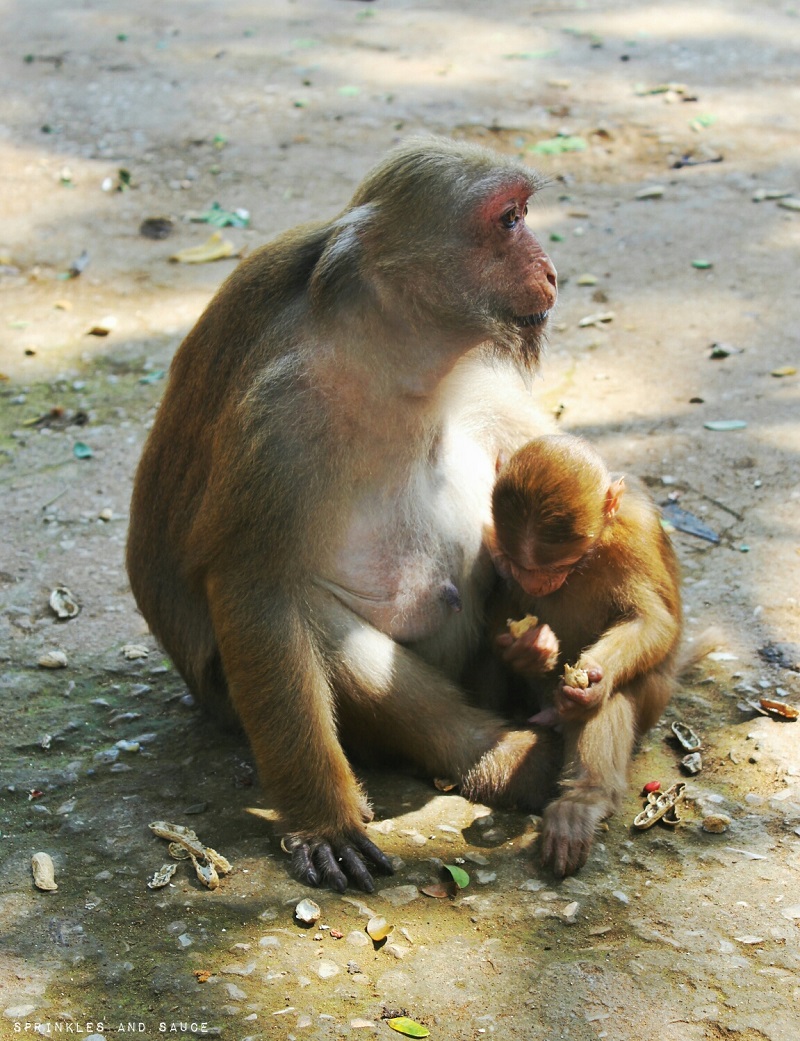 You can buy a cup of roasted peanuts for 20 baht and feed the monkeys, but watch out because they are fast and hungry for peanuts!
After visiting Wat Tham Pla, we proceeded to drive up to Mae Sai to take care of official business – our first visa run. You know you've reached the border of Thailand and Myanmar when you see a big blue building. We will do up another post for more information on visa runs to Mae Sai.
After officially completing our first visa run and obtaining another 90 days in the Kingdom of Thailand, we headed off to the Golden Triangle which was about a 45 minute drive from Mae Sai. This area was the opium growing region in northern Thailad, eastern Burma and western Laos. There's plenty to do in this area, but we only managed to see where the three countries meet on the Mekong River ourselves. I'm sure with a bit more research and more time, you can easily find interesting and off the beaten track adventures in this area.
On the third day of our road trip, we decided to hit two popular spots in Chiang Rai – Wat Rong Khun and Singha Park. We arrived at Wat Rong Khun at around 11:30 a.m. which was really disappointing because the temple closes at noon for lunch and opens up again 1 hour later. We were really disappointed to have to wait outside, but soon realized how great our timing was! Because everyone is escorted out of the temple at noon, you can actually take pictures of the temple without all the tourists walking around, ruining your shot! And there are plenty of food stalls and coffee shops you can relax in just outside the temple. Wat Rong Khun is an impressive looking temple. First off, it's completely white and all the little glass tiles add glitter and dazzle to the overall look of the temple.
 The construction of the temple started in 1997 by a devout and passionate Thai artist – Chalermchai Kositpipat. The construction is ongoing and is said to last long after the artist's death.
Everything in this temple is symbolic, including the mural inside the temple complete with Spider Man, a minion and Superman.
After the temple, we headed off to Singha Park for lunch. When we arrived at Singha Park, our first stop was at Boon Rawd Hilltop Restaurant. It's an open air restaurant offering traditional Thai food and amazing views of Singha Park. We decided to try their tempura tea leaves and were immediately hooked on them! The tea leaves were battered, fried, perfectly seasoned and went well with an ice cold beer!
We were hooked on these tempura tea leaves.  They were crunchy, perfectly seasoned and highly addictive! 
After lunch, we drove down to the main area of Singha Park. We thought of taking the free shuttle that will drive you in and around the park, but when we got there, we were told that you needed to register yourself and wait for the next available shuttle which at that time was 1 hour away. So we thought we'd do the tour ourselves and rent a tandem bike (200 baht per hour at the time of writing) instead. YIKES! Here's a giant note to self: DO NOT RENT A TANDEM BIKE IF YOU ARE NOT PHYSICALLY FIT. We thought of renting a tandem bike after seeing pictures of other bloggers who rented one and explored the park on their own. Except we didn't take into consideration the fact that these bloggers are way more fit than we are, the park has a lot of uphills and we decided to go for a bike ride during the hottest part of the day! Double yikes! Anyway, despite that disaster and getting sunstroke, we saw some pretty cool animals. Here are some pictures for you:
Boon Rawd Farm has giraffes, zebras and cows.  It's a perfect place for families with kids or adults who are still kids at heart!
The farm has a cafe close by which also offers fresh coconut juice. If you decide to hire a tandem bike and bike the farm yourself, make sure you stop at this cafe and order a coconut or two!  When we visited, they were building a ziplining platform and a rock climbing wall.  If you're into that, check to make sure they're open before heading over to the park.
For dinners in Chiang Rai, we decided to make it easy for ourselves and just headed over to Chiang Rai Night Bazaar. There were plenty of options for food and lots of interesting shops as well. Don't forget to have a coconut ice cream or two! It's a steal at 25 baht for two scoops of ice cream with all the fixings!
But for our last dinner in Chiang Ria, we decided to visit a restaurant recommended by Mark Weins –  Lab Sanam Keela and we were definitely not disappointed! We were given an English menu which was helpful, but we already knew what we wanted because we read up on the restaurant before heading over. We ordered their jeen neung with nam prik kha (basically steamed beef with chili galangal dip), pla tabtim tod kratiem (deep fried whole fish with garlic) and steamed rice. We don't know how Mark Weins was able to order and eat a lot more than us because after these two dishes, we were stuffed! After dinner, we were happy, full and ready for bed!
This dish came with a lot of garlic chips as you can see! We're slightly embarrassed to admit that we ate most of these highly addictive garlic chips (#sorrynotsorry).  The fish was crispy and tender and the addition of garlic chips just make it all the better!  
Admittedly these chunks of brown beef do not look appetizing, but don't be fooled.  They were fork tender and went perfectly well with the nam prik kha dip! 
On our fourth and last day of our road trip, we decided to get high! Well, I mean go high – high up to Doi Chaang to visit a coffee farm. This was probably our most favorite stop in Chiang Rai. The drive up to the mountain was a bit of a strain on our twenty year old car, but the views were priceless! There were so many stops you can make to breathe in that fresh mountain air and to see spectacular lake and mountain views. By the time we reached Doi Chang Coffee Farmhouse, we were ready to get out of the car and enjoy our first cup of coffee. And we were definitely not disappointed! There was nobody else at the coffee shop when we arrived except the owner, her assistant and a dapper looking Akha man. As it turns out the handsome older gentleman is the owner's father, the assistant is her niece and the owner is a very interesting, mild mannered lady who took time to educate us on their farm and of course, coffee! As we sipped on our lattes, we chatted with her about their business and learned a bit about her family and Akha tribe. After our lattes, they gave us coffee tea to cleanse our palates. This was the first time we've had tea made from coffee leaves and it tasted sort of like green tea. After our visit with the owner, she invited us to walk around their farm and visit as long as we wanted. We definitely recommend for anyone visiting Chiang Rai to make a stop at this coffee farm!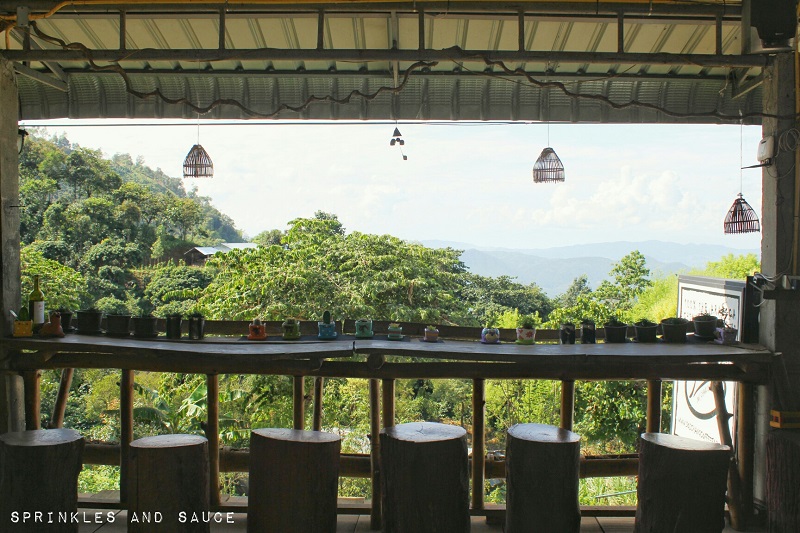 And if you're a bit peckish after all that good coffee and fresh mountain air, there's a small restaurant just before the coffee farm where you can have great chicken fried rice and amazing mountain view! We didn't have enough time to visit the Akha village nearby, but maybe next time we'll allot more time and explore a bit more.
Don't forget to stop at a strawberry farm on your way home to Chiang Mai. We bought a bag of strawberries ourselves, but you can buy other things like strawberry syrup, strawberry pop, dried strawberries and of course, fresh strawberries!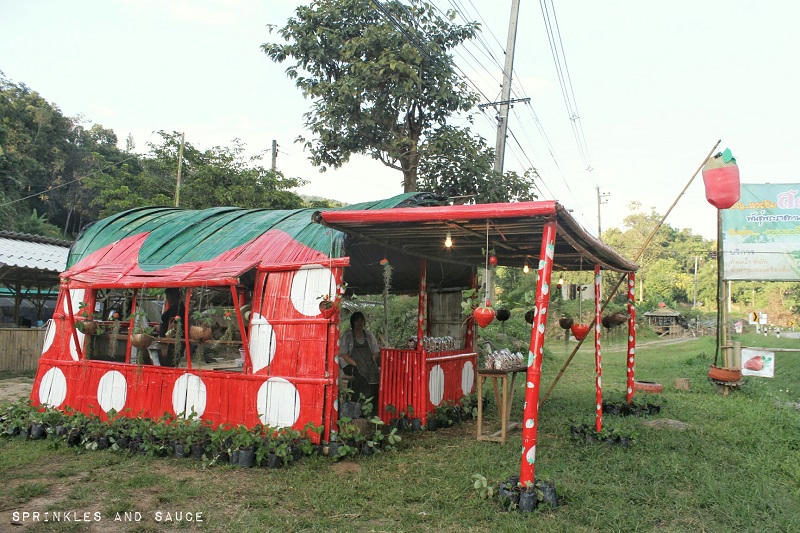 We love to do research before going on any trips, whether short or long. Here are some links that helped us make the most of this road trip:
http://8milesfromhome.com/post/53086959247/things-to-do-in-chiang-rai-undiscovered-places
http://www.johnpseely.com/travelarticles/thailand/monkeytemple
http://www.thailandforchildren.com/chiang-mai-family-travel/chiang-rai/white-temple-wat-rong-khun-thailand
http://www.eatingthaifood.com/2014/10/chiang-rai-restaurant-lab-sanam-keela/
http://migrationology.com/2014/11/visiting-doi-chaang-coffee-thailand/
Hope you enjoyed this post! And share with us some of your favorite trip highlights.