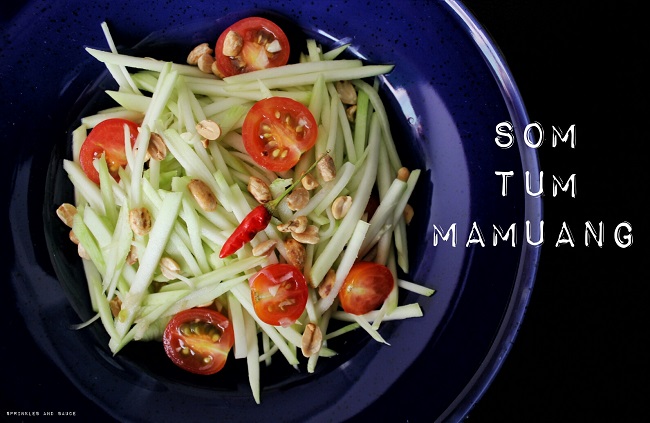 Most Thai restaurants in Toronto have green mango salad in their menu as their Thai salad option. So when we first visited Thailand 5 years ago, we were surprised to find out that most restaurants here don't actually have mango salad as an option.  Here in Thailand, they love their green papaya salad.  You can get green papaya salad in most restaurants and food stalls and even though each vendor adds their own special touch, one thing they all have in common is that they are Thai spicy!
We've come to love green papaya salad, but we are partial to mangoes! Back home, my go to salad for dinner guests or weeknight dinner is a mango salad because I love how versatile it can be.  You can make the dressing as tangy or as sweet as you like. You can add different veggies like red peppers, jicama, lettuce, cucumbers or add cashews or peanuts to the mix! And each salad tastes different depending on  how green or ripe your mangoes are.   Sometimes I'd make a big bowl of mango salad and throw in some shredded chicken or grilled shrimps for a light, refreshing meal! And sometimes I'd make a mango salad to accompany a spicy dish.
This version is from saveur.com and it's not for the faint of heart.  Their recipe is how they'd make it here in Thailand so expect it to have more punch than what you'd eat at a typical Thai restaurant in Toronto.  Thais love to balance many different flavours in their dishes and they certainly love their spice! We slightly tweaked the recipe from saveur.com to suit our taste, but if you want authentic Thai mango salad, click the link at the bottom of the recipe box.
We love the dressing for this salad because it's a perfect balance of sweet, salty, tangy and spicy. If you're new to Thai cuisine and see items like dried shrimps or fish sauce, don't be scared! You can personalize this salad as much as you want.  For instance, we omitted the dried shrimps and long green beans and used just one chili for a little bit of spice. Whatever you do, have fun with this salad! Explore different flavour combinations and create your own, unique mango salad!
Hey, here's an idea, tell us your version of mango salad. After all, sharing is caring!

Thai Green Mango Salad (Som Tum Mamuang)
Author:
adapted from saveur.com
Ingredients
4 cloves garlic, minced
1⁄2 shallot, minced
3 small, green unripe mangoes (about 1 1⁄2 lbs.), peeled and julienned
14 grape tomatoes, halved
3 tbsp. fish sauce
2 tbsp. fresh lime juice
4 tsp. palm sugar or brown sugar
2 tbsp. roasted unsalted peanuts, chopped
Instructions
In a mason jar or a medium sized bowl, add the minced garlic, shallots, fish sauce, lime juice and sugar. Stir until the sugar is dissolved or shake the jar until the sugar is dissolved.
In a large bowl, add your julienned mangoes and tomatoes.
Pour the dressing all over the mango and tomato mixture.
Toss to combine.
Garnish with chopped peanuts.
Notes
As we mentioned earlier, feel free to personalize this salad. In Thailand, som tum have a lot of chilies and dried shrimps. If you're allergic to shrimps or don't like the taste of dried shrimps, feel free to omit them. If you like Thai spicy, add chilies and go crazy.

Here's the link to view the original recipe from saveur.com: http://www.saveur.com/article/Recipes/Thai-Green-Mango-Salad-Som-Tum-Mamuang
Personalize this salad as much as you like.  Add some chopped green onions, cilantro, red bell pepper, swap the peanuts for cashews or spice it up or down.  Or you can use a combination of green mangoes and ripe mangoes for a sweeter salad. The choice is up to you.  Let your creativity and taste buds guide you!