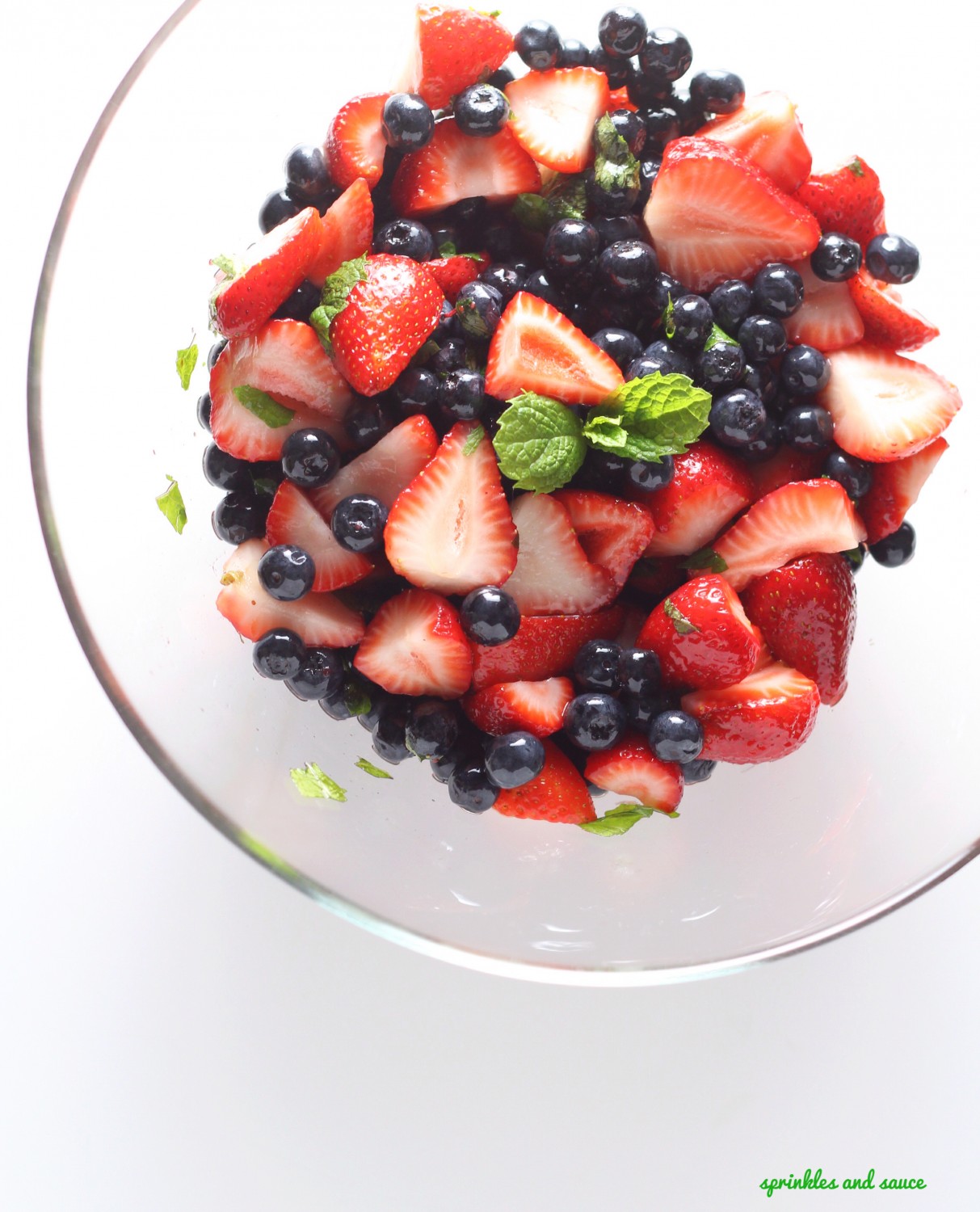 Hosting a dinner party is a bit of a challenge for me.  That's because I usually like to make everything myself – from the appetizers to dessert! Recently, we hosted a dinner party with two of our guests who are gluten intolerant.  I came up with the appetizers, first course and main course just fine.  But when it came to dessert ideas, I came up short.  I could have baked something, but who wants to turn on the oven on a hot summer day?  And to top it off, what do I bake? Do I go out and buy all kinds of gluten free flour or whip up a pavlova (right…like that's easy) or serve them good old ice cream? Well, since it's summertime and berries are in season, I decided to make a fruit salad consisting of, you guessed it,  strawberries and blueberries! And because everyone I invited is an adult, we added a little something something to the mix – brandy! That's right my friends, this is an adult only fruit party! Having a bottle of brandy in your liquor cabinet comes in handy (thank you lady who keeps giving me bottles of brandy as gifts when I don't even drink brandy at all).   So I served our guests strawberry and blueberry fruit salad with honey, mint and brandy syrup.  And everyone loved it! I served it by itself, but you can easily serve it with vanilla ice cream or whipped cream or even custard.  The recipe was so easy and fuss free that I served it again the next time we had company over.  So if you want a make ahead, fuss free, crowd pleasing, summertime dessert, try out this recipe:

Strawberry and Blueberry Fruit Salad with Honey, Mint and Brandy Syrup
Author:
sprinkles and sauce
Ingredients
2 pounds of strawberries
2 pounds of blueberries
3 to 5 sprigs of mint
2 tablespoons of brandy
3-4 tablespoons of honey
Instructions
In a small bowl, combine your honey and brandy together.
In a large bowl, throw in the blueberries, strawberries and torn mint leaves.
Toss fruit salad with your honey and brandy dressing.
Let your fruit salad sit in the fridge for about 2 hours or even overnight.