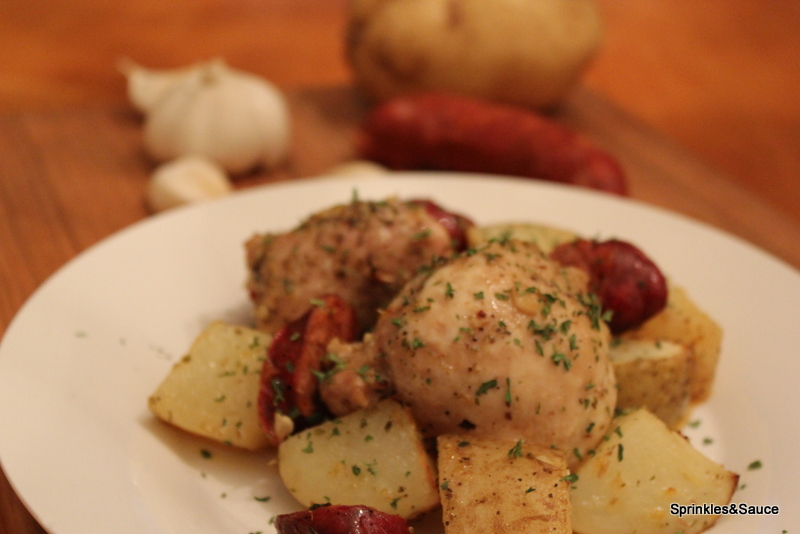 The change of weather brings many beautiful things – no more heat and humidity, sweater weather, fall foliage, etc.  On the other hand, the change of weather also brings unpleasant things for some of us – the start of cold and flu season!   I was pretty pleased with myself the other day thinking that so far, we have completely missed it! I mentioned this to my husband and as he was responding to me, I heard it – sniffles, congestion and coughing! He clearly caught the bug and a few days later I did too!  Tonight I was feeling sick, fatigued and just wanted to rest. However, I had dinner to make and I already had all the ingredients.  So I begrudgingly got up and decided to start with dinner.  I was shocked at how easy and quick this meal turned out to be and not to mention, super tasty! So here's the recipe for you to try, sick or not:   Spanish Chicken with Chorizo and Potatoes Adapted from:  pickyin.blogspot.com.au   
Spanish Chicken with Chorizo and Potatoes
Ingredients
12 chicken thighs (boneless and skinless)
3 chorizo sausages, sliced
3 potatoes
2 cloves of garlic, minced
3 teaspoons dried oregano
juice and zest of one lemon
olive oil
salt and pepper
Instructions
Lightly oil a casserole dish and preheat oven to 350F.
Season the chicken thighs with salt, pepper, garlic and dried oregano and place them in the casserole dish.
Cut up the potatoes into bite size pieces and add them in with the chicken. Scatter the sliced chorizo sausages evenly with the chicken and potatoes.
Drizzle with olive oil, season with more dried oregano and salt and pepper. Squeeze lemon juice over the chicken and sausage and finally zest a lemon to top it all off.
Bake for about 45 minutes or until chicken and potatoes are cooked.
Notes
Notes: You can use any cut of chicken you like for this recipe. As well, you can add a little bit of chicken stock before baking the dish to add flavor and moisture to the chicken but having just the olive oil and lemon juice is fine as well. The original recipe called for orange zest but I prefer lemon over orange for this one.