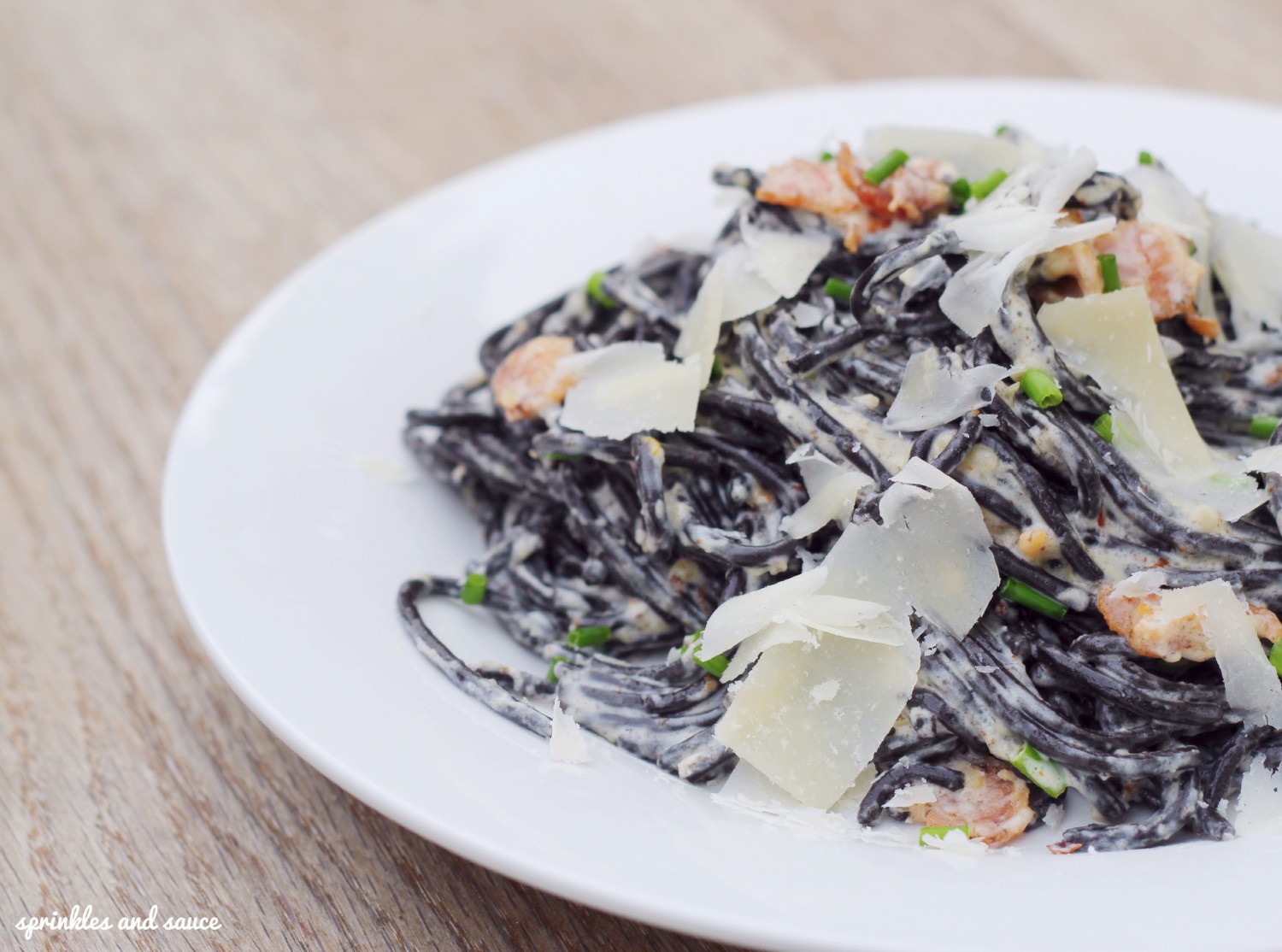 We don't tend to eat a lot of pasta so when we do make a pasta dish, we try to make something that's just a little different than your average spaghetti and meatballs. The other day, at the grocery store, this particular pasta caught by eye – PC Black Label Spaghetti al Nero di Seppia! We've had black pasta before and loved it! So for tonight's dinner, we decided to try and make Spaghetti al Nero di Seppia with Alfredo sauce! The prep and cook time of this pasta dish is really fast which makes it a great weeknight dinner! Here's the recipe for you to try:  
Spaghetti al Nero di Seppia with Alfredo Sauce
Author:
sprinkles and sauce
Recipe type:
Spaghetti al Nero di Seppia with Alfredo Sauce
Ingredients
6 strips of bacon, chopped
4 cloves of garlic, minced
4 button mushrooms, wiped clean and sliced
1 teaspoon of dried red chilies (optional)
473 ml of whipping cream
¾ cup of grated parmesan
salt and pepper
450 grams of spaghetti al nero di seppia
Instructions
Brown bacon in a large saucepan. Remove excess bacon fat. Add the minced garlic to the browned bacon and saute for a couple of minutes. Then add the sliced mushrooms and red chilies, if using. Add the heavy cream and then stir in the parmesan. Season sauce with salt and pepper and simmer sauce until sauce has thickened.
In the meantime, in a large pot, bring 4 liters of water to a rapid boil. Add 1 tablespoon of salt. Add the pasta and cook for about 8 to 10 minutes or until al dente. Drain the pasta.
Toss the pasta with the bacon alfredo sauce and serve with extra parmesan cheese.
Notes
Sometimes at my grocery store, I only see whipping cream and no heavy cream. So when a recipe calls for whipping cream and the store only has heavy cream or vise versa, what now? Well, I learned that heavy cream and whipping cream are essentially the same thing: cream that contains 36 percent or more milk fat. Whipping cream is a bit lighter, with only 30 percent milk fat. The difference matters when you are baking. Heavy cream will whip better and holds its shape longer than whipping cream, but for cooking and if you are watching your calories but need to use a high fat cream , then you're best bet is to use whipping cream which has slightly less fat than heavy cream! Hope this helps!