When we mention to friends that we used to go back country camping and portaging in our younger days (slightly dramatic, I know), they have this look of confusion because they can't picture us actually camping and roughing it! Well, it's true – we did use to go portaging in the summer, but of course, we're not one of those hard core campers because we always had two coolers of food and a variety of beverages (alcoholic and non-alcoholic) with us!  This appetizer is courtesy of our friends who introduced us to back country camping and portaging. I remember the first time I had my first bite of this deliciousness – it was by a campfire and of course, we didn't have baguettes with us while camping so they served it with crackers! When I got back to the city, I was so in love with this smoked oyster and brie combo that I decided to have this as my lunch everyday that week and switched the crackers to a nice, crusty, toasted baguette! Ever since then, Arkadi and I have been hooked on them.  Most people are a little confused or a little hesitant to try this smoked oyster and brie crostini, but trust us, you will be hooked on them too! Here's the play by play on how to make this appetizer for you: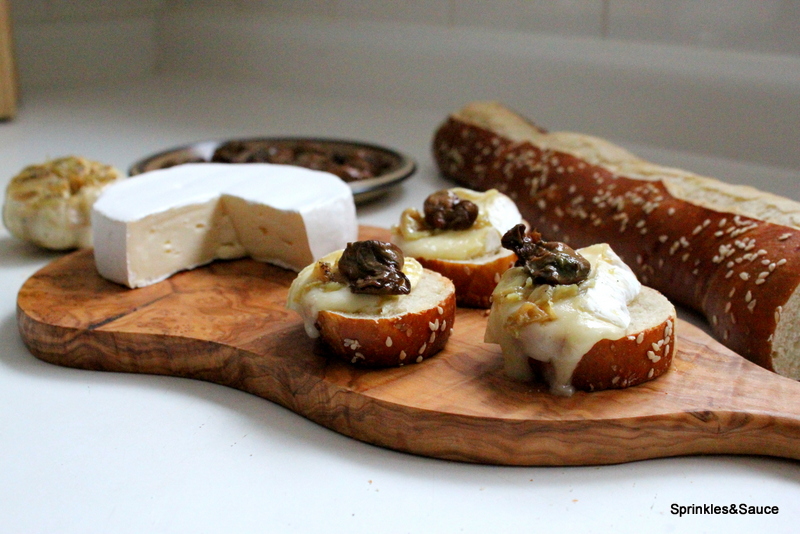 Smoked Oyster and Brie Crostini with Roasted Garlic
Author:
sprinkles and sauce
Ingredients
head of garlic
salt and pepper
olive oil
baguette
brie
smoked oysters
Instructions
To roast the garlic:
cut the top off
sprinkle with salt and pepper and drizzle with olive oil
wrap in foil and bake at 400 F for 30 mins
To assemble:
cut baguette into ¼'' (inch) slices
spread roasted garlic on each slice
top with sliced brie
slightly melt the brie in the oven or toaster oven
then finish off with a smoked oyster or two on each crostini
Notes
We usually use a french baguette for this appetizer, but this time we decided to throw caution to the wind and try a pretzel baguette instead. And guess what? It's just as good!