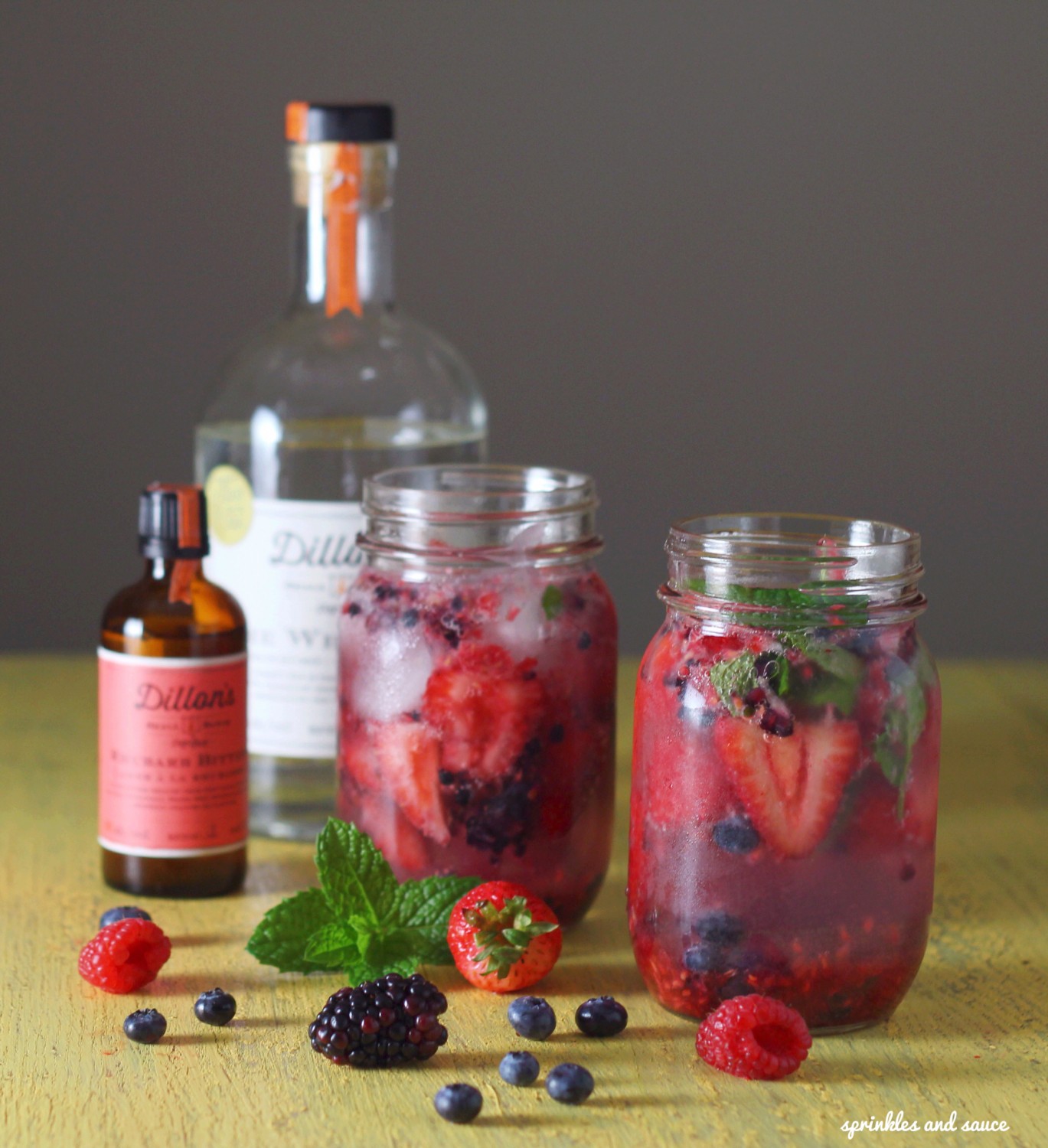 We visited friends of ours just outside of Toronto and they took us to Dillon's Small Batch Distillers.  Dillon takes local fruit and grain and turn them into spirits.  They make rye, Canadian whisky, vodka, gin, bitters and fruit spirits.  We didn't take a tour of their distillery when we visited, but we sure came home with several goodies!  All summer long we've been making smashed berries spritzer with Dillon's white rye and rhubarb bitters and I think it may have become our new favorite drink.  If you want something refreshing, light and fizzy to end your work day or start your weekend, here's a drink recipe for you to try:

Smashed Berries Spritzer with White Rye and Rhubarb Bitters
Author:
sprinkles and sauce
Ingredients
For the simple syrup:
2 cups of water
2 cups of sugar
For the spritzer:
1 cup of mixed berries
a few mint leaves
2 tablespoons of simple syrup
2 shots of white rye
a couple of drops of rhubarb bitters
1 cup of ice cubes
1 can of soda water
Instructions
First make your simple syrup by combining water and sugar in a saucepan. Let the mixture boil on medium-high heat until the sugar has completely dissolved. let it cool before using. This syrup stores for about 2 months in the fridge.
Divide your berries into two tall glasses or mason jars.
Smash the berries with the back of a spoon.
Add mint leaves and smash them in with the berries.
Add your simple syrup (1 tablespoon for each glass or more if you want it sweeter).
Add your shots of white rye (1 shot each or more if you like it stronger).
Add a couple of drops of rhubarb bitters for each glass.
Add your ice cubes and soda water.
Stir and garnish with more mint leaves.
Notes
If you do not have white rye, you can always use vodka or gin.