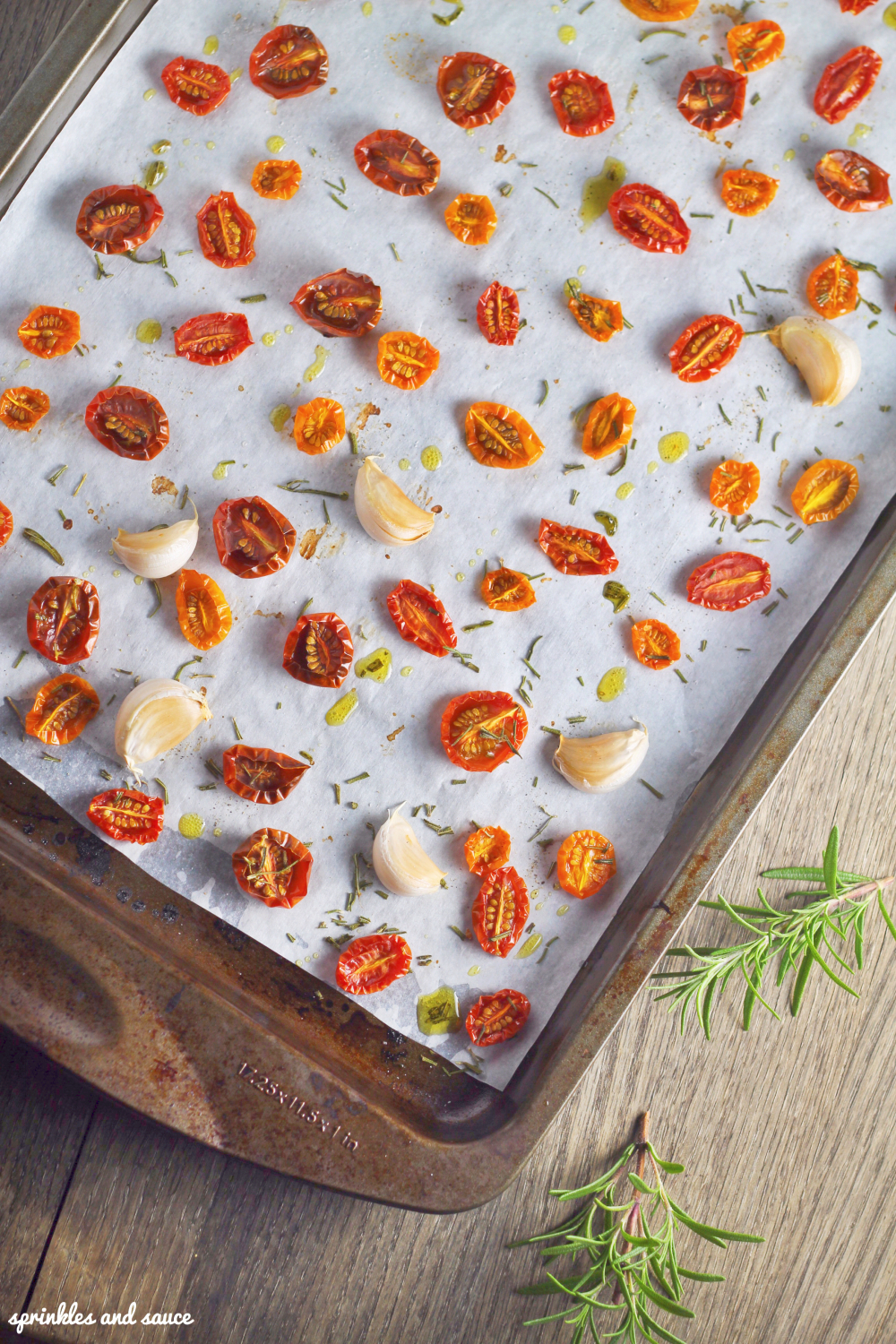 Today was a perfect fall day here in Toronto.  Although, Arkadi will likely disagree because he hates the cold.  Maybe I thought it was a nice day because I stayed pretty much indoors and watched the leaves get blown here there by the wind and the sun slowly disappear below the horizon.  In any event, it looked like a nice fall day outside! That was my point.  Despite the rainy days, I do love fall. The air is crisper, the trees look like they are on fire and time seems a bit slower.  Summer is usually packed with so many things to do, people to see and places to go that by the time fall rolls around, all I want to do is to hide out in my cocoon, my home, much like Edith Beale did at Grey Gardens! Okay, maybe not exactly like that, but I do like staying home and working on little projects, specially the ones that need time like slow roasting tomatoes.  Tomatoes are the greatest, hands down.  But slow roasting them, well that's just a whole new level of greatness! Slow roasting tomatoes is a great way to enjoy them specially now that they're out of season.  Slow roasted tomatoes are shriveled on the outside with some juiciness within and the flavours are much more intense.  They're great on their own, but you can easily add them to salads, pizza or package them up in nice little jars and bring them as a hostess gift next time you're invited at a friend's for dinner. Imagine this: sliced warm, crusty baguette with a little bit of olive oil and roasted tomato and garlic.  That's right, you can thank me later.
We're a big fan of smittenkitchen.com and so I used Deb's recipe to make these little gems.  And because I like you guys, I am sharing the recipe with you.  Trust me and try this recipe out – I promise you wont regret it!
Slow Roasted Tomatoes

Author:
smittenkitchen.com
Ingredients
Cherry, grape or small Roma tomatoes
Whole cloves of garlic, unpeeled
Olive oil
herbs such as rosemary or thyme, optional
Instructions
Preheat your oven to 225F.
Halve each tomato crosswise (or lengthwise if using Roma tomatoes).
Arrange tomatoes on a parchment lined baking sheet along with cloves of garlic.
Drizzle with olive oil, just enough to make the tomatoes glisten.
Sprinkle chopped herbs on and a little bit of salt and pepper.
Bake the tomatoes in the oven for about 3 hours. You wan the tomatoes to be shriveled and dry, but with a little juice left inside (this might take less time, depending on the size of your tomatoes).
Notes
You can either use the tomatoes right away or let them cool, mix them up with peeled, roasted garlic, cover them with some olive oil and keep them in the fridge. They keep for a couple of weeks in the fridge.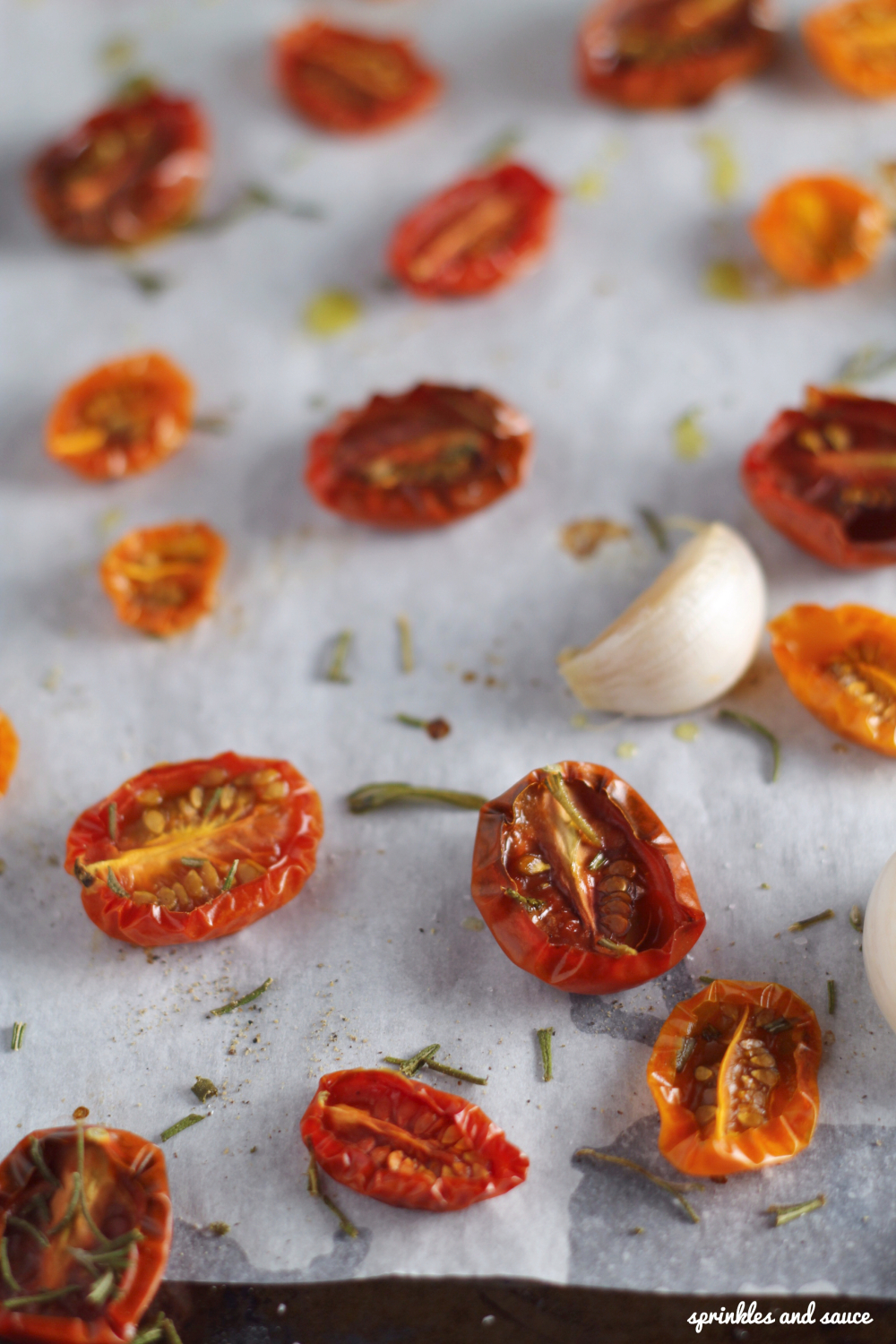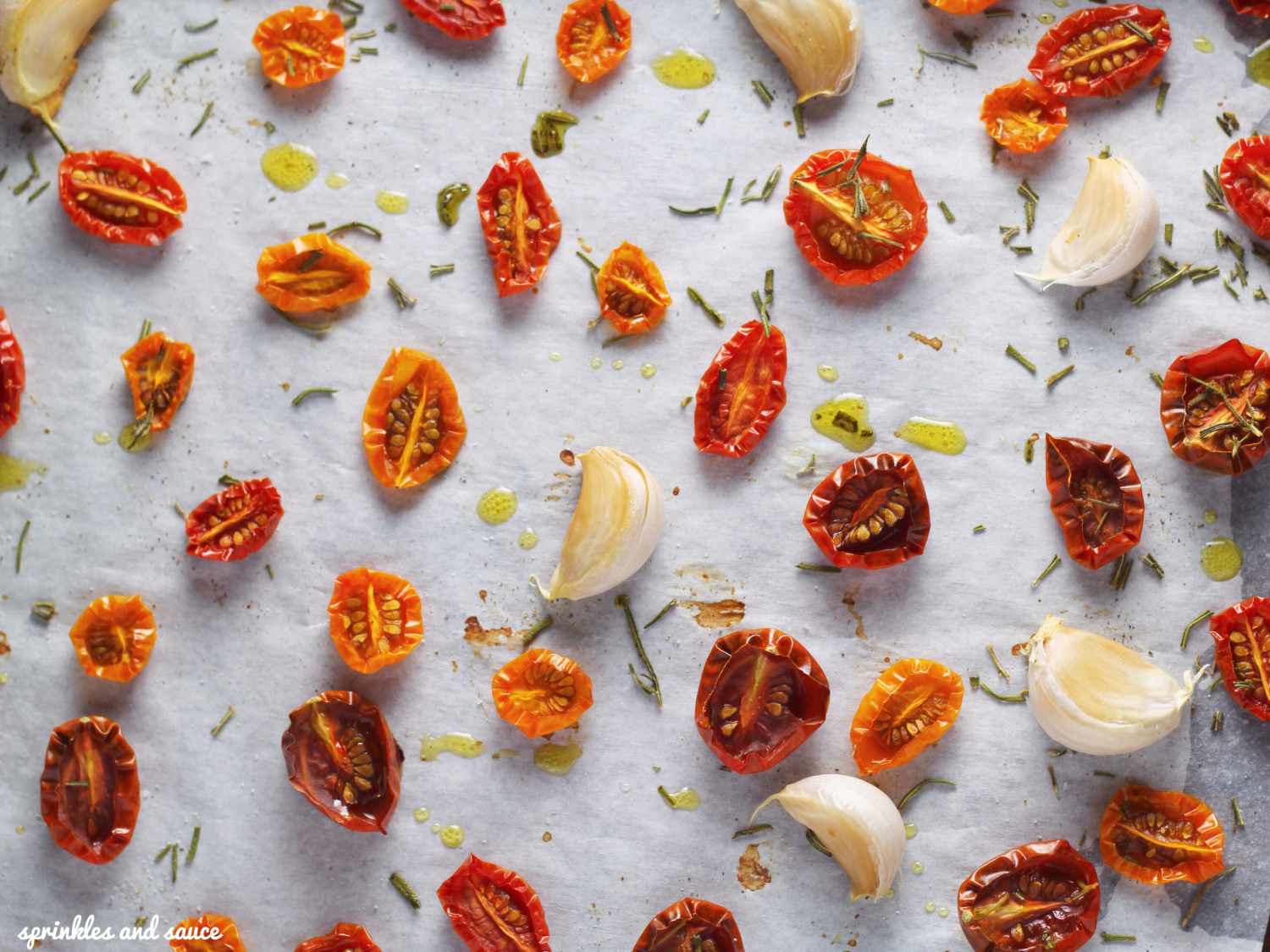 These slow roasted tomatoes make nice little gifts!