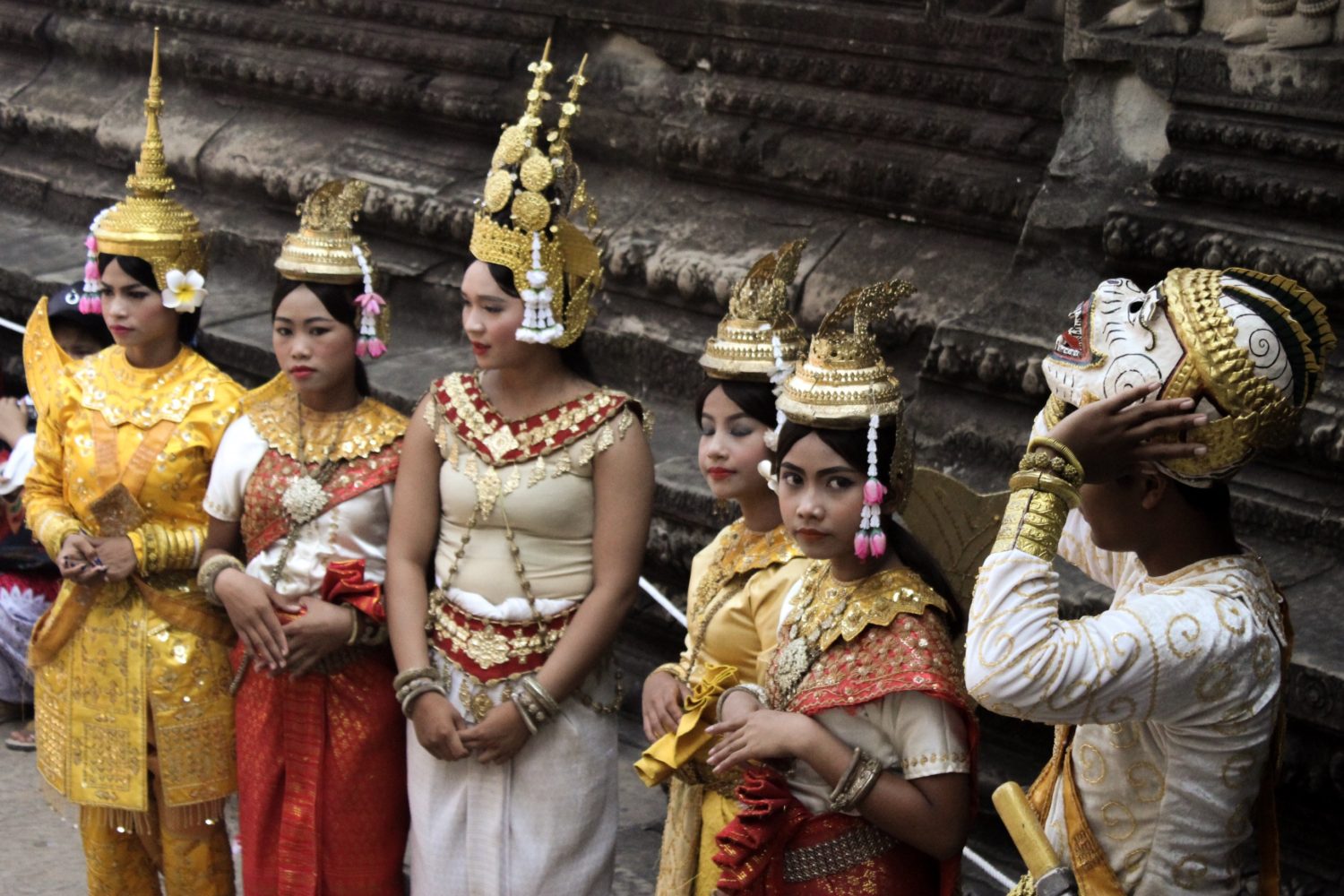 Last time we lived in Thailand, we meant to go visit Siem Reap, but through combination of limited funds and time, we were not able to cross the border and visit Cambodia.  So this time around, for one of our visa runs, we decided to travel to Siem Reap and we were not disappointed. There are so many things to do in Siem Reap.  There's the Angkor Archeological Park, horse back riding tour through the countryside, floating village tours, cooking class, watch the famous Phrae Circus, go to museums and educate yourself and so much more.
Here's our list of 6 things to do in Siem Reap:
What to do in Siem Reap?
Visit

Angkor Archaeological Park

.  Well, that was obvious.  Each year, thousands of visitors from all over the world make the trek to see Angkor Wat and the temples within the park.  We decided to start with the "small circle tour" on our first day, the "big circle tour" on our second day and finally sunrise at Angkor Wat for our third day.  We didn't hire a tour guide or join a tour group because we wanted to do our own thing on our time.  So we just hired a tuk tuk man through our hotel  and he drove us around all 3 days of our Angkor Wat complex tour.  If you really want  detailed history of the temples, we think it's a good idea to hire a guide.  The best way to get around, in our humble opinion, is with a tuk tuk, but if you're up for a challenge and love to sweat in plus 40C heat, then you can rent a bike and bike to and from the temples.
2. Wake up really early and see the sunrise at Angkor Wat.  We were not sure about this one because we  are not morning people, but after having made the effort and seeing the sunrise at Angkor Wat, we would have kicked ourselves if we missed it! Now, don't expect your sunrise viewing experience to be an enlightening or a zen like moment because there will be hundreds of people with the same idea as you lined up to see the famous sunrise over the temple.  Here's what we did to make sure we made it to the temple before sunrise:  the night before, we made an arrangement with our tuk tuk driver for an early pick up  time, we asked  our hotel for a wake up call and along with our passes, we brought a flashlight and camera and off we went.  However, sometimes despite your best efforts and planning ahead, things just don't go as planned.  The morning we went to see the sunrise, we were out the door by 4:30 a.m. and on our way to the temple, our tuk tuk blew a tire and we had to wait by the side of the road while the sleepy repair man fixed the flat tire.   Thankfully, we still made it to the temple early enough that we were able to get to the front row by the lake which was a prime viewing spot. Lesson: plan ahead, leave early and elbow old Chinese ladies to get to the best spot (the third advice is optional, ha!).   If you choose to continue your temple tour after sunrise, make sure you ask your hotel to provide you with a boxed breakfast before heading out.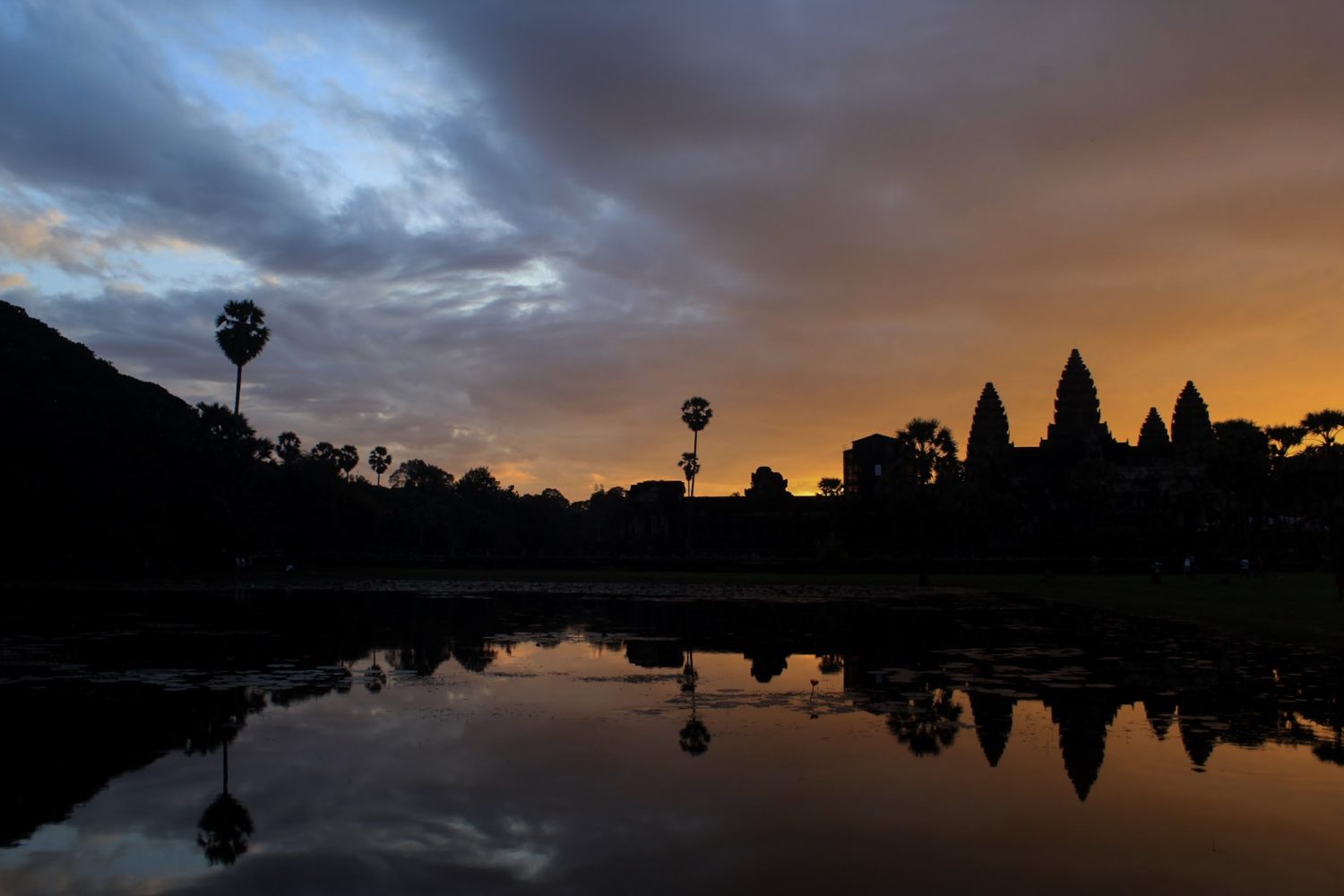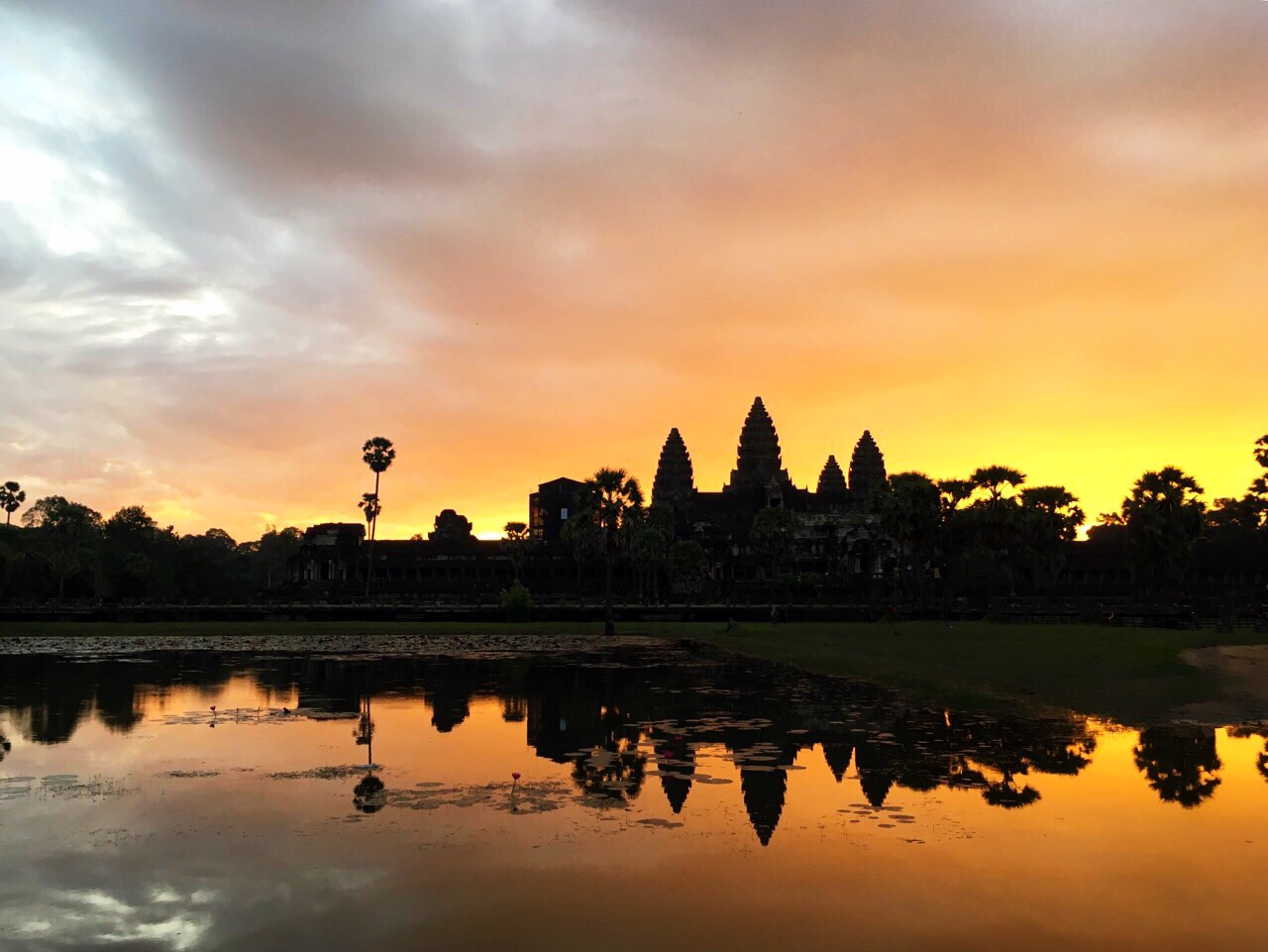 3. Visit Psar Chaa (Old Market).  Psar Chaa has a lot to offer like souvenirs, clothes, shoes, dried fish, fresh fruit, rice, etc.  There are plenty of tourists going in and out of the market and a lot of the stores cater to tourists, but the locals do visit Psar Chaa and this market offers a little glimpse of everyday local life in Siem Reap.
4. Get a foot massage.  You will be doing a lot of walking and muscles you didn't know you had will be hurting after a long day of walking and climbing the ruins so do yourself a favour and get a foot massage.  There are plenty of massage places on Pub Street that offer 1 hour foot massage for around $6 USD.
5. Eat and drink.   Siem Reap has plenty of restaurants that offer a variety of cuisine-  Khmer, American, Indian, Chinese, Vietnamese, Mexican, Italian, Arabic, etc..  The drinks are also very reasonably priced.  Some bars/restaurants even offer a pint of beer for as little as .50 USD and the cocktails are cheaply priced, but not cheap quality.  Here are some  restaurants we definitely recommend in Siem Reap:
 This father-son run place is a definite must visit when you are in Siem Reap.  They serve up dishes influenced by their life and travels in Reunion Island, France and Asia.  We were able to try their gratin crevette with mushrooms, olives, pasta, plump shrimps, tomato sauce and lots and lots of shrimp.  Another thing we tried was their sausage and cheese waffle which was very tasty!  This father and son duo are serious about food.  They not only serve up tasty, well-plated dishes, but they also craft house made rums, jams, chutney and chilies.  They were generous enough to let us try every flavour they have.  Our favourites were their coconut rum and mango-vanilla rum, mango-pineapple chutney and mango-passionfruit and pineapple-coconut jams! All their rums, chutneys, chilies and jam are made from locally sourced, organic products.  We were gifted their coffee flavoured rum and, our personal favourite, coconut rum and to be honest, those bottles never made it home with us to Thailand.
It's not just their food and drinks that are great, the service at Georges Rhummerie is top notch.  The manager and servers are not only informative, but also very friendly and kind.  The manager helped us get a tuk tuk back to our hotel after our meal and graciously gave us two bottles of their craft rum as a parting gift.   If we have not yet convinced you to check them out, here are some pictures to give you a much needed push:
 We loved Khmer Grill so much, we ate there 4 times in the 4 days we were in Siem Reap.  The place is packed for lunch and dinner and when it's peak time, you may have to wait just outside their restaurant for a table.  But don't despair, the table turns quickly here (another reason we love it – quick turn around means fresh ingredients, fresh ingredients mean no food poisoning).  We saw tables of people ordering hamburgers and fries, but we chose to try their grilled Khmer food because you know, when in Rome.  We loved their beef salad, grilled salty and spicy frogs, fried corn, beef lok lak and grilled pork ribs.  Their beers are cheap and their cocktails are great!
And just like Georges Rhummerie, Khmer Grill has an outstanding staff and the owners, Mr. Botum and Mr. Chin are so friendly and accommodating.  Our server, all four times, was Moi and she is fantastic! We got talking to her and learned a little bit about her life in Siem Reap and we shared with her our Thailand tales as well.  She not only remembered our names, but she made sure that our visit each time was better than the first! Here are some pictures of the mouthwatering food we were able to try at Khmer Grill:
We tried three of their dishes for lunch – fish amok steamed in banana leaves, beef sour soup and grilled squid.  All three dishes were excellent.  We tried the fish amok at another restaurant and it was so bad  we were hesitant to try it again.  We were glad we tried it again at ChongPov because they proved to us why fish amok is one of the most popular Khmer food.  The fish was perfectly cooked and that delicate curry, coconut and herb sauce was excellent.  The sour beef soup was recommended by a travel blogger and we were not disappointed.  Even though the soup is called sour beef soup, the sourness is very subtle and the sauce is velvety and deep in flavor.  The grilled squid made for a perfect starter and just like the fish, it was grilled perfectly!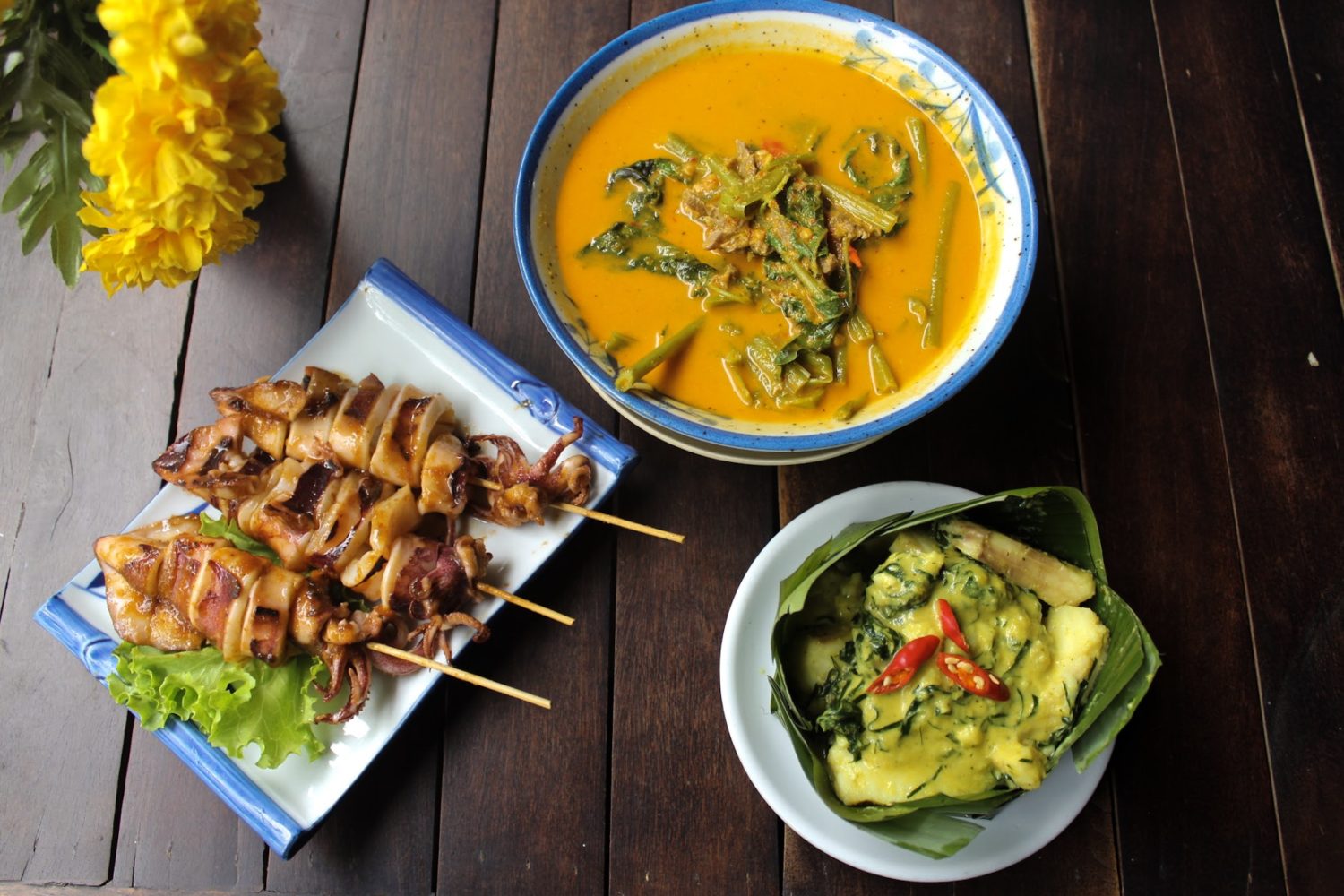 For bars, we went to Angkor What (it's a good place for cheap drinks and people watch), but there's also Mrs. Wong's if you want a more sophisticated atmosphere.  There are plenty of bars right along Pub Street if you like to be with a hundred other sweaty people, but you can wander around the side streets and back alleys for a quieter bars or coffee shops that serve up delicious cakes and treats!
6. Get to know the people.    We believe that travel not only broadens the mind, but more importantly, the heart.  As you meet and get to know fellow travelers, expats and locals and hear their stories, you always learn something from them.  Every person has a story to tell and each story adds something to your story. The first day of our Angkor Wat park tour, it was Cambodia's water festival and having all the locals visit the temples to worship and seeing families having roadside picnics made our trip so much more meaningful.
We have had the best customer service in Siem Reap out of all the places we've visited so far in Asia. It's easy to get to know your tuk tuk driver, waiters, hotel staff, restaurant owners, etc. in Siem Reap. In the four days we were in Siem Reap, we met and got to know so many friendly Khmer people and it's their openness, friendliness, and kindness that made the trip really memorable for us. Many of them shared their stories with us and even though we were on there for a few days, we learned a lot from Khmer people's resilience, industriousness and positive outlook on life.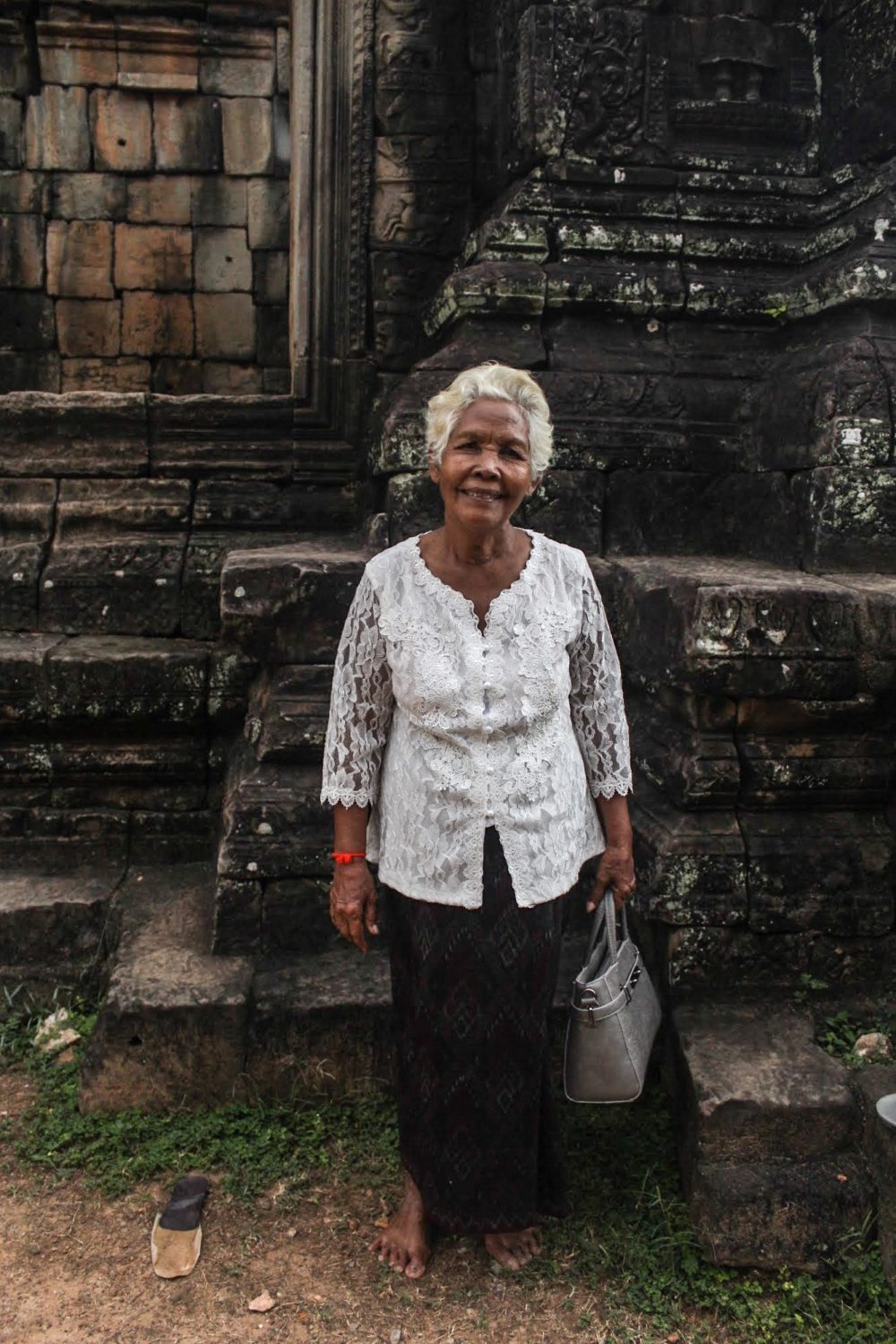 There are plenty of blogs out there that can give you a very detailed guide of how to get around the Angkor Wat complex and we will provide you with links below of fellow bloggers we trust, but here are some tips we want to share with you:
Wear sun protection – slather on the sunscreen, wear a hat and wear natural fabrics.  You do not want to over heat and pass out in the middle of your temple tour or come back to your hotel suffering from sunstroke.
Wear sensible shoes – the grounds in and around the temples are uneven and there are plenty of stairs to climb.

one of the many really steep stairs you have to climb at the park

Hydrate yourself – every temple we visited had at least one shop selling icy cold drinks and even fresh coconut outside the temple grounds so make sure you grab a drink before proceeding to your next destination.
Eat a hearty breakfast – most hotels in Siem Reap offer a good selection of breakfast items so make sure you eat before you head out.
Bring a scarf, handkerchief or even a face mask – the main roads leading up to the temples are all paved, but the side roads are not and you will end up inhaling a lot of dust and diesel fumes.
Put down the camera, stop taking pictures and take in the beauty of the ruins – It's very easy to get swept up and take a million posed shots and selfies in front of every little rock or famous landmarks, but take a second and just let your eyes and brain do the work and imprint the sights, details and atmosphere into your memory.
If you want a quieter atmosphere at night, check in a hotel that is a bit farther off from  Pub Street.  We stayed at Le Jardin D'Angkor  and we loved it.  The rooms were clean, the pool was big and the location is not far from restaurants and to the downtown area, but far enough that you can get a good night sleep without all the blaring music and drunk people waking you up.
Those are just some of suggestions we have for you when you plan your trip to Siem Reap.  We hope you'll love Siem Reap as much as we did and if you have suggestions and advice, let us know because sharing is caring!
Lastly, as promised, here are some links we've consulted to plan out our trip:
http://www.notquitenigella.com/2016/08/31/cambodia-siem-reap-itinerary/
http://www.notquitenigella.com/2016/08/31/cambodian-food/