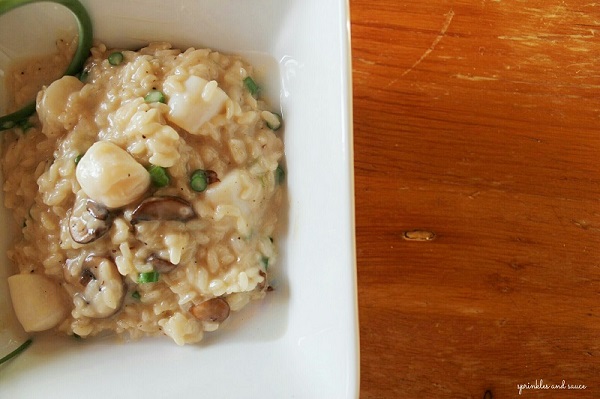 I am new to garlic scapes. And I am definitely kicking myself now for nothing getting acquainted sooner! We were visiting my brother and sister in law in New Brunswick this summer to meet our most special, beautiful baby nephew. Let me tell you, we fell fast and hard in love with little R. He is adorable, handsome, good natured and generally awesome! His arrival is very special to our family because he is the first grandchild and we are so all so happy that he's a healthy and happy baby boy! We may be a bit biased, but he's our favourite little person at this time!
So getting back on topic, every Saturday morning in Fredericton, everyone and their dog seem to congregate in one area – Fredericton Boyce Farmer's Market! And it's no wonder because this market is filled with vendors selling crafts, baked goods, meat products, fresh fruit and vegetable, etc. I guess it's a bit of a tradition for those living in Fredericton to go to the farmer's market on Saturday morning. Well, while baby R was fast asleep, we headed to the farmer's market and that's when I was introduced to garlic scapes. An Amish farmer and his family were selling a bundle for $2 each. So I bought a bundle of these curly green stalks not knowing what to do with them. I think the farmer saw the confused look in my face so he suggested some options on how to use them. He said I can use the tender stalks for pastas, rice dishes or saute them with a bit of olive oil and eat them on their own. And as for the harder part of the stalk, he said I can add it to marinade or grill it with any meat to flavour the meat. Thanks to Google, I was able to learn more about garlic scapes. Here are some interesting things I learned about garlic scapes:
they are the shoots that grow out of the ground from hard neck varieties of garlic
most gardeners toss these green curly stalks in the compost, but they're actually edible and delicious
they are milder in flavour than the bulbs
they are at once a vegetable, an herb and an aromatic
you can use them in anything – in pesto, rice and pasta dishes or you can saute or grill them and enjoy them on their own
So for my first foray in using garlic scapes, I decided to add them to risotto. And let me tell you, I was not disappointed one bit. I made scallops, mushrooms and garlic scapes risotto. The garlic scapes not only added flavour and earthiness to the risotto but also a wonderful, tender and slightly crunchy texture to the dish! I think the texture adds a bit of freshness to the dish and for me, it almost cuts the richness from the cheese and heavy cream in the dish. This risotto with scallops, mushrooms and garlic scapes made for a nice dinner for the four of us while little R was sleeping and when he did wake up half way through our dinner, it was easy enough for my sister in law to shovel food in her mouth and hold baby R at the same time! If somehow I made you curious about garlic scapes from this post, head on over to your local farmer's market, get a bundle of these curly, green stalks and try them out for yourself. Also, feel free to share with us your recipes and ideas on how to use these beauties!

Risotto with Scallops, Mushrooms and Garlic Scapes
Author:
adapted from seasonsandsuppers.ca
Ingredients
1 small onion, diced
Extra virgin olive oil (about 5 Tbsp. total)
Salt and freshly ground pepper
900 ml. (about 4 cups) chicken stock
12 oz. arborio rice
6 oz. shiitake mushrooms
3 garlic scapes, cut end trimmed and flower bulb and end removed, then shaved into ribbons with a vegetable peeler
4 Tbsp. butter, divided
3 Tbsp. heavy cream
½ cup grated Parmesan cheese, plus shavings for garnish
1 lb scallops
Instructions
Pour stock into a saucepan and bring to a boil. Reduce heat to keep hot.
Meanwhile, in a large saute pan, cook the onion in 3 Tbsp. of olive oil until translucent and tender. Season with salt and pepper.
Add the rice and mix thoroughly.
Gradually add the stock to the rice, one ladle full at a time, stirring each continuously, until the stock is absorbed and then adding another ladle full.
Continue this process until the rice is cooked to al dente.
While the rice is cooking, in a separate saute pan, heat 2 Tbsp. of olive oil and sear the mushrooms and garlic scapes until golden brown.
Add 2 Tbsp. of the butter and a pinch of salt and freshly ground pepper. Let the butter become golden brown, then remove from heat and reserve.
Once the rice is cooked, stir in the remaining 2 Tbsp. of butter, Parmesan cheese and heavy cream. Stir to combine.
Then gently stir in the scallops, mushrooms and garlic scapes. Stir until the scallops are cooked.
Taste and add additional salt and pepper, if necessary.
Add additional Parmesan cheese on to the top for garnish.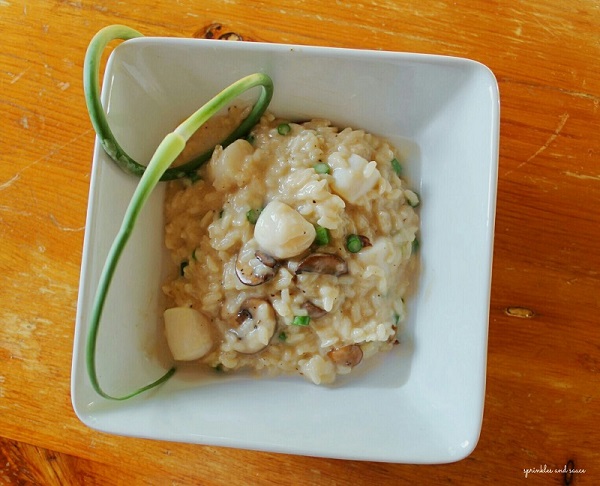 Creamy, cheesy, earthy, bowl of goodness! And with the sweater weather (imagine Amy Poehler and Maya Rudolph saying "sweater weather" several times in their SNL skit) coming, a bowl of this is just what your tummy needs!