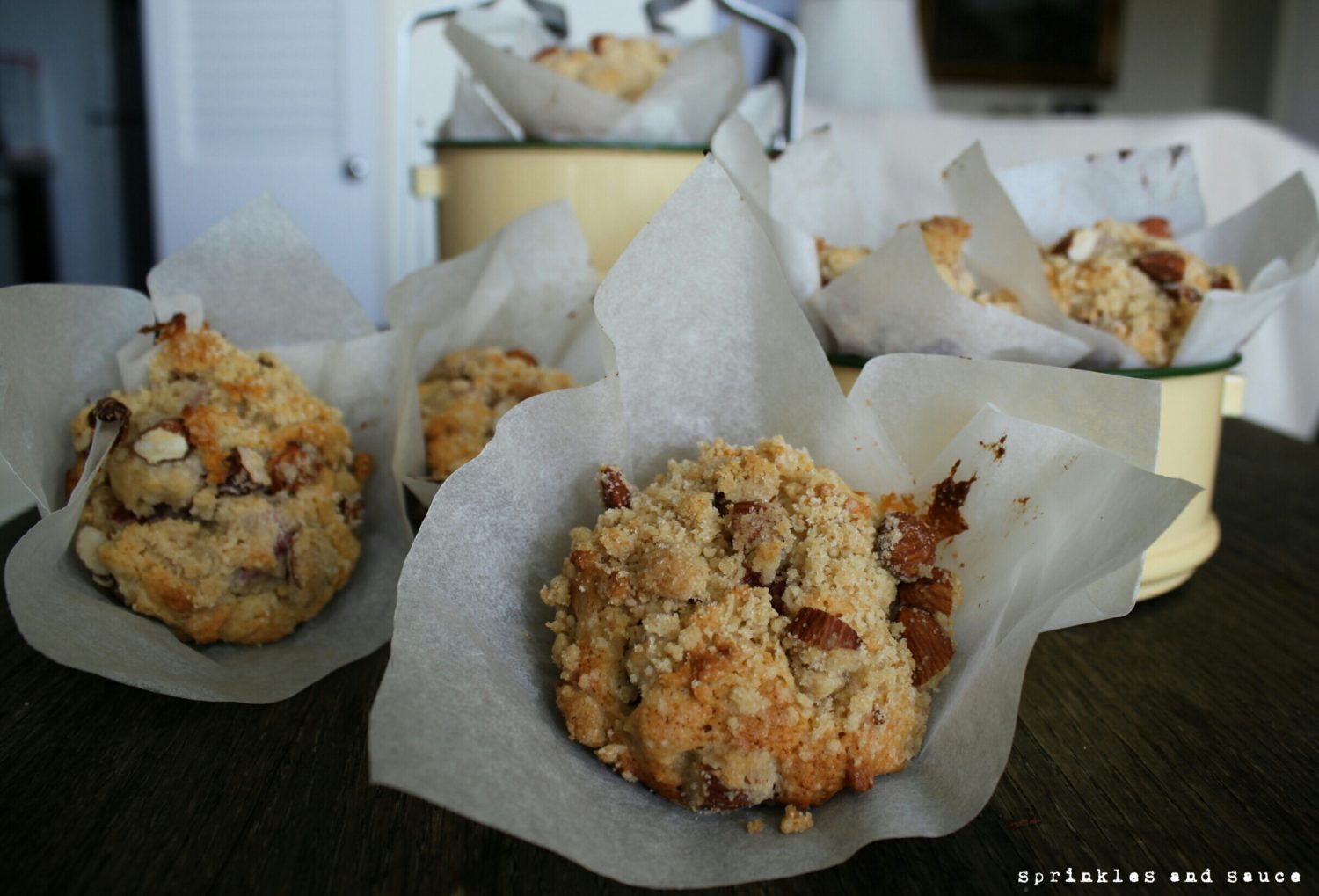 I spent one year without and oven and I really missed baking.  So the first chance I had, I decided to bake muffins and cookies all in one day.  I found a recipe for rhubarb muffins on saveur.com and because I've had success with a lot of their recipes in the past, I decided to make their rhubarb muffins with almond streusel.  The recipe is really easy to follow and the ingredients list is not complicated.
There were four things that I changed in their recipe.  When I tasted the batter, I thought it was way too sweet and I was a bit worried that the muffins will be sickeningly sweet so I chose not to use up all the streusel topping.  Surprisingly, the muffins were the perfect sweetness and the rhubarb's tartness was not overpowered by all the sugar I added.  The muffins had a slightly crunchy and sweet tops that complimented the tartness from the rhubarb pieces in the muffin.  Another change I made was to substitute Greek yogurt for the sour cream.   And the third change I made was to add a teaspoon of ground ginger to add a little spice to the muffins.  Lastly, because I did not have vanilla beans, I used vanilla extract instead.  I know, I know, you likely think I made so many changes, but trust me, all these changes turned out just fine.  The muffins were amazing and it was hard to eat just one.  But if you prefer to stick to the original recipe because that's how you roll, we've included the link to the original recipe below.  If you want to go rogue like us and change it up a bit, here's the recipe for you:

Rhubarb Muffins with Almond Streusel
Author:
adapted from saveur.com
Ingredients
For the Streusel
1⁄2 cup flour
1⁄2 cup sugar
2 tbsp. packed light brown sugar
1⁄2 tsp. lemon zest
1⁄2 tsp. kosher salt
1⁄4 tsp. almond extract
4 tbsp. unsalted butter, cubed
1⁄2 cup chopped almonds
For the Muffins
Unsalted butter, for greasing
3 cups flour, plus more for pan
2 tsp. baking powder
1⁄2 tsp. kosher salt
1⁄4 tsp. baking soda
1 cup Greek yogurt
1 cup sugar
1⁄2 cup packed light brown sugar
1⁄2 cup canola oil
2 eggs, lightly beaten
1 teaspoon vanilla extract
12 oz. rhubarb (about 2 medium stalks), cut into 1⁄4" pieces
Instructions
For the streusel:
Whisk together flour, both sugars, zest, salt, and extract in a small bowl.
Add butter, and using your fingers, rub into almond mixture until smooth and large clumps form. Stir in almonds and transfer to refrigerator; chill until ready to use.
For the muffins:
Heat oven to 350°.
Grease and flour muffin pans; set aside.
Whisk together 2 3⁄4 cups flour, baking powder, salt, and baking soda in a large bowl; set aside. In another bowl, whisk together Greek yogurt, both sugars, oil, eggs, and vanilla extract; pour mixture over dry ingredients and whisk until just combined.
In a small bowl, toss remaining flour with rhubarb until evenly coated, and then stir into batter. Working in batches, place cup batter in muffin cups, break streusel up into medium-sized clumps, and sprinkle evenly over muffins.
Bake until golden brown and a toothpick inserted in the middle of each muffin comes out clean, about 30 minutes.
Let cool 10 minutes before serving.
Notes
The original recipe says it yields 18 muffins, but I was only able to get 12 out of my batter. If you wish to make your muffins a bit smaller than mine, then I am sure you can get 18 out of this batter.

Here's the link to the original recipe as promised:
http://www.saveur.com/article/Recipes/Rhubarb-Muffins-with-Almond-Streusel
Final thoughts: I like the base of this muffin recipe and I am sure I can swap the fruit or the nuts in the streusel and make other great muffins like apple and cranberry muffins with pecan streusel or blueberry and lemon muffins with walnut streusel.  Do you have a favourite muffin recipe? Why not share it with us! In the meantime, here are some pictures for you: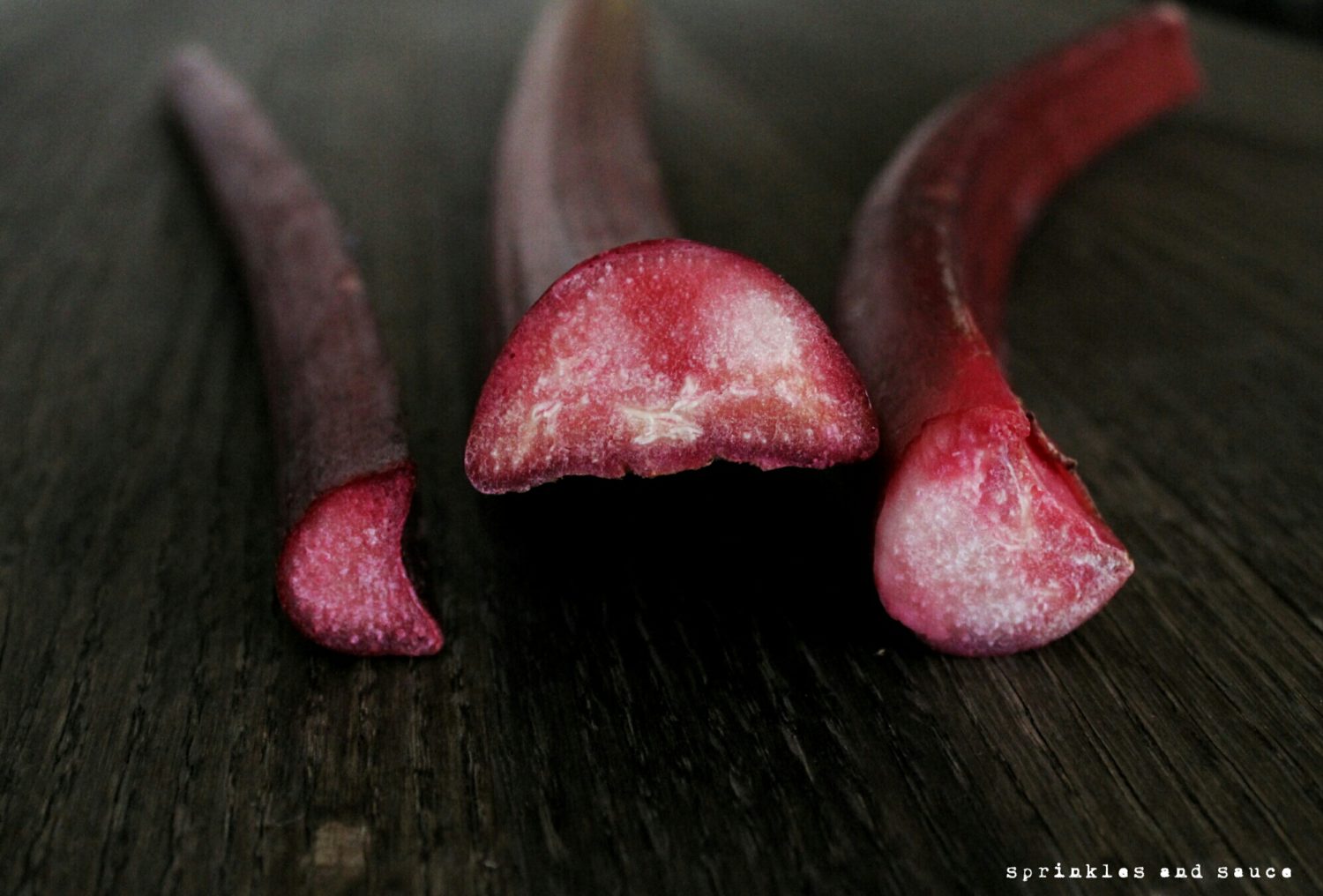 Don't you just love rhubarbs? They're crisp, tart, versatile and that hue!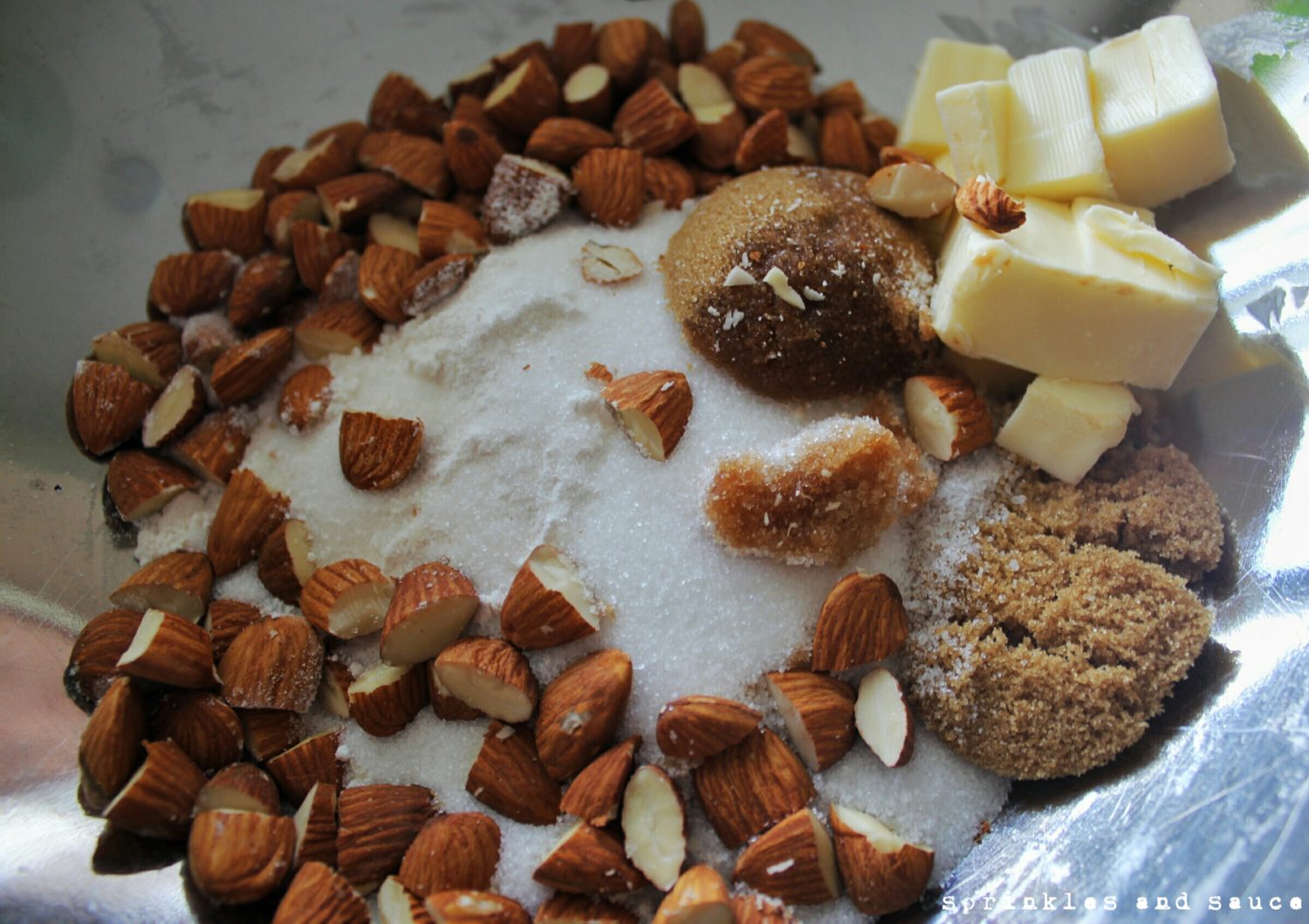 This streusel gives you the most wonderful, comforting fragrance. It's no surprise because look at all that goodness in one bowl!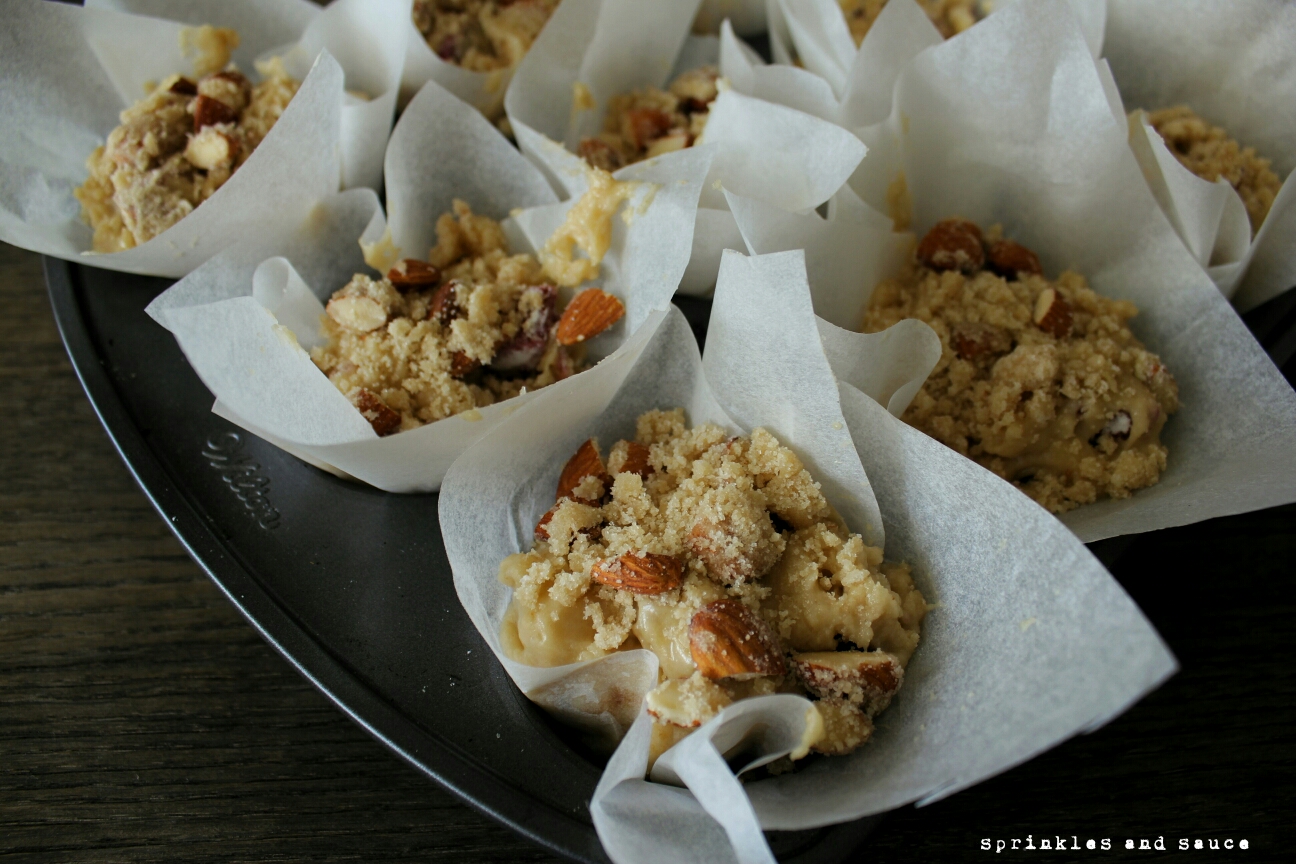 avant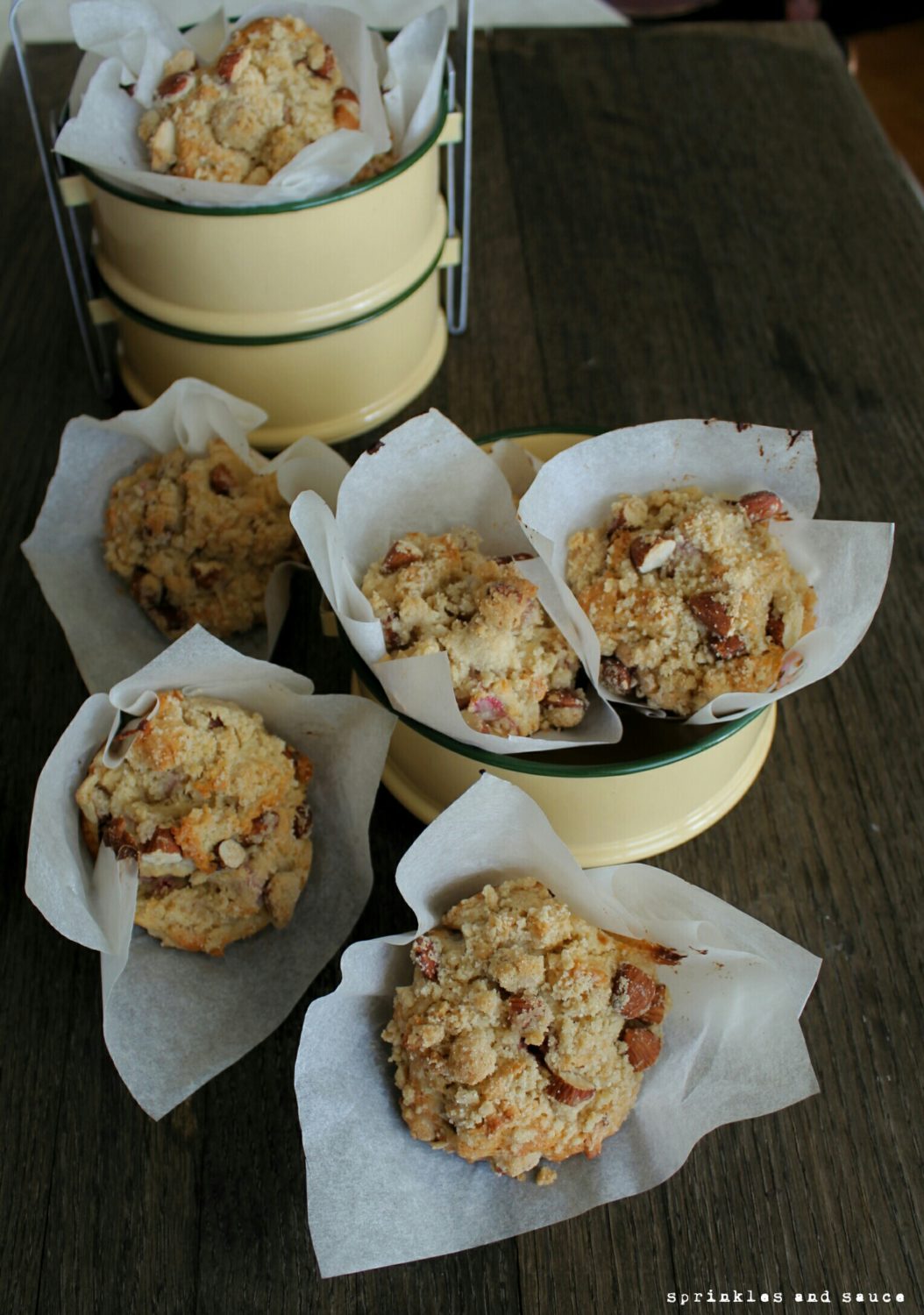 aprés
These muffins are moist, sweet, tart with a slightly crunchy and sweet top.  And who else is in love with this tiffin box?  And as always, thanks for stopping by!