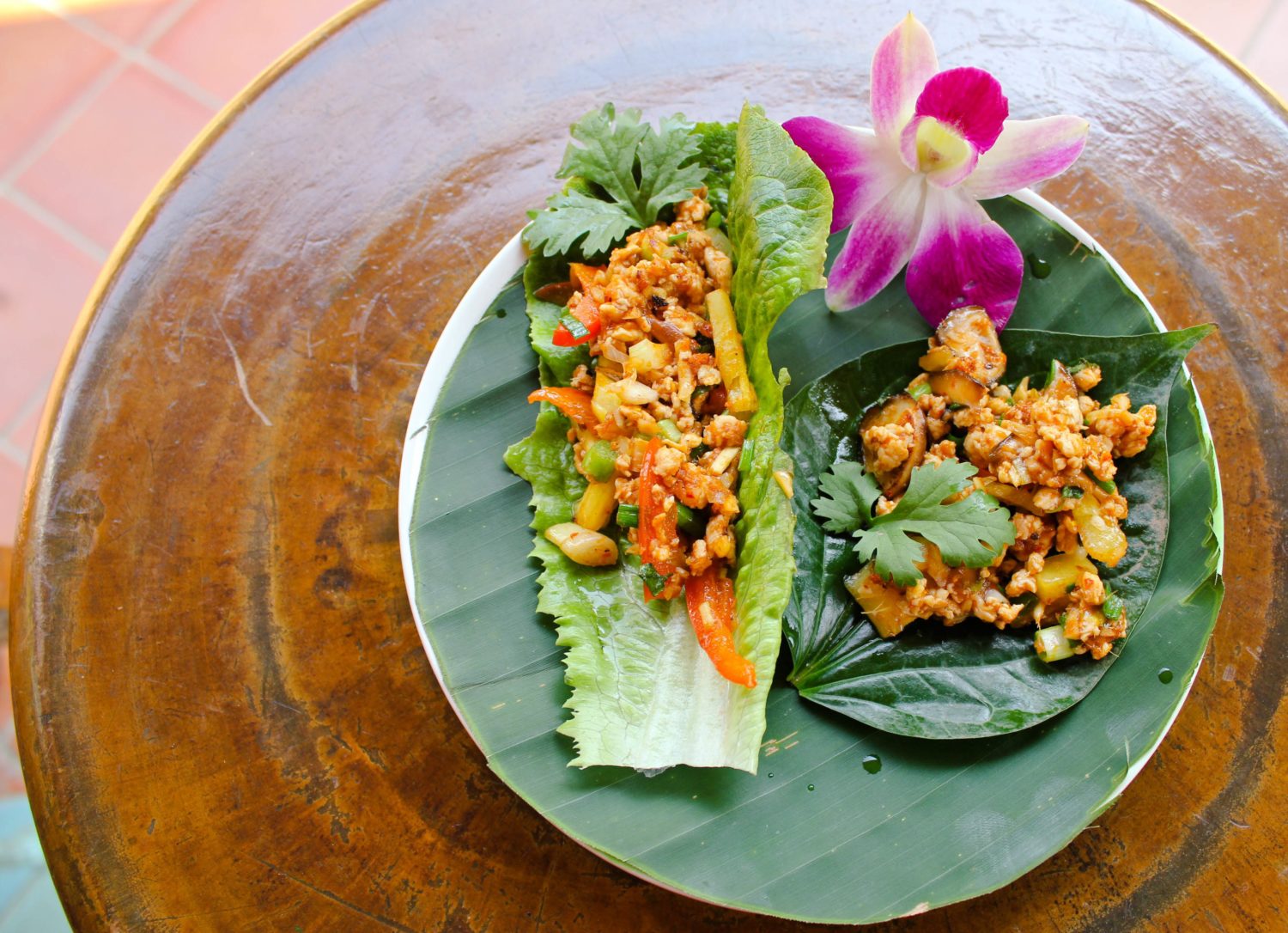 Thai food has so many flavours combined to make a simple dish complex in taste. And because we were eating Thai food twice a day while living in Thailand, we now really crave those complex flavours.   One dish we tried to make in Chiang Mai was  Thai red curry chicken lettuce wraps and it's perfect for those who like a little bit of spiciness but cannot handle Thai spicy.  The red curry in the filling adds that Thai spicy flavour, but the addition of chopped pineapple and lettuce adds freshness and tames the spiciness to a more tolerable level.  Of course, if you're into spicy food and can handle a lot more heat, you can add more red curry paste, but for babies, like us, the recipe below is just fine!
Although this red curry chicken lettuce wrap takes no time to prepare, it does not lack in flavour.  Throw in some chopped bell pepper and pineapple for crunch and use crisp, cold lettuce to wrap this flavourful filling and you got yourself a winning appetizer!
Here's another idea, you can easily transform this appetizer dish into lunch!  What do you need to do? In a bowl, add steamed rice, top it with the red curry chicken filling and finish it off with shredded lettuce, chopped pineapple, green onions and cilantro and you got yourself a perfect Thai red curry chicken bowl for lunch! You can be a creative as you like – if you have a handful of cashews, throw that in to your bowl and if you happen to have mangos instead of pineapple, that will work too!
So if you're looking for a dish that's fast, easy and flavour packed, try this recipe out:

Red Curry Chicken Lettuce Wraps
Author:
aroyaroyschool.com
Ingredients
1 lb ground chicken
1 tblsp canola or vegetable oil
2 tblsp mild red curry paste
1 tblsp ginger, minced
4 cloves garlic, minced
1 red bell pepper, sliced thinly
4 green onions, chopped
½ diced fresh pineapple
½ cup oyster or hoisin sauce
Pinch of sugar
Salt and pepper to taste
5 Holy basil leaves, chopped
½ head washed Iceberg, Romaine, Cos or Butterhead lettuce, separate leaves to form cups (soak in ice cold water for 20 minutes before serving for extra crispiness)
Instructions
Add oil to a wok or large skillet and heat until oil is very hot.
Add ground chicken and cook until no longer pink and starts to brown, break it up with a wooden spoon as necessary. Should take about 3 minutes.
Add red curry paste, ginger, garlic, peppers, pinch of sugar and stir-fry for another 3 minutes.
Add oyster or hoisin sauce, pineapple and green onions, and toss.
Remove from heat then add basil and toss.
Transfer cooked chicken to a bowl.
Add chicken filling to lettuce and enjoy!