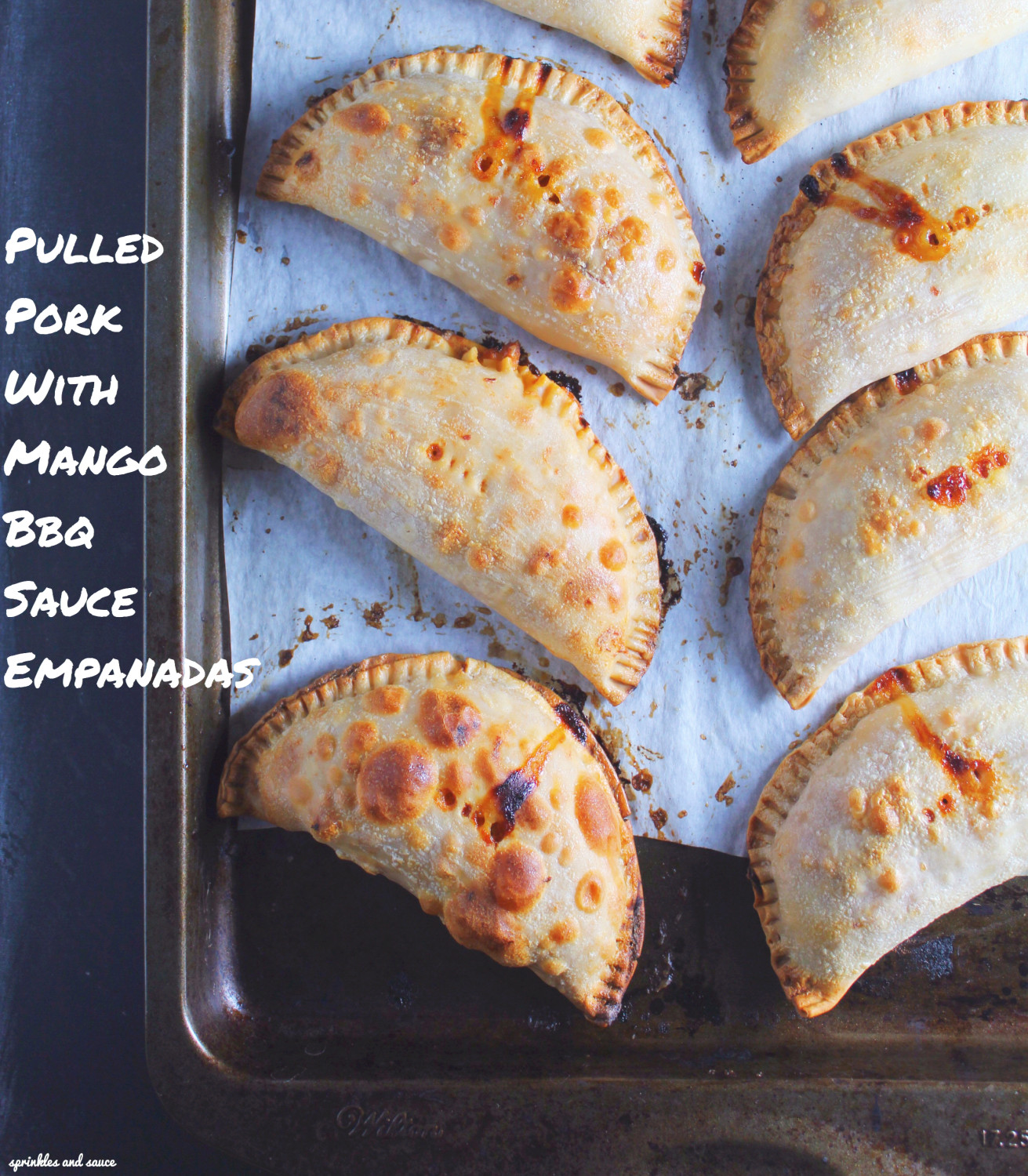 Empanadas should really be called YUMpanadas because they are so yummy!   I've tried a variety of empanadas over the years and my top three favorites are Argentinian empanadas, Pilipino chicken empanadas and Colombian chicken and beef empanadas.   Apparently empanadas have been in cookbooks since 1520. That's 400+ years! And it's easy to understand why these handheld pockets of goodness have existed for so long because on top of being so scrumptious, they are also so versatile (you can make them with meat or fish or veggie or fruit filling) and they are easy to eat on the go.  I remember having empanadas pretty much everyday when my friend M and I were in  Cabarate,  Dominican Republic.  Every morning we would purchase these freshly made, crispy, ham and cheese empanadas and go on our merry way to wherever we were going that day as we ate our breakfast to go!
Recently, I was a bit peckish and needed a light snack as I walked home from the subway station so I stopped at our local gourmet prepared food store and bought myself a treat – 1 pulled pork empanada with mango bbq sauce.  Days after having my first pulled pork empanada, I scoured the internet for a recipe so I can make these little delightful treats myself and then one day, I stumbled upon a couple of recipes, adapted them to my own cooking style and I made my very own pulled pork with mango barbeque sauce empanadas!  I am not going to lie to you and tell you that you can make these in no time at all because they do take time to make and assemble.  But here're a couple of tricks: I used store bought empanada wrappers from our local Colombian bakery and I used my slow cooker to make the pulled pork.  Then for assembling, I killed two birds with one stone, I watched my favorite show as I assembled my empanadas.  This recipe makes about 8-10 empanadas and you can easily freeze them and then bake them from frozen.  They make an awesome to go meal or even just for a snack!  So if I've managed to convince you to try making your own empanadas at home, here's a recipe for you to try:

Pulled Pork with Mango Barbeque Sauce Empanadas
Author:
sprinkles and sauce and joyfulhealthyeats.com
Ingredients
For the pulled pork:
1 medium onion, thinly sliced
2 kg boneless pork shoulder
355 ml can of ginger ale
2 mango pits
8-10 store bought empanada wrappers
For the mango barbeque sauce:
½ red onion, chopped
2 garlic cloves
2 ripe mangoes, peeled and diced
2 T. of olive oil
15 oz. can of tomato sauce
½ cup plus 2 tablespoons of brown sugar
¼ cup of apple cider vinegar
1-2 tablespoons of chili paste or sambal oelek
Instructions
For the pulled pork:
In a slow cooker, add your pork shoulder, onion and mango pits and pour the ginger ale on top.
Cook for about 4 hours on high or 8 hours on low.
When the pork is fork tender, take it out of the slow cooker and shred the meat with two forks.
Season it with salt and pepper.
For the mango barbeque sauce:
Put olive oil in a large skillet at medium high heat, toss in the red onion, garlic cloves, and mango.
Saute until mango is slightly browned and onions are translucent, about 4-5 minutes.
Add tomato sauce, brown sugar, apple cider vinegar, chili paste and salt and pepper.
Bring to a soft boil.
Put all ingredients in a blender or use a handheld blender and blend until smooth.
To assemble:
In a large bowl, combine your shredded pork with the mango barbeque sauce.
Spoon a bit of the filling on one side of your empanada wrapper.
Fold the other half of the wrapper over your filling.
Using a fork, press down on the edge of your wrapper to make sure it's completely sealed.
Using a fork, poke holes on top of your empanada to let steam out when you're baking them.
Repeat until you've used up all your wrappers and filling.
To bake:
To bake empanadas, preheat your oven to 375F.
Whisk an egg in a small bowl.
Arrange the empanadas on a non stick sheet pan or a sheet pan with parchment paper.
Brush the top of each empanada with the egg wash.
Bake for about 15 minutes until golden brown.
Increase the baking time if baking from frozen.