Our #eggnoglove is strong this time of the year ! All year round we wait for Harmony Organic's eggnog and that time has come again. To make sure we're all stocked up, we buy multiple bottles of their eggnog at a time.  For those who are eggnog haters, I dare you to try a shot of this eggnog and you're for sure to change your mind.
We generally like to drink eggnog in our fancy little cups with a little shot of rum, but this time around we decided to play around with different combinations to make a new eggnog based drink.  So, I present to you, our very own creation – peach eggnog smoothie: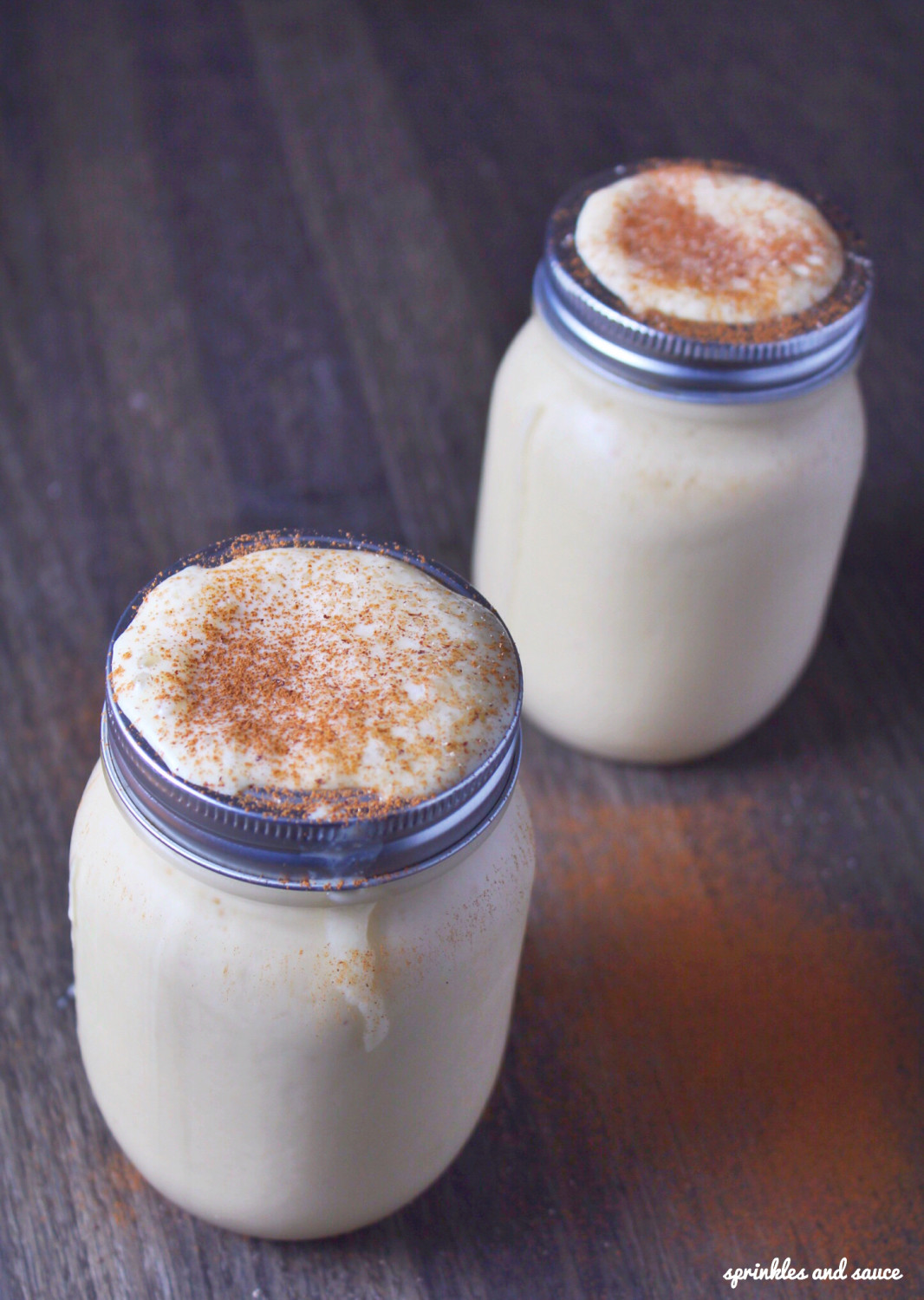 Eggnog is real sweet on its own and we can only drink it in little portions oursleves, but adding some frozen peaches dulls down the sweetness making for a real good, creamy, fruity eggnog! And here's a bonus guys, we added a shot of rum (or two) to this eggnog smoothie which makes it awesome for brunch or breakfast (we won't judge) or to end your evening on a sweet note. So if you want to try something new, try making this peach eggnog smoothie.  Here's the recipe for you:

Peach Eggnog Smoothie
Author:
sprinkles and sauce
Ingredients
3 cups eggnog
3 cups frozen peaches
3 shots of rum (optional)
nutmeg
cinnamon
Instructions
blend eggnog, peaches and rum until smooth
sprinkle with cinnamon and nutmeg
p.s. Everyone seems to be raving about Vitamix blenders and so we decided to see what the fuss is all about and try it out ourselves. I now think we need to visit a store and purchase one for ourselves. The smoothie came out real smooth and it took two seconds to blend all the ingredients together! The model used here on our blog is from Williams-Sonoma and I was just on their website and I think some models are currently on sale so go and check them out.