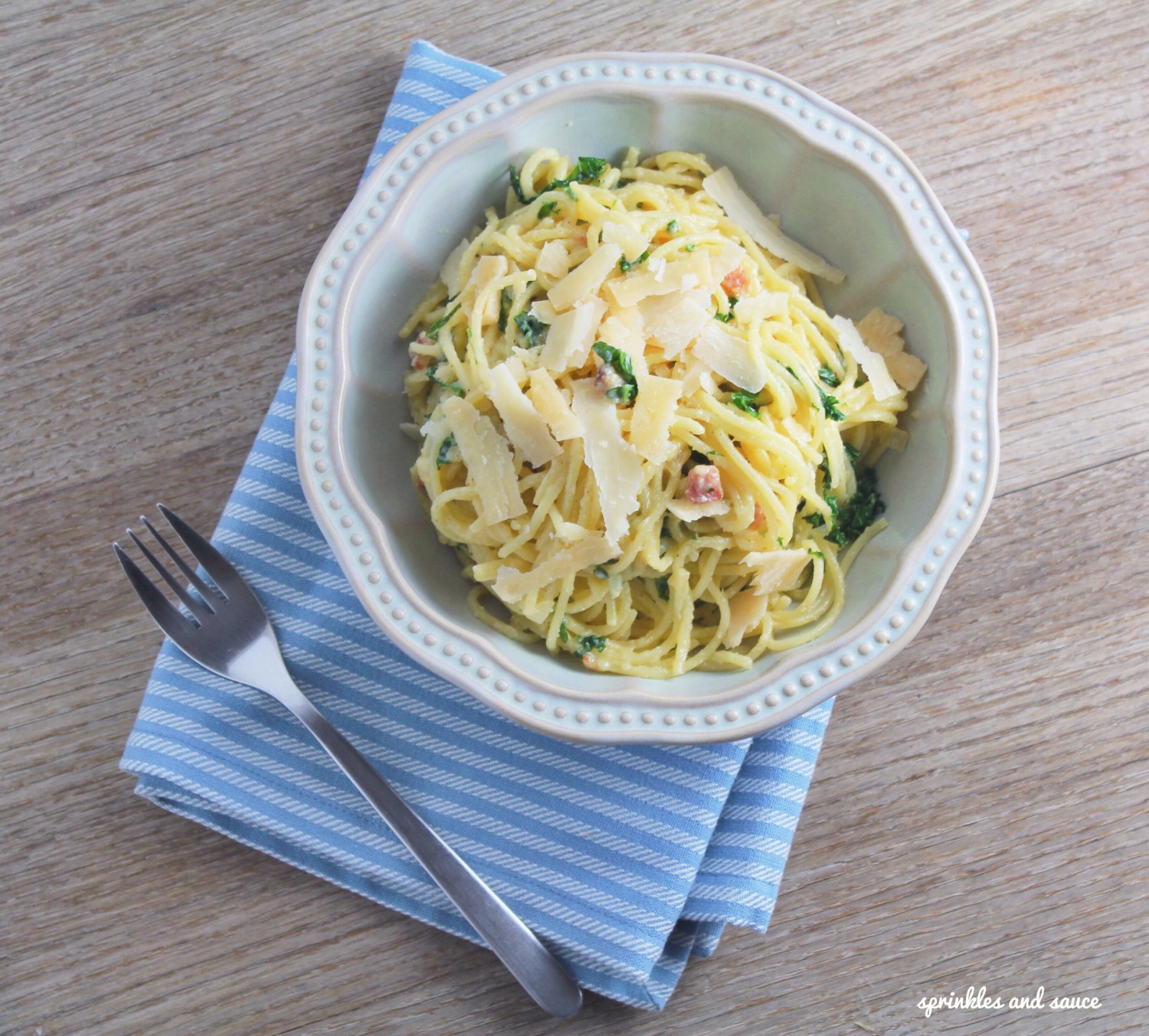 One pot meals are heaven sent on a weeknight.  I don't know about you, but  the last thing I want to do is cook a meal after a long day at work.  And fast food for us is definitely out of the question  – we're just too old for that now!  We're at peace with the fact that we are not young anymore and cannot  burn off the millions of calories and sodium in even a tiny kid's meal burger! (I know, I know, world's smallest, whiniest violin playing).   And so for nights when I am extra tired and stressed from work, I open up my box of fast and easy recipes and this pasta alla carbonara with bacon and kale is definitely in that box! This pasta recipe is so easy, I promise.  Along with being easy peasy, you likely have most of the ingredients at home so that saves you from having to stop at the store and avoid that line with a lady counting all her change from her purse to pay for two items!  Another beauty of this recipe is the fact that you can  easily switch up the ingredients every time you make it – you can use different pastas or switch kale to spinach or green peas or switch bacon for pancetta or even shrimps!   And this goes without saying but just in case you forgot: pasta + cheese + bacon = comfort food at its best! Try this out next time your brain is so scrambled up from being so tired and you have the energy of a sloth and I promise you won't regret listening to me.  So here's the recipe for you: (you can thank me later):

Pasta alla Carbonara with Bacon and Kale
Author:
adapted from bojongourmet.com
Ingredients
For the sauce:
¼ cup of heavy cream (or ricotta cheese)*
2 large eggs, at room temperature
¼ cup grated parmesan
¼ teaspoon salt
½ teaspoon pepper
For the pasta:
1 tablespoon of olive oil
3 ounces of bacon, chopped
1 small onion
a pinch of red chili flakes, optional
½ bunch of kale leaves, chopped
8 ounces of dry pasta
parsley or chives to garnish
Instructions
Fill a large pot with water and salt it generously. Place pot over high heat and bring to boil.
While you are waiting for the water to boil, make the sauce. In a large measuring cup, whisk together the ricotta cheese, eggs, parmesan, salt and pepper until well combined. Set aside.
Heat the olive oil in a wide skillet over a medium heat.
Add the bacon and fry it up until crispy.
Add the chopped onions, chili flakes and saute until the onion is tender, about ten minutes.
Then add the chopped kale leaves and saute until the leaves are cooked, but still crisp then remove the skillet from heat.
Cook pasta until it's al dente. Once the pasta is cooked, drain it well and add it to the skillet.
Immediately pour the egg mixture over the pasta and toss well until the eggs thicken into a sauce from the heat of the other ingredients.
Serve the pasta immediately and garnish with chopped chives or parsley.
Notes
*The original recipe calls for heavy cream or ricotta cheese for the sauce. This time around, we used ricotta cheese, but in the past we've used heavy cream.
The heat from the pasta and other ingredients should cook the eggs and thicken up the sauce. If you find that your sauce is not thickening, the original recipe said to return the skillet to low heat and stir the pasta until the sauce thickens. Also, to be extra safe, you can stick an instant read thermometer into the pasta and it should read 170F.